The perfect stocking stuffer, this homemade gingerbread soap is easy enough for beginners to make. It has a lovely fragrance that reminds you of the holidays.

Lately, I have been having a lot of fun making new holiday soap recipes.
Christmas is the perfect time for making soap because it makes such a practical, impressive DIY gift.
Adapting the beginner soap recipe
This year, I decided to stick with something simple. I decided to adapt my easy beginner soap recipe so that you can see some of the many ways that you can adapt a recipe to suit your needs without changing out oils or needing to use a lye calculator.
You can find the basic recipe with tips for beginner soapmakers here…
Easy Basic Beginner Soap
This easy soap is perfect for face and body. It uses 2 simple oils that are easy to find. Because it has a long working time, it's great for beginners, giving them time to work and add fun ingredients without being rushed for time!
Check it out!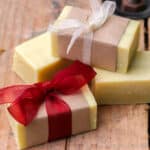 Why and How to add Molasses
Molasses is a great addition to soap. It helps give gingerbread its characteristic taste and color, so I knew it would be important to add it to the soap. Not only did the molasses naturally give the soap a beautiful gingerbread color, but it also contributes minerals that help nourish the skin. Plus, the sugar in it helps make more lather.
At first, my easy soap wasn't as easy as I thought. I made this when I still didn't know a lot about the best way to add in sugars like molasses and decided to add it directly into the lye solution. The lye reacted strongly with the sugar making for a slightly explosive reaction.
The next time I chose to add the molasses during trace and it worked out much better.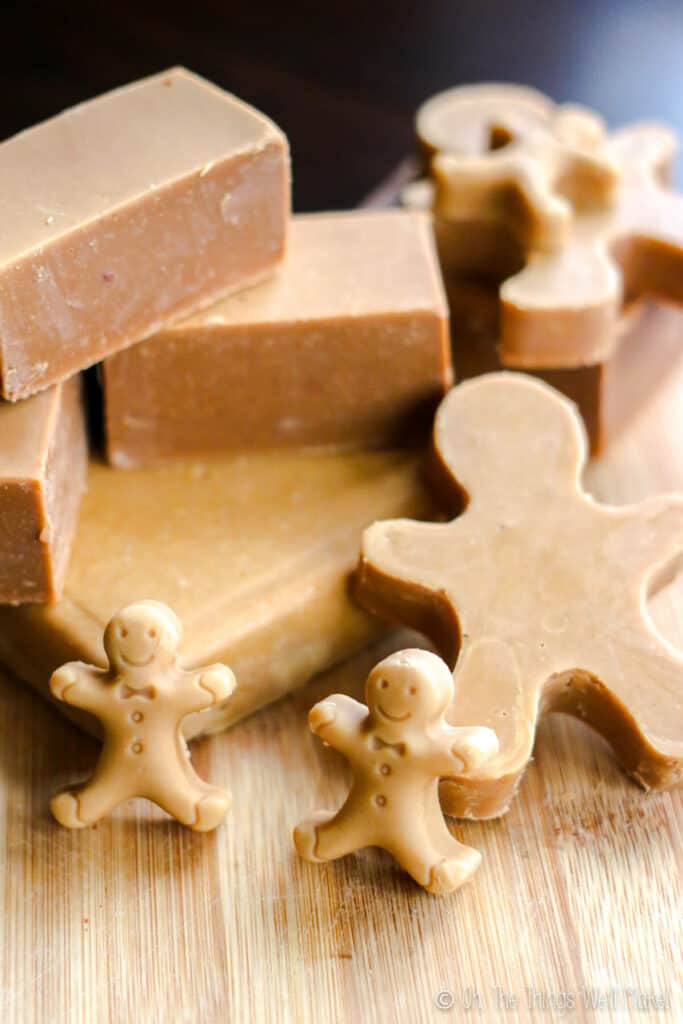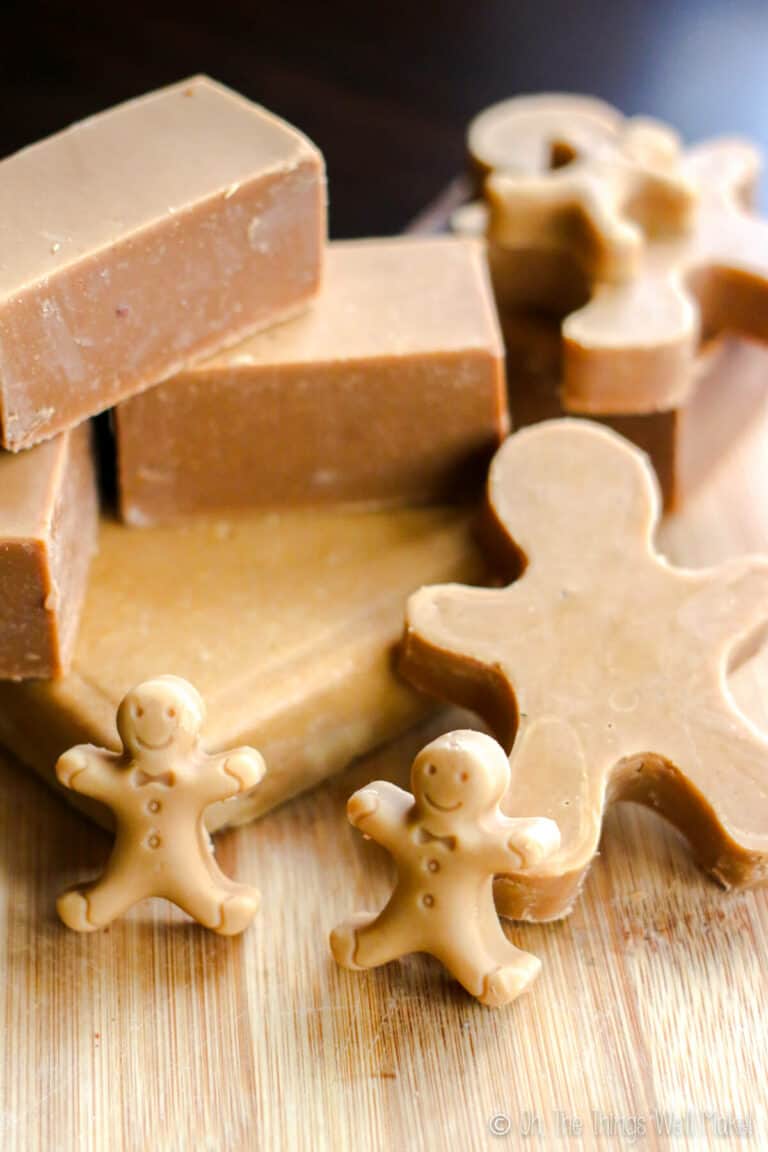 Using chai tea for the lye solution
Rather than use plain distilled water, I decided to make the lye solution with chai tea instead. It's not something that you need to do if you don't want to. I'm not really sure how much of a difference it makes, but I wanted to show you that using teas or infusions is yet another way to customize a soap recipe.
For the gingerbread soap, I figured that using a chai tea would add a bit more color to the soap and would also add more of a spiced scent.
If using a tea, let it cool before adding the lye to it to avoid any sort of explosive reaction with the lye. (For more information about lye, check out my post about lye in soap making.)
For those looking how to make chai tea from scratch, I have a recipe up on the blog.
Bulk Chai Tea Recipe
This spicy masala chai is the perfect comforting pick-me-up on those cold dreary winter days.
Check out this recipe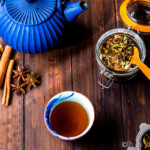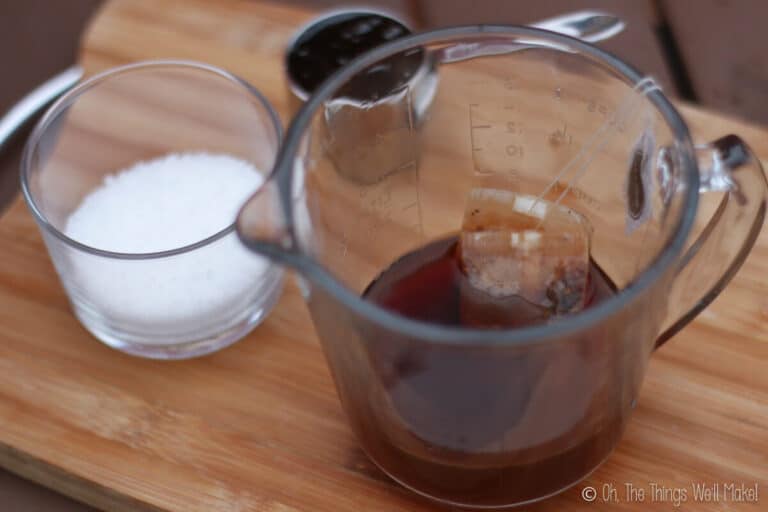 Choosing your molds
I love using silicone molds more soap making. The soaps don't stick to the silicone, and the flexibility of the molds makes it easier for the removal of the soaps when set. That said, plastic Tupperware-type containers also work well for the same reasons.
For this project, I made a variety of soaps. I used a silicone loaf pan for making the bars of soap.
I also filled some smaller plastic containers to around 2 cm depth to cut out some gingerbread man soaps with cookie cutters. While I think it makes a cute gift that way, I must admit that I like the practicality of a bar of soap much better. (Note that my cutter was too shallow for cutting the soap so I had to finish the cut with a knife.)
I also used some holiday silicone candy molds to make some cute, tiny soaps shaped like gingerbread men.
Gingerbread Soap Recipe
Looking to make more?
Subscribe to my newsletter for the latest projects (and recipes)!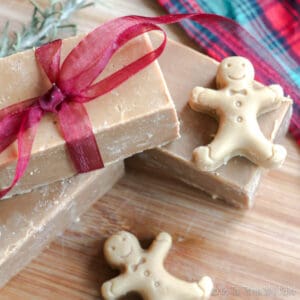 Easy Gingerbread Soap
Perfect for the holidays, this spiced soap with a hint of molasses is gentle on the skin and makes a great stocking stuffer. It's a simple recipe based on my basic beginner soap recipe.
Print
Rate
Instructions
Make the lye solution by pouring the lye into the chai tea or water (your choice) and stirring until the lye has completely dissolved. The solution will get very hot and will slowly cool down. As always, add your lye to your water and not the other way around!

Let the solution slightly cool in an area where it won't be touched or knocked over by other people or pets. Meanwhile, mix together the olive oil and coconut oil.

If making this soap in cold temperatures, when coconut oil is in its solid state, I recommend melting it before continuing. Some people prefer to heat their oils, but I don't find it necessary. The remaining heat from the lye solution will slightly warm up the oils. You can also now take the time to prepare your molds as needed. If using a wooden mold, line your mold with parchment paper or a silicone liner.

When the lye solution has cleared up and isn't too hot to work with anymore, pour the lye mixture into the oil mixture and carefully stir them together. Once you have incorporated the lye solution into the oils you can begin to mix them together with a hand blender.


When you start to reach trace, the point in the soap making process in which your mixture gets opaque and begins to look like a thin mayonnaise, add in the molasses and essential oils.

For the essential oils, I used mostly ginger essential oil, some cinnamon, and a few drops of clove oil. I have to admit that I don't normally measure out the essential oils that I use in soaps because I prefer to use small amounts. I let my nose guide me. (I'd estimate I use around 5ml of EOs overall).


Fully incorporate all of the ingredients, and pour them into your prepared molds.

Set the soap aside for at least 24 hours. After 24 hours have passed, or when you can unmold the soap without it deforming, carefully unmold your soap.

If you used a large mold, you can cut your soap into bars at this stage (or cut the soap with gingerbread man cookie cutters).

Leave your soap to fully harden and cure for about a month. To help the process, leave space between each bar, and turn them over every couple of days during the first week or so.


Enjoy your soap!
Notes
Be very careful when working with lye and the lye solution. Wear gloves and protective goggles!
It's a good idea to mix the lye solution in a well-ventilated area, and avoid inhaling the fumes.
If this is your first time making soap, you may like to read my post about making a beginner soap before you begin to get more tips and safety information.
My soap got lighter in color as it cured and fully hardened. If you want a darker, more orange gingerbread color, you can add in a tiny bit of iron oxide or red clay to your mixture at trace.
Holiday Gift Giving Tips
If you want to present this soap as a gift, consider making these easy snowflake gift pouches. They're a simple, beautiful craft, and soaps fit in them perfectly.
Painted snowflake pouches
Paint these beautiful gift pouches with snowflake designs super easily using freezer paper. This project is great for kids and adults. Use either store-bought cotton bags or quickly make pouches by upcycling t-shirt sleeves.
Check it out!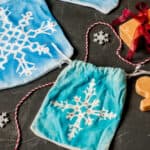 Looking for another holiday-themed soap you can make? Why not try your hand at making these cute peppermint soaps…
Peppermint Soap
This fun holiday peppermint soap looks like peppermint candy and it's perfect for Christmas time, but can also be enjoyed year round.

You will need to make this recipe twice to get the look of my peppermint candy soaps.
Check it out!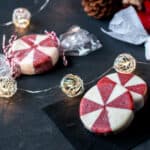 This post was originally published on December 6, 2014. It was rewritten in December of 2019, adding clearer instructions and new ideas for gift giving.