Making your own DIY backdrops for photography, especially food and still life photography, is a great way to save money while you improve your photo style. In this first part of a 2 part series, I will show you how to make a pallet studio for food and still life photography. (Part 2 here)
In the winter, taking pictures for my blog is a bit of a challenge.
The lighting is as cold as the weather outside, and I have the added problem that comes from living on the wrong side of a mountain, the sun is completely blocked during most of day.
Even worse, most of the meals that I want to photograph are made at night, when I can't get decent lighting anywhere. So, I finally decided to invest in some lights to be able to take pictures inside whenever my little heart desires. We don't have a lot of room in our small house for a mini photo studio, though.
Luckily, we have just added on some space, which looks like an unfinished basement without windows. It isn't the most beautiful place for taking pictures, but it does have a small, open spot for me.
In the past, to get a variety of backgrounds for my pictures, I have gone everywhere from the ground outside, to pallets, to (even) my (albeit clean) bathroom floor!! Yuck!
Speaking of pallets, I have to say that I like their rustic look for making a DIY backdrop for photography. Even more, I love that I can get them for free!
Making a DIY backdrop for photography using a pallet
For my basement "studio," I first looked for a relatively small pallet with the planks as close together as possible. My usual photography subjects are food and small crafts so I don't need (or want) the area to be very large.
Cut the pallet in half.
In the end, I chose a larger pallet and decided to cut it in half giving me a matching "floor" and "wall" backdrop.
Begin by cutting the pallet in half on one side of the center support first cutting through the planks and then flipping over and cutting through the bottom pieces.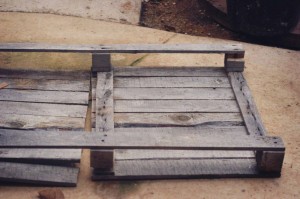 My chosen pallet had one bad plank that I decided to switch out for another that fit into the space. If you can find a decent pallet, though, you can avoid the hassle and are ready to go!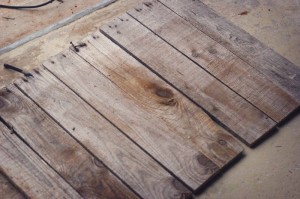 Having cut on one side of the center support blocks, the smaller half of the pallet ends up having unsupported planks along the cut line. I nailed those free ends onto a thin strip of wood to keep everything in place and sturdy. I then decided to remove the remaining blocks on the bottom of that piece, leaving a flatter panel that takes up less room.
I left the the supporting blocks on the larger half, which will become the "floor" of my pallet studio. The blocks help raise it the slightest bit off the floor, making taking pictures a bit more comfortable.
Painting the pallet studio
I've been wanting different colored wood photography backdrops, especially wanting a white wood backdrop, so I decided to paint the pallet.
Looking for a distressed look, I first painted the pallet with a dark gray latex paint that was leftover after painting one of our walls. I planned to paint over that color with white, and to sand it down in certain places, giving a distressed look.
First, though, I decided to put my new pallet "studio" to the test, taking pictures of my newly sewn notebook cover.
I have to say that I loved using it, and my new picture of my notebook cover was even accepted by the Craftgawker gods!
Getting back to distressing the wood…
I have been wanting to try the "vaseline" method, where you rub down the wood with vaseline in certain places over your base coat, and then you paint over it with your top color. The vaseline keeps the paint from sticking well, so when you sand your piece down, it will more easily show your base color in those areas.
I don't have vaseline at home, and ended up using some body butter that I was given as a gift a few years ago. I prefer to use homemade oil mixes for moisturizing, but felt bad about just throwing the body butter away, so I was happy to find a use for it.
I then lightly sprayed my pallet pieces with white spray paint. In the end, I didn't even bother with sanding down my top coat. The layer of white paint was so thin that it gave me a look that I liked without needing to do any extra work. The body butter probably didn't have anything to do with that, so maybe it wasn't as useful as I thought.
It had looked really white when I sprayed it, but it dried a lot more subtle. I love the new look.
Changing up the wood colors easily
Once you have your pallet studio set up, you will probably get sick of using the same color wood all of the time.
Rather than re-spraying your wood a new color each time you want a change, you can use some more pallet wood pieces to get the looks you want.
I use spare wooden planks from other pallets and set them side by side on top of my pallet floor, giving the appearance of a new wooden floor in a different color.
What's nice about that system is that you can paint one side of your planks yet another color, giving you several different options for taking pictures. The extra planks can be easily stored in the space below your floor pallet for using whenever you need them.
How did my new pallet studio work out for me?
The updated picture that I took of my crock pot carnitas was also accepted by the foodgawker gods!
Now I want to retake all of my old pictures!!
I'll refrain for now so that I can get some new material up for you all to read, but don't be surprised if little by little I start switching new photos into the old posts! I also hope that my new pictures will keep on improving.
Next time I'll show you other ways to customize your pallet studio so that not all of your pictures look the same, and will also give you other ideas of DIY backdrops for photography.
I hope you have enjoyed this post, and that it has given you some ideas for setting up your pictures.
Are you looking for more great tips for taking great food photography shots?
You need to check out this book…