Sweet, sour, and salty meld together perfectly in this sweet chicken adobo, a traditional Philippine dish that is easy to make yet packed with flavor.
This is one of those recipes that brings back a lot of memories for me.
Growing up we used to move around a lot, and I never really felt like I fit in anywhere. I was a bit of an oddball, and didn't really want to conform to other people's ideas of how I should dress or act, but on the other hand I didn't want to be a social outcast either. It was always a balancing act of trying to be myself without drifting too far from the social norms.
When I reached college, I was already beginning to accept myself for who I am and what I like. I became more socially outgoing, little by little, and looked to hang out with people who were more like me.
As you may have noticed, I have always loved to travel, and like to try unusual and new things. Perhaps, that's why it wasn't too much of a surprise when I began to hang out with what we used to call the "international group."
My half-Brasilian, half-American best friend and half-Spanish, half-American I used to hang out with a group of students from all over the world. We represented everywhere from Brasil and Guatemala to Korea and the Philippines. Two brothers from the Philippines lived in a house and would invite us over to play the guitar, drink herbal teas, and write poetry. Those were fun times!
One day, they decided that they were going to cook for us. They made this huge pot of chicken with potatoes and the most wonderfully flavorful sauce for everybody who was over. I was amazed by how they so easily cooked such a huge batch of food for so many people and that the flavor was just so different and perfect. I can't describe it any other way. It was the perfect combination of sweet, sour, and salty and was one of the best dishes I had (have) ever eaten.
In their version of sweet chicken adobo, they combined soy sauce, vinegar and sugar to make the sweet-sour-salty sauce that gave the dish so much flavor. What was interesting for me is that they cooked the chicken in the sauce along with potatoes, which also helped thicken the sauce, and then served both over rice. Potatoes over rice? Who'd have thought it!?!?
Of course over the years I have tried to reproduce their dish giving it my own special touch.
Since I don't eat a lot of potatoes or rice, I decided to replace the potatoes with sweet potatoes and to serve it alone. The sweet potatoes give the chicken adobo yet another sweet flavor that I happen to love, and they also help thicken the sauce without the need for adding any flours of any type. The sweet potatoes themselves absorb the sauce, become tender and sweet, and make the perfect side dish to the sweet chicken adobo. Of course, I do occasionally serve it with rice, especially if I make a batch with a lot of sauce. Feel free to serve it either way.
This is the ultimate comfort food as far as I'm concerned. It's easy to make, and is perfect for warming you up on a cold winter's day.
So, with that introduction, here's how to make a sweet chicken adobo: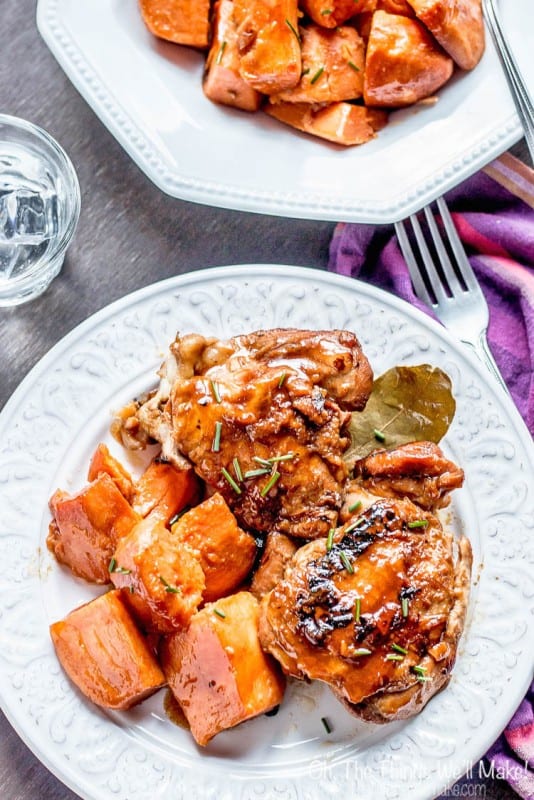 Craving more?
Subscribe to my newsletter for the latest recipes and tutorials!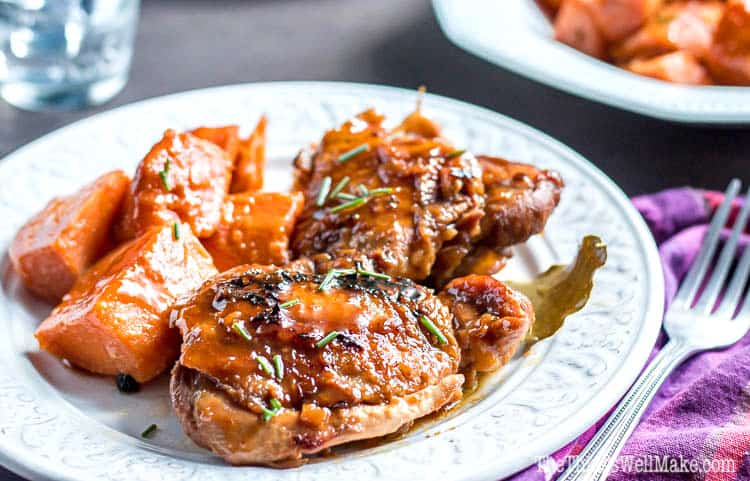 Instructions
Mix together the water, vinegar, soy sauce, and water in a large pan, and add the chicken leg quarters to marinate them while you prepare the sweet potatoes and other ingredients. For a stronger flavor, marinate the chicken in the fridge for several hours before continuing.

Peel and cut the sweet potatoes into medium sized pieces.

Heat a large, heavy pan over medium to high heat and place the chicken leg quarters (removed from the marinade) in the pan, skin side down, to brown them. If they don't all fit in such a way that they all touch the bottom, brown 2 first, remove them, and then brown the others. I don't usually add oil because the fat of the skin usually renders into a liquid oil that helps brown the chicken and keep it from sticking. You can add a dash of oil if you like, but it tends to make for an oily dish in the end once the fat from the chicken has rendered itself.

Add back all of the chicken and the sweet potatoes to the pan, followed by the marinade and other ingredients.

Turn down the heat to medium low and cook covered for around 45 minutes to an hour, occasionally moving the ingredients carefully in the pan so that they all are coated and cooked in the sauce if possible. The sauce will slowly reduce and thicken.

Once the chicken is well cooked throughout, you can serve at any time. If the sauce hasn't reduced enough for your liking, remove the lid of the pan and cook for several minutes more to help reduce and thicken it to your liking.
Notes
I occasionally want to have a saucier version, so I add a little more marinade. This can be accomplished by using around 1/2 cup soy sauce, 3/4 cup vinegar, and 1 1/4- 1 1/2 cup water. You can always thicken up the sauce slightly with a bit of tapioca flour (or regular wheat flour if you aren't gluten free) as needed later on.
Most people don't include soy sauce nor vinegar in a strict paleo diet, but since I'm not that strict, I don't usually avoid either. If you want to make this more strictly paleo, you can substitute the soy sauce for coconut amines and the vinegar for lemon juice. You'll still have a dish that is sweet/salty/sour.
For the vinegar rice or coconut vinegar also work especially well.