Save money, water, and energy with these sustainable gardening ideas that are easy to put into practice.
With the warmer weather finally arriving, I've been out in the garden a lot more lately. You may have noticed that I haven't been posting as often here and on social media, and that's one of the main reasons.
We've spent the last weekends clearing out weeds from some areas, and we planted our yearly vegetable garden, along with a new herb garden. I even made some super cute and easy DIY garden markers for the herb garden. You see, we like to plant fruit trees, herb, and veggies so that we have full control over them. I love being able to eat fruits straight off our trees knowing they haven't been sprayed with pesticides and chemical fertilizers.
Each year I also like to work some compost into the soil in the area where we plant our vegetables. Our soil is quite hard and clay like, but over the years the compost has helped to make for a much more workable soil, as well as to add nutrients back into it. I add everything from chicken manure, kitchen scraps and garden waste to our compost piles, and it works out wonderfully. That's just one of the ways you can make for a more sustainable garden.
There are lots of ways that you can make your yard and garden more sustainable, and save money in the process. It's something that I've considered writing about often, but never got around to it because I'm usually showing you "how to make" things. (Although, I guess we'll be showing you how to make a sustainable garden, right?) That's why, when I got an offer for a guest post on the subject, I jumped at it.
Today's guest post is from Matt, a home improvement writer working for South Shore Roofing. He promotes sustainable construction, global awareness culture and green lifestyle…
Sustainable gardening Ideas
Most gardeners have sustainability on their minds. After all, growing your own food is a huge step toward leading a sustainable lifestyle in general. A sustainable garden uses a minimum of outside resources, making use of the existing natural ones, and benefits the surrounding ecosystem. Traditional gardening often requires large amounts of water, fertilizer, and pesticide. Sustainable gardening, on the other hand, is based on chemical-free practices, organic methods, recycling, water and energy conservation, and waste reduction.
Follow the basic steps below and learn how to prepare, plant and maintain your own sustainable garden.
Choose your plants
Native species
Plants that are indigenous to your region are called natives. They are already suited to your climate, rainfall, and soil types, and require less fertilizer and water. They are also more accustomed to local birds, insects, and other wildlife, and require less care.
Drought-resistant plants
Rather than using large amounts of water to help sensitive plants survive in dry seasons, choose native species that are more accustomed to using little water. The National Wildlife Federation is one resource that lists such plants.
Choose pest-resistant plants
Some species, like sunflowers and rosemary, have better defenses against pests. Planting such species will reduce your needs for chemical pesticides.
Group plant species by water needs and insect fertilization considerations
Place plants that demand more watering in one section of your garden, and drought-resistant plants in another in order to distribute water more effectively. You should also place pollinating plants with other pollinating plants so that bees stay in one section and help pollinate surrounding plants.
Find the appropriate equipment
There are a few basic tools that you will need to start your gardening.
A

compost bin

is one of the first things needed. You could make one on your own or purchase one. Compost bins are usually made of plastic or wood. These are used for the production of compost from organic matter.

Several other essentials you should consider purchasing are: an

insectary

– plants designed to attract and harbor beneficial insects which prey on many common garden insect pests and offer a safer, natural alternative to pesticides; some type of

mulch

and the right

plant varieties

.
Mulch your garden
.
Mulch can be made of wood chips, sawdust, leaves, bark, and even newspaper. It conserves moisture within the soil and prevents water from evaporating. It is also a great way to prevent weeds from springing up. Spread it in a thin layer around your plants to help keep in moisture, maintain a steady temperature, and reduce weeds.
Encourage beneficial insects to your garden
Insects could make your garden much healthier, and sustainable gardening is all about using natural methods. Did you know that certain insects can be very good for your plants? Encourage these helpful insects to settle in your garden and guard your plants against pests and infections:
Ladybugs

could help you cope with aphids (aka plant lice).

Various other insects are ideal for natural pest control.

Beneficial nematodes

may help you take care of ants and various kinds of beetles. Army worms are eaten by green lacewings, the praying mantis kills black fly larvae and minute pirate bugs will kill different varieties of caterpillars.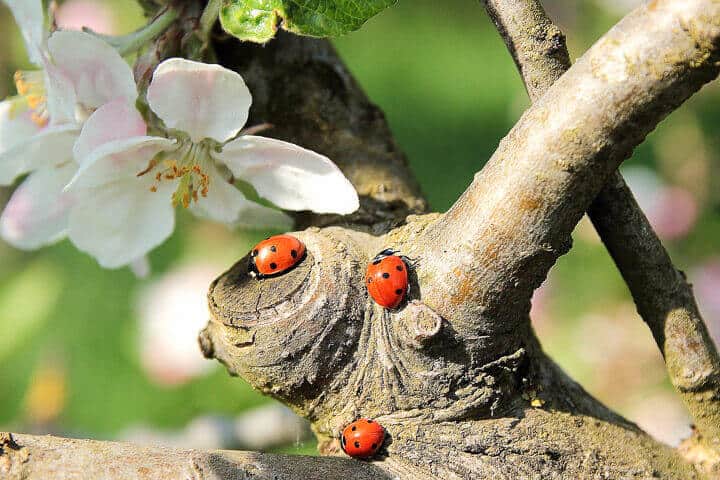 Watering and maintenance
To make your garden sustainable, you should try to reduce the amount of water needed. Be careful about watering too much and wasting a valuable resource.
Water only when plants are in need
Assess your plants' water needs by feeling the dampness of the soil and watching the texture and color of the leaves. Do not water on a regular pattern, or before or after rain.
Collect rain and waste water
The first and easiest thing you could do to save water is put a rain barrel in the garden. Rain barrels collect water that can be pumped into your drip irrigation system. You can also collect waste water from your washing machine and recycle it into your garden, but only if you use biodegradable soaps and if you have not been using bleach.
Use a drip irrigation system
Drip irrigation uses rubber hoses with small holes in the side to distribute water along the roots of the plants. You can make your own hose or buy a drip irrigation system. It distributes small amounts of water near the ground, so there is much less evaporation than with a sprinkler system and much less waste than with manual hose watering.
Remove weeds manually
Remove weeds by hand to eliminate the need for chemical weed killer.
Use composted organic matter as fertilizer
Food scraps, leaves, and weeds can be recycled and used to produce fertilizer for your soil. You can place it in a large bin with small holes in the side, and let it break down for several weeks before depositing in your garden.
If you follow these organic and natural gardening methods you can enjoy pesticide and fertilizer-free delicious vegetables and fruits. It's relatively easy, once you learn the basics. The advantages of gardening this way are: less waste, less chemicals, and lower cost.
Anyone can build their own sustainable garden if they are willing to go the extra mile. Many have done it; you can find some their useful first-hand tips here.