Soothing, yet effective, this natural homemade deodorant stick works without baking soda nor coconut oil and uses zinc to help combat odors for those with sensitive skin.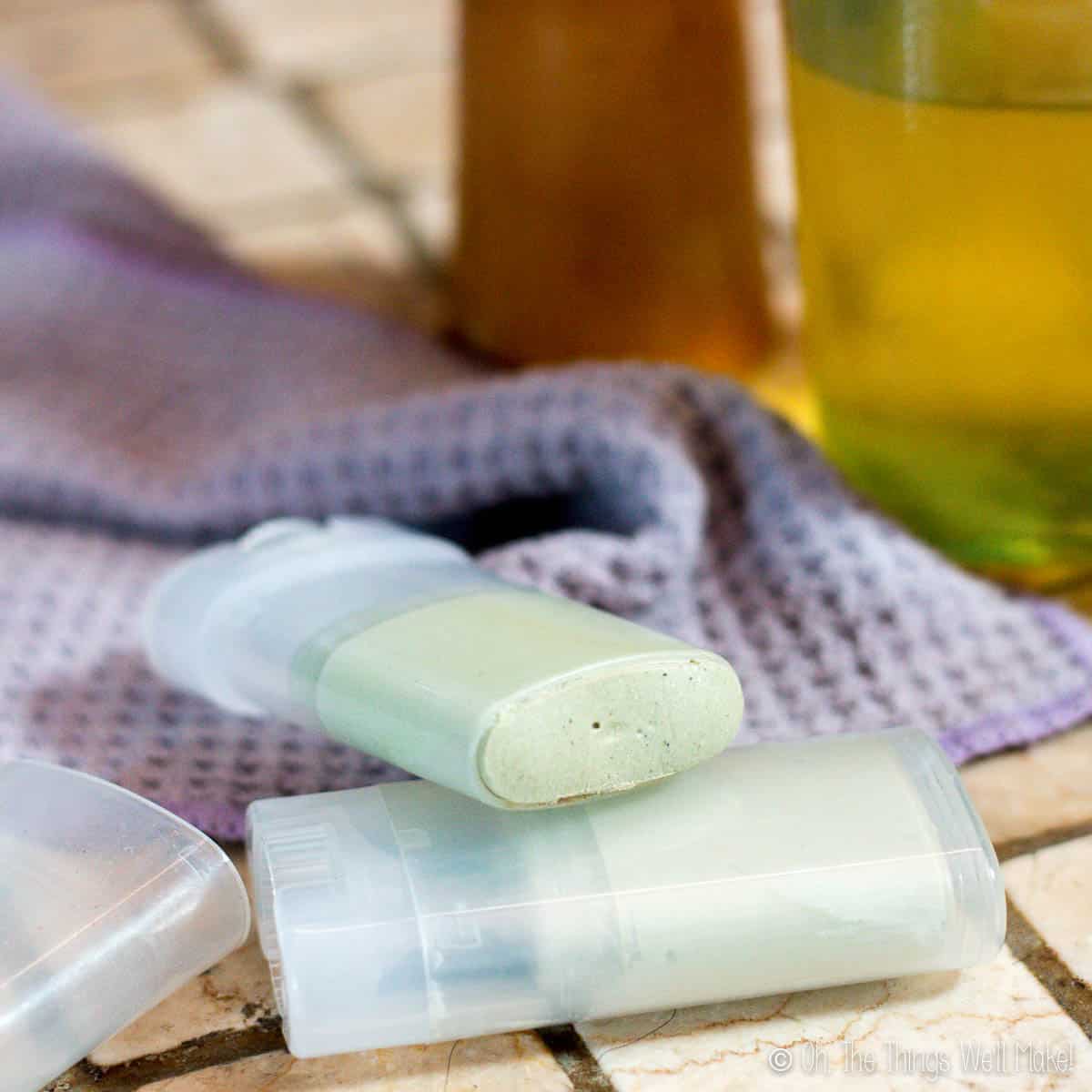 I'm so excited to finally be able to share with you a natural, homemade deodorant for sensitive skin that actually works!
(Before I tell you about my homemade solid deodorant, I wanted to let you know that I also have a roll-on deodorant recipe! My husband loved that one. This one, though, this continues to be my favorite.)
Over the years, I've tried so many different natural homemade deodorant recipes, but all of them were either ineffective, irritating to my skin, or just plain too messy to use daily for the rest of my life.
Can you relate?
Natural homemade deodorants that didn't work (for me)
I've been on the search for a decent natural homemade deodorant for years now. Long before I started living a more natural lifestyle, I even had issues with a lot of "normal" deodorants not working for me.
I tried everything. I tried detoxing and eating mostly fruits and veggies after hearing that body odor is often diet-related. I tried supplementation, but that didn't seem to help either.
For a while, I even used a strange deodorant that I found here in Spain. It was a conventional deodorant, meant to last 2-3 days without needing to reapply, but I was using it daily. That, of course, concerned me a bit.
Crystal deodorants
I wanted something more natural, so I turned to those weird crystal deodorants that you have to get wet with water and then apply under your arms.
Unfortunately, not only did I find them messy, and not 100% effective, but I ditched the idea when I learned that the active ingredient was an aluminum salt. The main reason I wanted to ditch conventional deodorants was to avoid toxins like aluminum.
Many will call me irrational and argue that they are perfectly safe, but why take the risk, especially when I have cancer and Alzheimer's running in my family?
Coconut oil + baking soda
In the search for something that was aluminum-free, I turned to what seems to be the most popular DIY deodorant: coconut oil and baking soda.
At first, it seemed to work well. After a while, though, the baking soda started to really irritate my skin. That was especially true when exercising or even at certain times of my cycle. I'd end up with very red and sore, chaffed armpits.
If I ditched the baking soda and just used coconut oil (whose antibacterial properties were supposedly enough to work as a deodorant alone), it was as if I hadn't applied anything at all. Coconut oil did absolutely nothing for me other than leave me feeling a bit oily.
Baking soda-free deodorants
Because baking soda irritated my skin, I tried deodorant recipes that were baking soda-free.
Most of the recipes used coconut oil and replaced the baking soda with clays (like bentonite clay), essential oil mixtures, or both.
The clays were chosen to help absorb the moisture, something that I wasn't as worried about. The essential oils provided antibacterial qualities that were supposed to help combat body odor. While they did help somewhat, they definitely weren't enough to keep odors away. (My husband confirmed my suspicions and let me know how ineffective they really were!) 🙊
At one point, I even spent a small fortune buying the ingredients for a natural homemade deodorant that used neem oil. It was supposed to be extra effective. Unfortunately, it smelled so bad that it smelled worse than the body odor that I was trying to avoid! Plus, it didn't work!
The mixture of neem oil and body odor was nauseating enough that I couldn't sleep well the first night I applied it.
Back to the drawing board…
What did work (kind of)?
Baking soda is an effective deodorant because it alters the pH under your arms, making it a hostile environment for bacteria to form. In the case of baking soda, a base, the pH is raised enough to help combat body odor.
Baking soda & water
Baking soda was irritating to my skin, but it did work for me, so I decided to try again.
I thought that it was probably the abrasive nature of the baking soda that caused me problems. So, I filled a roll-on deodorant container with baking soda, dissolved in water, with a few drops of essential oil, and tried using that.
It actually worked pretty well and, most of the time, it wasn't even irritating to my skin! I did have an occasional flare-up, but usually, months would pass between them.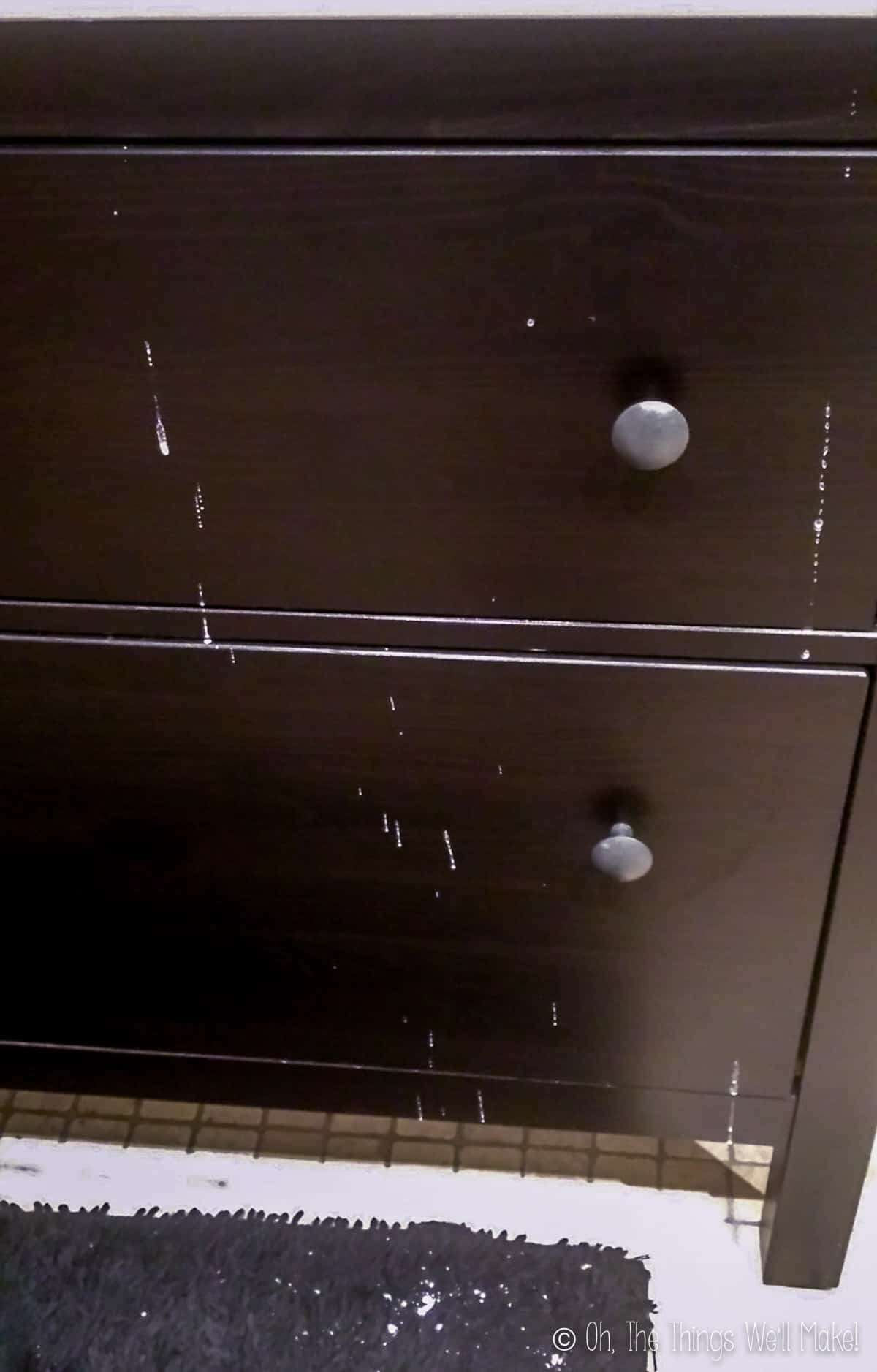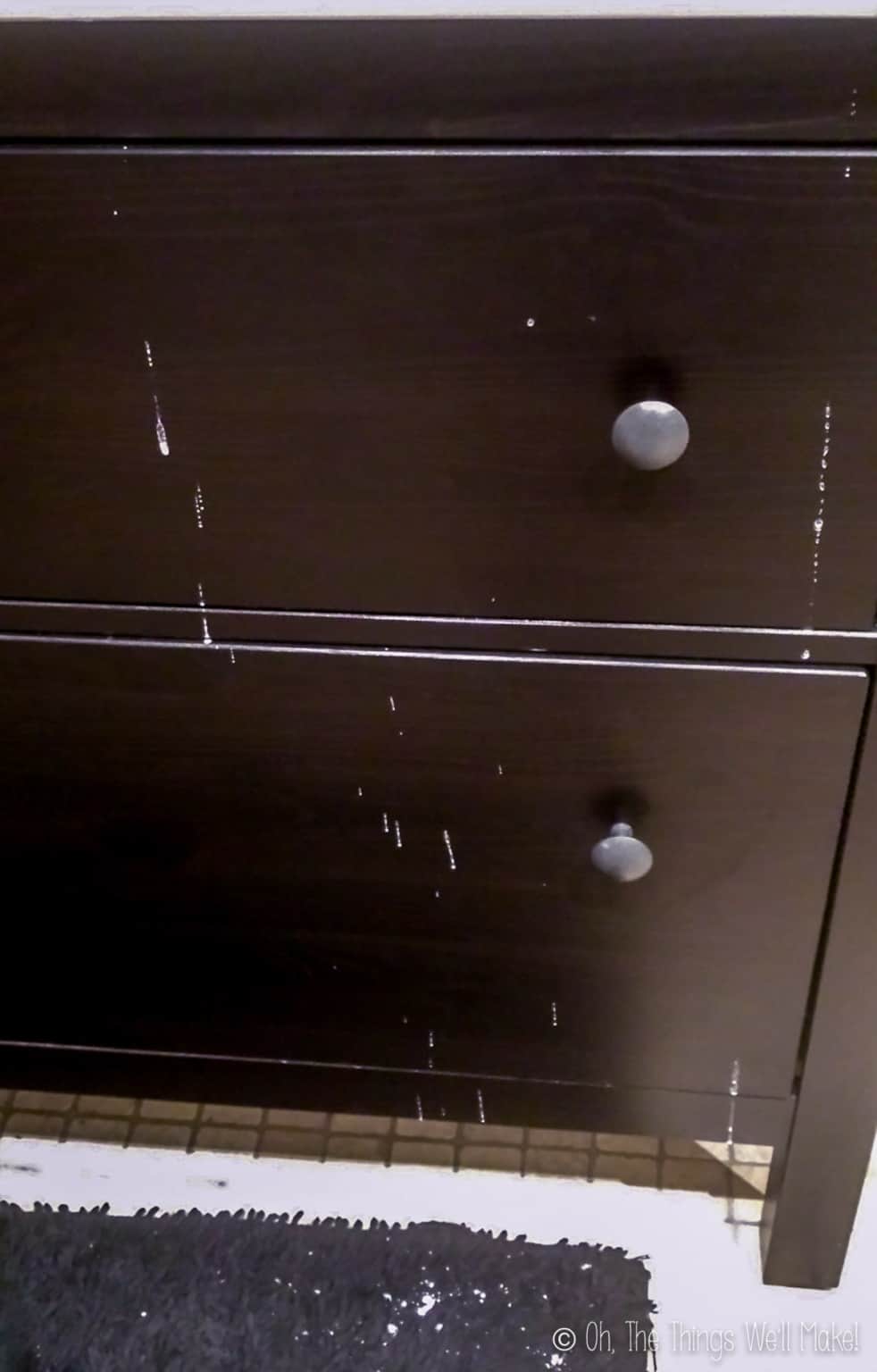 The real problem, though, was that it was very messy to apply.
The baking soda solution was completely liquid, so it usually ended up all over the place. It dried leaving a white powdered mess behind.
I got sick of always having to clean up afterward, and my husband started to complain about the white stains I unwittingly left behind all of the time. It also left white marks on my clothes like spilled toothpaste. They were easy enough to clean, but I, too, got sick of the mess everywhere.
Acids as deodorants
Lowering the pH is another great way to prevent body odor. That's why vinegar also works as a natural deodorant. I, too, effectively used it for months.
There were several problems with using vinegar as a deodorant, though.
First, I had to apply it when my husband wasn't around because he can't stand the smell of vinegar. Fortunately, the scent goes away when it dries, so it doesn't smell bad while used.
Unfortunately, although it normally worked, there were days that midway through the day, it no longer did. I reapplied, when I was able. Sometimes that wasn't convenient, though. Plus, when I applied it too often, I ended up with sore, red armpits again.
I tried using lemons but didn't like "wasting them" as a deodorant. Plus I had the same issue with lemons as I did with vinegar.
For a while, I dissolved citric acid in water and used that as my favorite natural deodorant. Again, though, it was hard to find a concentration that would be effective without irritating my skin.
See, I tried a lot of different natural homemade deodorants before I shared my favorite!
Luckily, I found something that did work without irritation by accident one day…
The best homemade deodorant: zinc!
One day I applied a homemade sunscreen attempt, made with zinc oxide, to my red, irritated armpits because I didn't have any other creams or lotions on hand.
Not only did it help calm my irritated skin, but I was surprised to find that I had no unpleasant body odor while using it. It alone was enough to work as a deodorant.
Unlike aluminum, zinc is an essential trace element that your body needs to maintain health. Instead of irritating the skin, it can actually help with wound healing. Zinc in topical formulas may help combat acne, eczema, and psoriasis. (Just think of how zinc oxide is used in many diaper creams.)
I decided to get to work and formulate a solid deodorant that I could comfortably apply and use daily. I planned to use zinc oxide, but wanted to boost the deodorant properties. So, I did some further investigation.
Ingredients
My natural homemade deodorant uses a base of an oil, a butter, and a wax to give a creamy solid bar that can glide over your skin. I chose to use sweet almond oil, shea butter, and beeswax. You may want to use a different combination. (See the substitutions section below.)
For their deodorizing properties, I've used two types of zinc, zinc oxide and zinc ricinoleate. Zinc oxide is a white powder and zinc ricinoleate is generally found as a waxy pellet.
To add a bit of color (so the deodorant isn't bright white) and some anti-inflammatory properties, I added a bit of matcha powder. I drink matcha almost daily, so I always have it on hand. It's a totally optional ingredient, though.
For scent, I added a mix of lavender and tea tree essential oils. They may also have some anti-microbial properties that help keep odor away.
Lastly, I added 0.5% of vitamin E (tocopherol) to the deodorant because it's an antioxidant that helps prolong the shelf life of the deodorant. Plus, it may help with skin nurturing.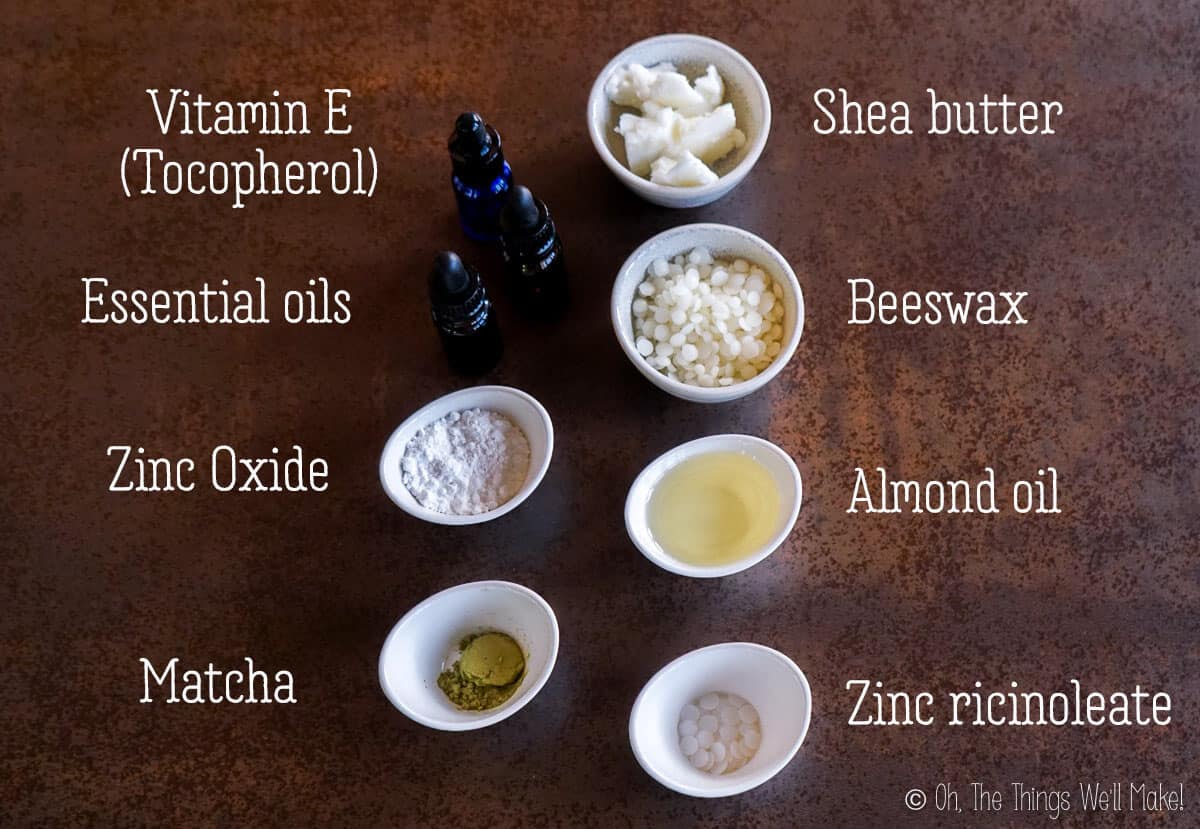 Zinc oxide
Zinc oxide has antibacterial qualities. In fact, it works against both gram-positive and gram-negative bacteria. If you have no idea what that means, don't worry. It just means that it's effective over a wide spectrum of bacteria, so no matter what bacteria is causing your odor issues, you should be covered.
As I mentioned before, body odor comes from perspiration combining with the bacteria on your skin, so if you can create a hostile environment for the bacteria by either altering the pH (baking soda, vinegar), or by using something with antibacterial properties (essential oils, zinc oxide), you can prevent body odor from developing.
For the safest zinc oxide, I'd recommend choosing non-nano zinc. Non-nano zinc has larger particles that won't be absorbed by your skin and enter your bloodstream. So, it's safer.
The downside to zinc oxide is that it's very, very white! One of the reasons I added the matcha is that I wanted the deodorant to be a shade that wasn't quite to bright.
Zinc Ricinoleate as a deodorant
When researching zinc for deodorants, I came across zinc ricinoleate, a zinc salt that is sold as both a deodorant additive and also as an aid in preventing acne. Zinc ricinoleate comes from ricinoleic acid, a fatty acid found in castor seed oil.
If you saw "ricin" in the name and were concerned about it, you'll be happy to know that although they come from the same place, castor oil and ricin don't mix. Ricin is water-soluble, so it doesn't get mixed into the castor oil. Any leftover ricin that may enter the castor oil when it is extracted will no longer be an issue because the proteins in ricin are deactivated by the heat used in the process of castor oil extraction.
The mechanism for zinc ricinoleate working as a deodorant isn't exactly known, but it is thought to absorb the odors somehow without inhibiting natural perspiration.
When I received my package of zinc ricinoleate, it stated on the package that zinc ricinoleate (I'm translating from Spanish, here, so I'm not sure I'm using the perfect translation, but…) "covers the bad odors that are caused by the bacterial decomposition of sweat so that they aren't perceived as unpleasant." I've tried to research the exact mechanism of "covering" the odor, but it seems like it isn't well understood. Most places that talk about it just say that it has a way of "absorbing" the bad odors.
Procedure
Once you've obtained the ingredients, making this deodorant is simple! It's pretty much as easy as melting everything together and pouring it into a deodorant tube. That said, I can give you some tips and tricks to make it perfectly!
Begin by weighing out the ingredients and then melting together the shea butter, almond oil, beeswax, and zinc ricinoleate in a double boiler insert until the wax and zinc ricinoleate melt. Once it's completely liquid, remove the mixture from the heat source.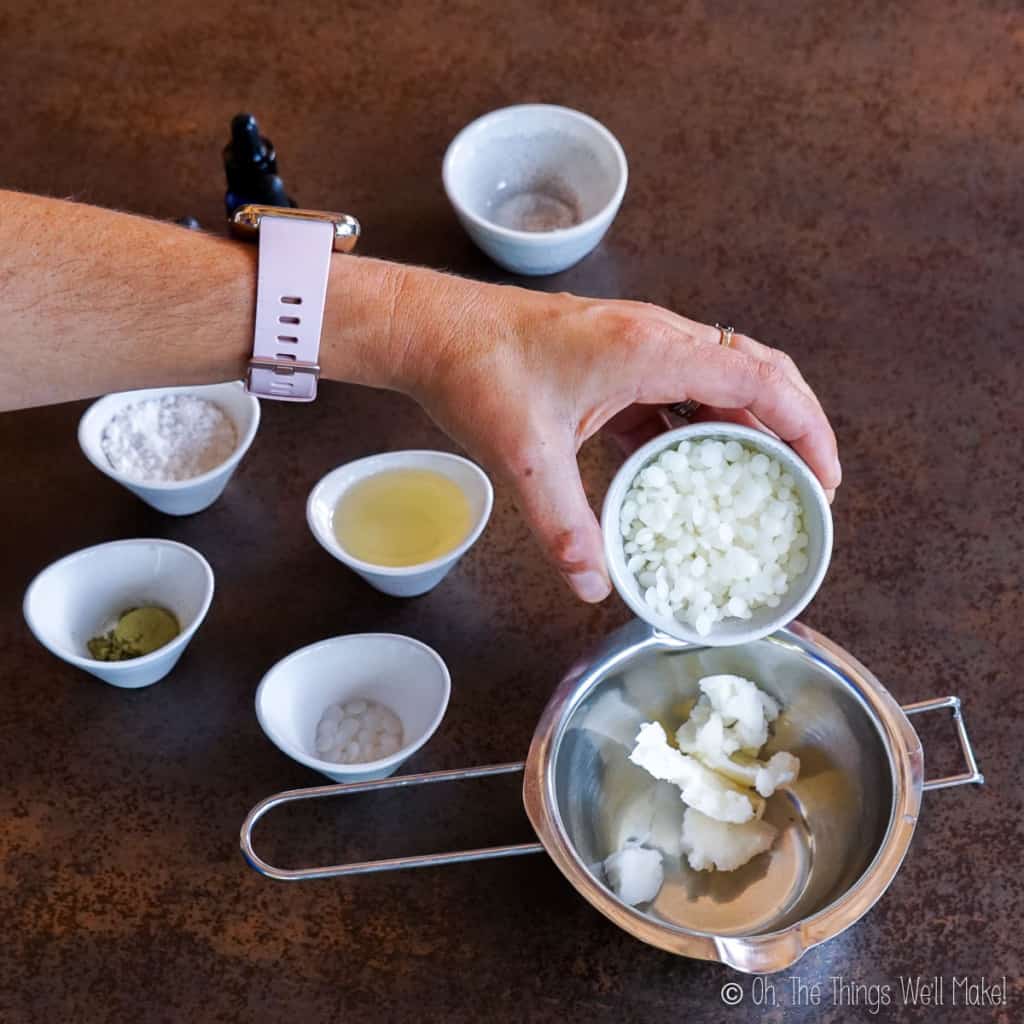 Next, add the zinc oxide and matcha powder and whisk them into the oil mixture. To ensure a smooth deodorant, consider sifting the powders by pressing them through a fine sieve. You can also use a small mixer or milk frother to fully incorporate the powders in the oils. (This helps keep the zinc from forming lumps and/or sinking to the bottom of the container.)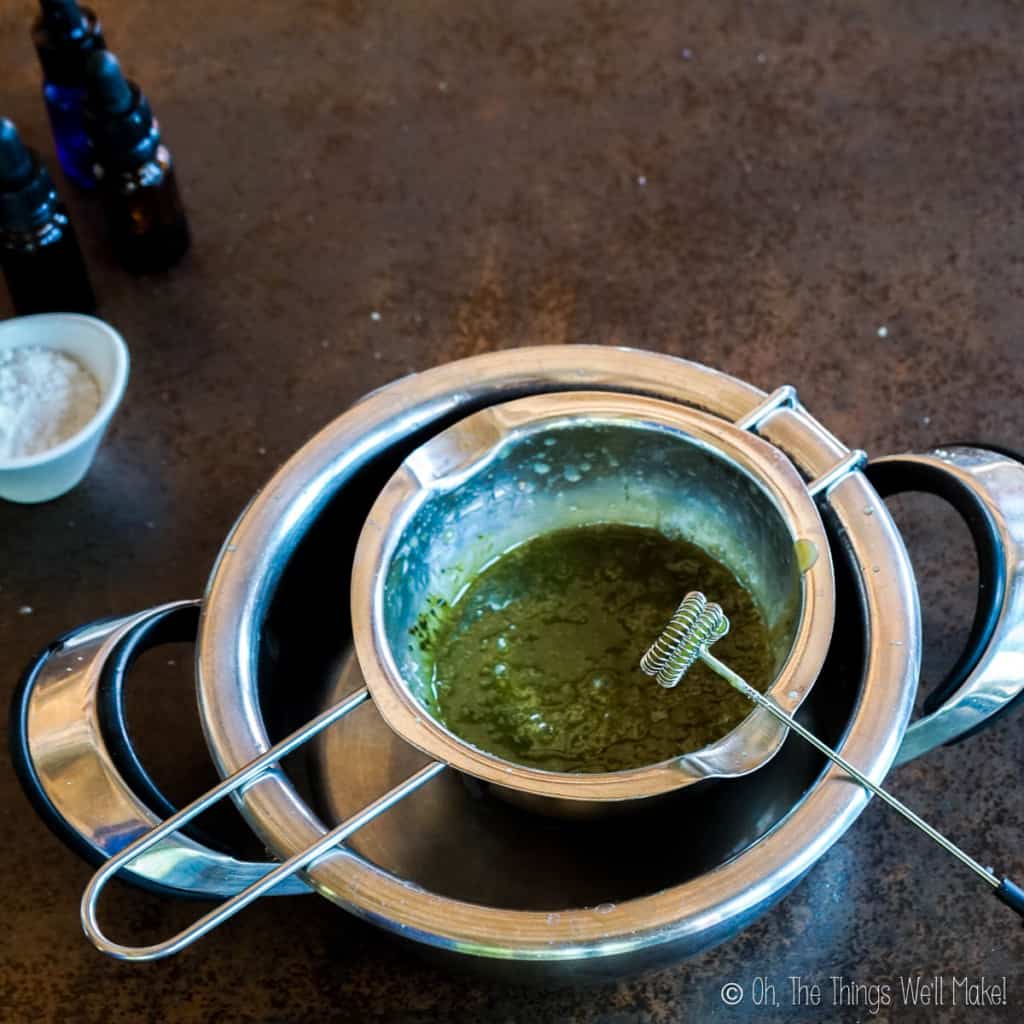 Finally, add the vitamin E and the essential oils, whisking everything together until fully blended. (You may need to gently warm the mixture over the hot water if it begins to solidify and you are having a hard time mixing everything together.)
While still warm, pour the mixture into deodorant containers. (You can also pour it into tins for applying the deodorant by hand.)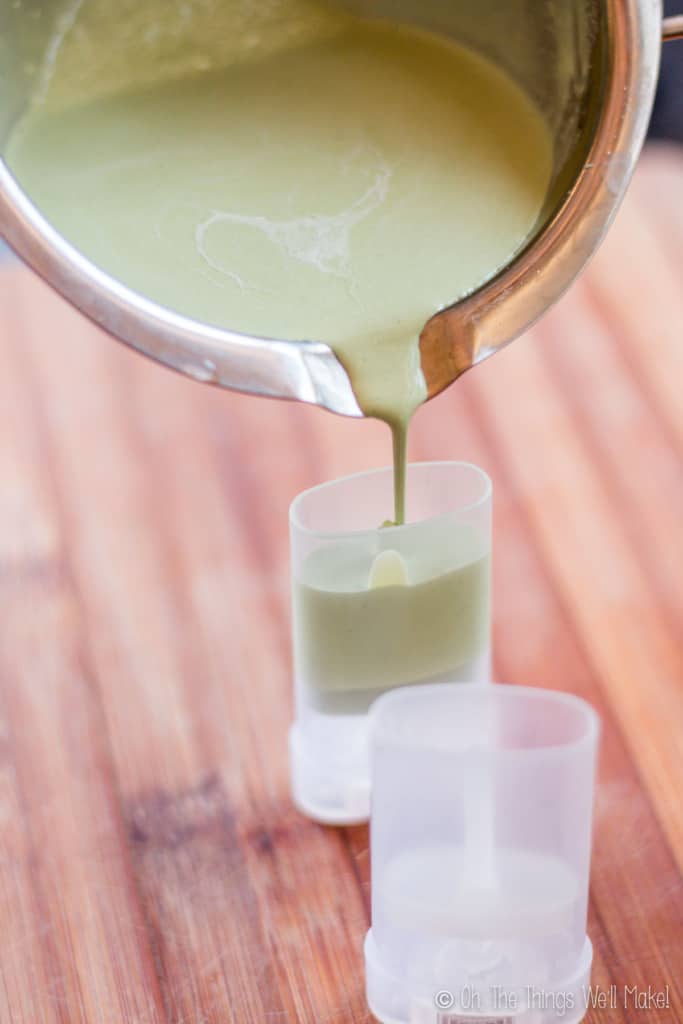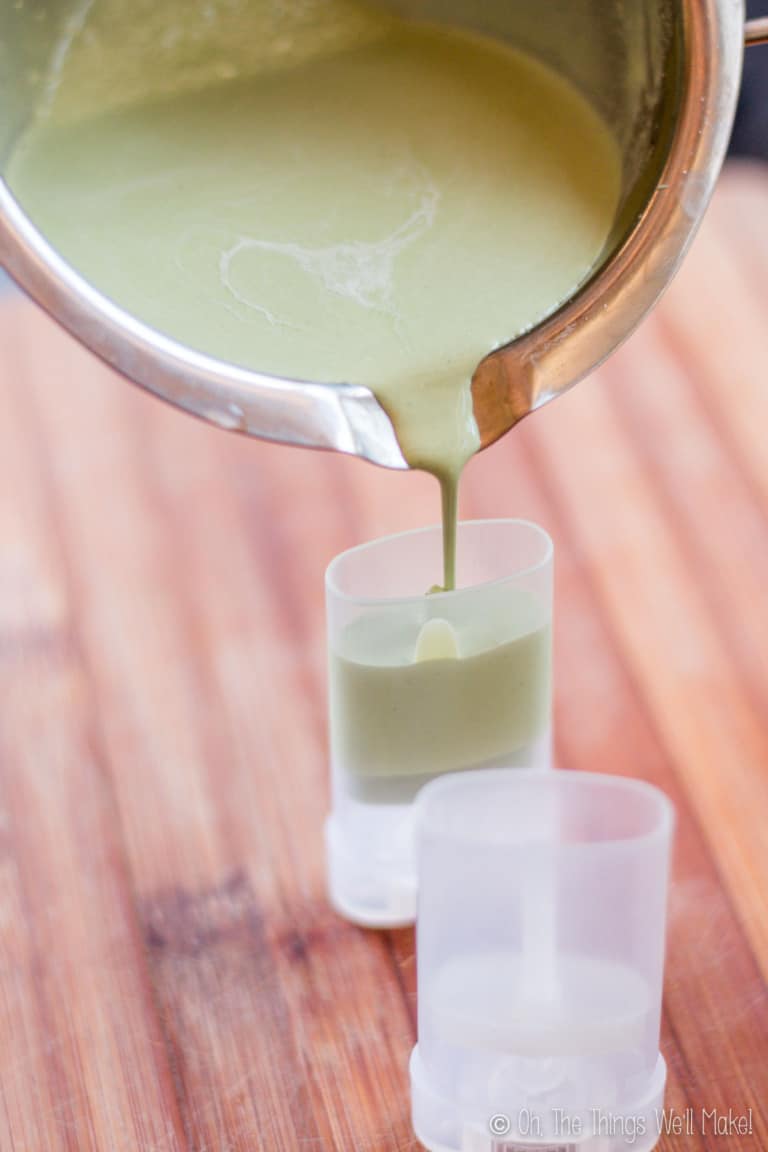 If making one tube of deodorant, you will likely have a little leftover. You can pour it into a small tin for having on hand or for using in subsequent batches.
Allow the mixture to cool off and set without disturbing it. Once it has cooled and solidified, you can use it immediately!
Materials
FAQs
Does this stain clothes?
If applied in a thin coat, I haven't had issues with staining. To prevent staining, apply a very thin coat and allow it to fully absorb (or rub it in) before putting on your clothes. It's easiest to apply a thin coat when the deodorant is on the harder (more solid) side. If it's too creamy or soft, you'll likely end up applying too much and it may stain. (To get a harder bar, reduce the liquid oil and/or increase the amount of wax.)
Can I use something other than beeswax?
I haven't tried it yet in this particular recipe, but candelilla wax is a vegetable (vegan-friendly) wax that makes a great substitute for beeswax in recipes. It should work here without issues, but you may have to adjust the amount used if you find that the bar is too soft or too hard.
Can I use a different oil?
Yes, you can use pretty much any liquid carrier oil instead.
As much as I love coconut oil, I generally avoid using it in homemade cosmetics because it solidifies at around 76ºF. That means that the consistency of the product can vary depending on the ambient temperature. I've only tried this with a liquid oil, so I'm not sure if the texture will change in winter if using coconut oil.

While I doubt it will be a problem in this recipe, if you do want to use coconut oil and find it too hard in the winter, try using fractionated coconut oil, which doesn't solidify, or use a little less beeswax when you make your winter batches with "regular" coconut oil.
I don't have matcha. Can I leave it out?
Matcha is optional, but I think it's a great addition to this homemade deodorant.

Green tea, in the form of matcha powder, has lots of antioxidants, it's anti-inflammatory, and it makes the deodorant a beautiful shade of green! Powders in anhydrous products like this one (something that only uses oils and waxes, and no water) also seem to help with the glide factor and reduce greasiness. All of that said, you most certainly can leave it out of the recipe!
Can I use different essential oils?
You can switch out the essential oils used if you like, but keep the amount around 1% of the recipe (by weight) or less to avoid issues with sensitivity. Also, keep in mind that some oils may cause more sensitivity than others.
Another issue, which probably isn't problematic in a product like deodorant because your armpits aren't generally exposed to the sun, but some essential oils (like bergamot and some of the pressed citrus oils) can cause photosensitivity.
I can't find zinc ricinoleate. What can I use instead?
Zinc ricinoleate is one of the active ingredients in this deodorant that help make it effective. If you are desperate to try and really can't find it, you can try leaving it out, but know that the deodorant will be less effective.
Because zinc ricinoleate is normally a waxy ingredient, you should replace it with an extra gram or two of beeswax to help keep the deodorant solid. If you just leave it out, you'll end up with more of a cream than a solid deodorant.

I personally have always used zinc ricinoleate because I need the extra effectiveness.
Over the years, I've heard from several people who have made the deodorant without it. It has been effective for some, and not so much for others. Using them together, though, I have yet to hear from someone who says it doesn't work for them. So, if you can find it, add it!
How long does this keep?
Because there are no water-based ingredients, this recipe doesn't need a preservative. It will also keep for quite some time, depending on the freshness of the ingredients you are using.

To get an idea, check the expiration date of your ingredients. The deodorant should keep for as long as the ingredient with the shortest shelf life. (With time, it may start to smell rancid as the oils change. It won't be unsafe to use, but definitely isn't pleasant.)

Although this is an oil-based recipe, the outside can be contaminated with the bacteria and wetness from your skin. To prevent mold and other microbial growth on the outside, apply it to clean, dry armpits and only cap it if it's fully dry. (If you're really concerned, you can always add a preservative.)
I can only find zinc ricinoleate in liquid form. Can I use it?
This is a difficult question because different liquids have different ingredients. If it's an anhydrous (without water) liquid, you can probably use it, but you'll have to adjust the recipe to achieve a solid deodorant consistency. (Reduce the liquid oils and/or increase the wax.)

If it is a liquid that has water, you'd have to use an emulsifier of some sort to add it. You'll also need a preservative. There is also the issue of adjusting the recipe to get the right consistency.

In either case, you'll need to use the recommended dosage for the product you're using. (Your supplier should have that information.)
Does it work?
Yes! I've been happily using this homemade deodorant for years now.

Not only has it worked through many-a-workout and walking outside on hot summer days, but it hasn't caused any irritation at all. In fact, I think it has helped soothe my armpits and has kept me from getting chaffing when I walk or run without any sleeves.

Video
Looking to make more?
Subscribe to my newsletter for the latest projects (and recipes)!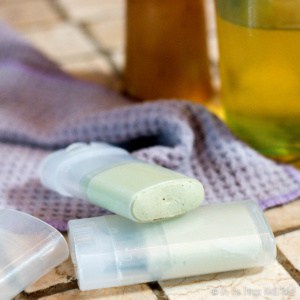 Natural Homemade Deodorant for Sensitive Skin
Soothing, yet effective, this natural homemade deodorant stick works without baking soda nor coconut oil, and uses zinc to help combat odors for those with sensitive skin.
Print
Pin
Rate
Instructions
Melt together the shea butter, almond oil, beeswax, and zinc ricinoleate in a double boiler until the wax and zinc ricinoleate melt. Remove from the heat.

Add the zinc oxide, matcha powder, vitamin E drops, and essential oils, and whisk together well until the zinc oxide is well incorporated into the oils and wax. You can use a milk frother or beater to fully incorporate the powders into the mixture. (Also, consider sifting the powders to avoid lumps.) You may need to mix them together over the warm water if the mixture solidifies too quickly.

While still warm, pour the mixture into deodorant containers. You can also pour it into tins, or pour any excess into storage containers, for applying the deodorant by hand.

Allow the mixture to cool off and set without disturbing it. Once it has set, you can use it immediately!
Notes
Makes around 75 ml (5 small 15ml tubes, or one larger 75ml tube)

Matcha is optional for antioxidant/anti-inflammatory properties and a bit of color.
Use the essential oils of your choice for scent. (Or leave them out completely for unscented.)
For those who prefer a roll-on deodorant, I have recipe for a natural roll-on deodorant that also uses zinc.
For a more solid bar either reduce the amount of oil or increase the amount of wax (or both). For a softer bar, do the opposite.
Changes to this recipe
This recipe was originally written with the EO's and Vitamin E in drops rather than grams. As it is impossible to get an accurate estimation of how much you are really using when using drops, I have switched it to grams.
Some people found the deodorant too soft. It originally called for 40g almond oil and 15g beeswax. I have since reduced the liquid oil and increased the beeswax to get a harder bar.
My old baking soda deodorant recipe
Use this one at your own risk!
As many people have shown interest, I have kept my old baking soda deodorant recipe here. It worked well for me for months, but I did occasionally get irritation when using it.
This deodorant is lacking several things… It combines oils and water and doesn't use an emulsifier nor a preservative. That's obviously not ideal.
Lotions and creams are made by emulsifying together a water solution and an oil solution, using an emulsifier to keep them together. Adding water and other liquids to your lotions and creams makes them lighter and hydrating, but it has the disadvantage of being a breeding ground for bacteria. (Just think how quickly a fresh fruit or vegetable goes bad in comparison with a dried one whose moisture has been removed.) So, generally, any time you combine water and oils in a recipe, you'll need both an emulsifier and a preservative.
I was mainly relying on the high pH from the baking soda to help make my homemade deodorant last longer without needing to add preservatives.
I surprisingly never found any separation when using the mix. Perhaps because the water level was so low? Beeswax isn't really an emulsifier, but perhaps it in combination with the alkaline baking soda was enough to incorporate the small amount of water in this recipe. (Beeswax combined with borax, for example, can show some emulsifying properties.)
This is a small batch, and it's probably a good idea to keep it that way because it incorporates water without any real preservatives. (Baking soda will raise the pH which does serve to inhibit microbes from forming. The essential oils, matcha, and vitamin E don't really preserve at all, but may help it last a bit longer. I can't be sure that the pH is high enough to prevent bacterial contamination here because I've never tried testing it and I haven't made this in years!) I had mine last a couple of months without any issues, but if you decide to try this recipe, and it starts smelling funky, don't risk it and throw it out!
It was also measured in teaspoons and drops, something that I no longer do. Ensure that the amount of essential oils doesn't go over 1% of the recipe by weight so that it is less likely to cause skin sensitivity.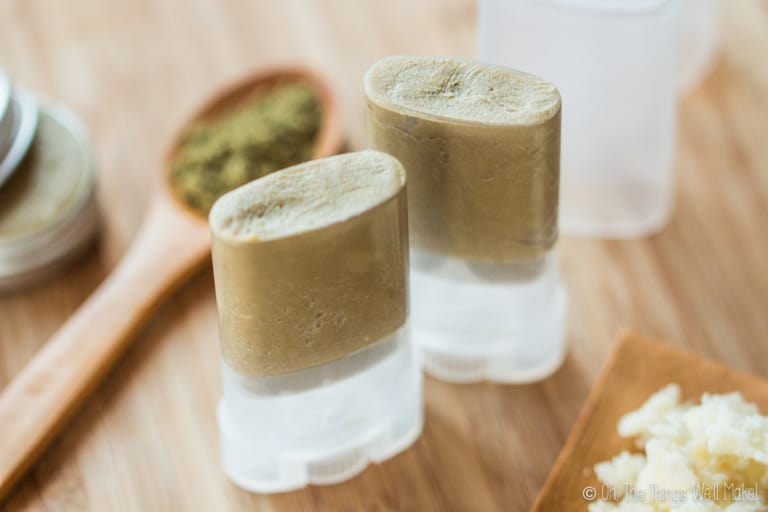 Baking Soda Deodorant for slightly sensitive skin
4 tsp. baking soda
1/2 tsp. matcha
2 tsp. water
2 Tbsp. shea butter
1 Tbsp. almond oil
1.5 Tbsp. Beeswax
0.5% vitamin E (by weight)
10 drops tea tree essential oil
15 drops lavender essential oil
Dissolve the baking soda in water over a double boiler.
Add in the shea butter, almond oil, and beeswax and whisk over the double boiler until the wax and shea butter have melted, and all of the ingredients are well combined.
Remove from the heat and whisk in the matcha, vitamin E, and essential oils.
Pour into deodorant containers and allow to set.
This post was originally published on July 25, 2016. It was rewritten, adding new notes and photos in June of 2021.