Surprise your senses with this healthy, sugar-free, homemade ginger ale. It's a fun, refreshing, carbonated detox water that will curb your cravings for not-so-healthy drinks.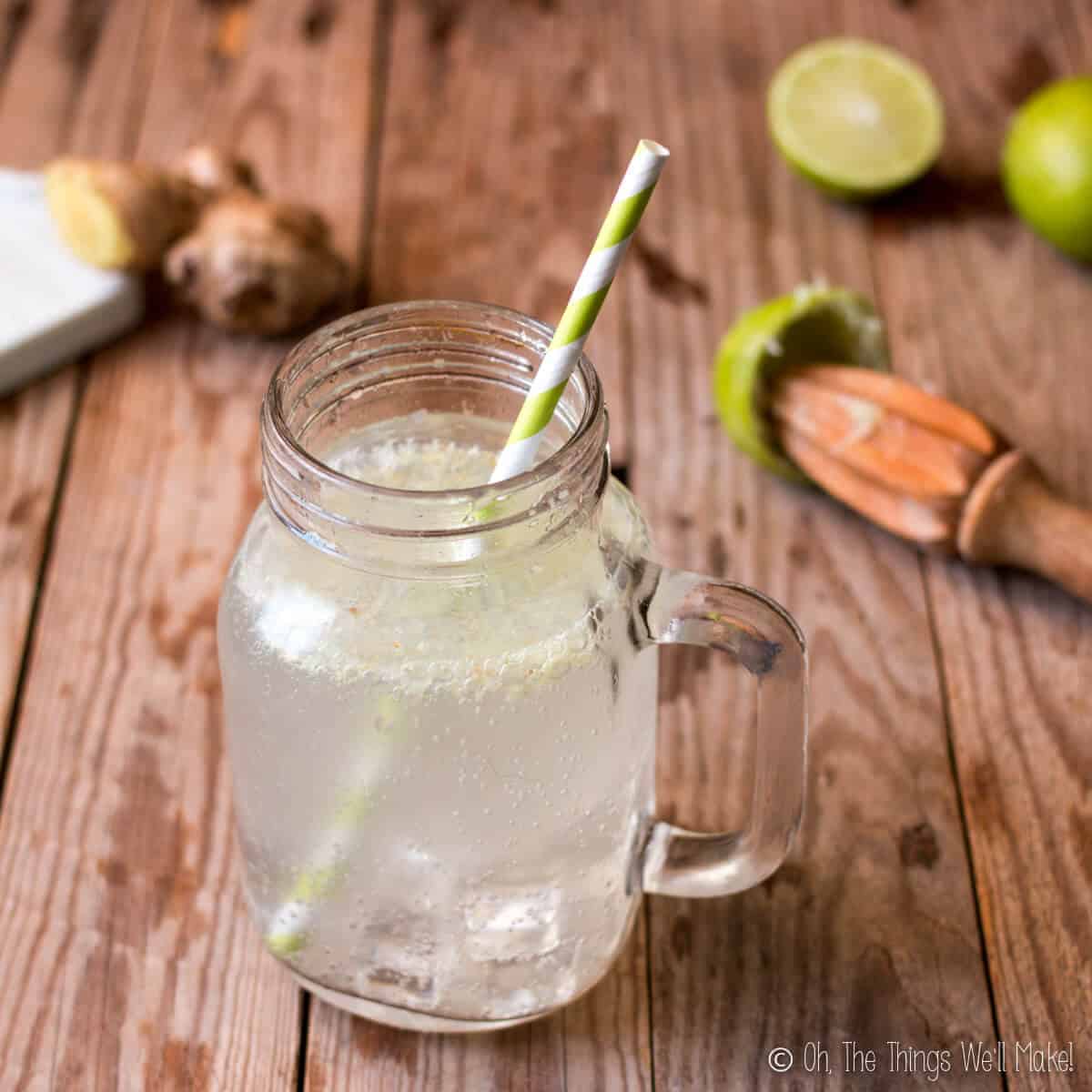 By now, you probably know that I try to live a healthy lifestyle most of the time. That, for me, includes cutting out as much sugar as possible.
Comparing to commercial ginger ale
Even before dental school, I was never really a soda/pop drinker. (Seeing young, soda-addicted patients with a mouth full of rotted teeth is enough to scare anybody away from drinking sugar-laden sodas ever again.)
I do remember one thing, though: asking for ginger ale on airplane rides. I have no idea how that even started. Perhaps my mom had told me that the ginger would be good for motion sickness on one of my flights.
When it comes to drinking ginger ale, I have to say that I prefer the taste of natural ginger to whatever is in the commercial stuff. Something about this simple combination of ingredients is satisfying enough. You aren't left missing the syrupy sweetness of commercial soda.
While it's true that I am already pretty used to a sugar-free diet, I have made this for many friends by now and they all seem pleasantly surprised by how good this is without adding sugar or other sweeteners.
Why make it?
This not-so-traditional ginger ale has helped get me by when I have cravings for something sweet. I like to think of it as a "skinny" or "detox" version of a summer classic beverage. Interestingly enough, it isn't really sweet itself, but it is refreshing and, for some reason, curbs cravings.
It is very quick to make and is super healthy. Still, it feels like an indulgence somehow. When you feel deprived, serving this super refreshing drink in a fancy glass can help you feel like you aren't missing out on anything at all!
Using a fancy glass converts this simple, flavored water into a healthy summer mocktail.
Health benefits of ginger
Ginger is not only delicious, but it has several health benefits. It is anti-inflammatory and anti-oxidant. Because of these properties, ginger can help with muscle soreness, arthritis, and even menstrual pain. It may even be helpful in the prevention of cancer.
If you aren't feeling well, ginger is effective at calming nausea and vomiting. Ginger may also speed up the emptying of the stomach which may contribute to indigestion in some people.
Ingredients
This simple recipe only uses 3 ingredients: lemon juice, ginger root, and sparkling water.
It may sound bland or lacking sweetness, but don't knock it until you've tried it.
If you try the recipe and feel you do need something sweet, consider adding a few drops of liquid stevia to keep the sugar and carb count low. You can also add maple syrup or a simple sugar syrup, but they will add more sugars and carbs to the drink, of course.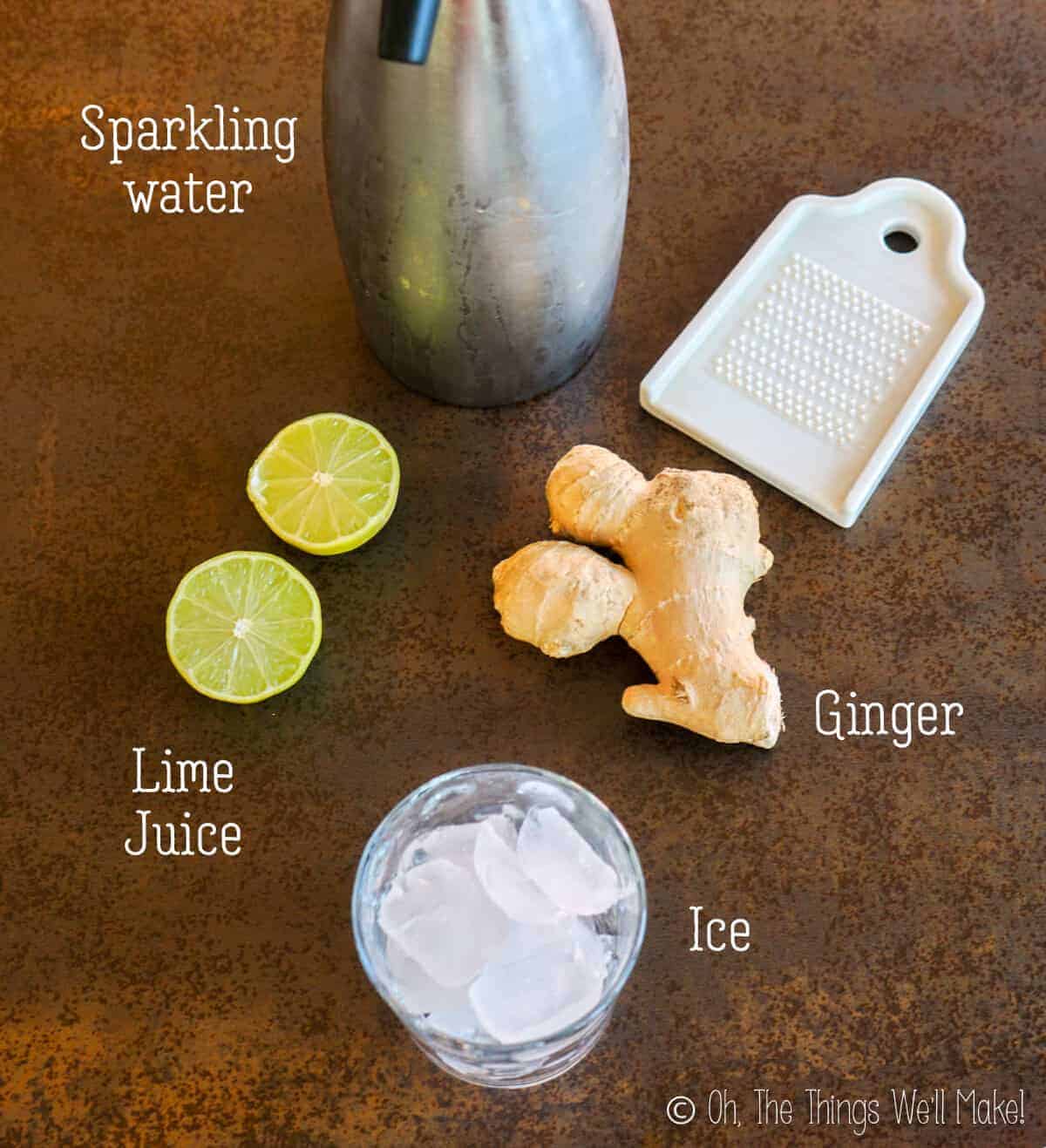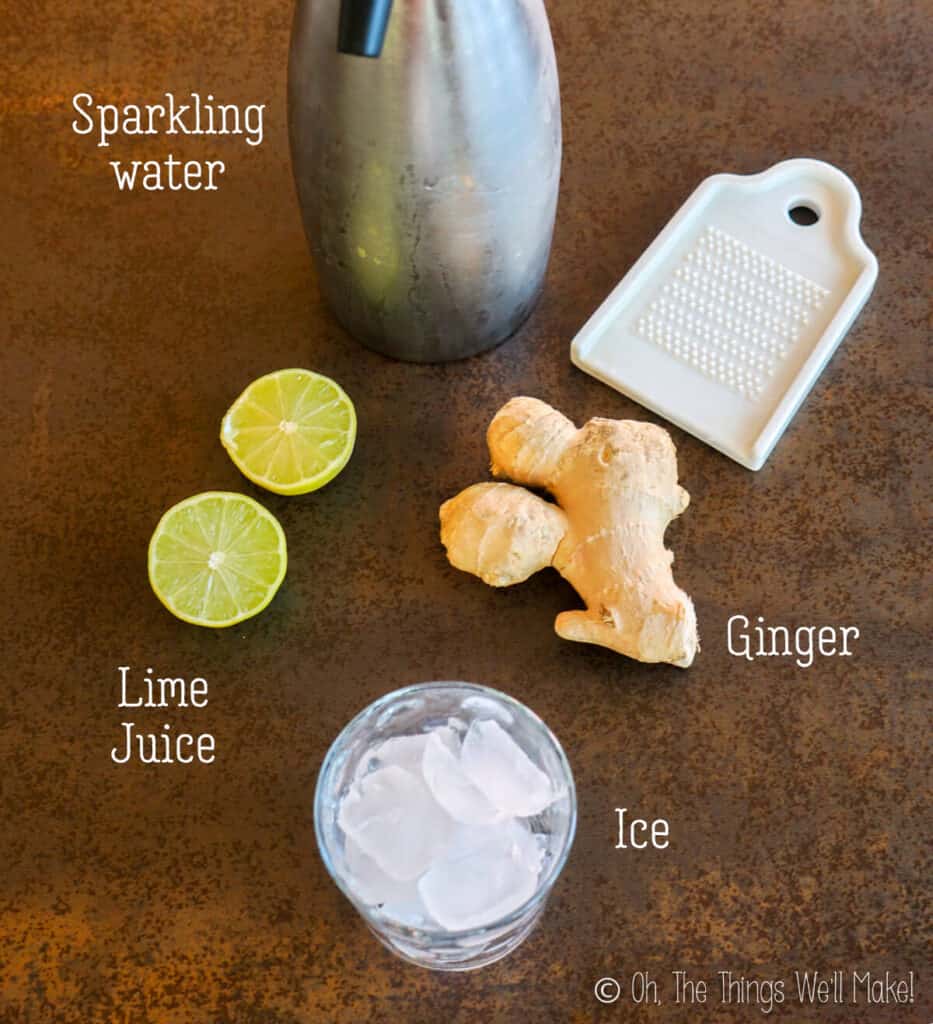 Sparkling water is what gives this drink it's fizz. It's also what makes it feel indulgent even when it isn't. Sparkling water is sometimes called soda water or seltzer water. You can buy it in stores or make it yourself. (Common brands are Perrier and San Pellegrino.)
Soda water
Bubbly and refreshing, soda water, also known as sparkling water or seltzer, is a fun alternative to still water. It's easy to make, and great for homemade sodas, mocktails, and cocktails.
Check out this recipe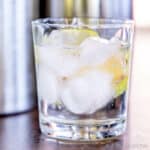 Preparation
The preparation couldn't be much simpler either.
First, slice a lemon or lime in half. Juice it into a glass filled with ice. If you're using a small lime, use the whole thing. If you're using a larger lemon or lime, use only half.
Next, grate about a centimeter of ginger root into the same glass. I have a special ginger grater that helps release the liquid from the ginger. When using that, I spray the sparkling water onto the grated ginger and into the glass.
Fill the rest of the glass with sparkling water, and your healthy ginger ale is ready.
Taste it for flavor, and adjust the flavor to suit your taste, as needed. You can add a drop or two of liquid stevia to add sweetness without added sugar.
Serve immediately!
Similar healthy beverages
Another healthy soda made with carbonated water, this paleo red pop is another healthy way to cool off in the summer without added sugar.
Healthy Paleo Red Pop
Ditch the unhealthy sodas, and switch to a much healthier paleo red pop, or red soda, which can be made two ways using a combination of herbs, fruits, and soda water.
Check out this recipe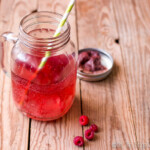 Another traditional ginger beverage, the ginger switchel, provides minerals and electrolytes for those hot days when you're working outside.
Ginger Switchel
One of the most refreshing and natural electrolyte drinks, the ginger switchel, also known as Haymaker's Punch, is regaining popularity partly because of its health benefits, and partly just because it is delicious and perfectly hydrating.
Check out this recipe

You can also add some pickled ginger to sparkling water. While it sounds weird, it's actually quite delicious!
A more traditional ginger ale
For a more traditional (less healthy) ginger ale, you can mix together a ginger syrup, lemon juice, and sparkling water.
To make a ginger sugar syrup, simmer some minced ginger in equal parts of water and sugar for several minutes in a small saucepan. (For example, you could use 50g water and 50g sugar or one cup of each.) After simmering for several minutes, remove from the heat source.
Once cooled, strain out the ginger. You can then add the cooled ginger sugar syrup to lime juice and sparkling water to make a more traditional ginger ale.
Once you've made the ginger syrup, you can also ferment it to make a homemade fermented ginger beer! Ginger beer is delicious on its own or in cocktails such as the Moscow Mule or the Dark 'n' Stormy.
Fermented ginger beer
Refreshing and naturally carbonated, fermented ginger beer is a delicious addition to mixed drinks like the Moscow Mule or Dark n' Stormy. It is also flavorful enough to enjoy on its own.
Check out this recipe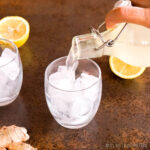 Video
Craving more?
Subscribe to my newsletter for the latest recipes and tutorials!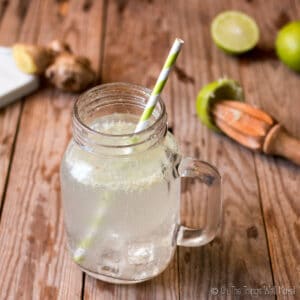 Homemade Ginger Ale – Sugar Free and Paleo
Surprise your senses with this healthy, sugar free, homemade ginger ale. It's a fun, refreshing, carbonated detox water that will curb your cravings for not so healthy drinks.
Print
Pin
Rate
Ingredients
1/2

lime

or lemon

1

cm

ginger root

250

ml

soda water

Make your own!
Instructions
Slice the lime, or lemon, in half.

Juice half of the lemon or lime into a glass. Save the other half for later, or use it for a friend. 🙂

Grate some ginger root into the same glass.

Fill the glass to the top with cold soda water.

Enjoy served cold!
Notes
I leave the grated ginger in the glass, but you can juice some of the ginger, and strain out the pulp if you prefer. Using a ginger grater helps juice the ginger and doesn't leave as much pulp behind.
We make our own soda water with a soda siphon, but you can also use store-bought instead.
While we drink this unsweetened, if you want a flavor closer to traditional, sweetened ginger ale, consider adding a few drops of liquid stevia or even a small amount of maple syrup or a simple sugar syrup.
Calories:
10
kcal
|
Carbohydrates:
3
g
|
Vitamin C:
9.7
mg
|
Calcium:
11
mg
|
Iron:
0.2
mg
This post was originally published on June 8, 2017. It was rewritten and republished in June of 2020.