Surprise your senses with this healthy, sugar free, homemade ginger ale. It's a fun, refreshing, carbonated detox water that will curb your cravings for not so healthy drinks.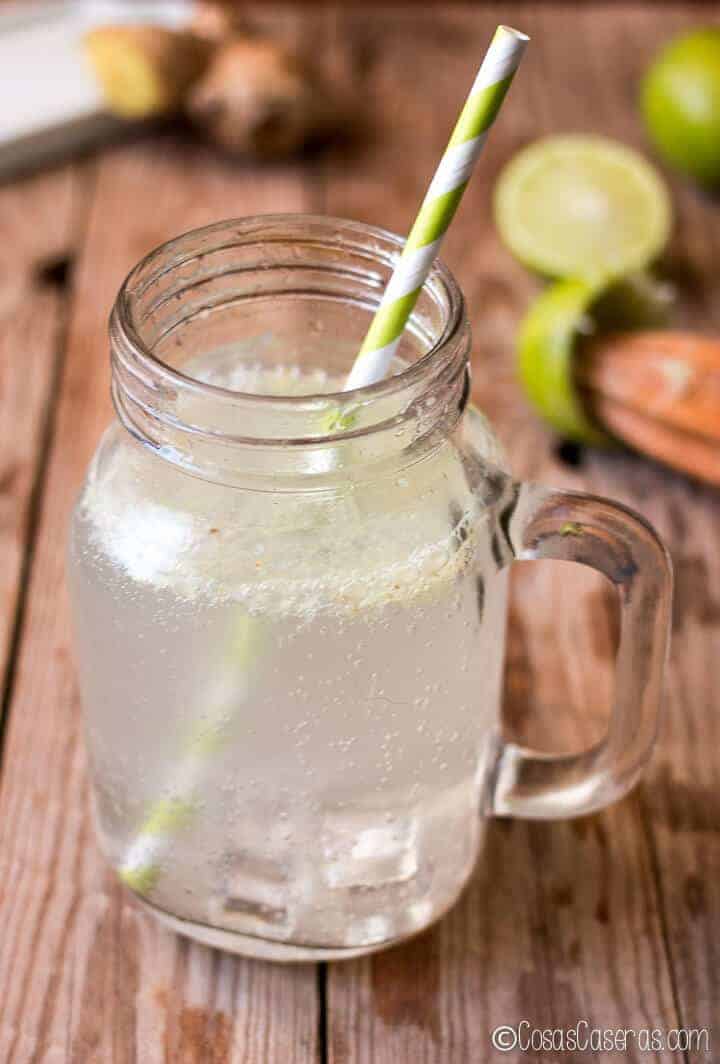 This spring I told you about how I was keeping busy doing spring cleaning around the house.
I've also been working on a bit of detoxing, losing a bit of "baby" weight (over 6 years later), and getting into better shape.
Throughout the process, I've been following a more strictly paleo diet, pretty much completely cutting out dairy, grains, and legumes, except for on the weekends. I've also been limiting my sugars, including fruits and alcohol.
Is it working?
Well, I've taken off around 20 pounds since the beginning of March, and I'm now able to run 5km without stopping, albeit somewhat slowly still. 🙂 I'll tell you more about what I've been doing, for those who are interested, but today I want to share with you something that has helped get me through cravings for everything from a glass of wine to a piece of chocolate. (Don't bet me wrong, I have nothing against either of those, but I've been trying to temporarily either avoid or at least severely limit them during the week until I reach my goal.)
I wasn't normally drinking alcohol during the week anyway, not even a glass of Spanish red wine, but I did normally reach for some sort of treat after dinner. Rather than reach for the wine or a sweet treat, I've found this wonderful way to curb my cravings…
Watch how to make this sugar free homemade ginger ale
Sugar Free Homemade Ginger Ale
Today I'll be showing you a not-so-traditional ginger ale. This "skinny," "detox" homemade ginger ale is very quick to make, and is very refreshing. It isn't sweet or syrupy, and will help you feel healthy and happy at the same time.
If you feel deprived while limiting your diet in whatever way, serving something like this in a fancy glass will make you feel like you aren't missing out on anything at all!
Growing up, I was never really a pop drinker. When I was around 8 years old, my mom remarried someone who did drink pop, though, and I started to drink it occasionally. (It was also when I got my first and only cavity, of course, and when I chipped another tooth on a pop bottle. Yes, my only dental work was all pop related, somehow or other.)
I do remember one thing, though. Asking for ginger ale on airplane rides. I have no idea how that even started. Perhaps my mom had told me that the ginger would be good for possible motion sickness on one or some of my earliest flights. You see, I was already traveling between the US and Spain even when I was quite young. No matter how it started, it was one of the only soda pops I ever drank really. That, and the occasional "weird" pop because I wanted to try it- like red pop, Hubba Bubba Bubble Gum pop, and "suicide punch," which was a mix of whatever was on hand. (Don't judge me. We all have a past!) 😉
Anyway, back to ginger ale. I ordered it, but have to admit, I wasn't a huge fan of the super sweet, syrupy stuff. I also prefer the taste of natural ginger to whatever is in the commercial stuff. I find that with this combination, you don't miss the sweetness. You may be thinking that it's because I'm already pretty used to a sugar free diet. While that may be true, I've made it for both my husband and a friend of mine, and now I'm stuck making it for them all of the time!
What is soda water/ seltzer (vs. club soda and tonic water).
Once I started realizing how much I love this, and how it helps me feel better, I actually bought myself a stainless steel soda siphon to make my own soda water (aka. seltzer water) at home. Making it yourself isn't essential, but it will help ensure that you are drinking carbonated water and nothing else.
Here in Spain it's easy to find "agua con gas," but in the United States it might be confusing. If you find something labelled "sparkling mineral water," "soda water," or "seltzer water" you should have just that, the carbonated water that I use. If it's labelled as "club soda," it normally has added minerals for flavor, and if you buy "tonic" or "tonic water, " not only will it be bitter from added quinine, but it will have added sugar. (I'm sipping on a bottle of Perrier sparkling mineral water at an internet café as I type. It's a naturally carbonated water, but any sort of carbonated water is what you want if you don't want added sugars or other additives.)
My husband turned his nose up at carbonated water in general because he assumed all carbonated waters tasted salty. It's likely that he had either tried a naturally sparkling mineral water with a salty flavor, or a club soda in which the minerals were added in later. If you want to avoid the "salty" taste, either look for a seltzer water or make it yourself.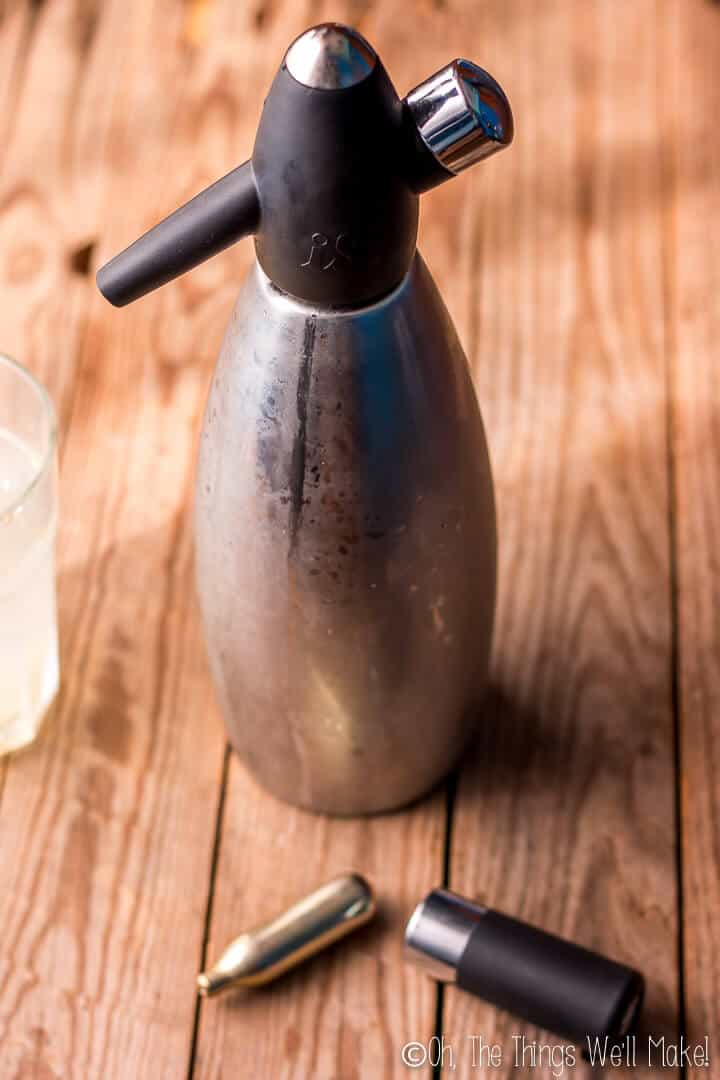 How do you make seltzer water?
As I mentioned before, I actually bought myself a stainless steel seltzer bottle (Also known as a soda siphon) for making my own seltzer water at home. I remember doing the same at my dad's house when I was a kid, and tried later on to find one, but they weren't exactly a popular thing in the US. In any case, with the coming of the internet age, it's pretty easy to find just about anything no matter where you live anymore, and I was very excited to order a seltzer bottle for making my own carbonated water.
When you buy a seltzer bottle, you also have to buy soda chargers. Soda chargers are little pressurized cartridges that you screw into the soda bottle that's been filled with cold water. Once screwed into the bottle, you'll hear how the gas is released into the bottle. You then give the bottle a little shake to help dissolve the gas into the water.
Once you've given the bottle a few shakes, you can serve the water immediately.
I've gotten used to using my siphon. It doesn't take up a lot of room, and it looks nice, but I have to admit that it costs me around 50 cents for each liter of water.
At some point, now that I have everyone in the house addicted to soda water and my homemade sugar free "pop,"I may have to look into a bulk solution for carbonating water. I found this post which has piqued my interest, and made me consider better ways to make a lot of carbonated water. Of course, if you're only going to be making an occasional fizzy drink, I think a soda siphon is the perfect place to start!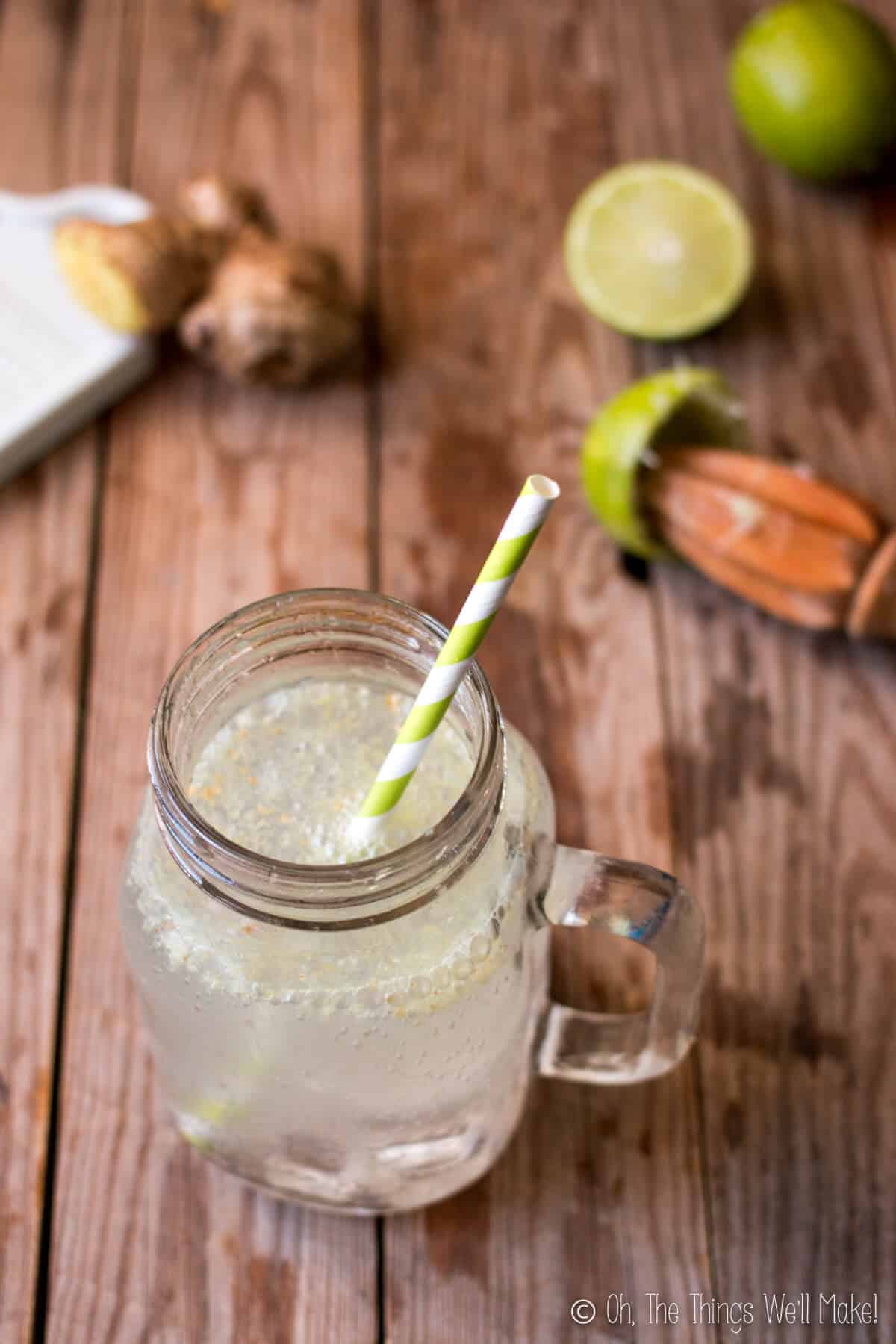 Sugar free and Paleo Homemade Ginger Ale
Craving more?
Subscribe to my newsletter for the latest recipes and tutorials!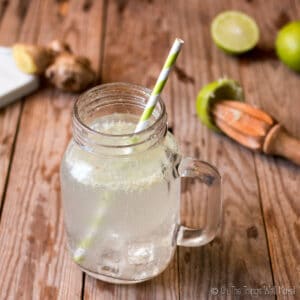 Homemade Ginger Ale - Sugar Free and Paleo
Surprise your senses with this healthy, sugar free, homemade ginger ale. It's a fun, refreshing, carbonated detox water that will curb your cravings for not so healthy drinks.
Print
Rate
Ingredients
1/2

lime

or lemon

ginger root

soda water
Instructions
Slice the lime, or lemon, in half.

Juice half of the lemon or lime into a glass. Save the other half for later, or use it for a friend. 🙂

Grate some ginger root into the same glass.

Fill the glass to the top with cold soda water.

Enjoy served cold!
Notes
I leave the grated ginger in the glass, but you can juice some of the ginger, and strain out the pulp if you prefer. I do use a ginger grater which helps juice the ginger, and doesn't leave as much pulp behind. (I've linked to a similar grater below, one with what I believe is a better design than the one I bought.)
Calories:
10
kcal
|
Carbohydrates:
3
g
|
Vitamin C:
9.7
mg
|
Calcium:
11
mg
|
Iron:
0.2
mg