Take fun first day of school photos to help track the growth of your kids from year to year. Download this free chalkboard background printable, and learn which fonts can make your sign look great effortlessly!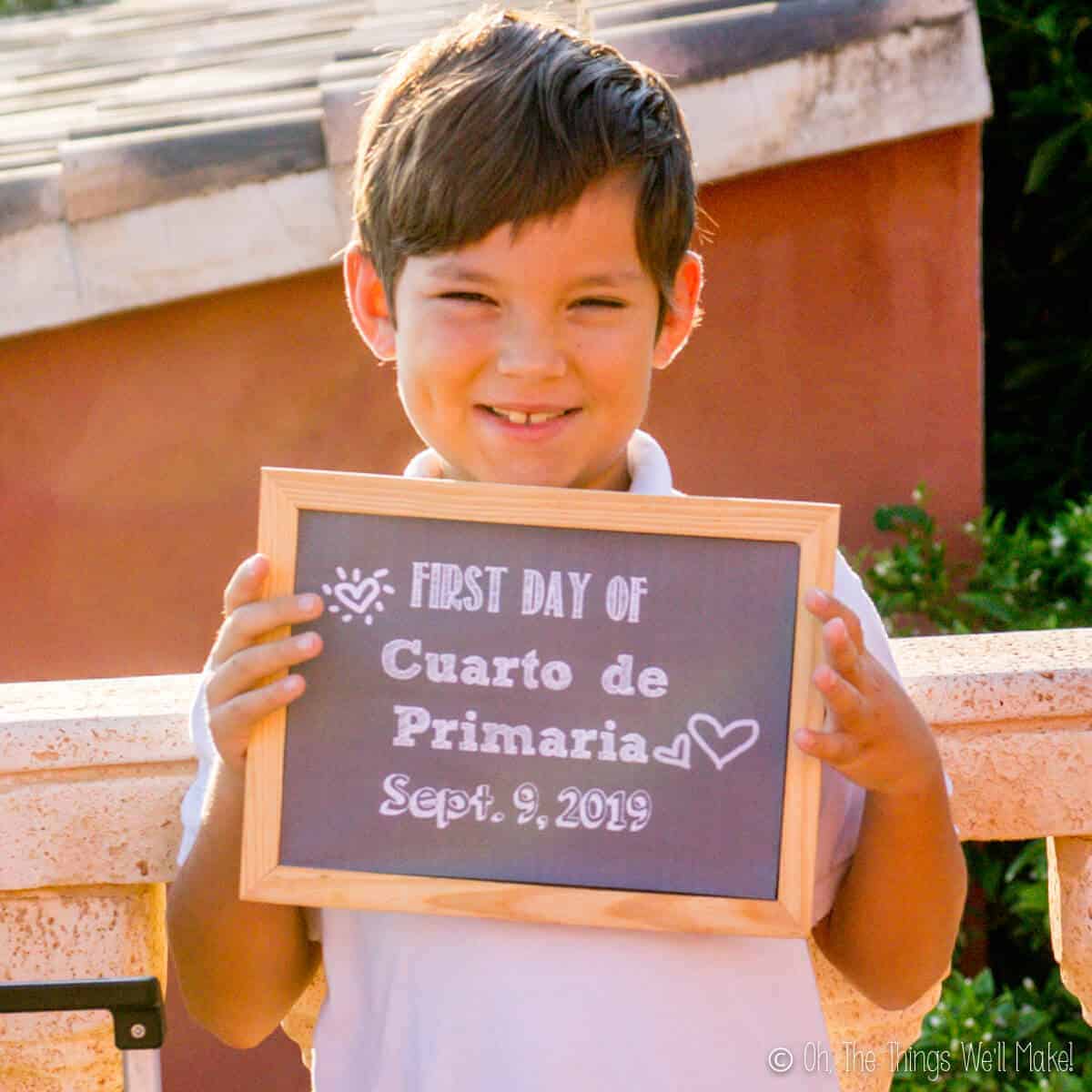 Time for school again!
This year things are a bit more uncertain than other years. We still don't know if school will be done online or in person. No matter how we end up doing school this year, though, one thing is certain. I'll be taking my yearly first day photo to memorialize the day.
Why take a first day of school photo?
Taking a first day of school photo each year is a great way to track the changes in your child. It gives you a fun keepsake, and shows you just how quickly your kids are growing up in front of your eyes!
Here in Spain, kids start school at a much earlier age. Rather than start kindergarten around age 5, school begins around age 3. My son started school when I first published this post in 2013. (It was one of my first posts!) He was still 2 (but almost 3)!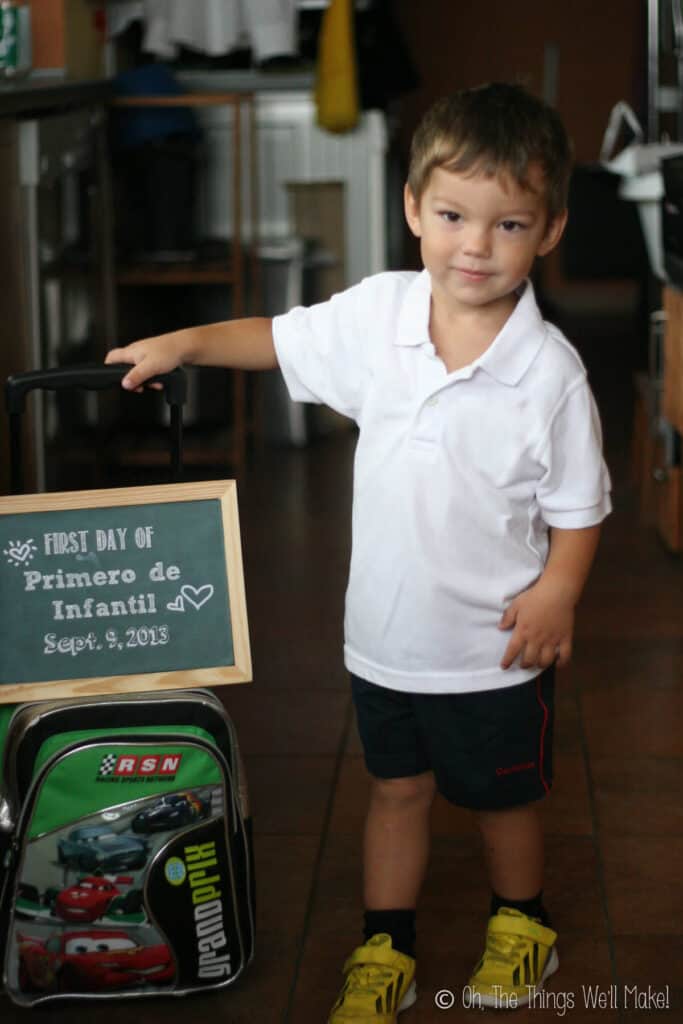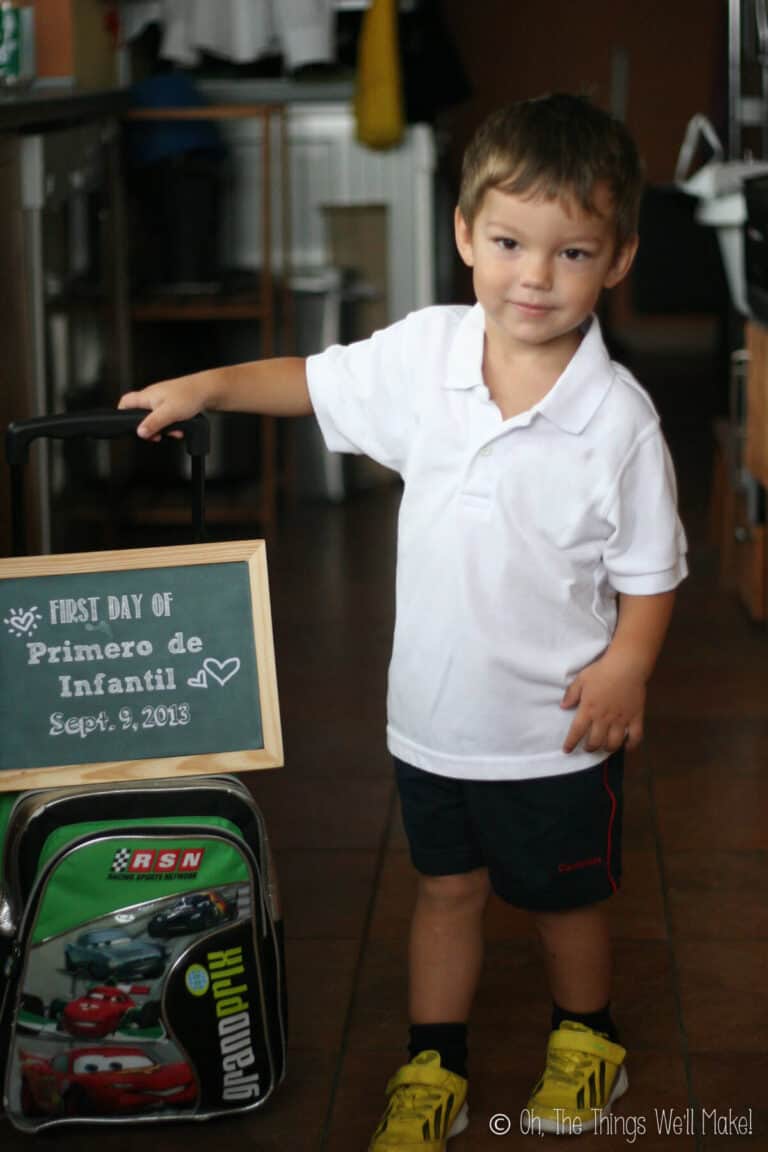 First day of school sign
To better commemorate the day, have your kids hold up a sign. The sign can give as little or as much information as you want to remember.
Here are some ideas of things to write on the sign:
The date of the first day of school
The year/grade they will be going into
Age of the child
Name of the teacher
Name of the school
Facts about the child such as his/her current favorite color, tv show, or book, what he/she wants to be when older, etc.
I chose to only write the date and the grade that my son was starting, but you can add more.
Free chalkboard printables
When I planned out my first sign, I decided to use a small chalkboard we already had at home. When I went to write on it, though, I didn't like how my writing looked.
I liked the idea of a chalkboard sign, but wanted to be able to print out the letters rather than writing them myself. Some of you might be better at lettering than I am. It's not really one of my talents. I figured the signs would look cuter and a bit more professional if I could use a chalkboard font instead.
So, I looked for ideas online. At the time, there were a few free chalkboard printables to download, but they couldn't really be customized. My son wasn't starting kindergarten or preschool or first grade. Instead, he was starting what is called "primero de infantil"!
I also wanted to be able to add the exact date of his first day of school.
Using photoshop, I made a chalkboard background of sorts by smudging subtle white marks onto a charcoal colored background. You can use my original background by right-clicking on the photo below and saving the image to your computer.
I have since bought a couple of chalkboard background stock images that you can also use for your sign (for personal use only). You can download the files by clicking on the links below.
Chalkboard fonts
Once you have the background, you'll want to write on it with a font that looks like handwriting. I prefer using white lettering, but you could also use other colors to make it look like you're writing with colored chalk.
There are a lot of available free fonts that you can use for your personal projects. These are some that I really liked. I ended up using Return to Sender, Sketch Block and Oranje juice in my signs.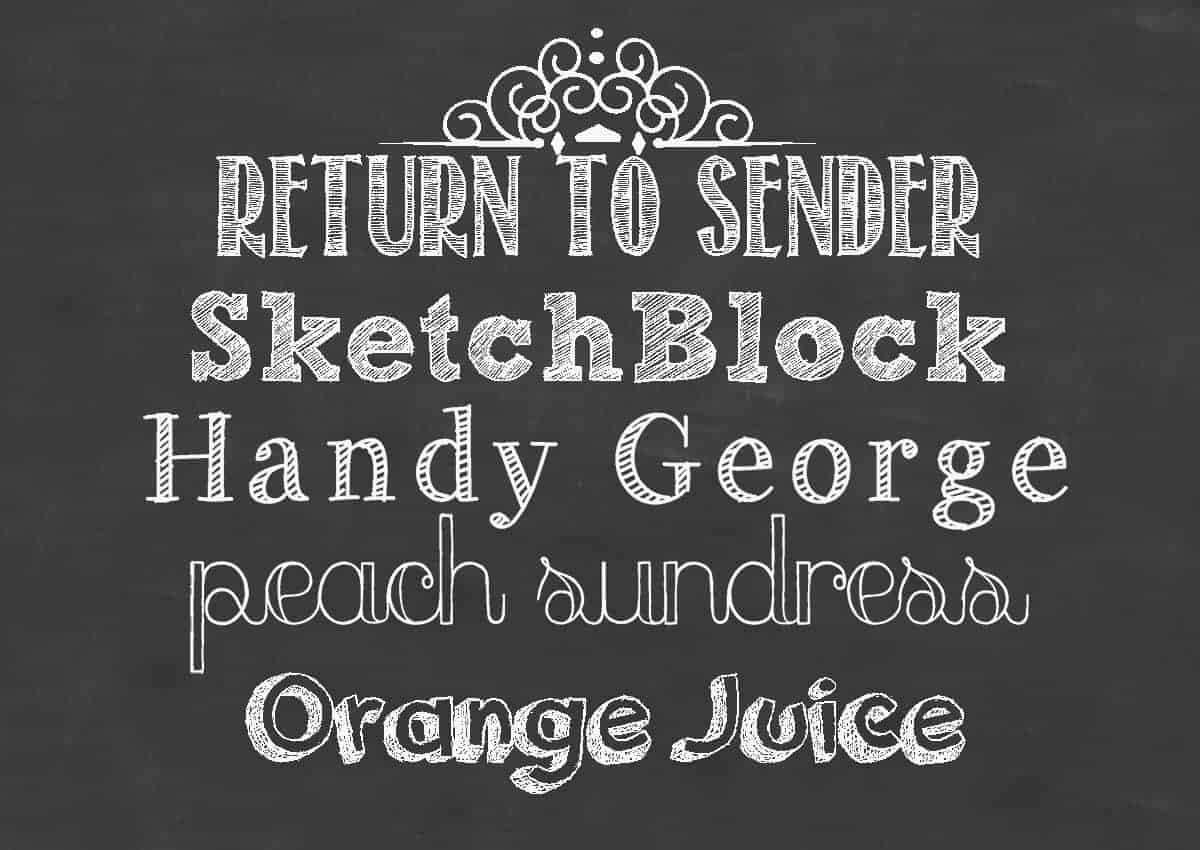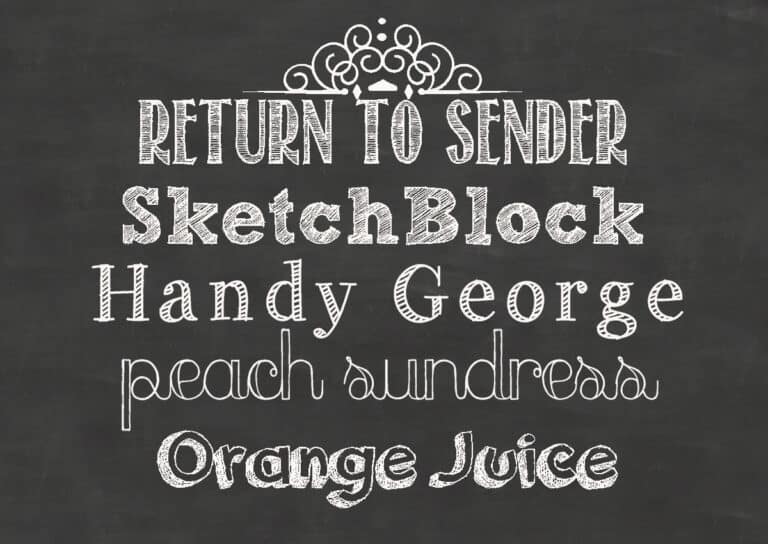 Click on the links below to download the fonts.
The top decorative piece in the photo above is from a dingbat font called Bergamont Ornaments. I played around with some of their other doodles for my sign.
I also ended up using the hearts from MTF heart doodle.
Adding a frame
To make my chalkboard sign, I still ended up using the little chalkboard I had at home. Rather than write on it with chalk, though, I taped my chalkboard printable over it.
Because you don't actually see the chalkboard, you don't really need a real chalkboard for your sign. Any frame will work instead.
Editing the sign
Once you have a chalkboard or other frame ready, measure the size of the visible part within the frame. That will give you an idea of the dimensions you'll want to make the sign. Crop the chalkboard background to those dimensions.
I used Adobe Photoshop, but you can use any photo editing software that allows you to add text to photos. If you don't have photo editing software on your computer, you can use an online photo editor like Pixlr.
Once you have the background ready, use the chalkboard fonts to write all of your information on the sign. You can also decorate it with some freehand doodles, or shapes from dingbat fonts.
Make sure not to have your writing go right up to the edges of the printable so they aren't cut off if you decide to slip the edges of your printable underneath the edges of the frame (or if you need to cut the edges).
If you use Photoshop, feel free to use my sign as a template. (It's in psd format.) Pixlr should also be able to edit it of you don't have Photoshop.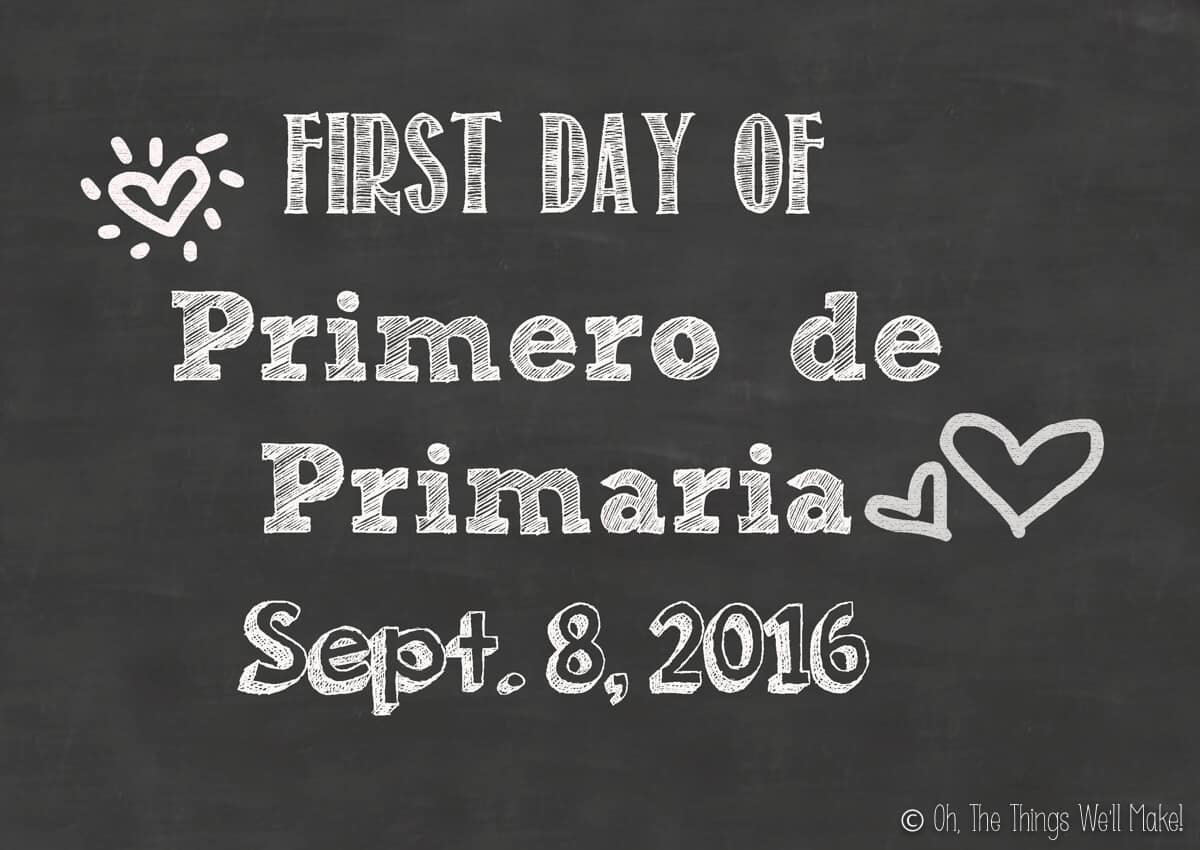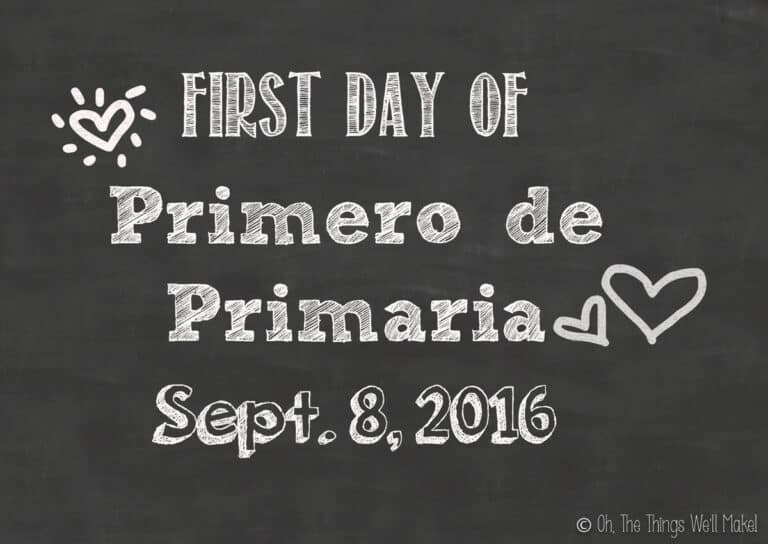 Printing out the sign
Print out your chalkboard printable at a size just slightly larger ( around 1mm on each side) than the open space of the frame. This will ensure that you have enough "chalkboard" to cover the entire open space of your frame.
If your frame will allow for slipping the edges of the paper underneath the frame, you can cut off all white edges, leaving the printable slightly larger than the opening. If not, you'll have to carefully cut the chalkboard to the exact dimensions of the opening.
I printed it out on regular white printer paper so that it would stay nice and matte, just like a real chalkboard!
Putting it all together
After you've cut it out, use double-sided tape to stick the printable to your mini chalkboard or over the glass of your frame. If your frame allows it, slip the edges of the paper under the edges of the frame. (If your frame doesn't allow for that, you'll have to carefully cut your printable to the exact size of the opening.)
That's all there is to it!
Taking the first day of school photo
Now comes the hard part of getting your child to take a picture with your sign…
(and, perhaps, the even harder task of getting your child to school.) ?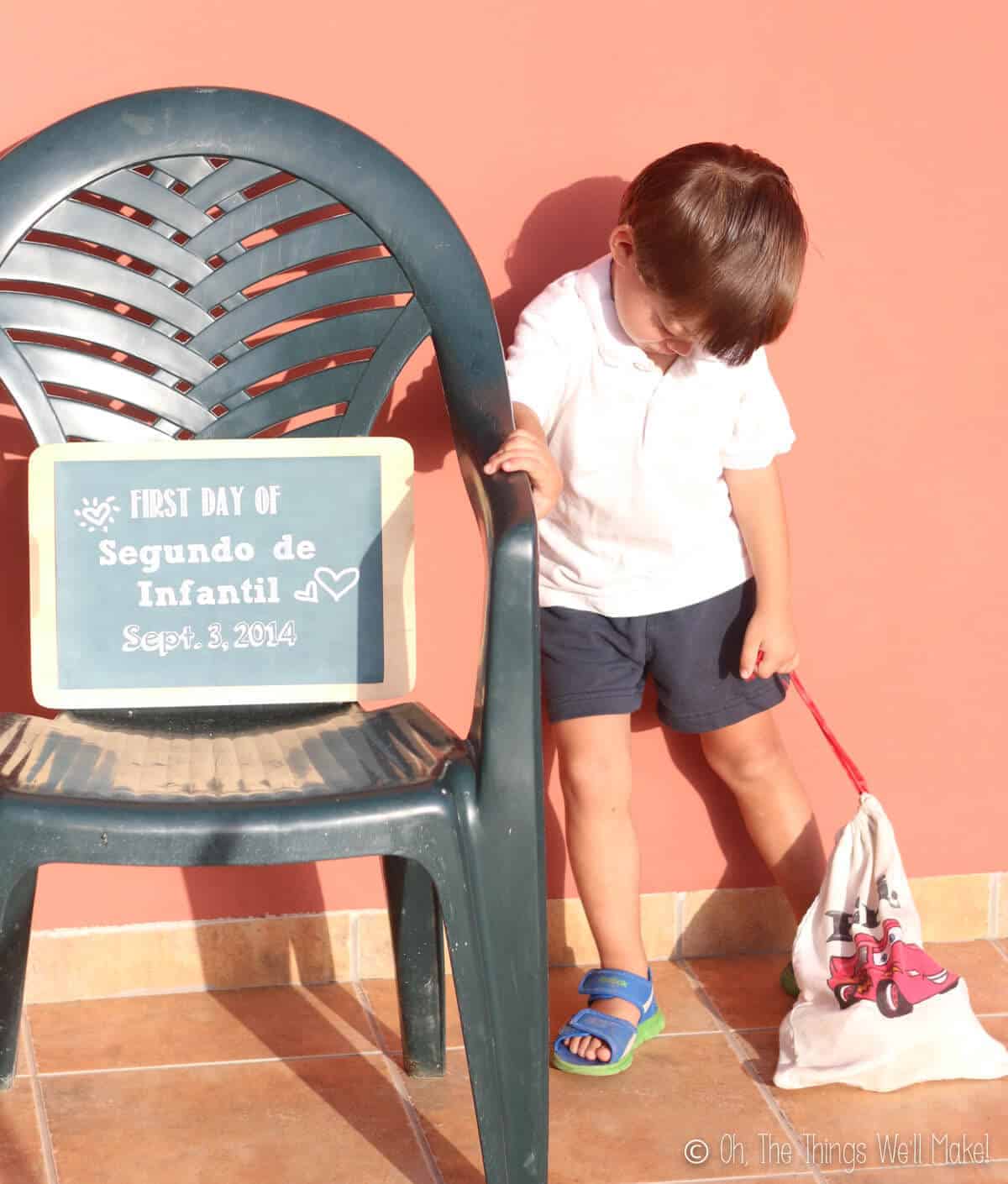 Photo tips
I like taking at least one picture standing, so I can compare the growth from year to year.
Make sure you can read the sign in your photos before you finish your mini photo session.
Have the child stand next to the current year's backpack or other things they might like to remember.
Have them wear the clothes they'll be wearing to school. (My son has to wear a uniform, so it's a bit boring.)
Looking to make more?
Subscribe to my newsletter for the latest projects (and recipes)!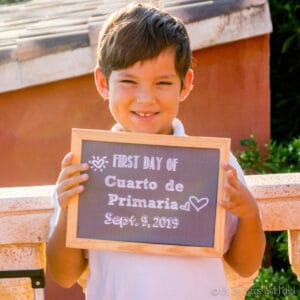 First Day of School Chalboard Sign
Memorialize those milestone first days of school each year with fun first day of school photos. To better document the day, use a fun chalkboard sign.
Print
Pin
Rate
Materials
1

mini chalkboard

or other frame, 8x10inches (20x25cm) is a good choice.

1

sheet

printer paper
Instructions
Measure the inside part of the frame to know the dimensions you want to make your chalkboard printable.

Using a photo editing software, like Photoshop, write information about the first day of school on the chalkboard background using one of the handwriting fonts. Use white or contrasting colored letters.

Information you can write includes the date, the grade/school year the child is beginning, the teacher's name, favorite color, book, or movie, etc.

Leave some space around the writing so that you can cut the chalkboard as needed without cutting of the wording.

Print out the chalkboard design just slightly larger than the opening of the frame or mini chalkboard (around 1mm larger on each side). This will allow you to cut the frame to the exact size needed without leaving any white space.

If your frame will allow it, you can cut the paper slightly larger than the opening of the frame and tuck the edges underneath. If not, carefully cut the chalkboard printable to the exact size of the opening.

Use double-sided tape to temporarily tape the printable in place on top of the glass of the frame or on top of the chalkboard. Tuck the edges of the paper under the frame if you are able.

Have your child hold the chalkboard sign while you take photos on the first day of school!
Notes
Consider getting at least one photo of the child standing each year so that you can compare how they grow.
Have the child wear and/or stand by things that they might like to remember. This includes things like that year's backpack or snack bag.
If you don't have any photo editing software on your computer, you can use online photo editors like Pixlr.