A kid's favorite mocktail, the Shirley Temple is a delicious drink, perfect for all ages. By making it from scratch, you can enjoy this classic with a healthier twist.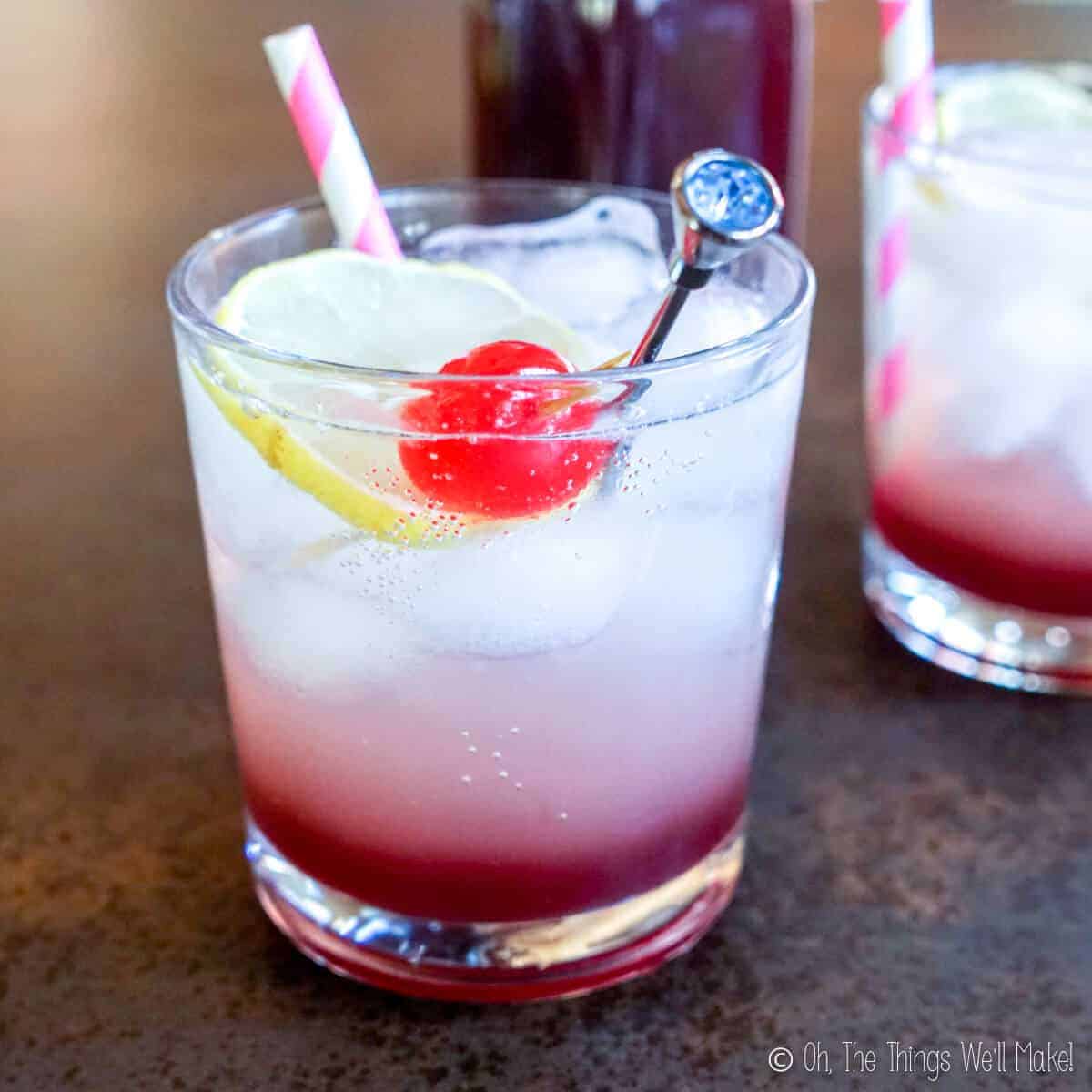 What is the Shirley Temple?
The Shirley Temple is a mocktail, or non-alcoholic cocktail, made with grenadine and soda. Traditionally, it was made with ginger ale, grenadine, and was garnished with a maraschino cherry. Modern versions, though, often switch out the ginger ale for 7-Up or Sprite.
It is said that the mocktail was made in Hollywood to serve the actress, Shirley Temple, when she was too young to have regular cocktails. It's interesting to note, though, that she wasn't a fan of the drink. She found it "too sweet!"
Why Make it?
I have to agree with Shirley. It's true that I felt like a grown-up when sipping on my non-alcoholic Shirley Temple cocktail at the Tootsie Van Kelly's restaurant of the Amway Grand Plaza when I was a kid.
As an adult, though, I'm remembering that even back then, I didn't like the flavor of the drink as much as I liked the feel of holding a pretty "cocktail." The processed version can be a bit too syrupy sweet.
That said, the simple blend of flavors is actually quite nice if you take the sweetness down a notch or two (or three).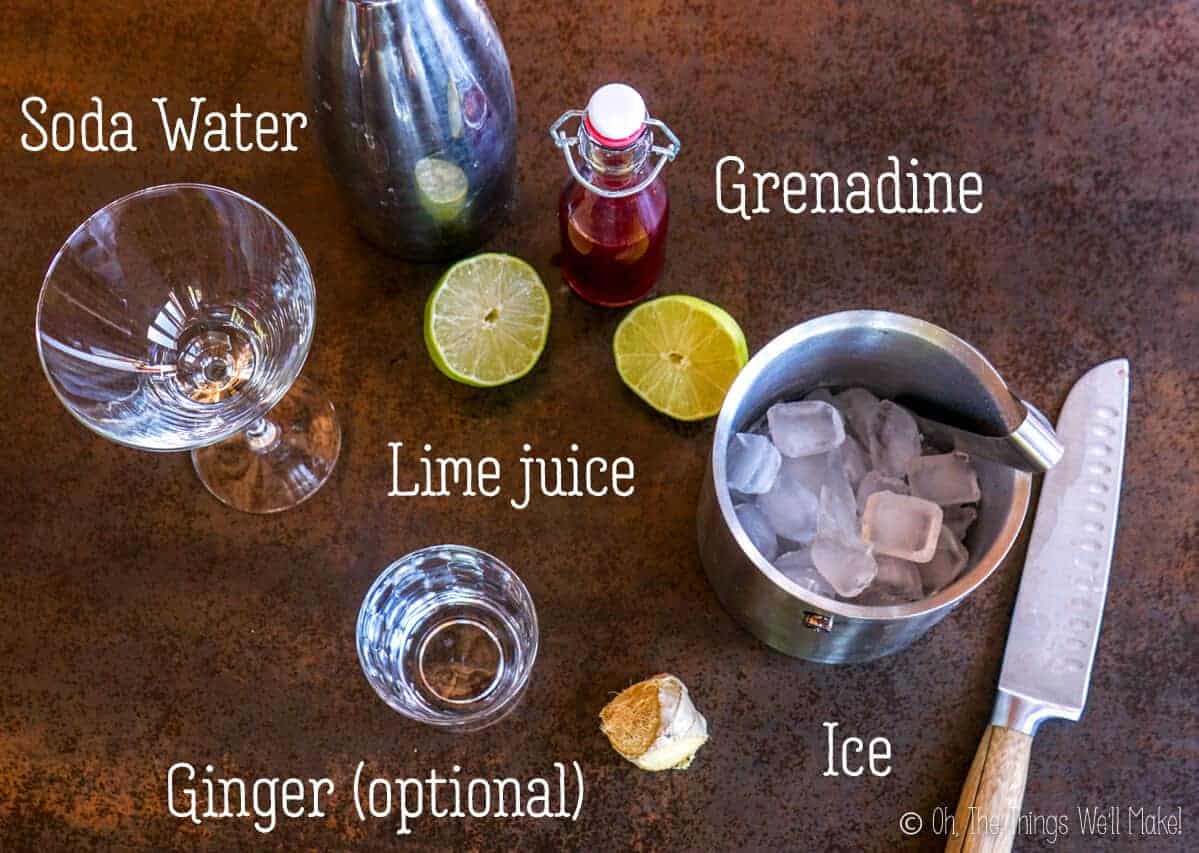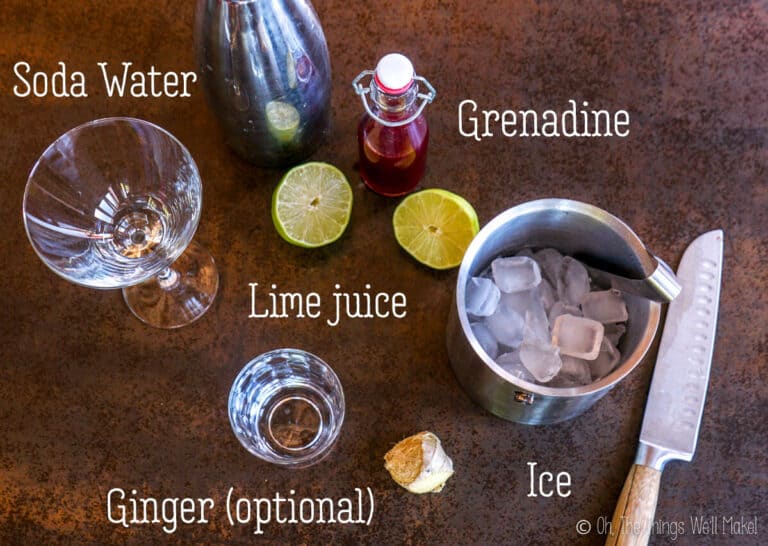 Ingredients
The main ingredients are grenadine and soda.
Grenadine
For those who aren't familiar with grenadine, it's a sweet red syrup often used in cocktails and mocktails. It is normally sold in the cocktail section of supermarkets.
A lot of people mistakenly believe that grenadine is a cherry syrup, but it's actually made from pomegranates. While you could go out and buy grenadine, I prefer to make it myself. It's quite simple to make from either fresh pomegranates or store-bought pomegranate juice.
By making it yourself, you can control exactly what goes into it and the level of sweetness. While it's not really a "healthy" recipe, it definitely beats out the common artificial variety.
To make it yourself, bring equal parts of pomegranate juice and sugar to a boil. Remove from the heat and allow it to cool. Add some lemon or lime juice for tanginess. For more specific instructions, check out my post on how to make grenadine from scratch.
How to Make Grenadine Syrup from Scratch
Impress your friends with this easy-to-make grenadine syrup that is free from the artificial colors and flavors of the store bought varieties.
Check out this recipe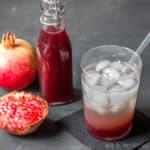 The soda
Next, choose a type of soda. The most traditional choices are ginger ale or lemon-lime soda (like 7-Up or Sprite).
I find both of those a bit too sweet, though. That's why I prefer to make my own.
Making a lemon-lime soda, or even a homemade ginger ale, is easy using seltzer water. By making it yourself, you can choose how sweet you want it to be. (You can even save money by making your own soda water/seltzer.)
You can just add a bit of fresh lemon or lime juice, and fill the rest of the glass with soda water.
Homemade Ginger Ale – Sugar Free and Paleo
Surprise your senses with this healthy, sugar free, homemade ginger ale. It's a fun, refreshing, carbonated detox water that will curb your cravings for not so healthy drinks.
Check out this recipe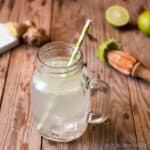 Soda water
Bubbly and refreshing, soda water, also known as sparkling water or seltzer, is a fun alternative to still water. It's easy to make, and great for homemade sodas, mocktails, and cocktails.
Check out this recipe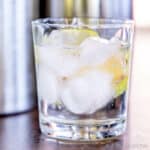 The "Dirty Shirley"
It's not difficult to make this mocktail into a cocktail by adding an ounce or two of vodka. The alcoholic version of the Shirley Temple is sometimes called a "Dirty Shirley."
If you don't like vodka, you can use rum or another spirit instead, like gin, to taste.
Preparation
Once you have gotten the ingredients together, making the mocktail couldn't be easier!
Fill a cocktail glass with ice. Then, add the grenadine and the soda. Stir them up to distribute the grenadine throughout the soda.
While the drink is typically garnished with a maraschino cherry (or two), you can garnish it however you like. I sometimes add some pomegranate arils (aka. seeds). It's also nice with a slice of lime or pineapple on the rim of the glass.
Serving the Drink
You can serve the Shirley Temple layered or stir it up to disperse the grenadine in the drink. Either way, it's best to mix it before you drink it or the bottom part will be too sweet and the top layer will lack sweetness.
Video
Craving more?
Subscribe to my newsletter for the latest recipes and tutorials!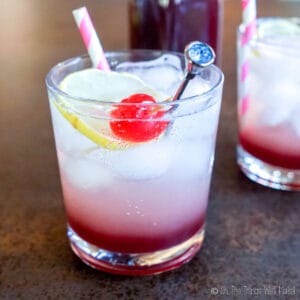 Shirley Temple
A kid's favorite mocktail, the Shirley Temple is a delicious drink perfect for all ages. By making it from scratch, you can enjoy a healthy twist on a classic drink.
Print
Rate
Ingredients
1

Tbsp.

grenadine

1/2

Lemon

(or lime)

1

cup

sparkling water

ice
Instructions
Pour a dash of grenadine over the ice.

Squeeze the juice from half a lemon or lime into the glass.

Fill to the top of the glass with sparkling water.

Stir the ingredients together.

Garnish, as desired, and serve immediately!

Enjoy the healthier version of a classic drink.
Notes
This drink is traditionally garnished with maraschino cherries, but you can garnish it with other fruit.
Optionally add slices of ginger as a garnish that adds a pleasant flavor.
Nutritional information is based on using a commercial grenadine in the amounts listed above.
You may switch out the lemon juice and seltzer water for a store-bought soda like 7-Up, Sprite or Ginger Ale. (That will obviously change the nutritional information.)
To make a "Dirty Shirley," you can "spike" this mocktail with and ounce or two of vodka or another spirit.
Serving:
1
glass
|
Calories:
55
kcal
|
Carbohydrates:
14
g
|
Sodium:
104
mg
|
Potassium:
74
mg
|
Fiber:
1
g
|
Sugar:
8
g
|
Vitamin C:
28.6
mg
|
Calcium:
38
mg
|
Iron:
0.3
mg