A unique alternative to store-bought scents, homemade solid perfume is easy to make with minimal ingredients. By making your own, you can customize your fragrance.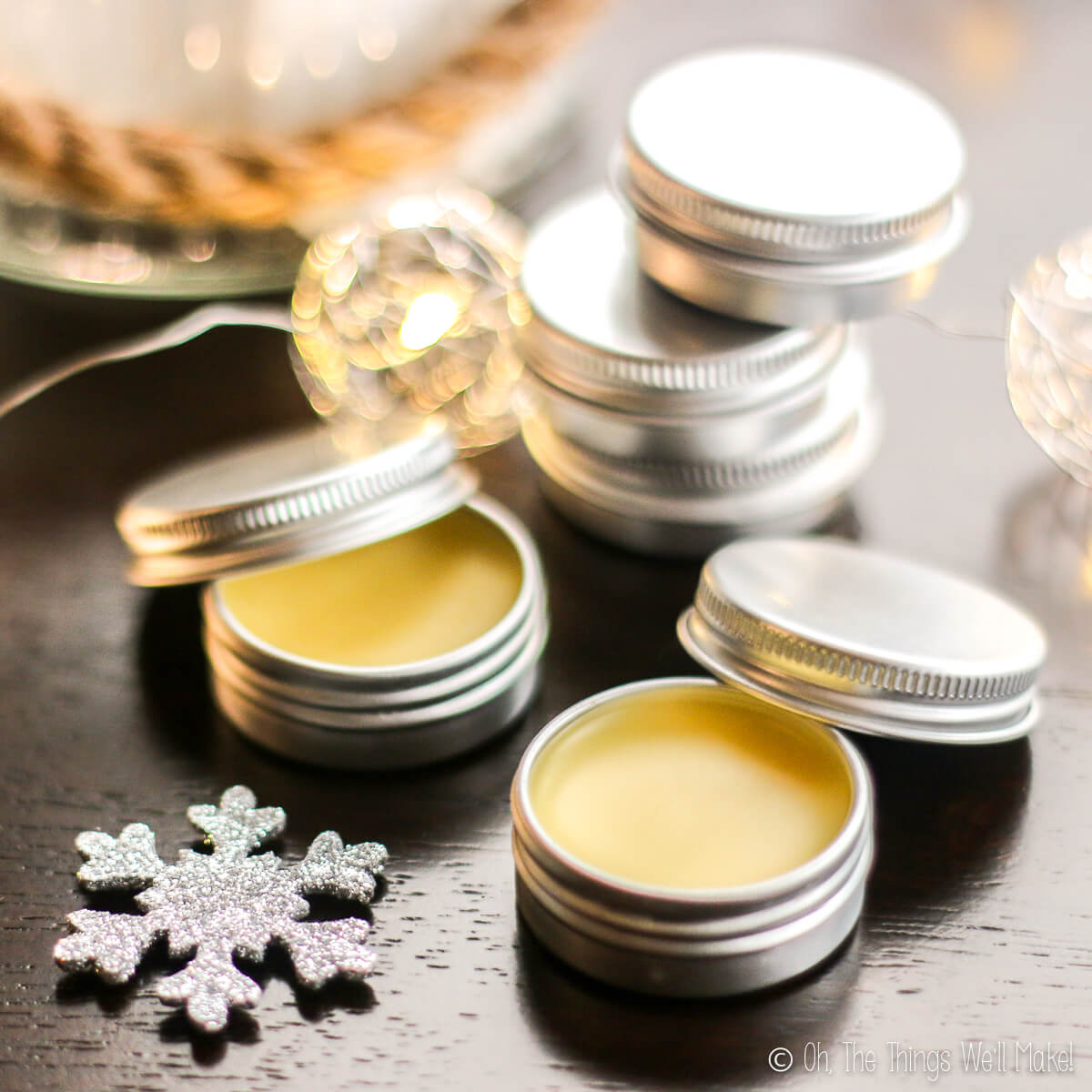 Making your own solid perfume or cologne is a fun, simple project. Solid scents are convenient for traveling without the mess. They can be kept in small tins in your purse, or even poured into a locket for easy application throughout the day.
This project is much easier than most people would imagine. If you can warm up a bit of oil and wax in a double boiler, you can easily make yourself a solid perfume. The process is similar to making lip balm, lotion bars, or a salve.
Ingredients
For the solid perfume base, you'll need a liquid oil and some wax. For the liquid oil, it's best to choose an oil with a neutral scent like jojoba oil. (That is, of course, unless you want to add the scent of your oil to your fragrance. For example, coconut oil can add a bit of a tropical scent to your blend.)
For the wax, I generally use beeswax, but you can also use a vegan option like candelilla wax instead. Slightly more expensive and harder to find, floral waxes can add their own fragrance to your perfume.
Apart from the base, you'll need essential oils or cosmetic-grade fragrance oils to add the scent to your perfume. While essential oils are the most natural option, their fragrance isn't as long-lived as the more synthetic options. While you can increase the concentration of essential oils to strengthen their fragrance, adding too many can cause irritation to the skin.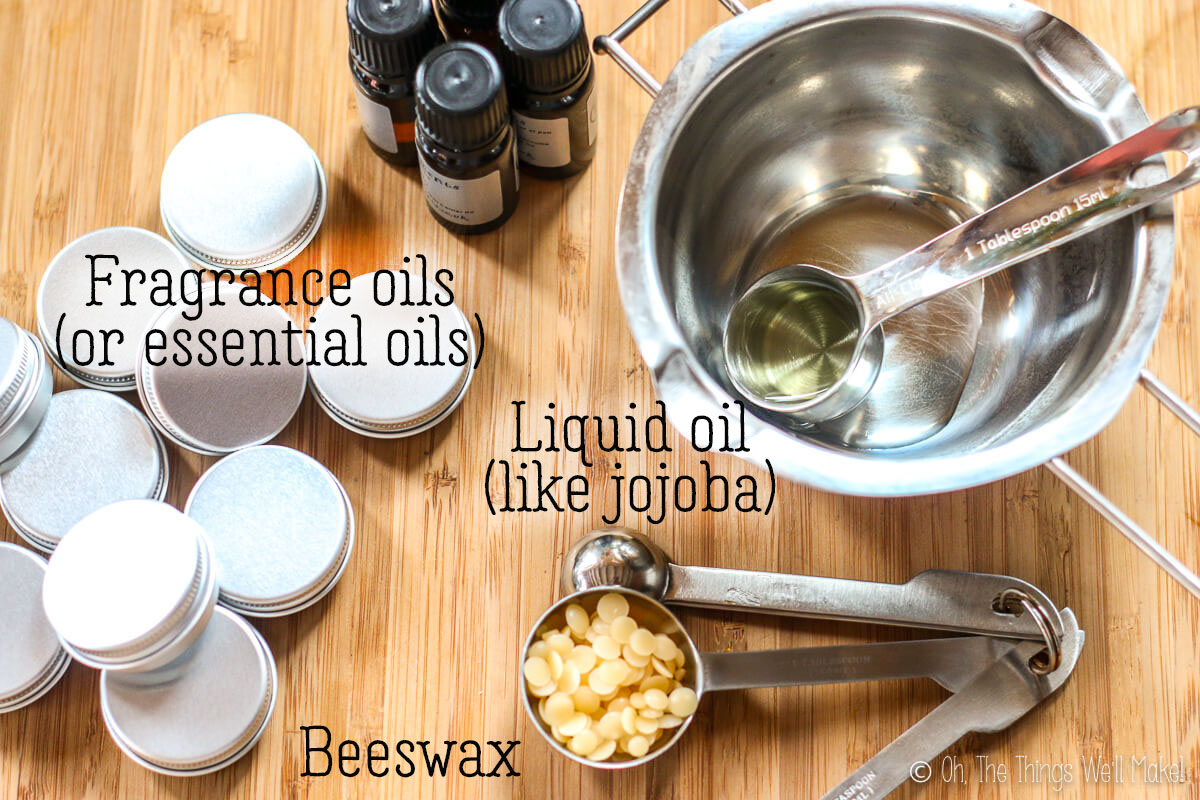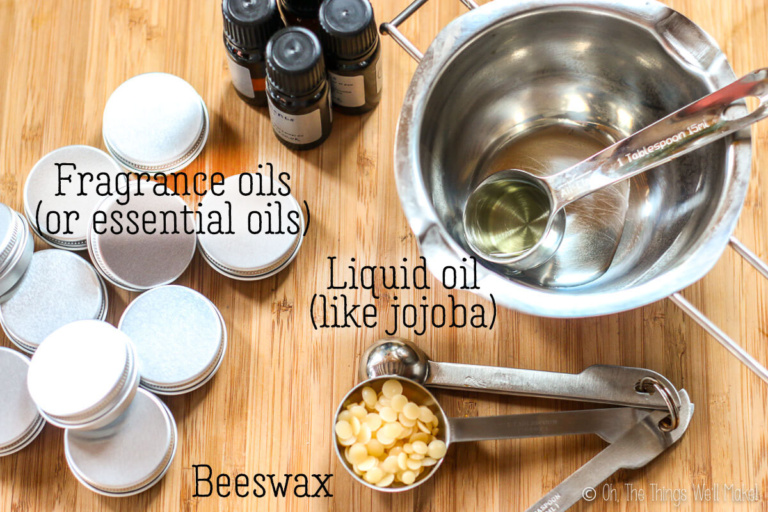 Combining fragrances
When it comes to combining scents, the only rule is that there are no rules. Feel free to combine whichever scents you prefer. That said, there are some general guidelines you can follow to make a successful perfume blend.
The fragrance pyramid
When formulating a perfume or cologne, combining a variety of scents can help balance your fragrance. Ideally, you'll want to combine different notes from each part of what is known as the fragrance pyramid.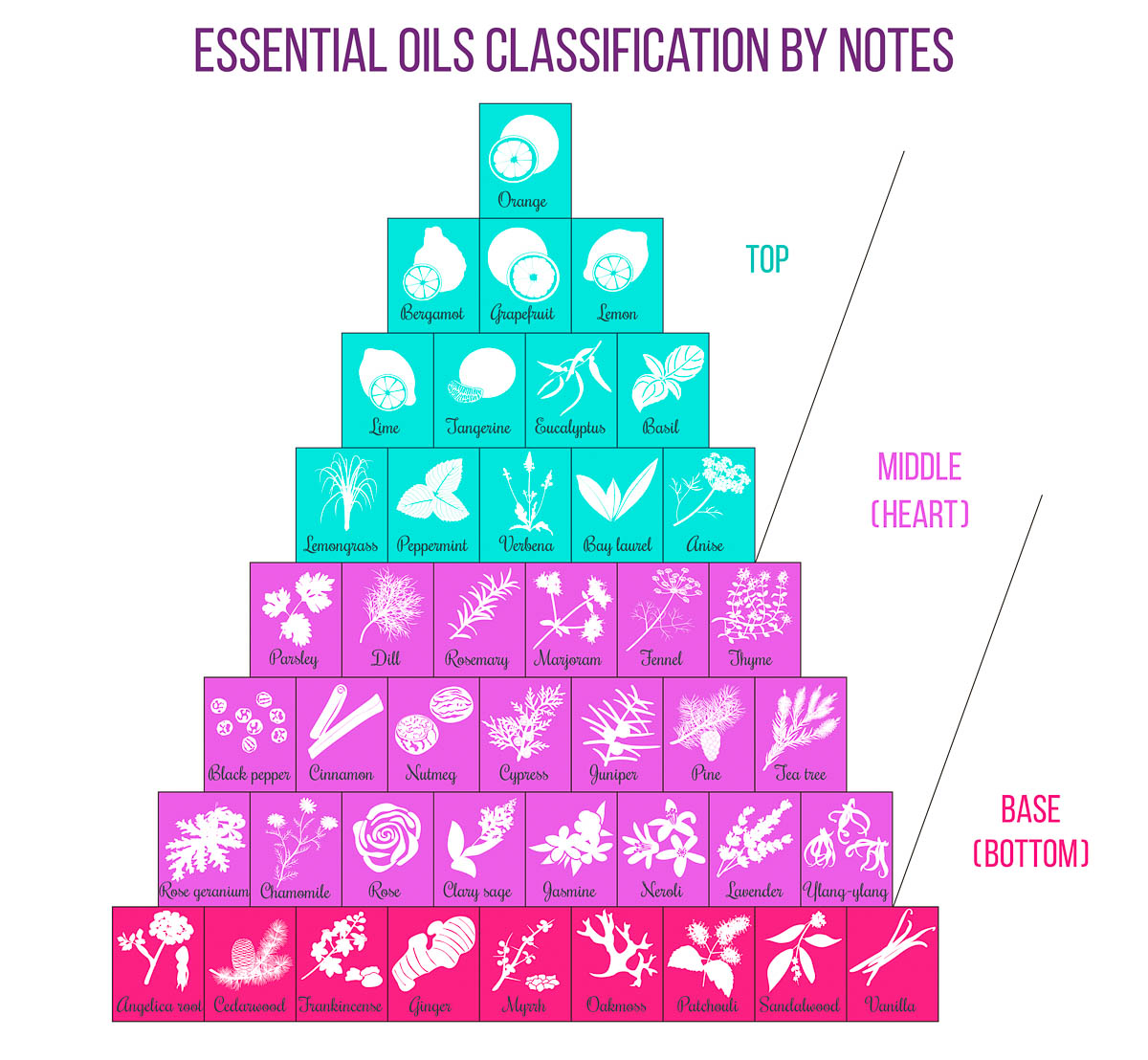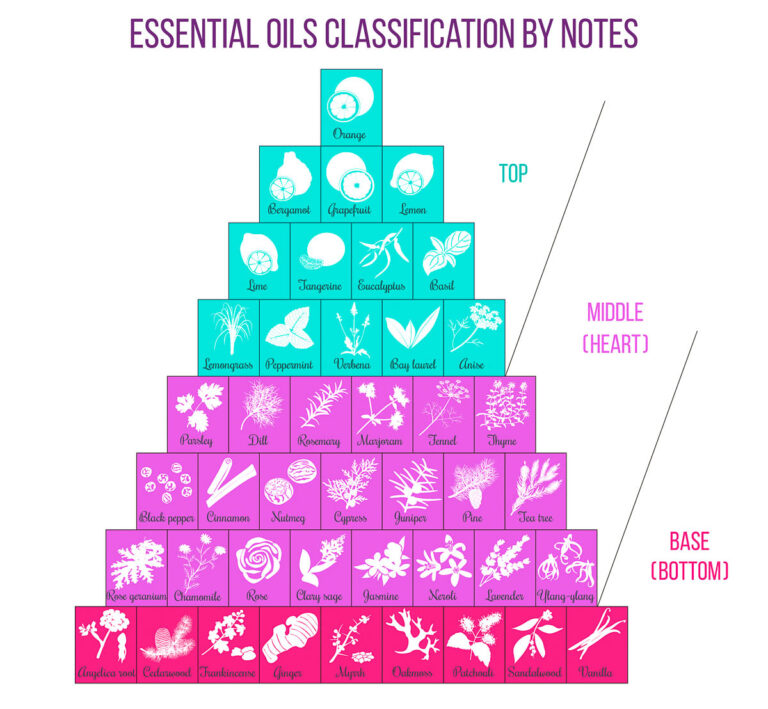 At the base of the fragrance pyramid, you can find the ground notes that give depth to your fragrance and keep the scent lasting longer. The base notes include woody scents like sandalwood, cedarwood, or patchouli. They also include vanilla, ginger and cocoa or musk and frankincense.
In the middle of the pyramid, the heart notes last longer than the top notes, but not as long as the bottom notes. The middle notes include floral scents like jasmine and geranium and spices like cinnamon and clove. They also include fruit fragrances like strawberry and peach or herbs like rosemary, clary sage, and lavender.
Top notes are the first scents you note when you smell the fragrance. They're the light, fresh scents that make the first impression and include citrus scents like lime, grapefruit, and tangerine. They also include sea-salt scents and herbal scents like lemongrass, peppermint, and eucalyptus.
Testing out combinations
A great way to test out combinations before combining the various fragrances in your perfume is to add a drop or two of each oil to strips of blotting paper. When you fan the blotting paper below your nose, you should be able to appreciate the scent of each oil. By fanning several strips with different oils below your nose, you should be able to appreciate how the different scents harmonize (or not) with each other.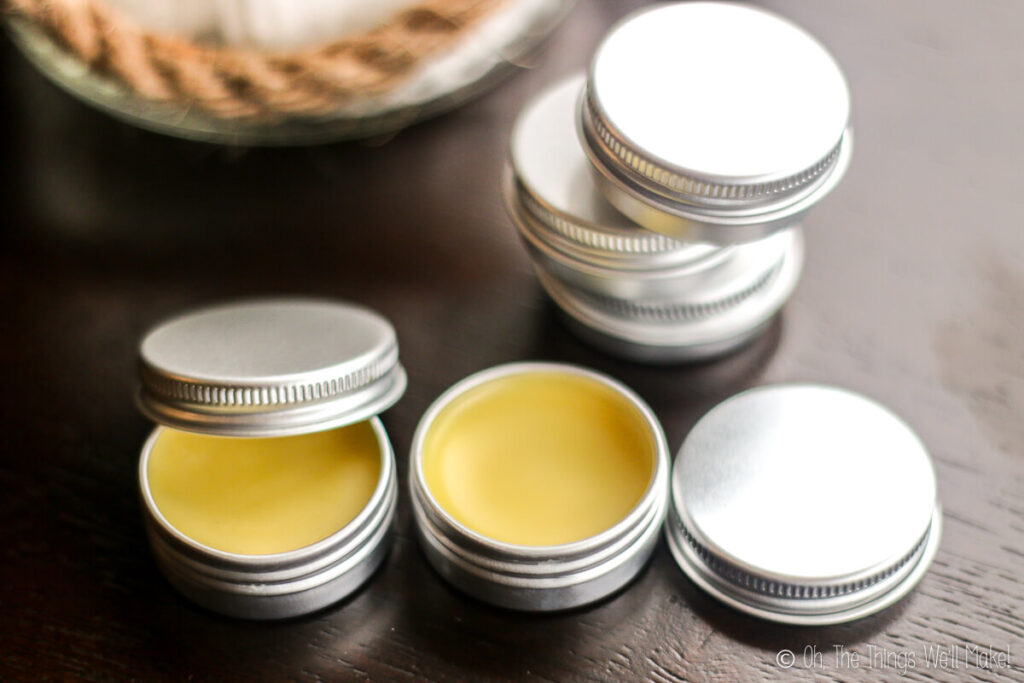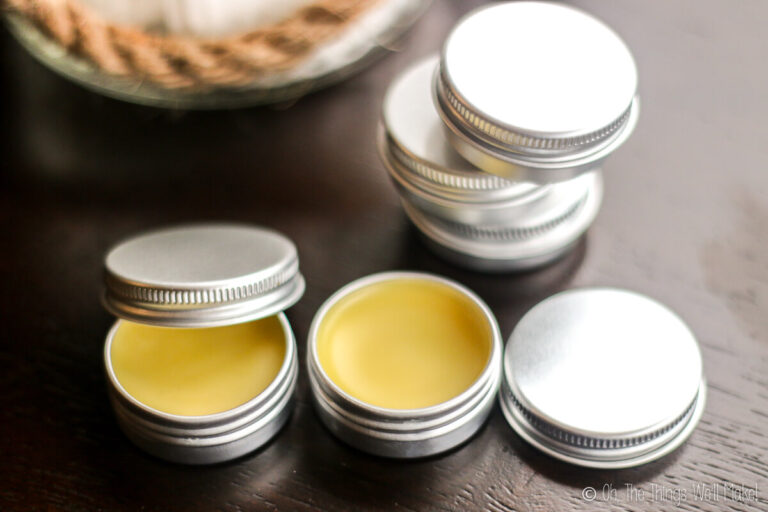 Safety information
When using fragrance oils and essential oils, don't go overboard. This will help prevent problems with skin sensitivity. Only use cosmetic-grade fragrance oils and follow the dosage recommended by your supplier. The best way to dose the fragrances is to use a small, inexpensive jeweler's scale.
Essential oils are more "natural" than synthetic fragrance oils, but they don't last as long. Generally, for safety, the concentration of essential oils should be kept at around 2% of most cosmetic recipes by weight. In the case of a perfume, you may want to go slightly higher than that so that you can note the fragrance more, but, again, be careful not to go overboard. How much higher you can go will depend on the essential oils chosen.
Some essential oils are more likely to cause allergic reactions or contact dermatitis on sensitive skin than others. (Common allergens in essential oils include limonene, linalool, cinnamal, and eugenol.) Keeping the more allergenic oils to a minimum will help make a safer product.
Procedure
Making the perfume base couldn't be simpler. Add the wax and oil to a double boiler insert and gently heat them until the wax has melted. Once melted, remove the mixture from the heat source and add the fragrance oils. Immediately pour the mixture into aluminum lip balm tins or lip balm tubes for easy application. Allow the mixture to cool uncovered until solid.
Looking to make more?
Subscribe to my newsletter for the latest projects (and recipes)!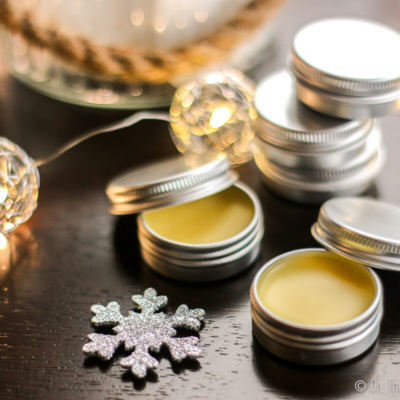 Instructions
Measure out your oil and wax and place in the top of a double boiler. I used sweet almond oil this time, but have also used both coconut oil and jojoba oil in the past. Coconut oil is solid at cooler room temperatures, so the end product will also be a bit more solid in the end. If that concerns you, you can use slightly less wax to compensate.

Warm your ingredients over medium heat until the wax melts.

Remove from the heat and mix your wax into the oil thoroughly.

Choose your essential oils and mix into your oil and wax mixture.

Pour your perfume into small containers. It will set as it cools off. In the winter mine was ready in just a few minutes, but in the summer, it will take longer, of course.
This post was originally published on November 28, 2014. It was republished with more information about combining fragrances and clearer instructions.

Free Formula Botanic Masterclass!
Running now…
9 free 10-minute classes to help you learn to begin developing professional-grade natural cosmetics in your own home!