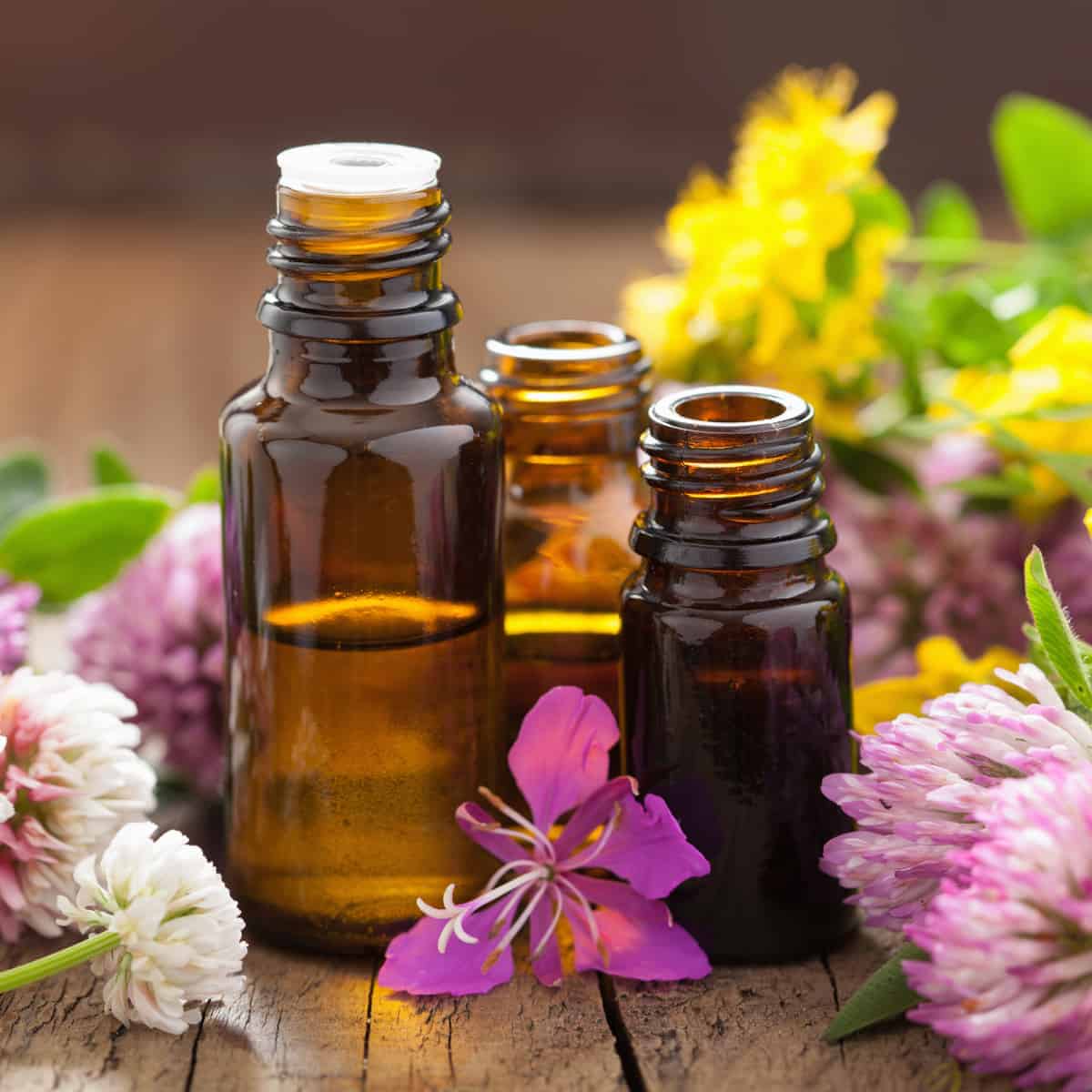 One of the most confusing and misunderstood topics when it comes to making cosmetics and other homemade products, knowing how and when to use preservatives is an important part of making things yourself.
Over the course of the last several years, I have gotten many and a wide variety of questions about how to preserve homemade products, and what natural preservatives can (should) be used.
With the rise in awareness about possible toxins or irritants in many of our foods, cosmetics, and even medicines, more and more people are looking for natural and/or organic alternatives.
I, myself, am one of those people. I like to make my own food and cosmetics to control the quality of the ingredients. I also like to make sure that my products don't have certain ingredients that I choose to avoid. By making products myself, I can ensure that.
When you make your own products, you are normally trying to make something that is safer. Unfortunately, you can't just mix whatever you want together and automatically expect to have a safe product, even if all of the ingredients themselves are free of toxins.
Why use a preservative?
Toxic ingredients aren't the only danger that can be lurking in our cosmetics.
Microbes can also form there, whether those cosmetics are homemade or not!
The main microbes that we need to worry about when making our own products are bacteria, yeasts, and fungi such as mold. Mold is normally quite obvious to see, making it easy to tell when you should toss a certain product affected by mold growth.
Bacterial growth can be invisible
On the other hand, bacteria can form and proliferate without us being able to see them. A normal looking drop of water can have thousands (millions?) of bacteria.
While not all bacteria are harmful, some of the bacteria that can form in our homemade cosmetics can cause infections and can make our skin break out. Bacterial infections can cause folliculitis, which many people could wrongly attribute to acne or allergic reactions.
It can even become more serious than that, though. The bacteria that form in our cosmetics could make us deathly ill.
You want to take special care when making cosmetics that will be used around the eyes or any other sensitive areas. Bacteria in eye care products can cause eye infections or even blindness! (That's why it's always a good idea to change out your mascara or liquid eyeliners often, even if you haven't used them all up!)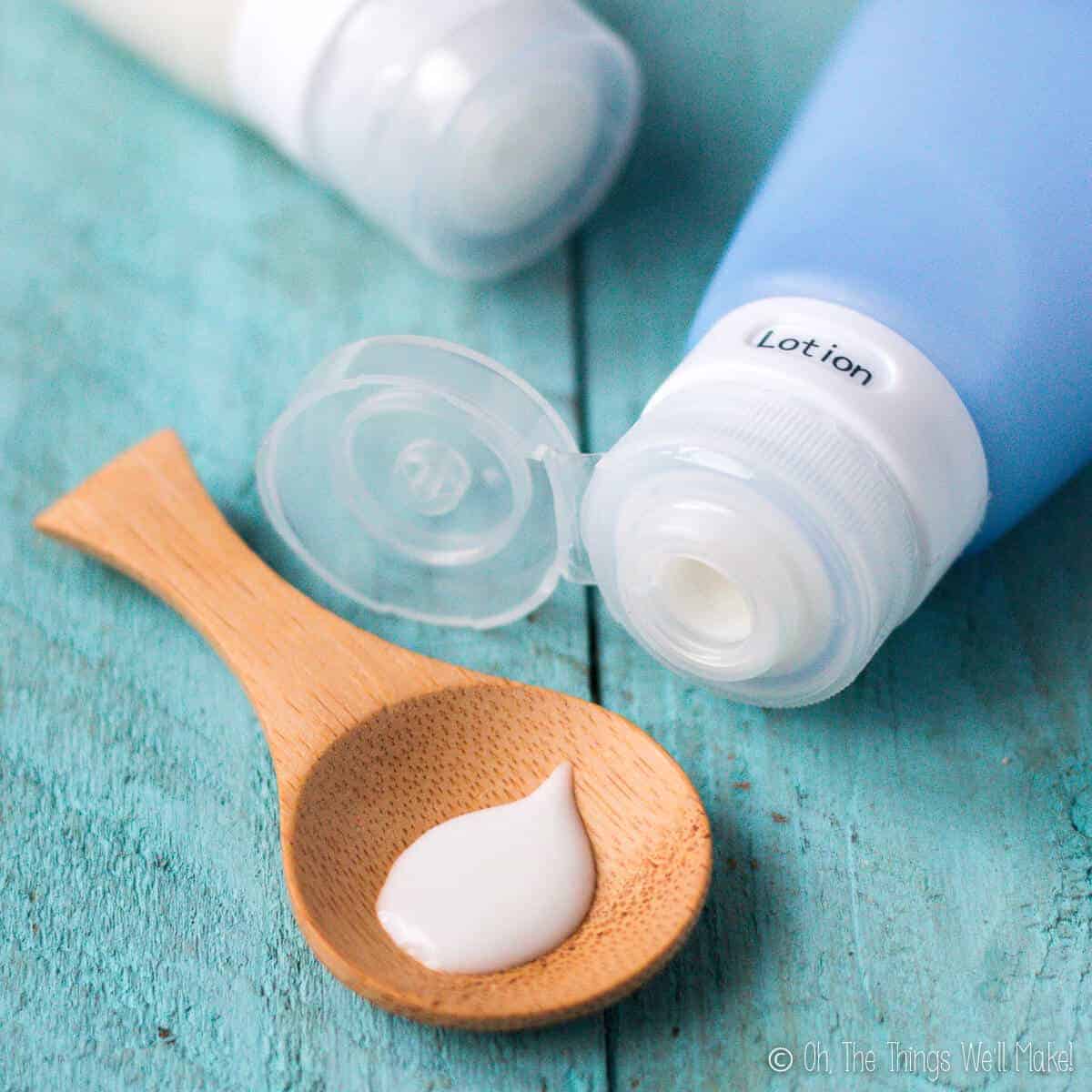 When do you need to use a preservative?
This may be the most important question!
There is a lot of confusion about when and why to use preservatives. Not all homemade products necessarily need preservatives. In fact, in some cases, it isn't effective to use your normal preservatives.
Water-based ingredients
Any time you add water-based ingredients to a recipe, the resulting product will be more prone to microbial growth.
Generally, water-based products or any product with water-based ingredients in it will need a preservative of some type.
This is especially true of emulsions in which you are blending together oil-based ingredients with water-based ingredients or mixtures of mostly water-based ingredients.
When does a water-based product NOT need a preservative?
There are, however, a few exceptions to the "Water-based products need a preservative rule."
Soaps and liquid soaps
I often get asked about what preservatives to use in liquid soaps. While this is a bit of a controversial topic, these are my thoughts…
True soaps and liquid soaps (those soaps made with lye) are usually self-preserving. They do NOT normally need a preservative, making them exceptions to the water rule.
It is unusual for pathogenic bacteria (the kind that can do us harm) to grow in liquid soaps because they naturally have a very high pH (generally 9-10 or higher).
Any time you have a product with an extreme pH, it becomes an environment that is less hospitable to most microbes. Yes, there are some acid-loving or alkaline-loving bacteria and other microbes that exist, but they aren't commonly a problem with homemade cosmetics and other products. Normally, you can keep a liquid soap safely diluted for up to a year without any problems.
Bar soaps and undiluted liquid soap pastes can be kept for even longer and they will usually start to smell off or go rancid before there is any worry of problems due to bacterial growth or mold.
Syndet bars or homemade shampoos and shower gels are not true soap. Their pH tends to fall in a more neutral range so they will need a preservative if water is one of their ingredients.
Preservatives for liquid soap
The problem with trying to preserve liquid soap is that most of the preservatives on the market are ineffective at the high pH of soap. There are very few exceptions.
If you are set on using a preservative for your liquid soap, these are my recommendations:
Add the preservative at the time of dilution. The soap paste itself has a very low liquid content and keeps very well.
Use a preservative whose effective pH range includes the pH of your homemade soap.
From my research, this preservative seems to be the best bet for liquid soap (and appears to be safe and paraben-free)…
Suttocide™ A (INCI: Sodium Hydroxymethylglycinate): A synthetic broad-spectrum preservative derived from Glycine with a pH of 10-12. It's active in a pH range of 3.5-12.
I've seen Germall Plus and Glydant plus recommended for use in liquid soaps, but their recommended effective pH range is lower than that of most liquid soaps. Glydant Plus looks a bit more promising, but the pH range cited for Germall Plus is only 3-8.
Glydant Plus (INCI: DMDM Hydantoin & Iodopropynyl Butylcarbamate (IPBC)): A broad-spectrum preservative that is effective in a pH range of 3-9. As some soap has a higher pH, it's debatable if this preservative would actually be helpful for use in most liquid soaps.
Products with extreme pH's
Soap isn't the only water-based product that doesn't need a preservative. Products with an extreme pH (below 4 or over 9), will not be as prone to microbial growth. (That doesn't mean that you can fill them with ingredients prone to growth and be safe. More about that below…)
That's why you may see some products offered for sale without a preservative in their ingredient list.
When working on a MIY version of a cleaner once for a reader, we noticed that there was no preservative listed for the product. We also noticed that the product had a rather high pH. She contacted the company and they confirmed that the high pH of the product was what was being used to keep their product free of pathogenic microbes.
Since then, I have made many batches of my homemade laundry detergent. While I used to bring the pH into an effective range for my preservatives, I have lately been preserving it by increasing its pH to around 10 with a solution made with water and sodium hydroxide (NaOH, commonly known as lye).
While I haven't done any microbial testing, it appears to work quite well. It's been a very easy-to-use, inexpensive way to keep my detergent clean and clear.
Do anhydrous products need a preservative?
What is an anhydrous product?
Anhydrous products are those that do NOT include water (or water-based ingredients). They are oil-based products that include liquid oils, solid oils, butters, and waxes.
Generally, oil-based products like homemade body butters or homemade lotion bars don't need preservatives. Without the addition of water, they just aren't prone to microbial growth.
There are exceptions, though, and cases where you will want to consider using a preservative in an oil-based product.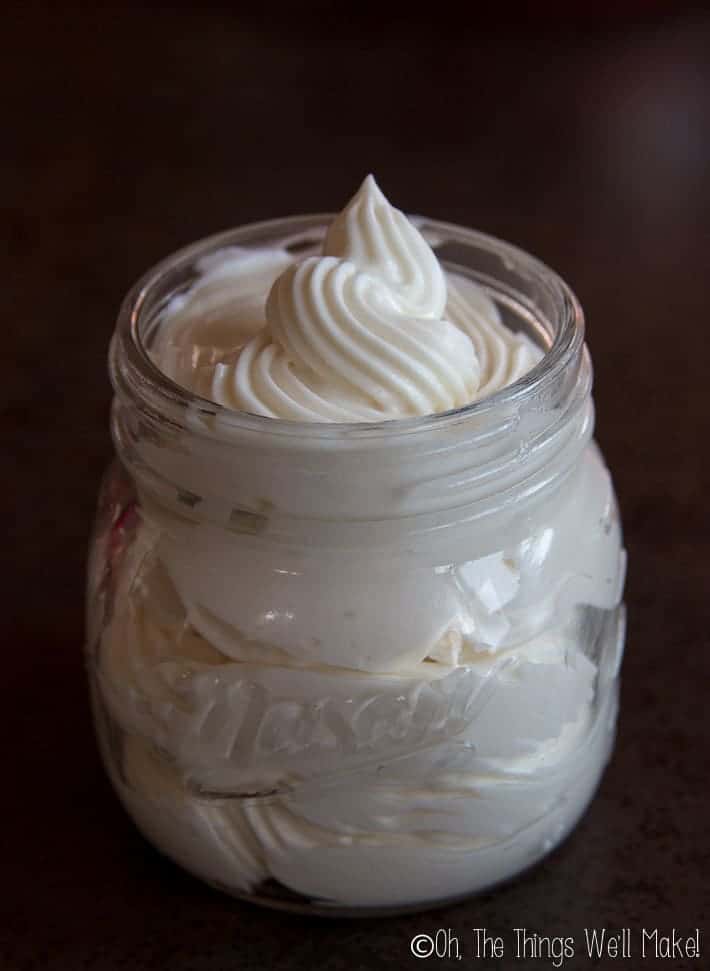 Anhydrous products and humidity
Just because a product doesn't have water as one of the ingredients, doesn't mean that water won't eventually be incorporated into it.
Oil-based products meant to be used in the shower are especially likely to be "contaminated" with water or humidity. That's why I recommended that you use a preservative when making my emulsified sugar scrub.
Sugar scrubs don't normally have water as one of the ingredients. They are, however, normally used in the shower. People take their wet hands and scoop out some of the product and rub it all over their wet arms and legs. They then reach back in and scoop out some more.
Even if you were to carefully scoop out the product with a clean spoon each time, the likelihood of water or humidity getting into the container is quite high. Moisture that condenses on top of the product can form mold or can be the perfect medium for other microbial growth.
What is a "Natural" preservative?
There are many ways to define what a "natural preservative" is, so I'll give you my definition.
Natural preservatives are those that can be used in products with a "natural" or "organic" certification because they use ECOcert certified ingredients. (There are other similar certifications, but for the sake of keeping things simple, I chose one and stuck with it.)
These preservatives have been developed to replace parabens and preservatives with formaldehyde or other ingredients that many people, looking for safer alternatives, want to avoid in their cosmetics.
In an effort to use more natural ingredients, though, some people look to natural ingredients that aren't protecting us adequately.
When talking about preservatives, we need to use broad-spectrum preservatives, those that will inhibit the growth of a variety of unwanted bacteria and molds.
Natural "preservatives" that aren't effective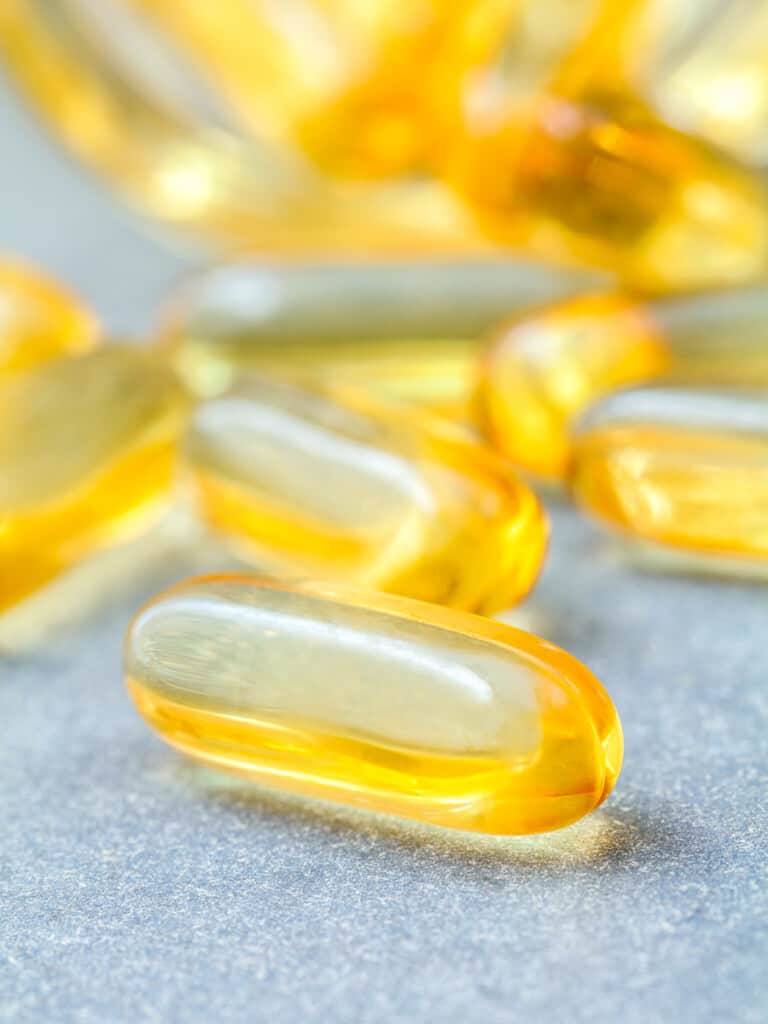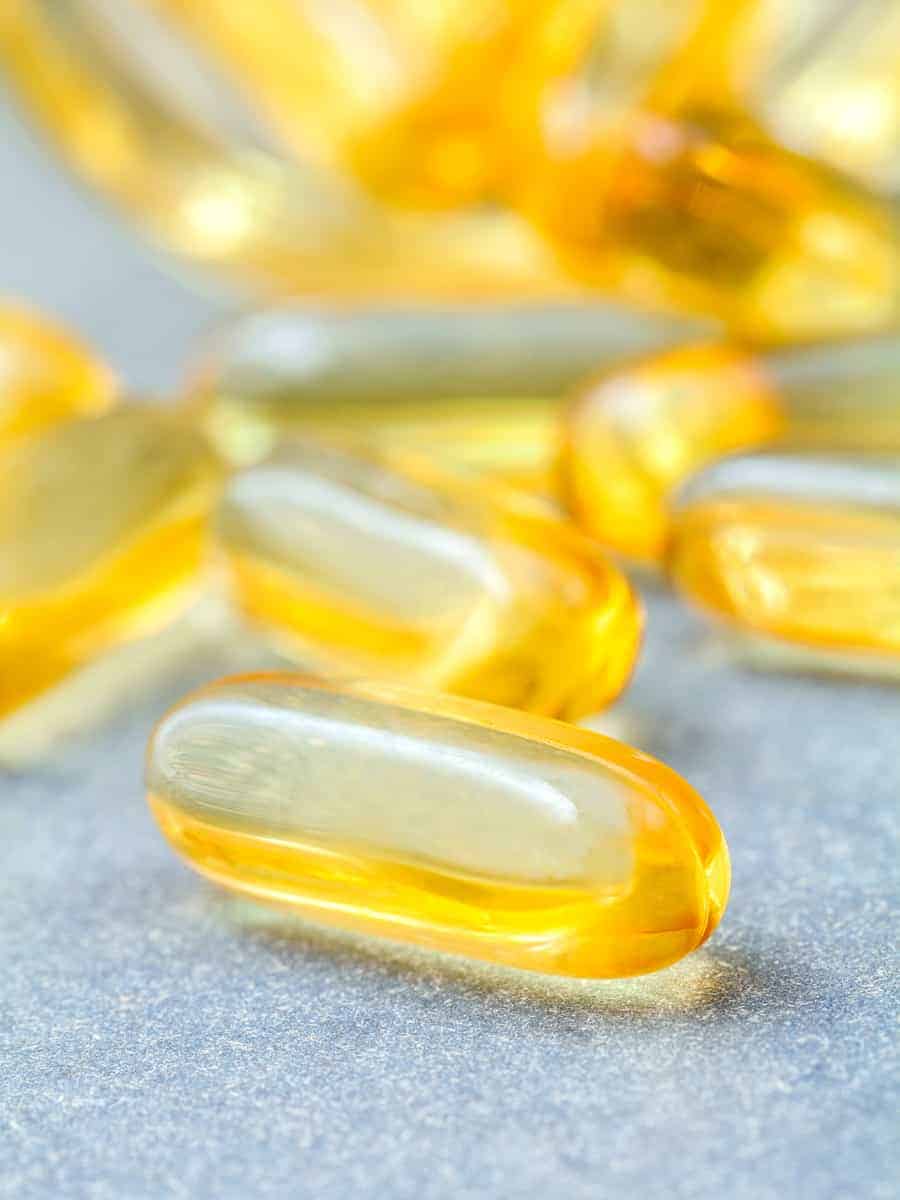 Vitamin E
Vitamin E is not a broad-spectrum preservative.
It is sometimes referred to as a preservative because it can extend the shelf life of certain products. Vitamin E is an antioxidant that helps extend the shelf life of oil-based ingredients. It won't, however, ward off microbial growth in ingredients with water-based ingredients.
How to use it:
I add vitamin E to most of my homemade lotions, oils, and butters at around 0.5% of the product by weight to help protect the oils from oxidation, thus extending the shelf life of my products.
Essential oils
Many essential oils like tea tree, oregano, rosemary, and thyme do display anti-microbial properties. They are not considered to be effective broad-spectrum preservatives, though; at least not in the sense that you could use them alone to protect your homemade lotions and other products.
Unfortunately, in most cases, you would need to use much too high of a concentration of them in your product for them to be considered safe to use as preservatives. At high percentages, many essential oils can be irritating to the skin. They also cause allergic reactions in many people.
How to use them:
While I don't use them as preservatives, I do often add essential oils at around 1-2% of the recipe by weight to add a natural fragrance and other beneficial properties.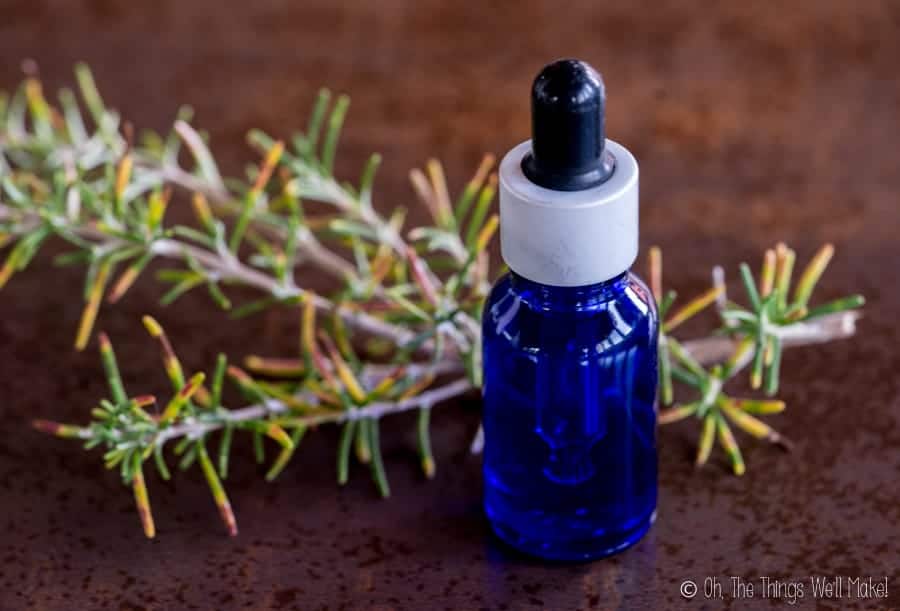 Rosemary extract
Like vitamin E, rosemary extract is another antioxidant that can help extend the shelf life of oils by preventing their oxidation. It also adds a pleasant aroma to soaps, oils, and butters.
Rosemary extract isn't just useful for extending the shelf life of cosmetics, though. It is also used to extend the life of many food products.
While it is a wonderful product, it can't be used alone as a broad-spectrum preservative.
How to use it:
Rosemary extract can either be added at around 0.15-5% by weight directly to your oils or to the oil phase of a recipe to help extend the shelf life by protecting against oxidation of the fats.
Grapefruit seed extract
INCI: Citrus grandis (grapefruit) seed extract
Grapefruit seed extract is often promoted as a very natural broad-spectrum preservative, but there is a lot of controversy about if it could actually even serve as such. While it may show some antimicrobial activity, there are several problems with using grapefruit seed extract as a preservative.
Grapefruit seed extract varies highly from supplier to supplier. Depending on the extraction method, it may be contaminated with other chemicals like triclosan which may be the ones that are actually giving the product their antimicrobial properties.
Grapefruit seed extract on its own probably isn't going to be enough to actually preserve any homemade product.
There just isn't enough trustworthy information out there backing the use of GSE as a preservative.
With the risk of it being contaminated with other chemicals, and little evidence that it can even work as a preservative, I definitely do NOT recommend trying to use grapefruit seed extract as such.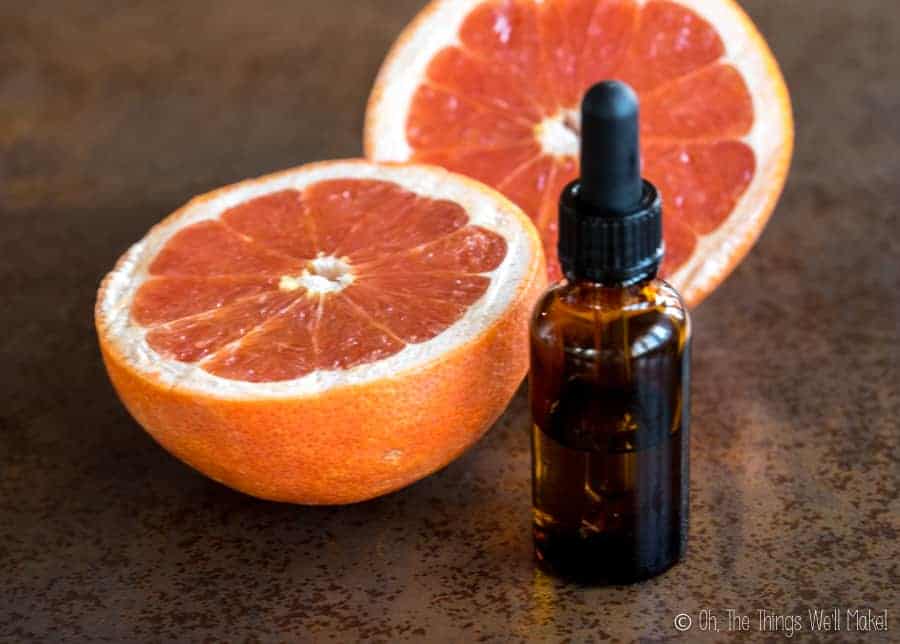 Common natural broad-spectrum preservatives
Alcohol
While it may not be the ideal preservative for using in lotions or shampoos, having a high enough concentration of alcohol will prevent microbial growth in homemade formulations. It also has the added advantage of being able to solubilize essential oils.
The fact that it can both solubilize and preserve makes alcohol the ideal choice for incorporating essential oils into water in products like linen sprays.
Alcohol is also great for making tinctures. By infusing plant material into the alcohol, it helps extract many of the plant's beneficial properties.
For solubilizing, you want to use a strong alcohol; as near to 100% alcohol content as possible. As the percentage goes down, the amount of solubilization will also decrease. (You'll want a minimum of 75%.)
For preserving and extracting, you'll want to use an alcohol with at least a 40% alcohol content. Generally, tinctures and extracts like homemade vanilla extract or homemade bitters will use an alcohol with an alcohol content of at least 40%.
A good goal for making safely preserved homemade sprays is to have around 20-30% of the final formula be alcohol. That means that if you are using an alcohol with 95% alcohol content, formulate the recipe so that around 1/4th of the mixture will be that alcohol. If you are using an alcohol with a lower alcohol content, you can increase the amount used accordingly.
Glycerin
As with tinctures made with alcohol, glycerin can be used to extract the flavors, aromas, and/or the beneficial properties of certain plants and preserve them. These extractions are called glycerites.
In most cases, you won't want to preserve a homemade product with glycerin as glycerin needs to be used in very high percentages to effectively preserve it. Also, glycerin, while a great humectant, tends to make a product feel sticky at concentrations over 5%.
To preserve with glycerin, you'll want to use a concentration of at least 55%.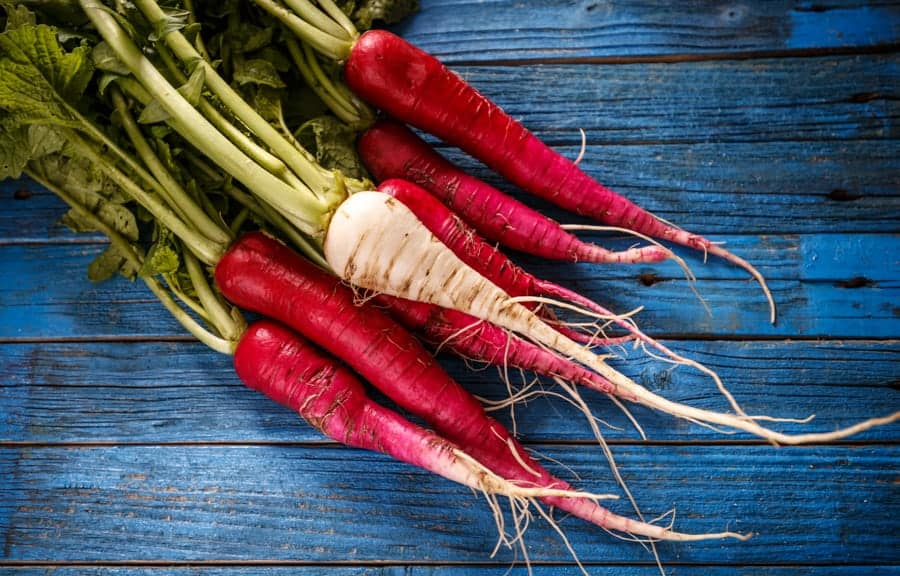 Leucidal® Liquid SF
Leucidal is a radish root ferment that appears to be a completely natural preservative. Antimicrobial peptides are derived from Leuconostoc kimchii, the lactic acid bacteria that are used in making kimchi, a Korean fermented cabbage.
It seems like an especially ideal preservative, not only because of how natural it is, but because peptides have been found to help moisturize the skin.
When I first started making lotions, I recommended using Leucidal because I knew that many people are afraid of using "preservatives" and were looking for products that were as natural as possible. I used it without (apparent) issues.
The only thing I didn't really like about it was the fact that when used alone, it needs to be used at a higher percentage by weight (3-4%) than the other preservatives I normally use (0.5-1%).
With time, though, I became concerned about two issues with Leucidal.
First, I had read in several places that Leucidal wasn't as effective against molds. (Honestly, to me, that wasn't as concerning as one can normally see mold and know to throw an affected product away.) I never had problems with mold forming in anything I made with Leucidal, though.
More concerning was the fact that a study came out that put into question what is actually preserving the products made with Leucidal. The study concluded that it isn't really the antimicrobial peptides of the radish extract itself, but instead from salicylic acid and didecyldimethylammonium salts found in Leuconostoc/radish root ferment filtrate samples…
"In summary, the antimicrobial activity of commercial Leuconostoc/radish root ferment filtrates (LRRFF) are attributed to salicylic acid and didecyldimethylammonium salts. Moreover, these two compounds are too deficient in 14C to be the product of recent fermentation, suggesting that they are derived from petroleum feedstock. We were unable to detect antimicrobial peptides in any sample of fermented radish root filtrate."

J. Agric. Food Chem. 2015, 63, 11, 3053-305
So, I no longer use Leucidal. It's not cost-effective for me, and I have too many doubts about it. You, however, are free to give it a try. ?
INCI: Leuconostoc/Radish Root Ferment Filtrate
Effective pH range: between 3-8, works best when the pH is under 6
Dosage: 2-4% of the recipe by weight
Heat stable: up to 70°C
ECOcert approved? Yes!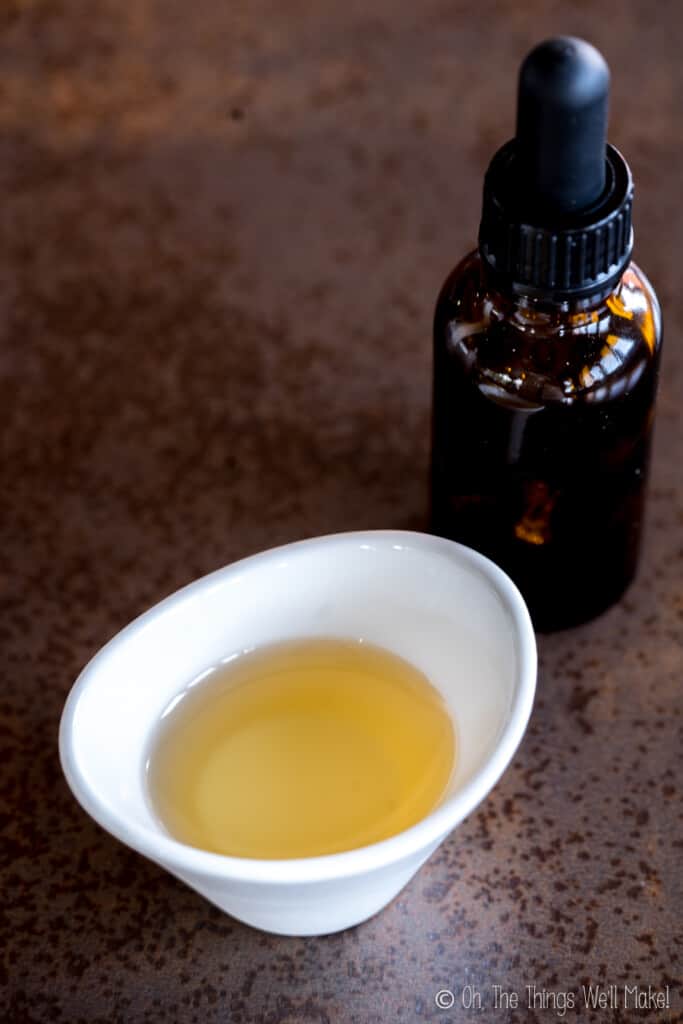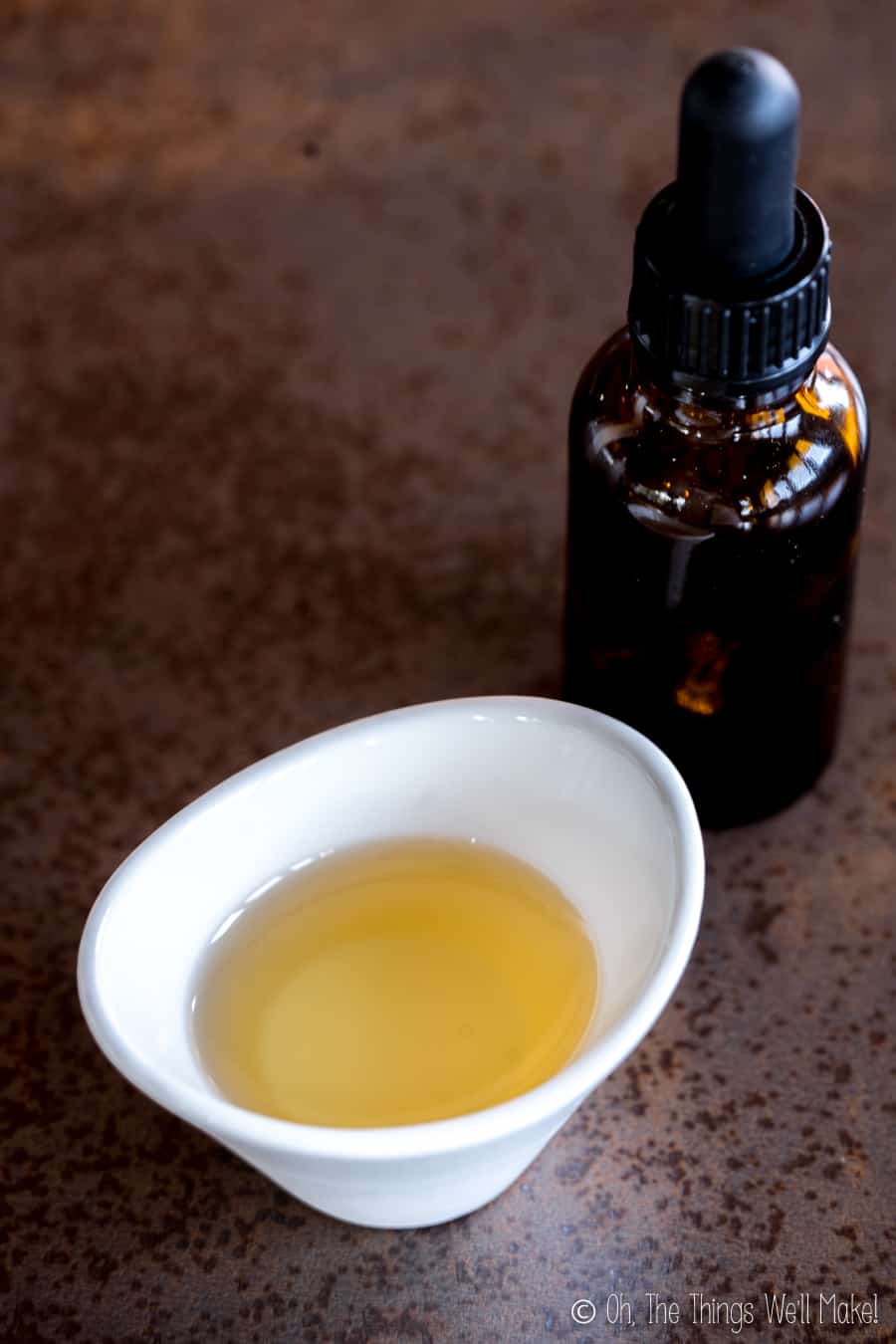 Sharomix™ 705
Sharomix™ 705 is another natural broad-spectrum preservative. I've been using it a lot lately as I can obtain large quantities at a good price.
INCI: Benzoic acid, sorbic acid, dehydroacetic acid, and benzyl alcohol
Effective pH range: Product must have a pH lower than 6 (lower than 5.5 even better)
Dosage: Use at 0.6 – 1.2 %
ECOcert approved? Yes!
Note: Sharomix is heat stable up to 80ºC, but shouldn't be kept at high temperatures for a prolonged time.
Preservative ECO / Geogard® ECT
Preservative ECO offers broad-spectrum protection against bacteria and mold. It does impart an odor to products that some people don't like. That can be camouflaged by the use of essential oils or other fragrances.
INCI: a blend of benzyl alcohol, salicylic acid, glycerin, and sorbic acid
Dosage: It is normally used at 1%.
Effective pH range: pH3-pH8
Solubility: It is water-soluble, but can also be used in anhydrous products like sugar scrubs.
ECOcert approved? Yes!
Warning
Because it contains salicylic acid, it shouldn't be used in leave-on products for babies (but can be used in rinse-off products like gels and shampoos for them).
Geogard ® 221 (aka. Cosgard)
Cosgard is another natural preservative that I have used in the past without any apparent issues. It's an amber-colored, water-soluble liquid.
INCI: Benzyl Alcohol (and) Dehydroacetic Acid
Effective pH range: between 2-6, works best when the pH is under 5.5
Dosage: 0.2-1% of the recipe by weight (Max. 1.15%)
Solubility: water-soluble
ECOcert approved? Yes!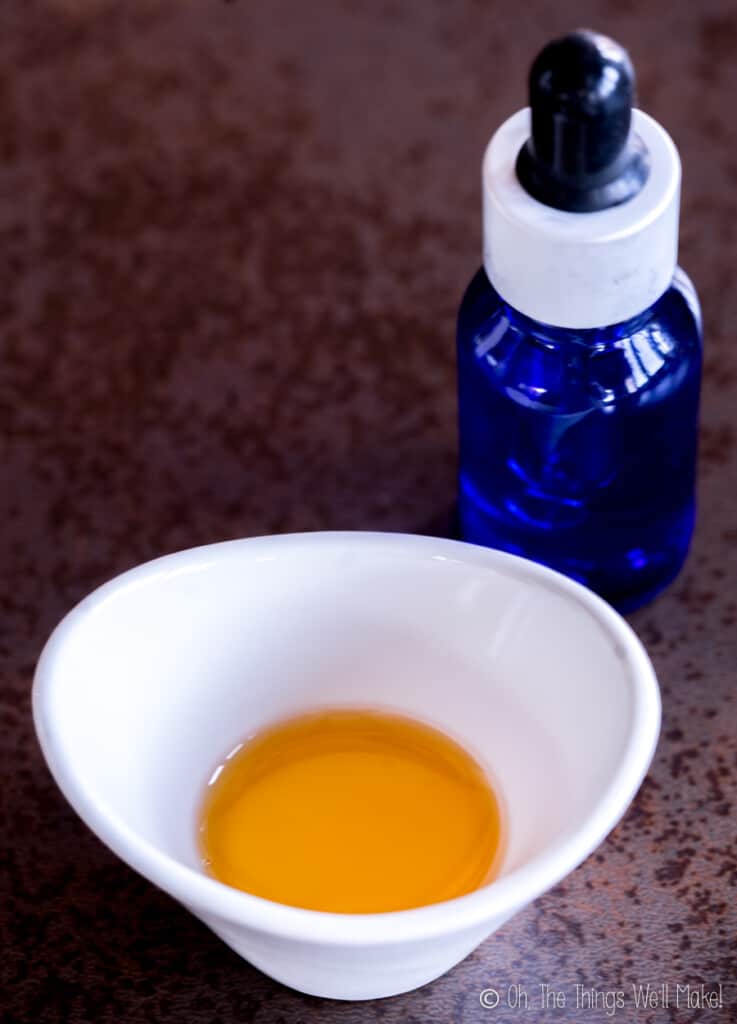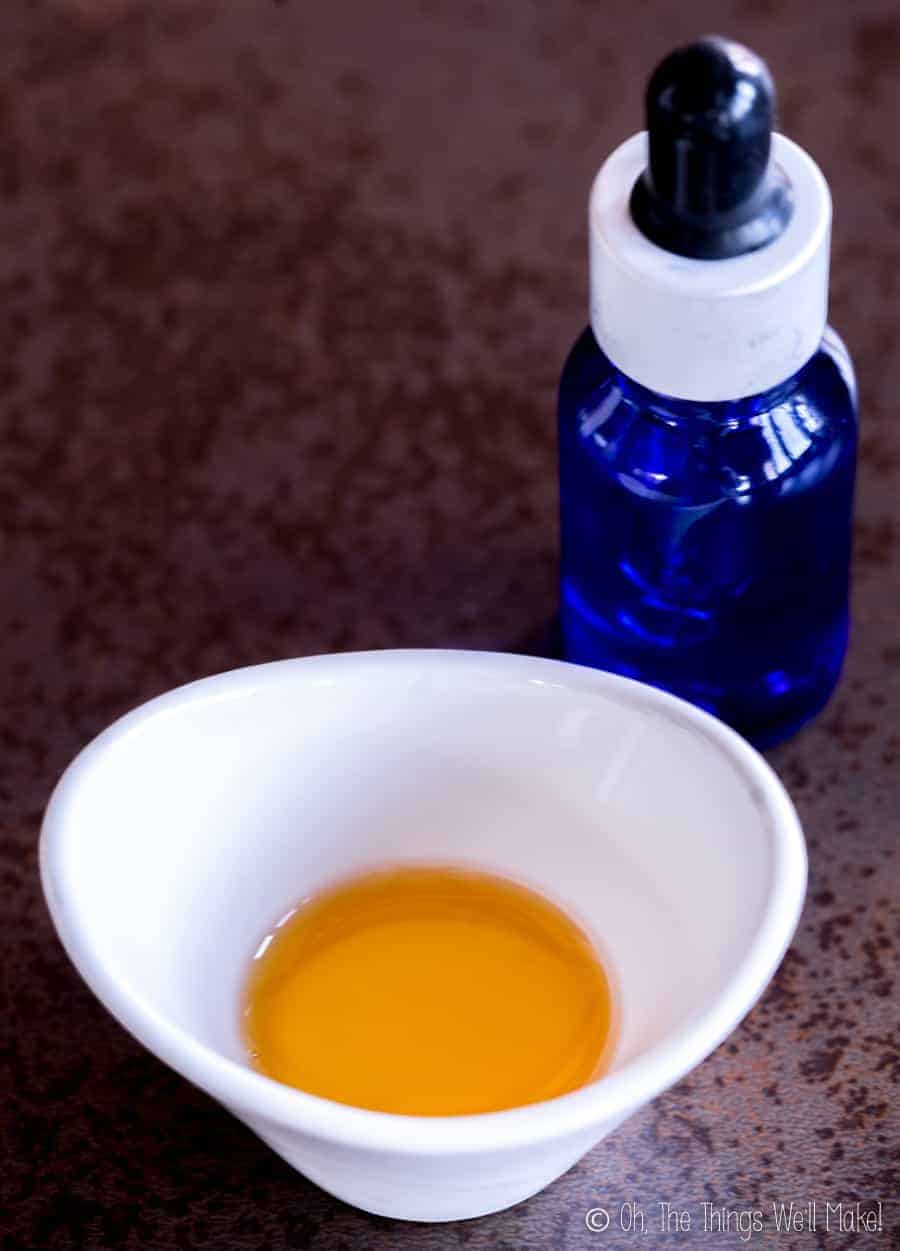 Rokonsal™ BSB-N
Rokonsal™ BSB-N is a viscous colorless liquid that is generally considered a mild broad-spectrum preservative.
INCI: Benzyl Alcohol, Glycerin, Benzoic Acid, Sorbic Acid
Effective pH range: Under 5.5
Dosage: 0.2-1% of the recipe by weight
ECOcert approved? Yes!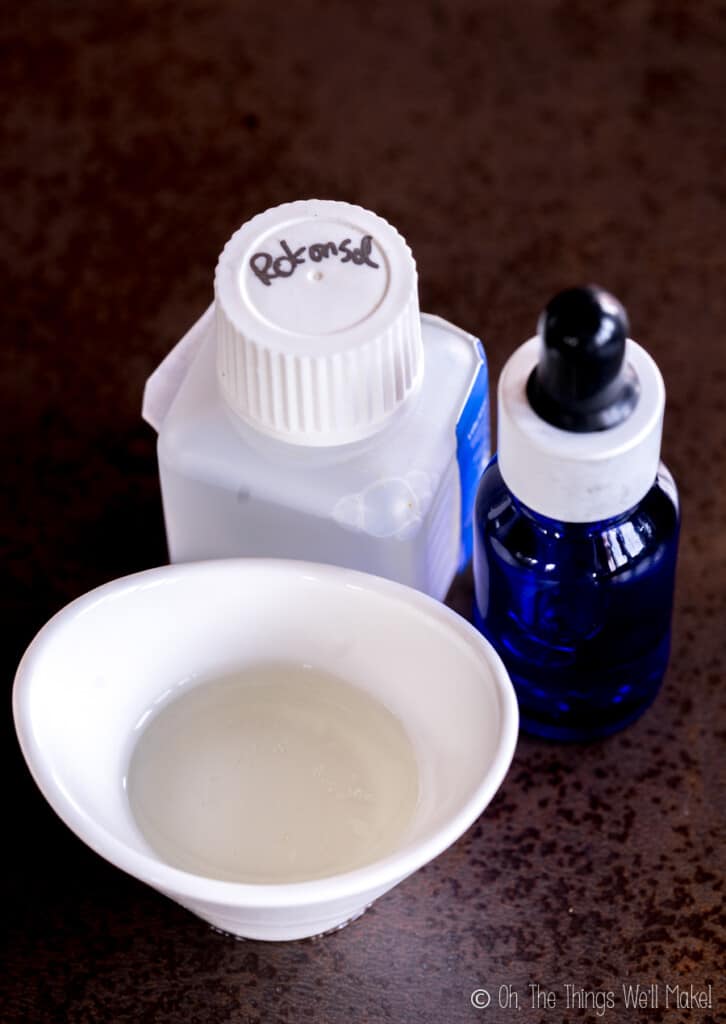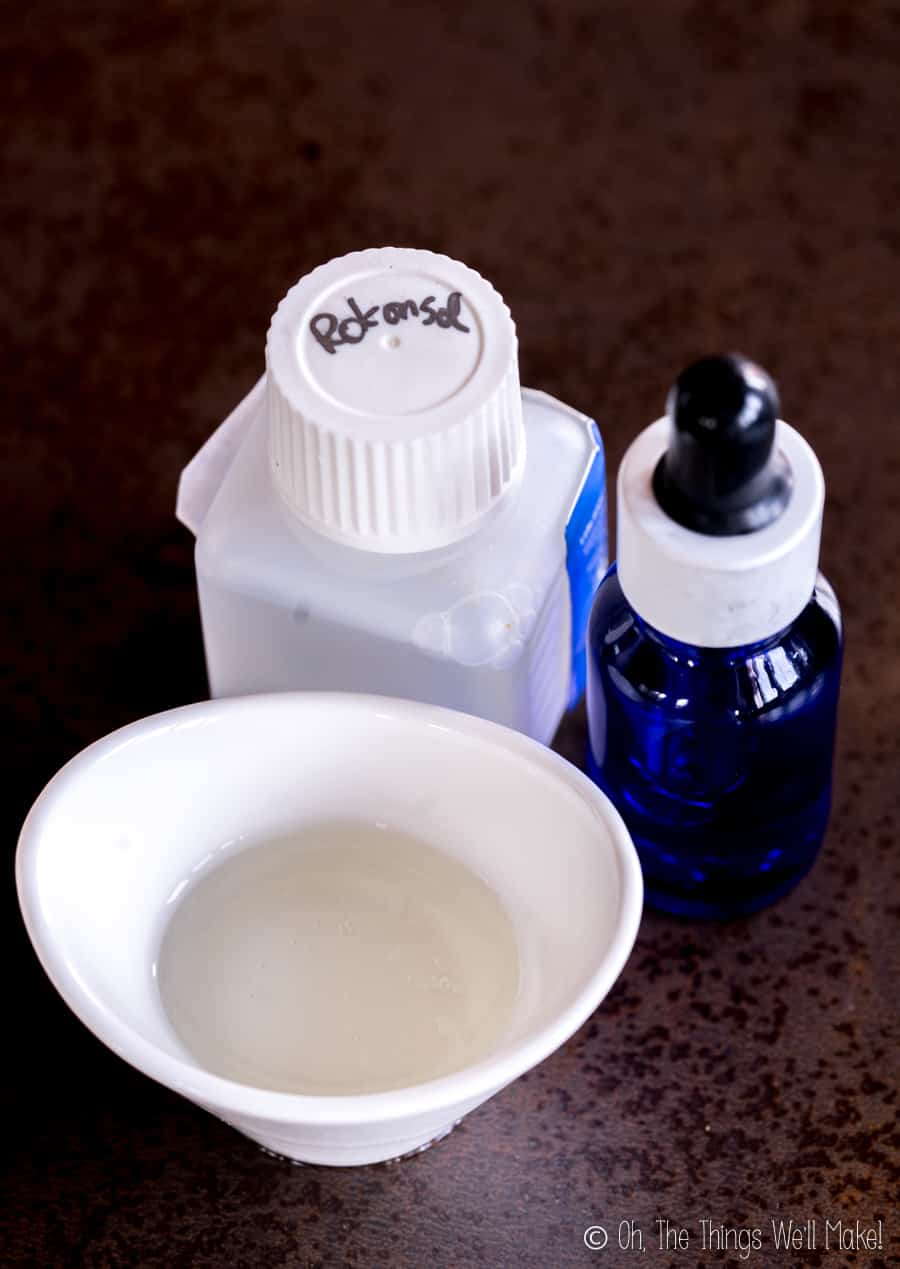 Euxyl® K 903
Euxyl® K 903 is a very gentle, yet effective preservative, making it an ideal preservative for products that will be used around the eyes or for products like baby wipes or other baby products. It's particularly effective in nonionic products, but also works in cationic or anionic products.
INCI: Benzyl Alcohol, Benzoic Acid, Dehydroacetic Acid, and Tocopherol
Effective pH range: 3-6 (Around 5-5.5 is ideal)
Dosage: 0.2-1% of the recipe by weight
Solubility: 100g of water at 20°C will dissolve 1.2g of Euxyl. It is NOT suitable for anhydrous products
ECOcert approved? Yes!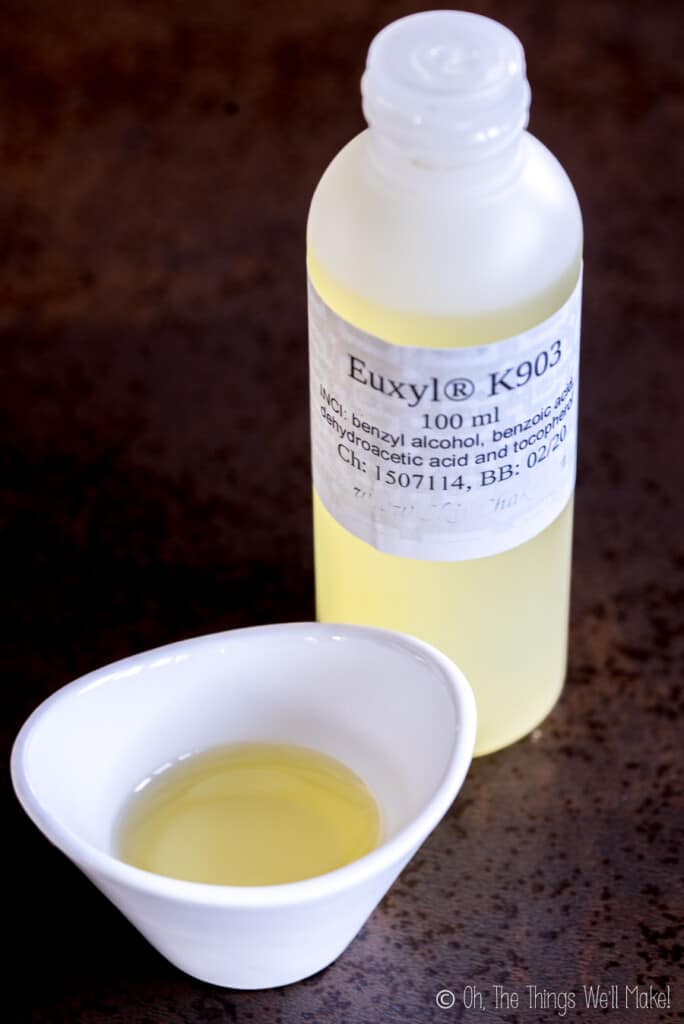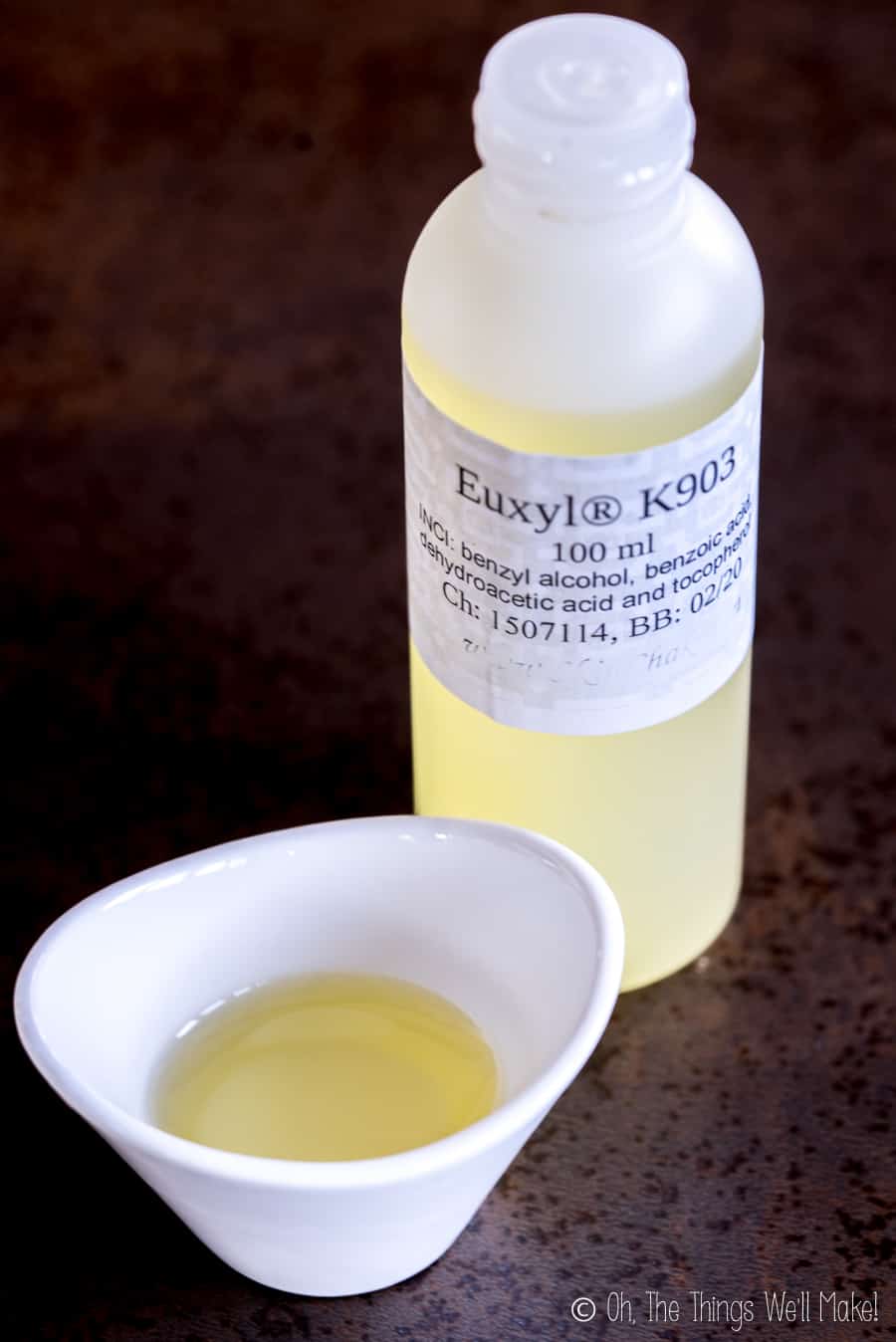 Dermorganics® 1388
Dermorganics® 1388 is a colorless preservative with a mild scent. It works in a very limited pH range, so it's important to test the pH of the product you're making if you want to use it.
INCI: Glycerin, Aqua, Sodium Levulinate, Sodium Anisate
Effective pH range: 5-5.5
Dosage: 2-4% of the recipe by weight
ECOcert approved? Yes!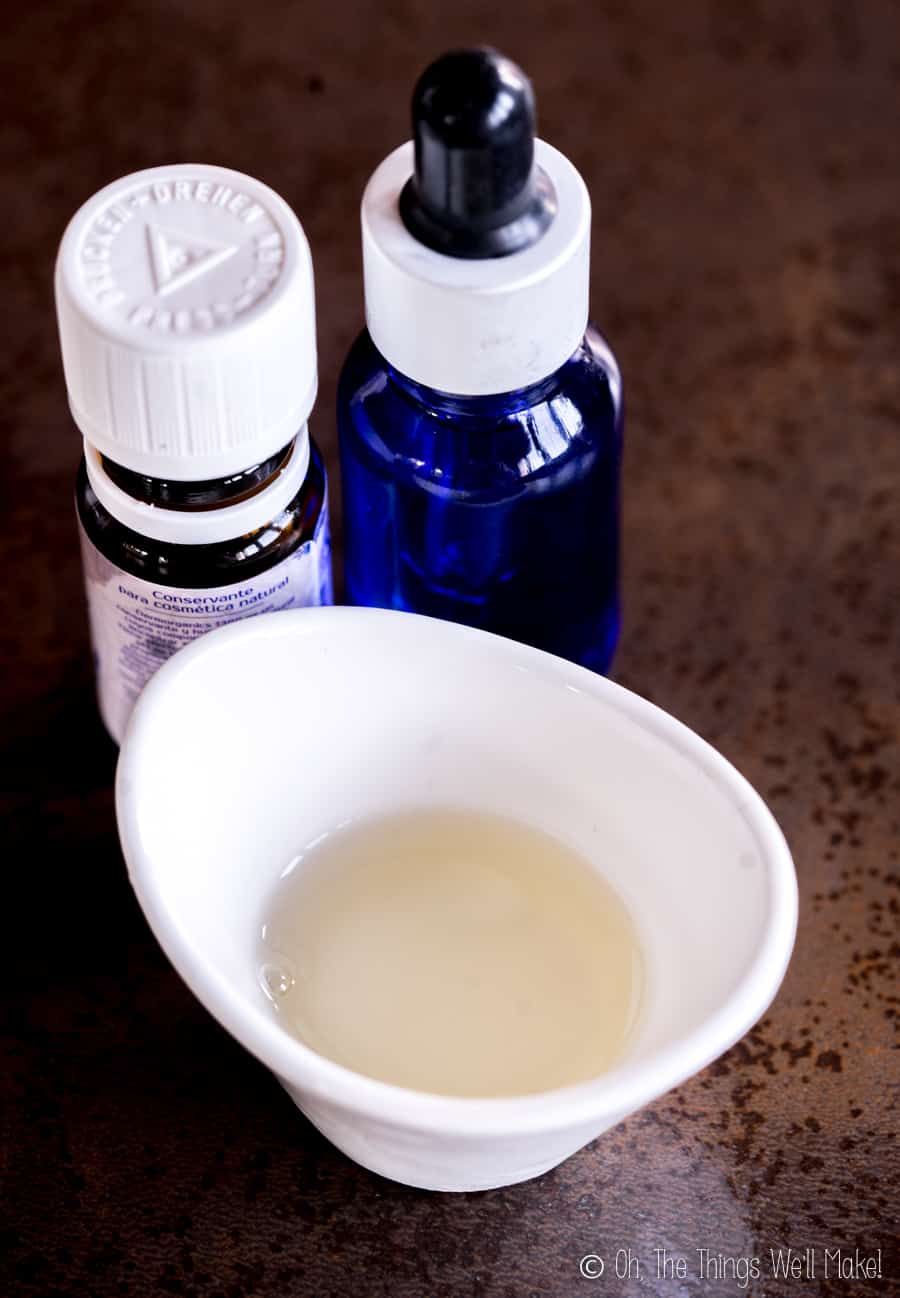 Can I substitute one preservative for another?
In most cases, you should be able to substitute the preservative that is called for in a certain recipe with another preservative that you already have on hand. There are a few things to keep in mind, though, before doing a direct switch.
Using the proper dosage
When substituting one preservative for another, don't automatically use the amount called for in the recipe.
Instead, look at the recommended dosage for the preservative that you want to use instead. In most cases, dosages for common broad-spectrum preservatives fall around 0.5-1% of the recipe by weight. So, substituting one for another doesn't normally greatly change a recipe.
On the other hand, some preservatives like Leucidal or Dermorganics need to be used at higher percentages to be effective. (Leucidal is normally used at around 3% of the recipe by weight.)
Using the proper pH
As you have seen above, each preservative has its own range of pHs in which it will be effective.
While most will be effective at a pH of 4.5-5.5, the range most commonly used for skin and hair products, it's important to check the final pH of your product to make sure it falls into an effective pH range for your particular preservative.
Dermorganics, for example, is only effective at a pH range of 5-5.5. So, when using that particular preservative, it's especially important to test the pH.
Also, note that many preservatives will alter the pH of your product slightly. If the final pH of your product is important, test the pH again after adding your preservative.
Making sure the preservative is water/oil soluble
While many preservatives can be used in both water-based and anhydrous products, not all can be used in either. Euxyl® K 903, for example, states that it is not suitable for anhydrous products.
As many of the preservatives are mixes of acids and alcohols, they are generally soluble in water and may also incorporate well into anhydrous products.
All of the above will work well in emulsions and products with both a water and an oil phase.
I tried to list solubility information for the various preservatives when I could find it, but in many cases, that information wasn't listed. When in doubt, it's best to check with your supplier.
Shelf life with preservative
So, you've determined that your homemade lotion will need a preservative and have chosen to use one of the preservatives that I have listed above.
But how long will your preserved product keep safely?
Microbial testing
When companies make products to sell, they are normally required to do some sort of microbial testing to ensure that their product is free of harmful bacteria and molds for a certain amount of time. (This, of course, depends on the regulations from country to country.)
When we are making the same sorts of products at home, though, we aren't likely to spend the money on that sort of testing.
That's why I recommend making small batches, those that will be completely used up within 2-3 months, even when using preservatives (especially the more natural ones).
Difficult to preserve ingredients
Just because you are using a preservative, doesn't mean that your products will automatically be safe from microbial growth.
Certain ingredients will feed the microbes and make it especially difficult to properly preserve the products that include them. This includes food-type products like milks, honey, fruits, etc. Plant-based materials like freshly extracted aloe gel are also very tricky to preserve. Clays are another ingredient said to be troublesome.
When using any of the above ingredients, keep them to an absolute minimum. The higher the concentration of troublesome ingredients, the more likely your product will fail.
For products that won't be used immediately, I suggest buying aloe that has already been preserved from a supplier rather than extracting the pulp yourself.
Use distilled water vs. tap water when possible
Avoid using food ingredients and plant materials, when possible (Use hydrosols and/or essential oils instead.)
Avoid using high concentrations of clays, botanicals (like aloe), and anything that may contribute to microbial growth.
Use Good Manufacturing Practice
Another important part of making products to sell is conforming to "good manufacturing practice" (GMP).
Again, while we don't need to follow the specification of GMP when making homemade products for ourselves, we should try to learn from those guidelines.
The hygiene employed while making homemade cosmetics will also affect their shelf life. You can't preserve a homemade lotion and pour it into a moldy container and expect it to keep well.
Wash your hands well or wear gloves.
Wear your hair back.
Sanitize workspaces, storage containers, and tools by spraying with 70º alcohol and wiping dry.
Don't reuse containers that can't be properly cleaned or sanitized.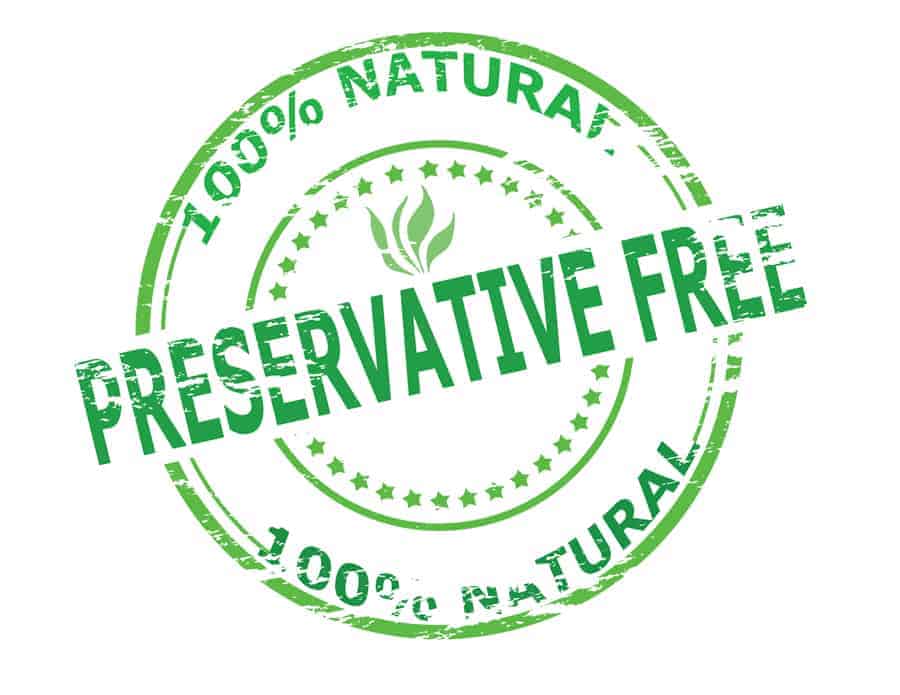 Conclusion
Hopefully, by now, you've learned that not all preservatives are bad! A product doesn't have to be preservative-free in order to be considered "natural."
Many preservatives are mild and safe and accepted in organic cosmetics.
Armed with the knowledge of how and why to use preservatives in your homemade cosmetics, I hope you feel more confident in moving forward as a true MIY-er. ?