Make these DIY charm bracelets for shoe charms (Jibbitz) out of craft foam. They're easy to make and are perfect for party favors.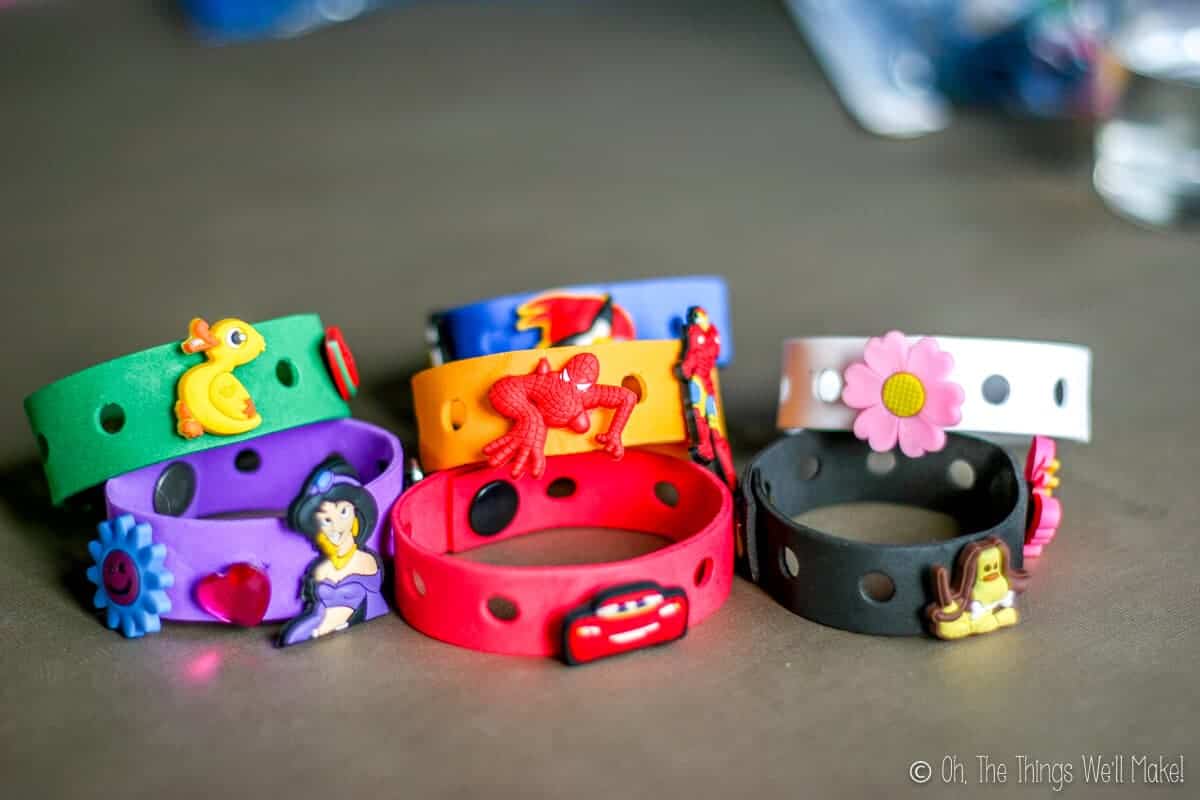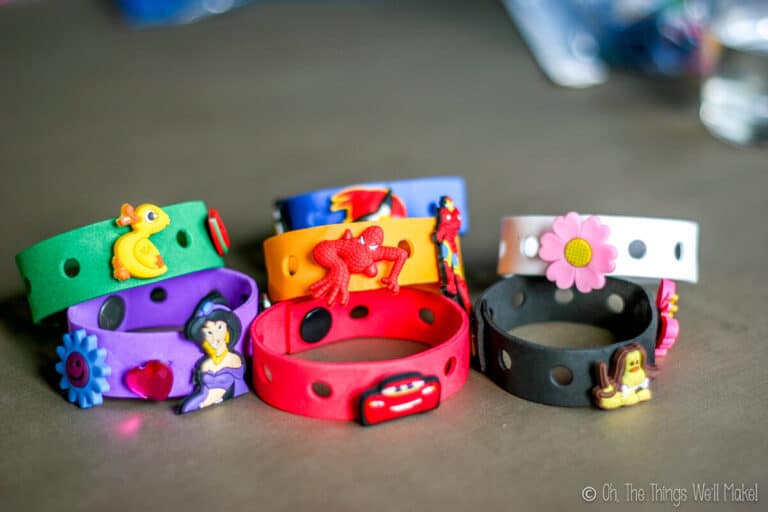 September is still a few months away, but that doesn't mean that I haven't already toyed with different ideas for Eric's third birthday party. Months ago, I knew that he would be having a "Cars" themed birthday party this year. Of course he would, he was wanting to watch Cars all day every day, and only wanted Cars themed everything.
Things, though, have changed, and he now watches Cars less and less. He doesn't even want to wear his Cars t-shirts so much anymore, but keeps asking for his balloon shirt. If he could, he would wear it to school every day! On a daily basis, his movie choice changes, and lately he has been alternating between Wall-E and Up and, sometimes again, Cars! Hmmmm
Party Favor ideas
In any case, I have been looking into party favor ideas for some of the other movie themes. Finding Cars favors is quite easy, of course, but finding things that have to do with Wall-E and Up is a bit more tricky.
During my search, I found some cute, inexpensive Wall-E themed shoe charms. Even though I don't know what his birthday theme will end up being, I decided to order them. I figured that eventually we will have a Wall-E themed party, even if it isn't this year. Unless pixar releases a part 2, Wall-E themed items will only get harder and harder to find.
Having ordered the charms, I wanted a cute way to present them. By accident, I found some silicone bracelets meant to be used with the charms, but they weren't cheap. Don't get me wrong, they weren't expensive either, but if you have to buy a lot of them, for all of the kids at the party, small expenses can add up. Here it is customary to invite all of the kids in his class, which means inviting a minimum of 24 other kids to the party!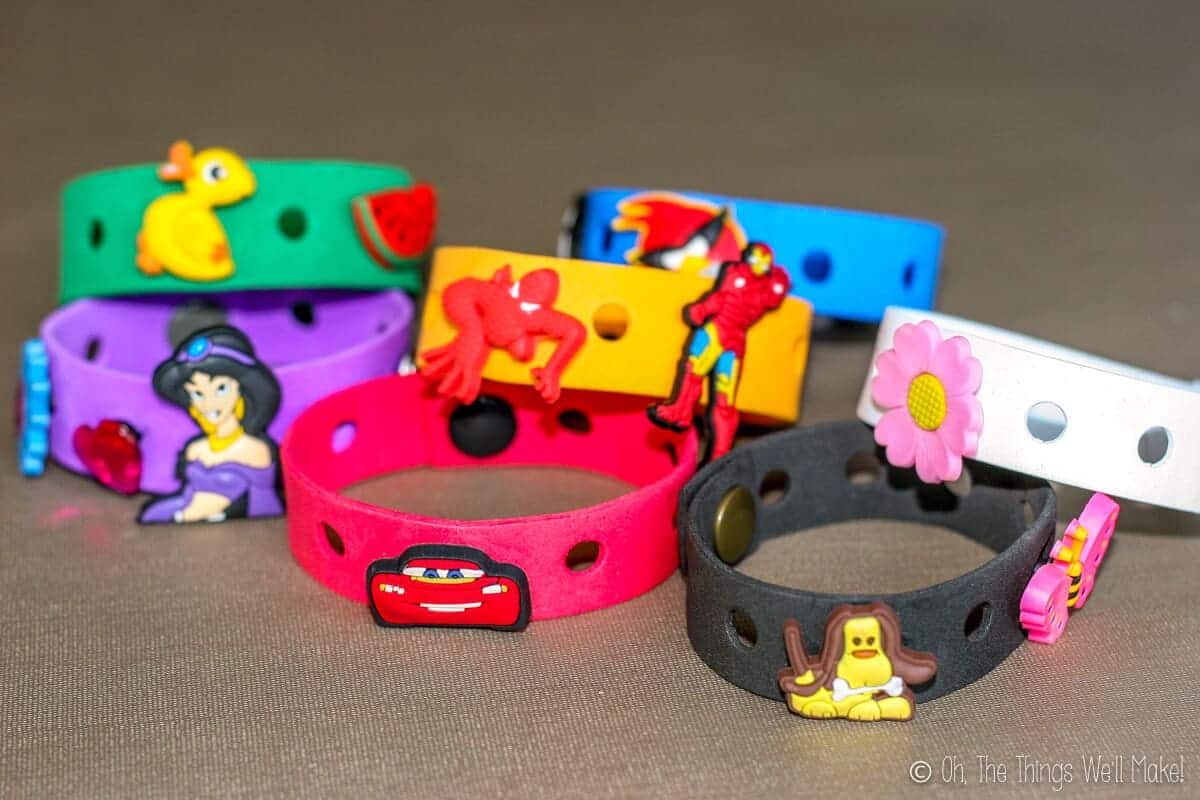 I decided I wanted to come up with a way to make a DIY charm bracelet for the shoe charms.
Surely someone has done this already. Someone has already done everything, right? Wrong!
I think I have finally come up with an idea that I haven't already seen numerous times on Pinterest. 🙂
Through my Google and Pinterest searches using "shoe charm bracelets," I mostly found silver chain charm bracelets with charms shaped like shoes; definitely not what I was looking for.
My first idea for making a DIY charm bracelet was to punch holes in silicone bracelets.
After a bit of research, at the time it was difficult to find plain, silicone wristbands, because they were almost as expensive as the "real" shoe charm bracelets. Since then, though, silicone bracelets are relatively inexpensive on Amazon, so you could make the bracelets that way for a durable, easy DIY charm bracelet. At the time, though, it really made no sense to do it that way. For the same price I might as well have just bought the already made shoe charm bracelets.
My next thought was to make bracelets out of craft foam.
I looked up "Craft foam bracelets" online, and found a few ideas of bracelets made with craft foam that were either closed with velcro or were sewed or glued shut. None of them were made for shoe charms, though.
Without many new ideas, I decided to just try out my own to see if it would work. I was a bit worried about the foam stretching enough to actually fit the charms without breaking. In the end, though, it worked out pretty well.
How to make craft foam shoe charm bracelets
First, I cut the craft foam into strips just over a centimeter wide using my paper cutter.
Then, I punched holes along the length of the foam strip, using a regular paper puncher. I left a bit of space at the ends for my closure.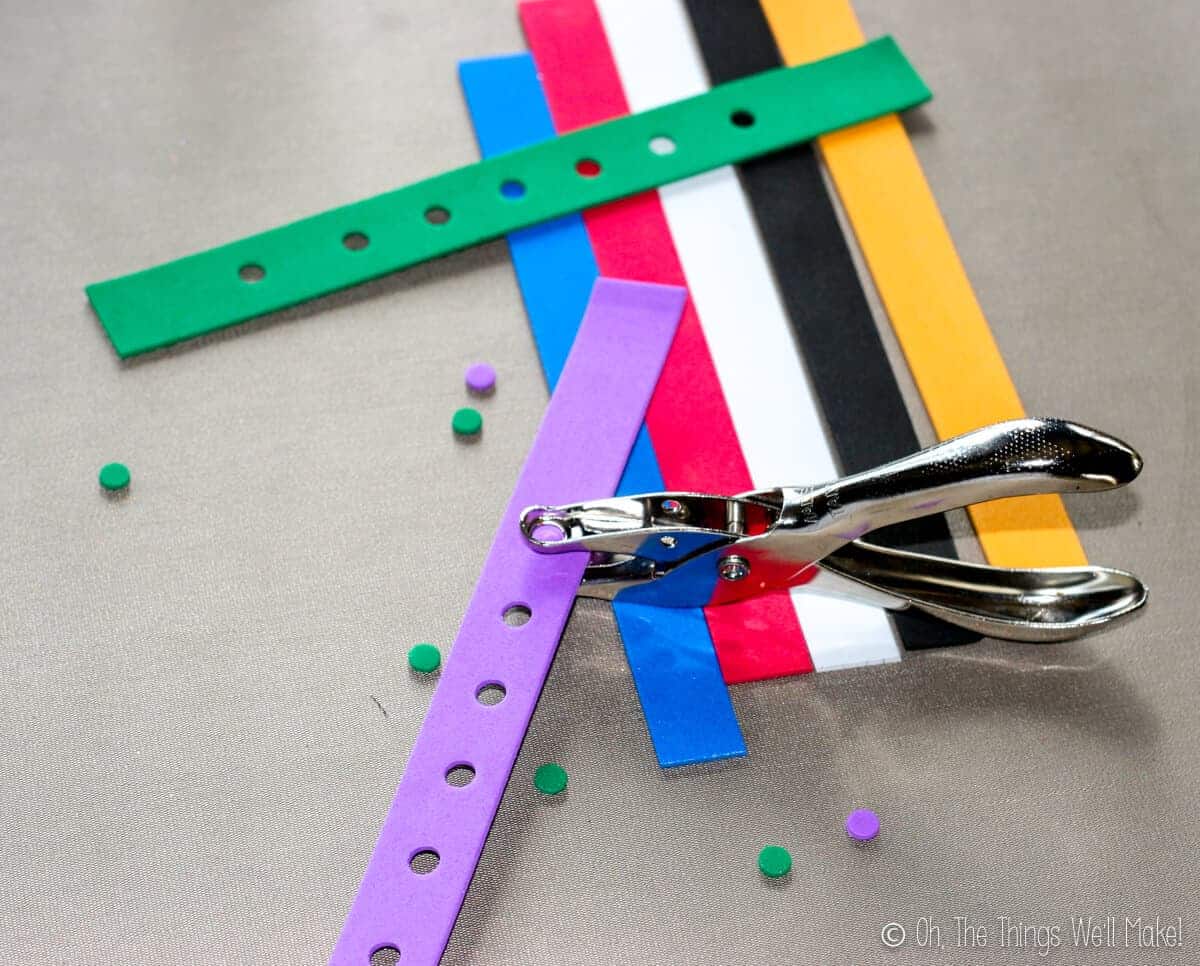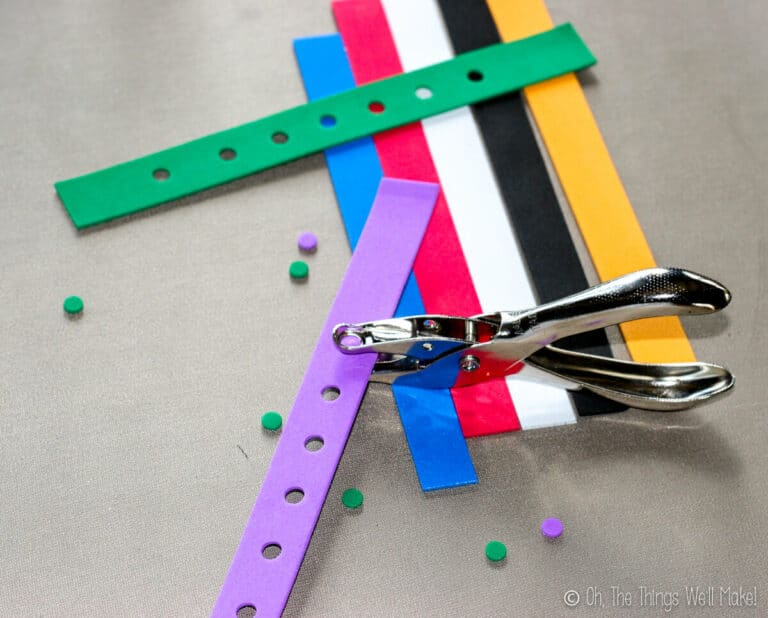 Instead of sewing them closed or using velcro, I decided to use plastic snaps because I had them on hand anyway, and thought that it gave the bracelets a more finished look. If you don't have or want to buy the snaps, though, you can hot glue some velcro on instead.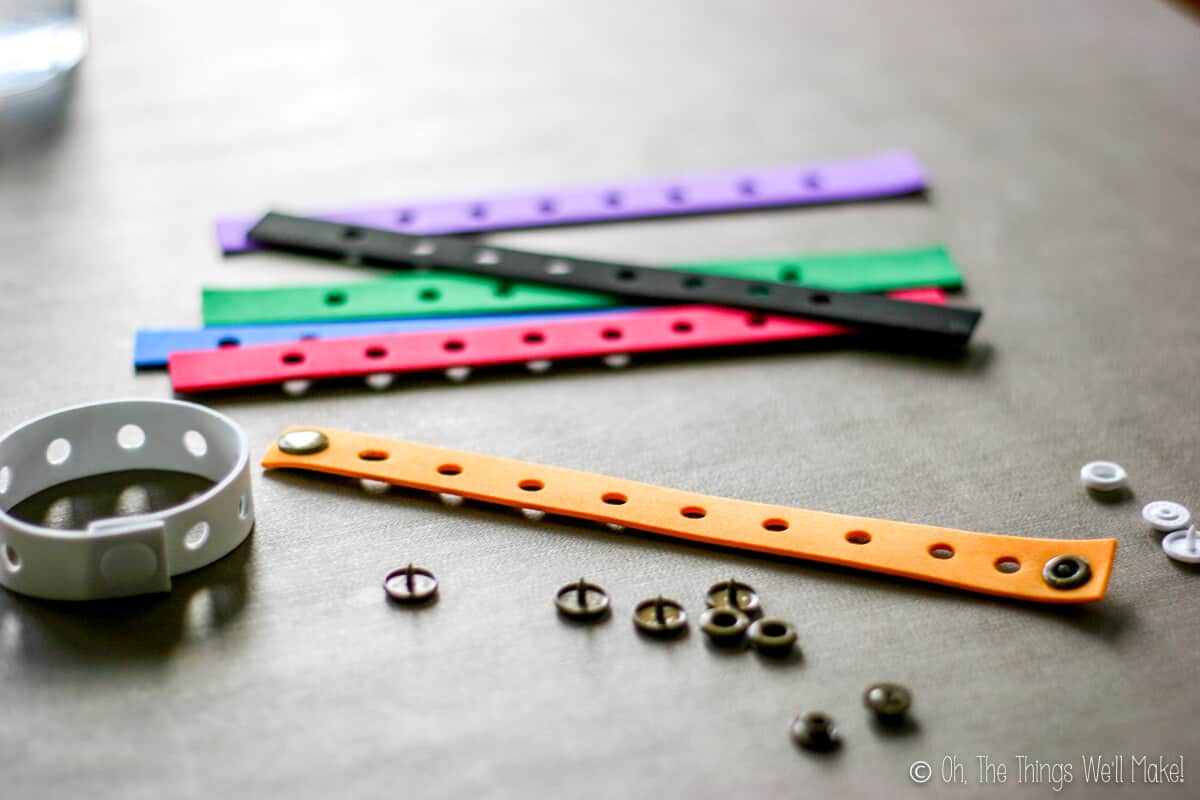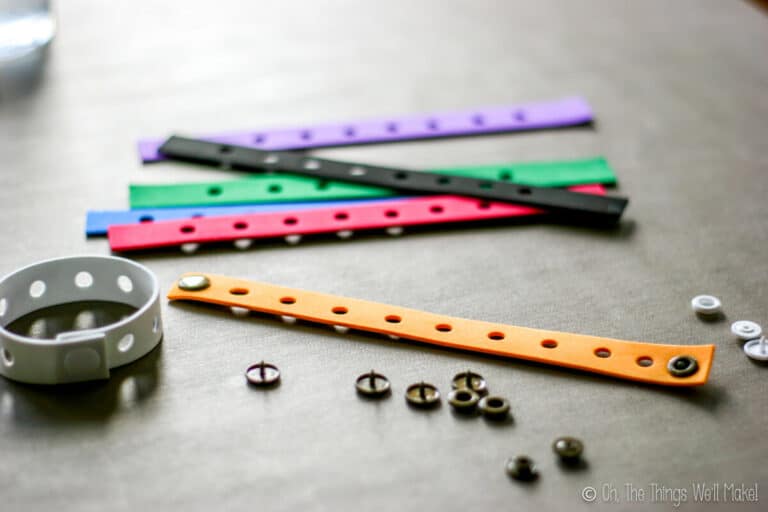 Once the snaps were on, the bracelet was finished!
I pulled a few charms through the holes, and snapped a bracelet on. Overall, I am happy with the way they ended up.
There are a few things to keep in mind when making/using a DIY charm bracelet like these for your shoe charms:
Craft foam is more delicate than silicone, so it isn't as durable as a silicone bracelet would be.
Keeping that in mind, it is probably best for an adult to slowly and carefully put the charms in, and pull them out as needed. Kids doing it themselves will almost certainly result in a ripped bracelet.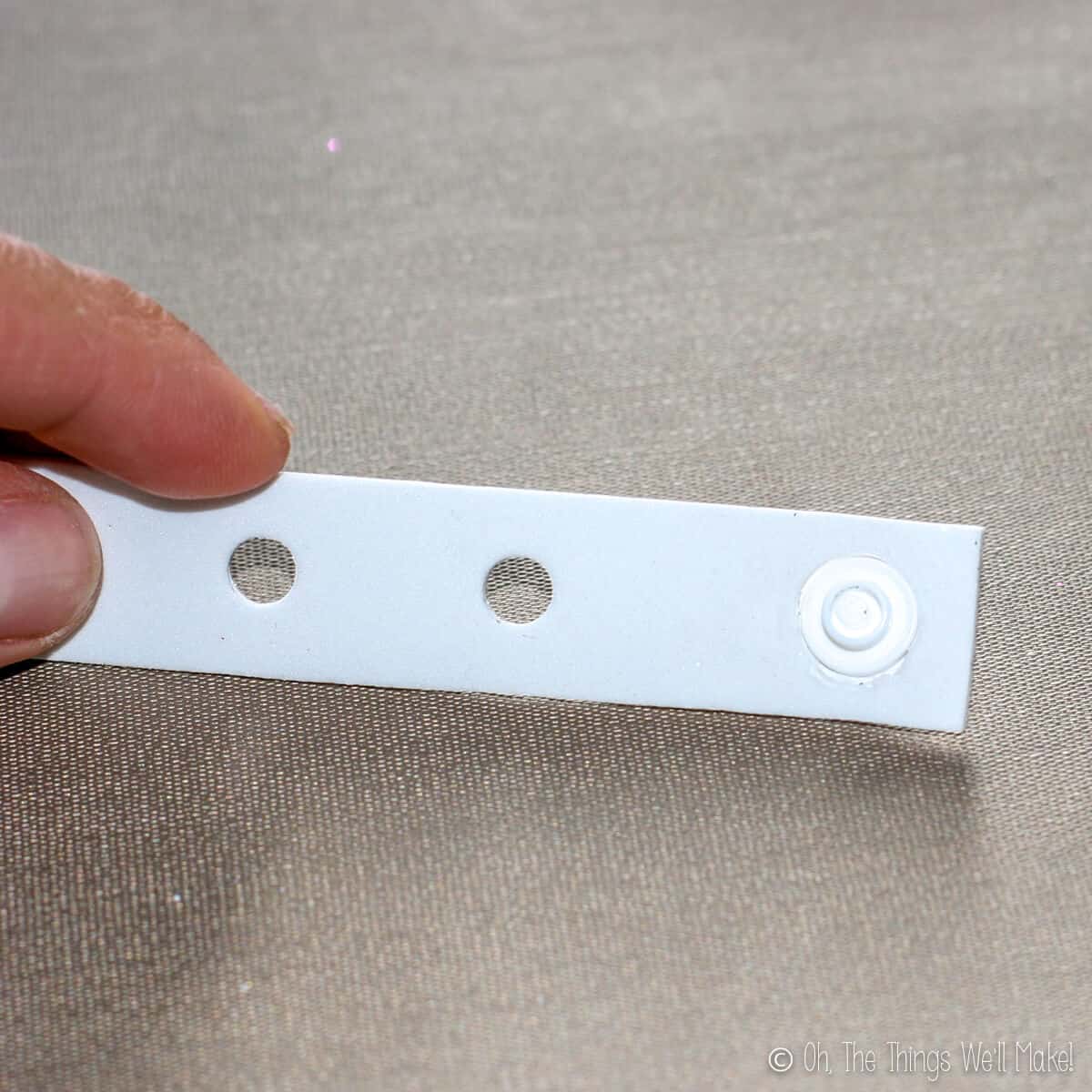 Similarly, I have found that the plastic snaps don't all snap together with the same strength, and that if one of the snap's closures is too strong, it is almost impossible to pull it back open without breaking the craft foam. On most of the bracelets, though, I could open and close the snap again without any problems.
Those that I was afraid to unsnap, actually stretch enough to fit over my hand without having to open them and without the bracelet breaking.
The only real problem with my bracelets is that my son decided that he didn't want to wear one! Toddlers! So, I had to model a bracelet myself. (Blogger problems are rough.) Hopefully the other kids at the party will feel differently.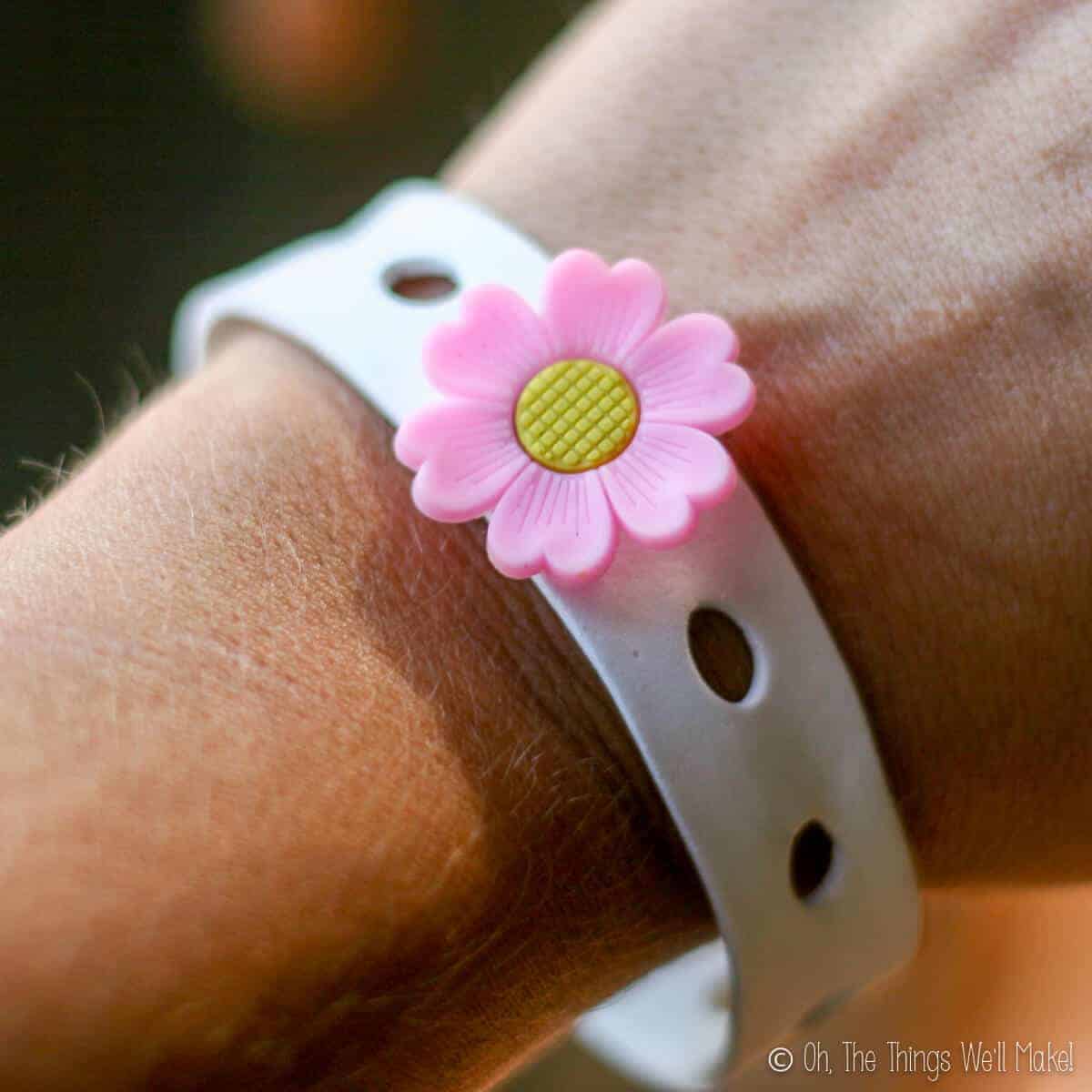 Now, don't go telling everybody about my favors. They are meant to be a secret! 😉
On second thought, please tell them. I'd love to see pictures if you end up making a DIY charm bracelet for your shoe charms! I love it when people send me pictures of their finished projects.
By the way, before I sign off, I want to tell you that I came up with another idea for those who don't have plastic snaps.
You could always just snap holes near the ends, and use a shoe charm through the two holes to keep the bracelet together! If you're going to use this idea, make it big enough to pull the bracelet on and off without opening it.
In the end, I loved giving out the Wall-E shoe charms with charm bracelets at my son's Wall-E Party!