It is easy to make grenadine from fresh pomegranates or store-bought pomegranate juice. Impress your friends with a delicious homemade grenadine, free from the artificial colors and flavors of the store-bought varieties.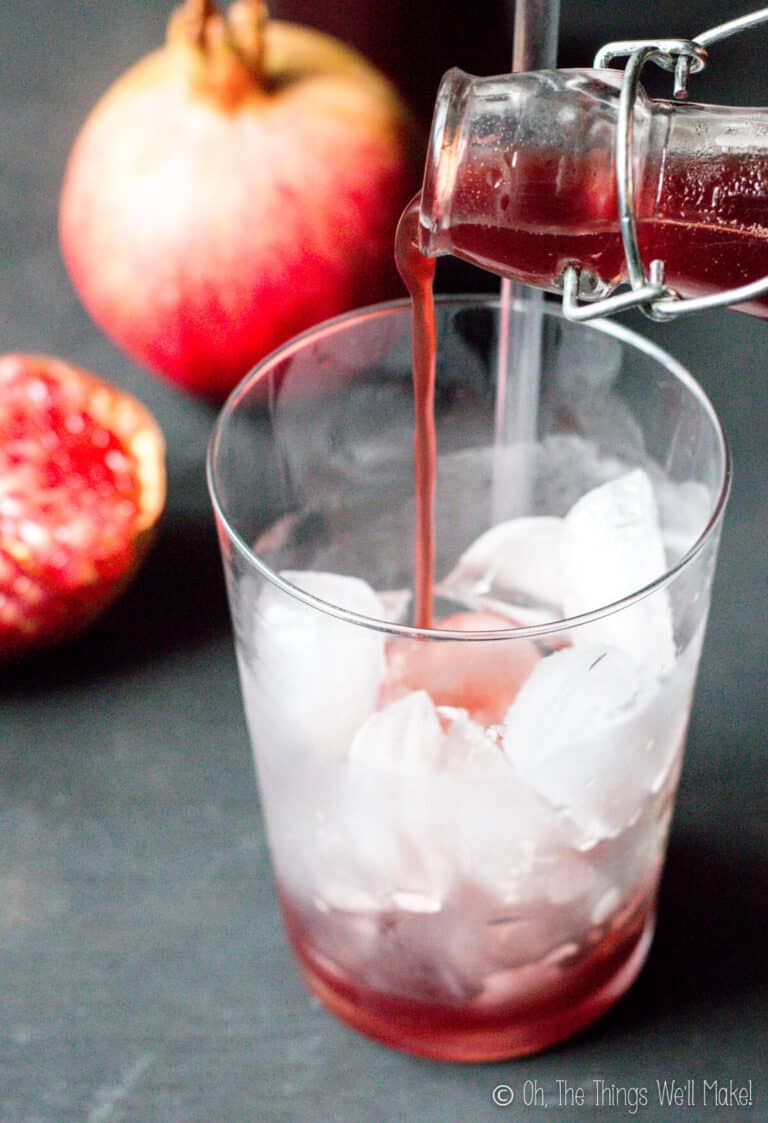 Hi, my name is Tracy, and I'm a pomegranaholic.
I don't know if that's really a thing, but if it is, I'm guilty.
I adore summer. The coming of autumn and winter is almost enough to make me want to go into hibernation. Almost, I say, because I'd be sad to miss out on some of the joys of autumn. One of those is pomegranate season!
My love of pomegranates makes the coming of winter easier to bear. I'm also lucky to have a pomegranate tree at home which bears delicious fruits.
It's funny to think that I probably had never even tried a pomegranate when I lived in the US. Now, I eat them almost daily during autumn. If you've never tried one, I definitely recommend it.
You may be wondering, though, why I'm talking about pomegranates in a post about homemade grenadine…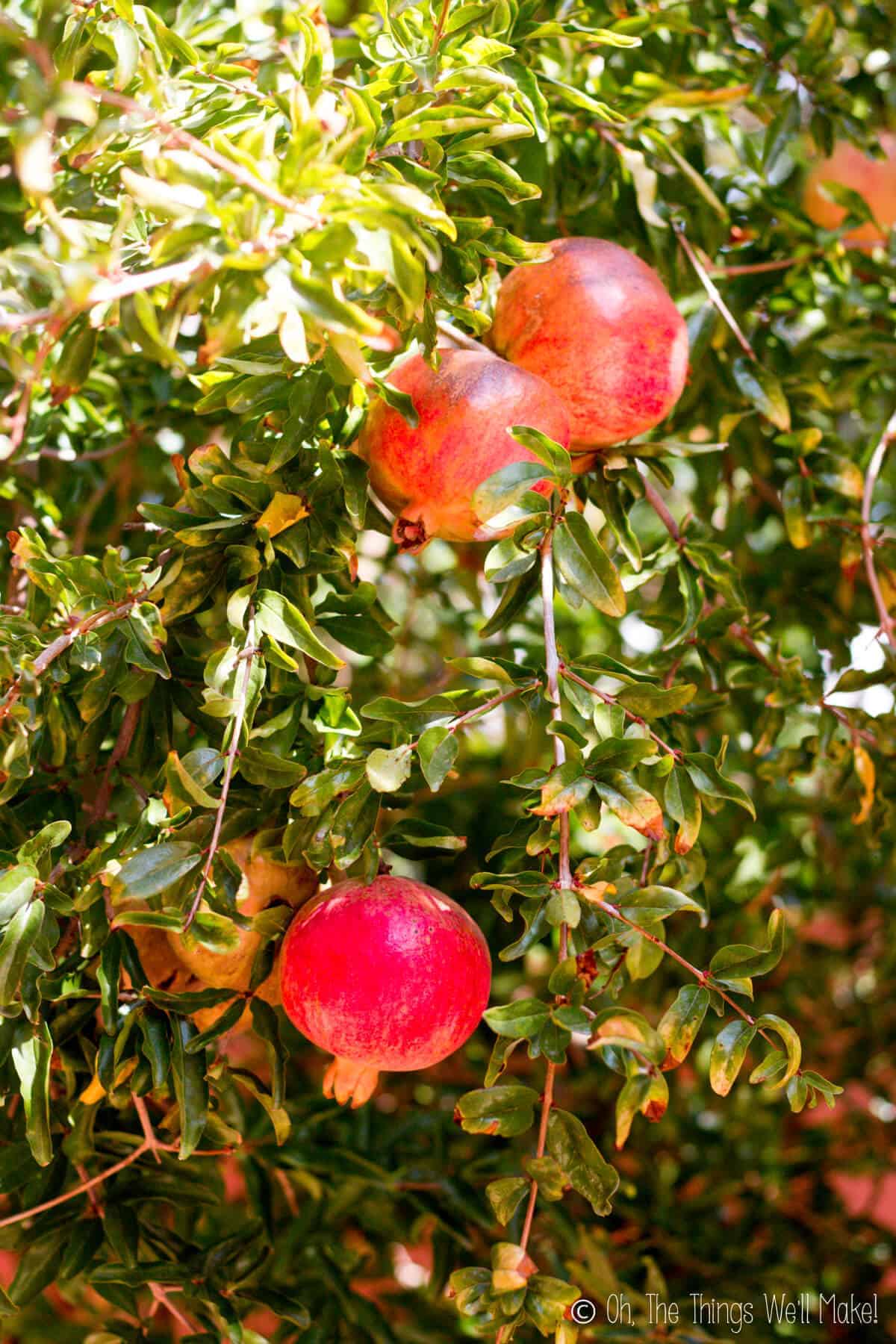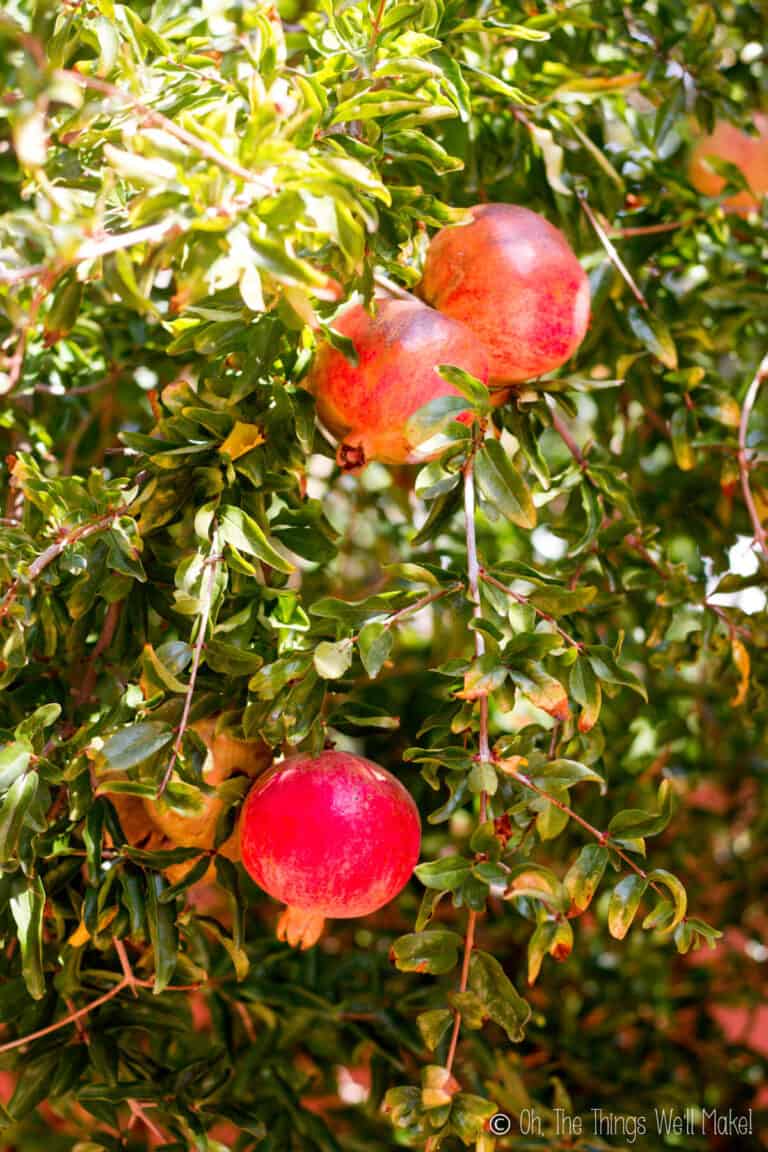 What is grenadine?
Grenadine is a sweet, red syrup that is often used in cocktails like the Tequila Sunrise or mocktails like the Shirley Temple.
Many people erroneously believe grenadine to be a cherry syrup. These days, it's normally mostly made up of artificial colors and flavors, so that's not surprising. It was, however, originally made from pomegranates. In fact, its name comes from the French word for pomegranate, "grenade".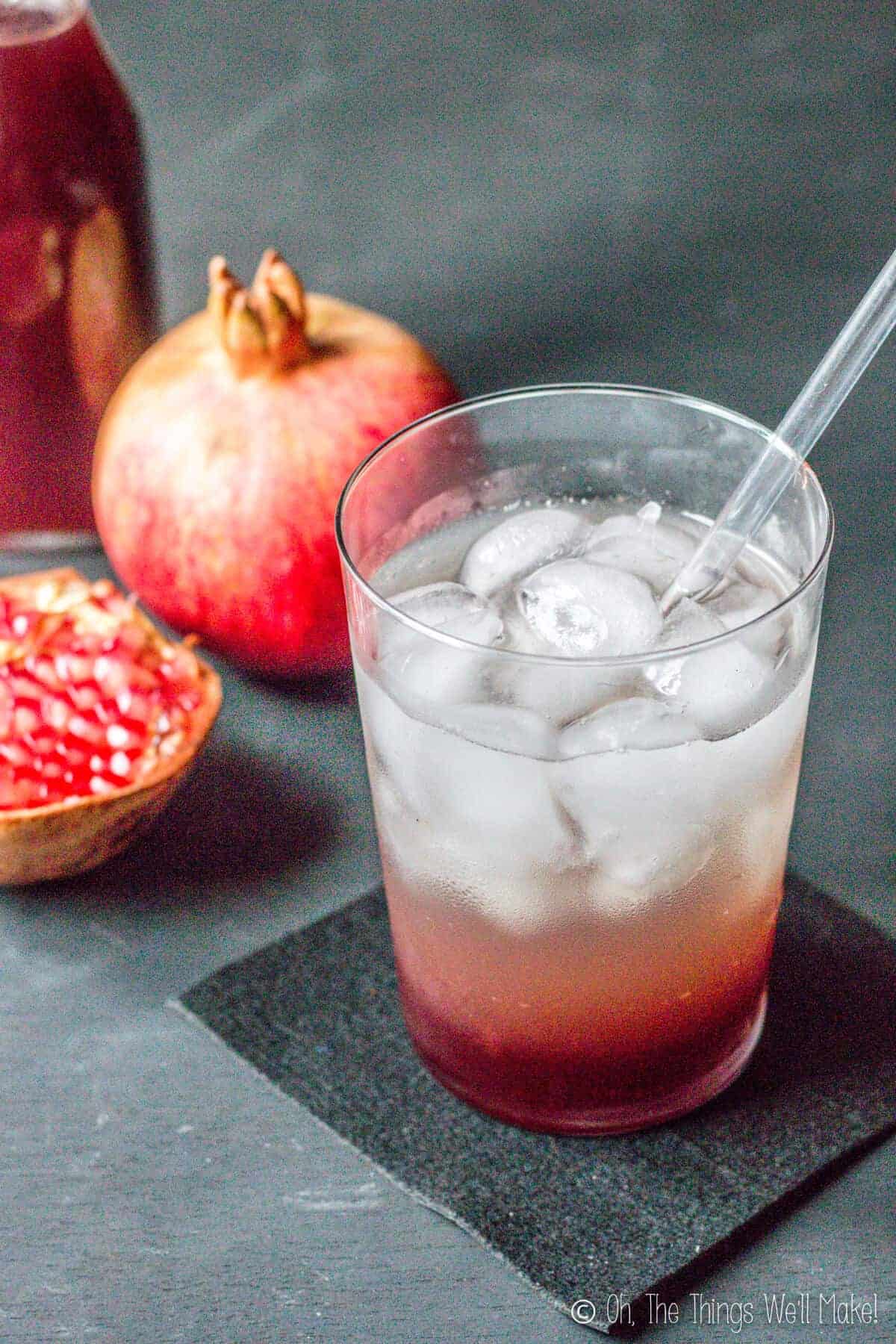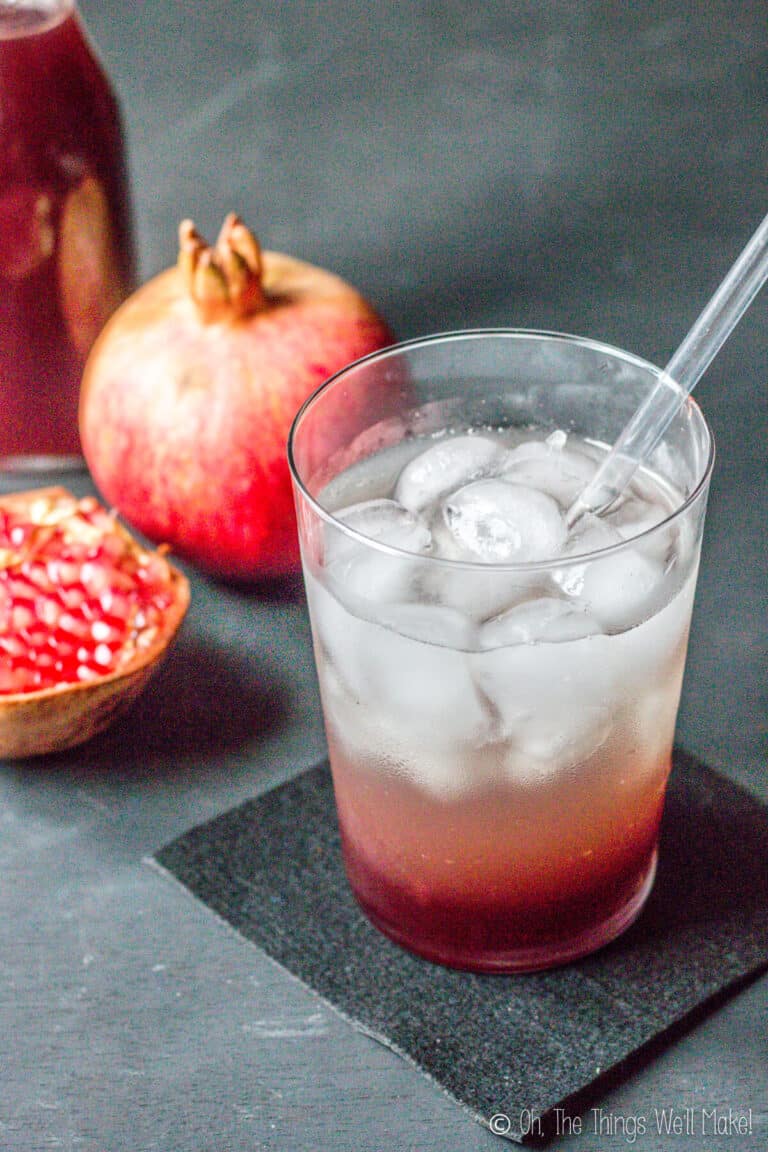 Why make grenadine?
As I mentioned earlier, the modern-day grenadine normally sold in stores is quite different from the original syrup. While it may have a touch of pomegranate juice, it's mostly made up of artificial colorings and flavorings, high fructose corn syrup, and, perhaps, a touch of citric acid and some preservatives.
While I wouldn't exactly call homemade grenadine a "healthy" recipe, it definitely beats the artificial versions for both healthiness and flavor. Pomegranates are, of course, considered by many to be a superfood. Not only are they tasty, but they are packed with healthy antioxidants and vitamins!
(On the other hand, sugar is about as unhealthy as it gets.)
Ingredients
You can make homemade grenadine very simply using unsweetened, pure pomegranate juice. If you want it to be more completely "from scratch," you can even make your own pomegranate juice from the fresh fruit.
I have made it both ways. Either way, it's much better than any store-bought grenadine that I've ever tried.
Other than pomegranate juice, you'll also need some sugar, and a bit of lemon or lime juice for a bit of tanginess. (Both will also help extend the shelf-life of your homemade grenadine.)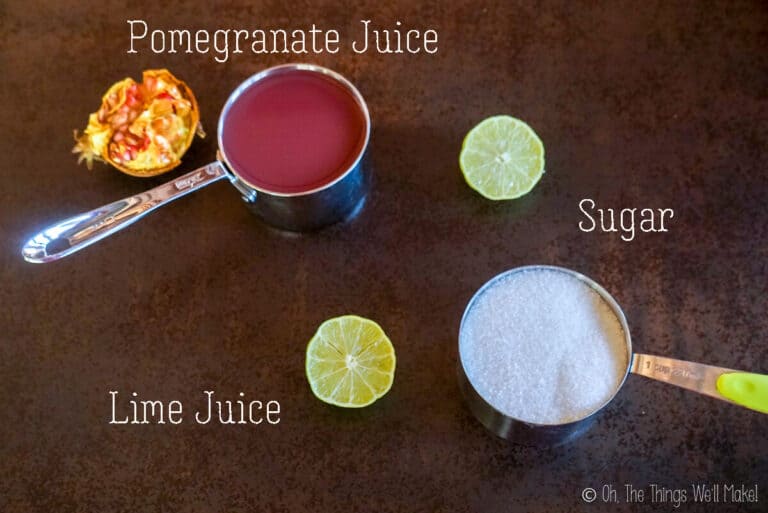 Which sugar should you use?
To get a typical syrup consistency, it's best to use granulated sugar vs. other sweeteners. Which sugar you choose will depend on your priorities.
For example, I often make homemade grenadine with organic demerara sugar. It's a darker, less refined sugar, which I normally prefer to use. The problem with using demerara or other similar sugars in this recipe is that they can darken the color of your grenadine. If you're looking to make a "pretty" cocktail, that can affect the final look.
For most of my photos for this post, I chose a bleached white sugar. I wanted you to be able to see the natural reddish pink color that you can obtain by making the grenadine syrup without the addition of any colorings. The color, of course, will also depend on the chosen pomegranates and/or the juice you buy.
(Some varieties of pomegranates have more brightly red seeds and tend to be tangier. They usually have brighter red skin on the outside than ours too.)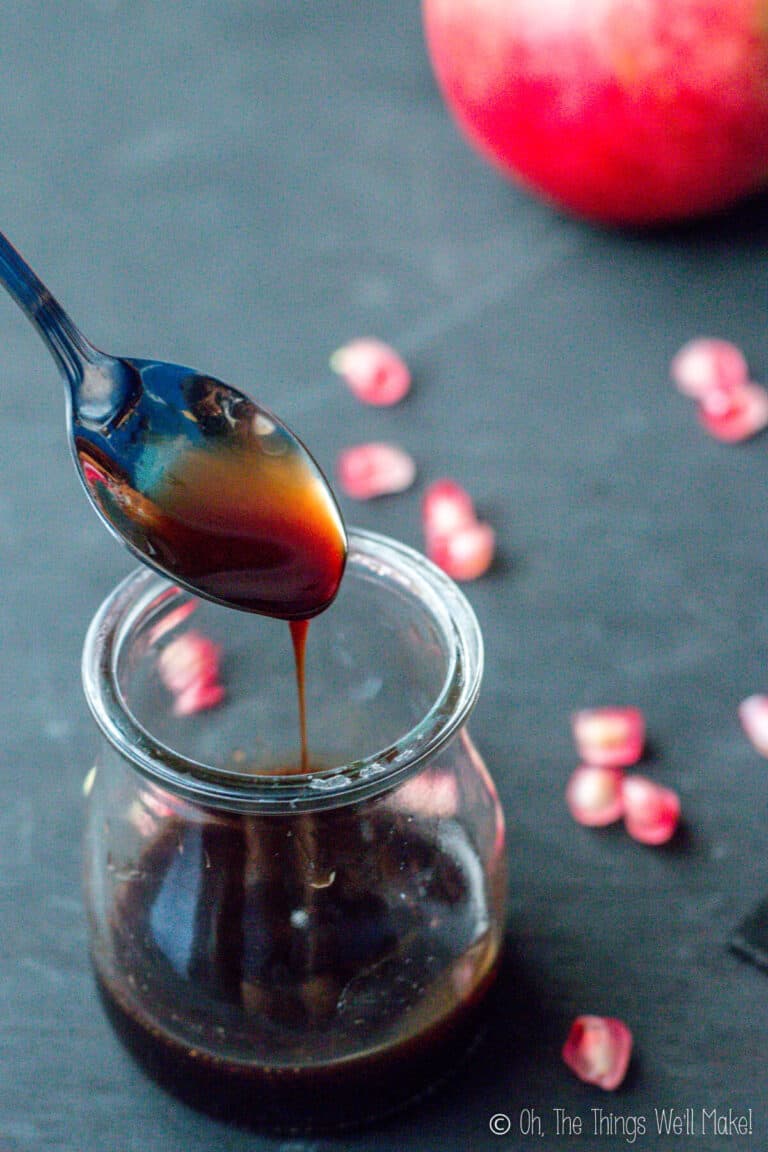 The flavor will also vary somewhat depending on the sweetener used, with darker sugars, like coconut sugar, giving it more of a caramel-y flavor. Depending upon the sweetener used, you could even consider this a paleo treat.
Procedure
If you are starting with fresh pomegranates, begin by making the juice.
How to make pomegranate juice
To make your own pomegranate juice, slice open a couple of pomegranates. Once open, remove the seeds. This can be done by holding the open end of a pomegranate over a bowl. Carefully, yet sharply, hit the outer skin of the pomegranate with a large spoon, thrusting the seeds into the bowl below. (I say carefully because pomegranate juice does stain.)
If you find hitting the pomegranate with a spoon too messy, you can also open up the sections by hand and gently remove the seeds.
Once you have obtained the seeds from the pomegranates, remove any light yellow bits of skin. The skin is quite bitter to the taste. Blend the seeds in a blender, and strain the juice through a cheesecloth to remove the hard center portion of the seeds.
Making the syrup
Once you have measured out the juice, you should measure out the sugar.
While you can use less sugar in making the grenadine, I usually use a 1:1 ratio of pomegranate juice to water.
Grenadine is a syrup. To get a syrup consistency, you will need to dissolve enough sugar in the juice to get the mixture to thicken. If you use less sugar, you'll end up with a thinner final product that won't keep as long.
If you find that you have added too little sugar, and want a thicker product, either add more sugar or evaporate away some of the liquid from your mixture. (In the later case, the process to get to a syrup consistency will take longer, and you'll end up with less grenadine. That said, it will probably have a more potent pomegranate flavor.)
How long will homemade grenadine keep?
The high sugar content of grenadine helps preserve it. If made as written in the recipe, it should keep well for at least a month in the fridge. I've used mine past a month without noticing a difference in appearance or flavor. That said, if you see obvious changes in scent, color, texture, or flavor, it's best to err on the side of caution and throw it out.
but, again, that depends on how much sugar you use, and how much water is left in your final product. It also will depend on whether or not you add in some lemon or lime juice to take the place of the citric acid used in the commercial grenadines.
If you aren't going to give it to your kids, and plan on serving it in cocktails, you can extend the life even further by adding some vodka to your homemade grenadine. The addition of alcohol will allow you to keep it much longer, almost indefinitely (depending upon the amount added).
I usually add some vodka after a couple of weeks have passed since I made the grenadine. Rather than throw it out, it allows me to keep the mixture much longer.
Let's be honest, pomegranates aren't cheap, unless you have them growing on trees – as I do. 😉
Video
Craving more?
Subscribe to my newsletter for the latest recipes and tutorials!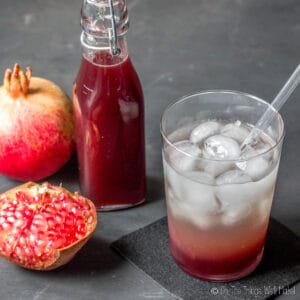 How to Make Grenadine Syrup from Scratch
Impress your friends with this easy-to-make grenadine syrup that is free from the artificial colors and flavors of the store bought varieties.
Print
Rate
Servings:
28
1 Tbsp. servings (1.75 cups)
Ingredients
1

cup

pomegranate juice

(You can make your own, or use store bought.)

1

cup

sugar

your choice

1/2

lime

juiced, optional
Instructions
Mix together the pomegranate juice and sugar in a small pot over the stove, and stir over low to medium heat until the sugar has completely dissolved.

Optionally thicken the mixture more by bringing the heat down to low and simmering the mixture until it has thickened to your liking. Keep in mind that the mixture will thicken further when cooled.

Add lemon or lime juice, to taste, towards the end of the cooking process.

Pour the mixture into bottles and store in the refrigerator for up to a month or more.
Notes
To make your own pomegranate juice from scratch, cut open fresh pomegranates and remove the seeds. Blend the seeds with a blender and strain out the juice through a cloth or mesh strainer.
Homemade grenadine can be used in cocktails like the Tequila Sunrise or mocktails like the Shirley Temple.
You can extend the shelf life further by adding some vodka to the mixture. You'll end up with more of a pomegranate liqueur which can keep almost indefinitely if you add enough vodka.
Serving:
1
Tablespoon
|
Calories:
33
kcal
|
Carbohydrates:
8
g
|
Protein:
1
g
|
Fat:
1
g
|
Saturated Fat:
1
g
|
Sodium:
1
mg
|
Potassium:
19
mg
|
Fiber:
1
g
|
Sugar:
8
g
|
Vitamin C:
1
mg
|
Calcium:
1
mg
|
Iron:
1
mg
Coloring your homemade grenadine
Some people simmer the grenadine juice with hibiscus flowers to make it a brighter shade of burgundy. I have tried it, but don't like the added flavor.
If you want to color it a brighter pink/red color, you could also possibly try simmering the grenadine with rose petals or even homemade beetroot powder.
I honestly find it beautiful as it is, and don't think it needs it. If you do use some sort of natural coloring, and think it looks and tastes great, I'd love to hear about it!
How to use your homemade Grenadine
Grenadine is an ideal addition to summer cocktails and mocktails. It can be used in everything from the Tequila Sunrise to the classic kids' mocktail, the Shirley Temple (which Shirley Temple, ironically, hated). Because I don't drink commercial sodas with lots of sugar, I have come up with a much healthier (and less sickly sweet) version. Why not give it a try this summer!
Shirley Temple Mocktail
Shirley Temple
A kid's favorite mocktail, the Shirley Temple is a delicious drink perfect for all ages. By making it from scratch, you can enjoy a healthy twist on a classic drink.
Check out this recipe

What sorts of cocktails would you make with this homemade grenadine now that you know how to make it?