Smooth and creamy, these paleo chocolate avocado pudding pops seem indulgent, but are a fun, no guilt treat that is perfect for summer.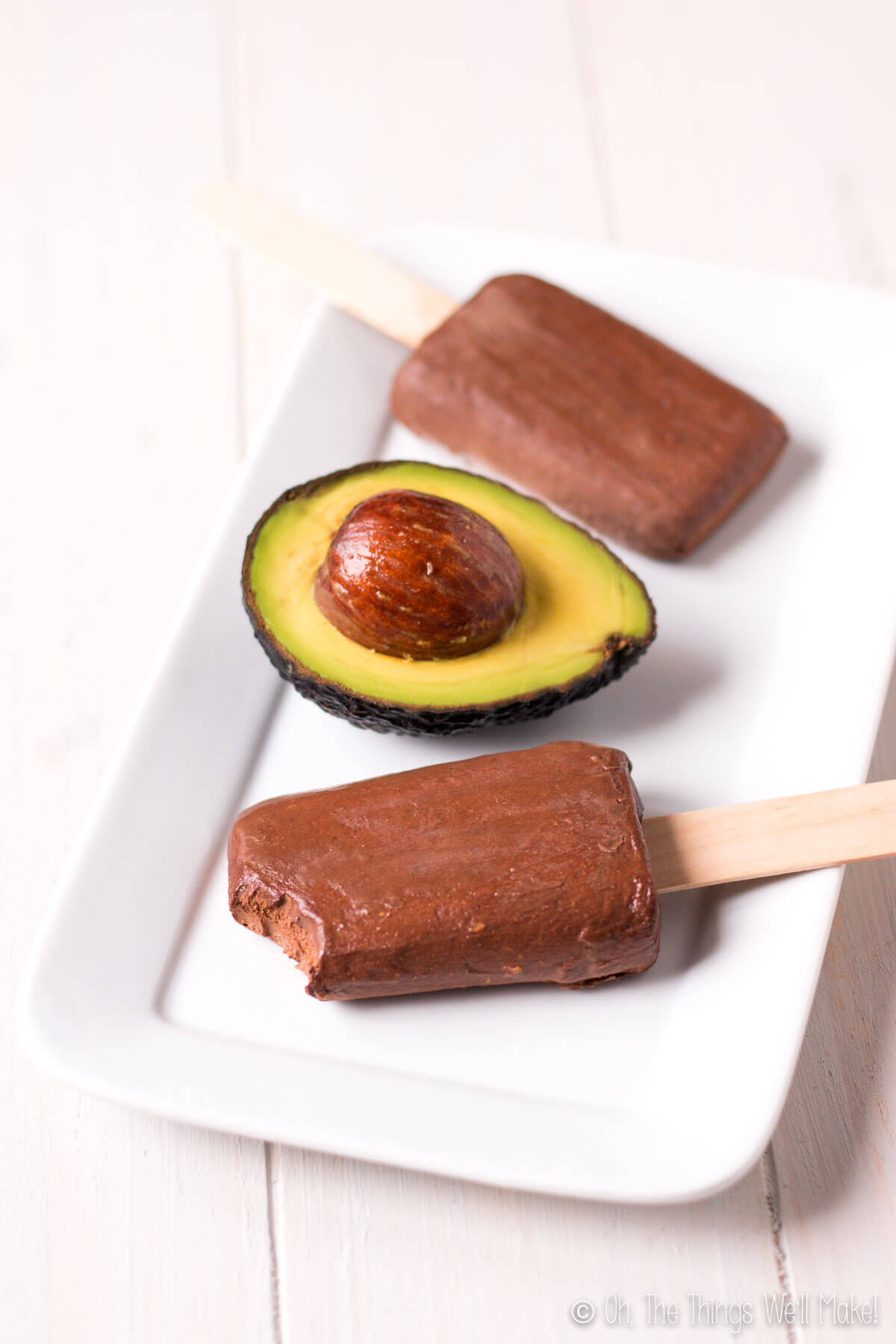 When I was a kid, I remember loving popsicles. My favorites were probably Jello Gelatin popsicles, which is why I already showed you how I make my own healthier version gelatin popsicles these days. (My favorites are pineapple and watermelon gelatin pops.)
Around the same time, though, I also used to occasionally buy pudding pops. I'm not a chocolate fanatic, but I do love creamy desserts, and I sometimes crave a piece of dark chocolate. I also have to admit that I quite love chocolate mousse, and make it often because it's a family favorite.
Lately, though, I've been a lot stricter with my diet again, and have been feeling a lot better and have lost a lot of weight. I've mostly eliminated all grains, dairy, legumes, and sugar, and by now I don't crave sweet treats very often anymore.
That said, I still occasionally feel like something that feels indulgent, or some sort of special treat. When I'm craving chocolate, I like to whip up a batch of chocolate avocado pudding. It's a healthy paleo treat that fills you up and curbs your chocolate cravings.
What is chocolate avocado pudding?
There are several ways to make avocado pudding. The main two ingredients are avocados and cocoa powder. The other ingredients, added to sweeten and lighten it up, vary from recipe to recipe.
The added ingredients depend a lot on the particular diet of the person making it, and also depend on your taste. Some people use a dash of almond milk and honey. Have a problem with almonds and other nuts, or want to make it lower carb? You can switch those out for coconut milk and a dash of stevia.
Soon, I'll share a couple of versions of chocolate avocado pudding with you that I happen to like a lot.
Today, though, I'll share my recipe for chocolate avocado pudding pops that are sweetened by bananas rather than honey or stevia.
Customizing these chocolate avocado pops
I'm one of those rare people who actually quite loves really dark chocolate. (I'm talking the pieces that are over 90% dark chocolate, and aren't very sweet at all.) I also happen to hate milk chocolate because I find it way too sweet.
If you aren't like me, and have a sweet tooth, you will probably find that you'll want to add some honey or stevia to sweeten this recipe.
If you are a milk chocolate fan, or just want to lighten the dark chocolate flavor a bit, you can also add a dash of almond milk, coconut milk, or even some whipping cream. Of course they would no longer be strict paleo chocolate avocado pudding pops if you add whipping cream, but I'm not going to judge. 🙂 (If you whip the cream beforehand, I'd imagine that the final popsicles would be nice and creamy and have more of a mousse like texture. If you try it, I'd love to hear how they are! Some day, when I introduce some dairy back into my diet, I'll try that way too.)
I thought of using the banana avocado mixture because my son used to love the combination when he was a baby. Avocados and bananas were probably his two first foods, and they are still among his favorites. Interestingly enough, I found that he especially loved the mixture of avocado and banana together.
When there was a new fruit or something new to introduce into his diet, I'd often either add avocado to it or a mixture of avocado and banana. That was often enough to get him to give it a good try.
When I was craving a healthy sort of fudgesicle, I remembered the pudding pops I ate as a kid, thought about the avocado pudding, and decided that bananas would be a great addition to naturally sweeten them. I personally love the combination, but my husband doesn't like them with the banana. See, we're all different, which is why I try to give you options. If you're not a fan of the banana, give it a try with a dash of coconut milk instead!
Now that I've given you some ideas, let's make some healthy popsicles!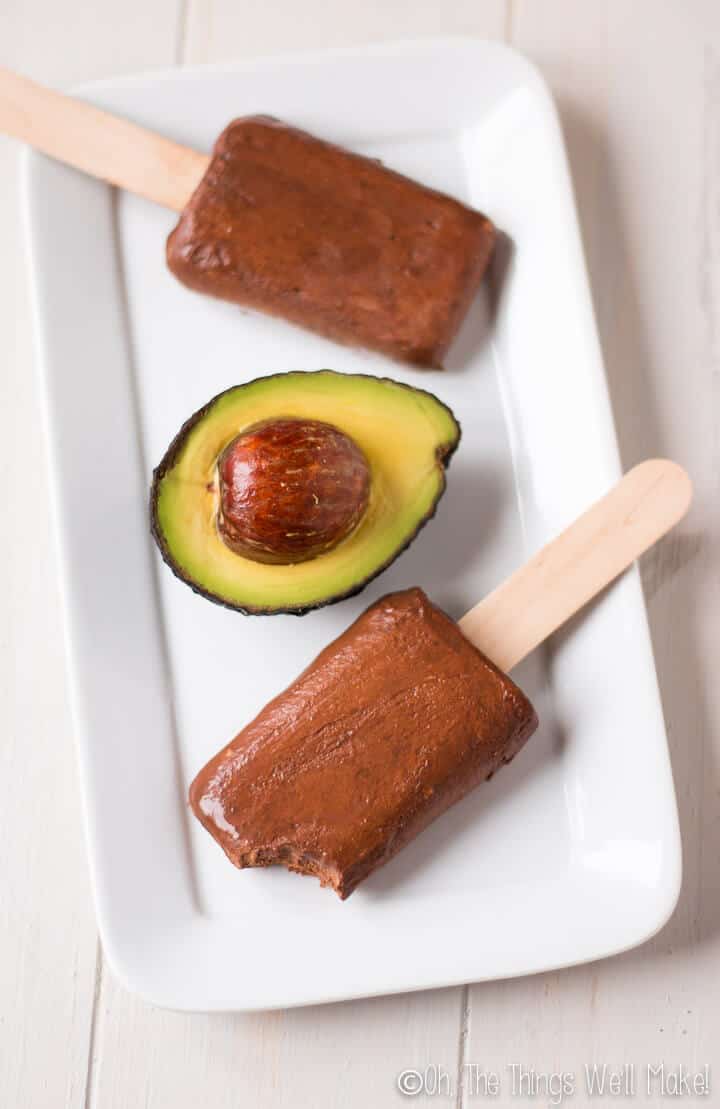 Video
Craving more?
Subscribe to my newsletter for the latest recipes and tutorials!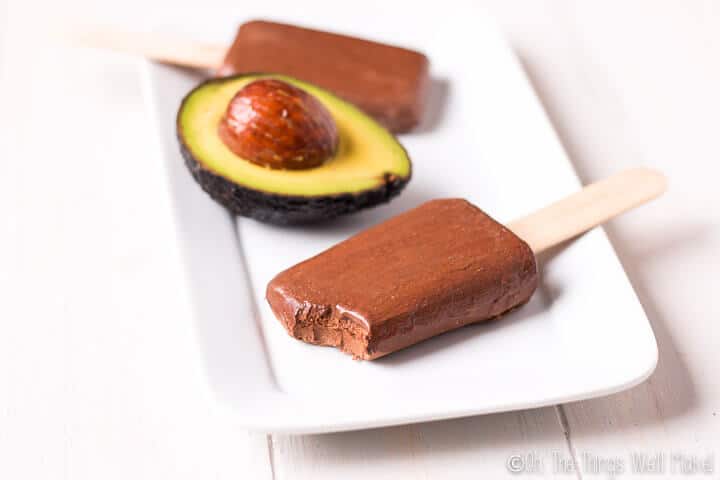 Paleo Chocolate Avocado Pudding Pops
Smooth and creamy, these paleo chocolate avocado pudding pops seem indulgent, but are a fun, no guilt treat that is perfect for summer.
Print
Rate
Instructions
Peel and pit the avocados, and cut them into small pieces.

Peel and slice the bananas and mix them with the avocado pieces.

Use an immersion blender to make a puree of the bananas and avocados.

Add cocoa powder to taste. I've given you a general guideline of how much cocoa powder I usually add, but I like dark chocolate and love a strong chocolate flavor in these sorts of desserts. Continue to blend with the immersion blender to fully combine the ingredients, tasting it occasionally as you add in cocoa powder to taste.

For a sweeter popsicle, add in some sweetener of your choice. Stevia is a good choice for a low carb version. You can also add in honey or maple syrup.

If you choose, you can lighten up the flavor with a dash of almond milk, coconut milk, or a dash of cream. Blend until all ingredients are fully combined.

Pour or scoop the mixture into popsicle molds. Add popsicle sticks and freeze for several hours until frozen solid.

Remove the popsicles from the freezer. You may need to run warm water over the outside of the molds to loosen the popsicles. Remove the popsicles from their molds and serve immediately!
Notes
Don't try making this recipe in a Zoku popsicle maker if you have one. It has too much fat and not enough sugar, and it will likely get stuck. (Don't ask me how I know that!) 😉
Calories:
238
kcal
|
Carbohydrates:
28
g
|
Protein:
4
g
|
Fat:
16
g
|
Saturated Fat:
3
g
|
Sodium:
9
mg
|
Potassium:
867
mg
|
Fiber:
11
g
|
Sugar:
8
g
|
Vitamin A:
185
IU
|
Vitamin C:
15.2
mg
|
Calcium:
29
mg
|
Iron:
2.3
mg