One of Spain's most popular Christmas treats, turrón is an almond nougat made with almonds and honey. Today I'll share my recipe for turrón de Alicante, the hard, white almond nougat.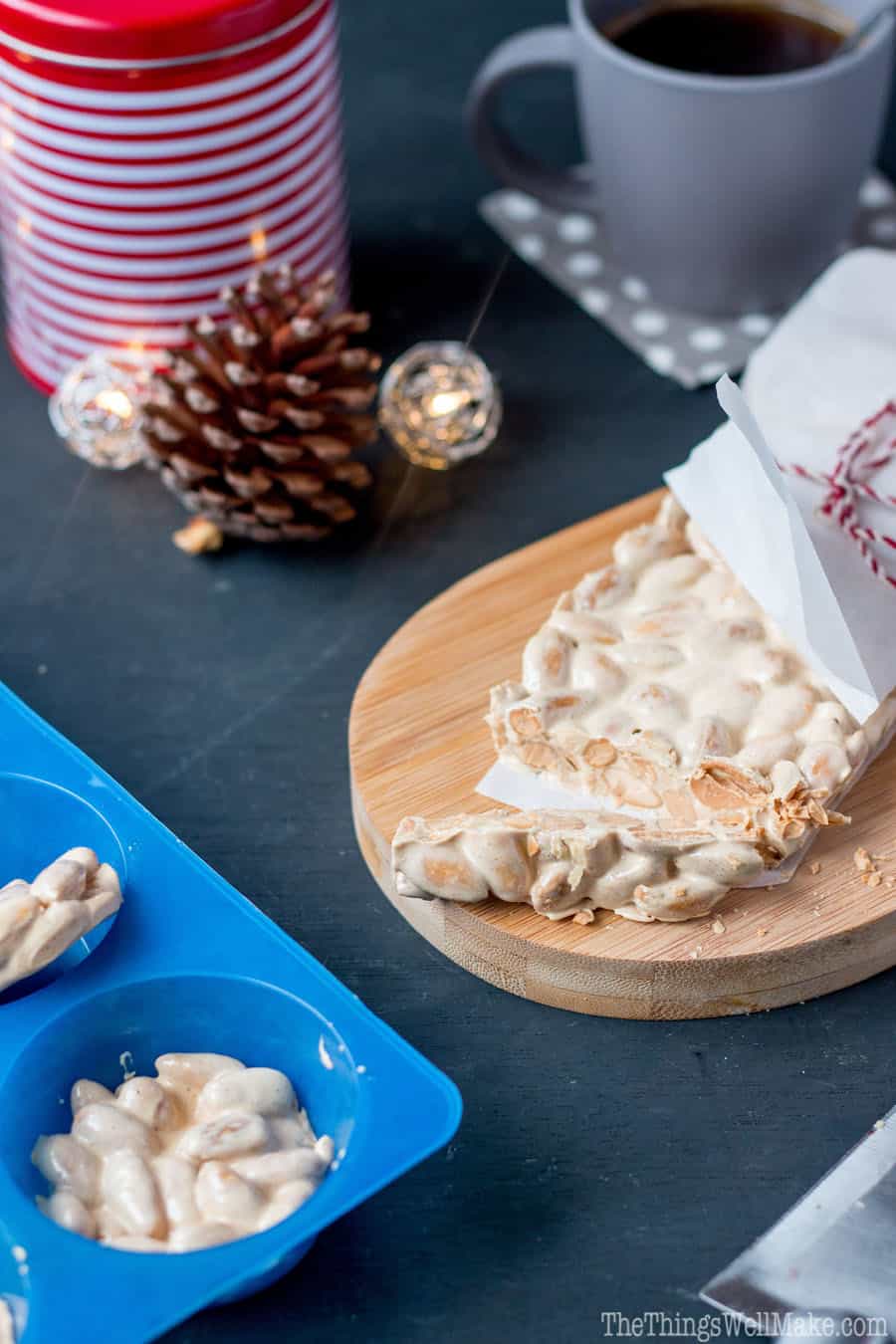 This recipe has been in the long time making. Each year, I try out new recipes for turrón, and each year I am disappointed with the results. I have always ended up with a soft "hard" turrón (turrón de Alicante) and a hard "soft" turrón (turrón de Jijona).
You see, in Spain, the two most popular and characteristic turrones at Christmas time are the turrón de Alicante, the hard almond nougat, and the turrón de Jijona (another city in the province of Alicante), the soft almond nougat. Those were probably the original types of turrón, but truth be told, I'm not even certain what the real definition of turrón really is anymore. As the years go by, anything that is sold in a rectangular tablet at Christmas time in Spain seems to be called turrón, and it can be anything from a bar of chocolate with almonds or puffed rice, to even something as strange and exotic as mojito turrón.
I like to stick with the classic turrón varieties, though. Unfortunately, most of the recipes that can be found on the internet just don't get them right. They don't specify anything about temperatures or how long to cook the candy, and many post the same recipes with stock pictures, which makes me wonder if they even tried the recipe at all. In other cases, I'm guessing they tried it, it didn't turn out as it should, and yet they posted it anyway. I mean if so many people have posted the same recipe, it must be good, right? Wrong! (I later noticed in the comments sections that everybody was having the very same problems with certain recipes, but nobody offered a solution!)
I'm a bit stubborn, and while other years I have given up while trying to come up with a good recipe for turrón, I never gave up entirely. This year, I tried out several new ways of making both types of turrón, and by combining certain ideas from different recipes, I have finally come up with a recipe that works for me (and hopefully for you) for making turrón de Alicante.
When I was younger, turrón de Alicante was my favorite type of turrón. Pre-internet days, it was impossible to find it in the US, so I stocked up on it any time I visited Spain or another Latin American country at Christmas time. One year, I visited my aunt who lives in Venezuela, and remember happily stocking up at it at a big supermarket. Sad to say, that same supermarket now only houses empty shelves amidst the crisis that the country now is suffering.
Watch me make Turrón de Alicante:
Whether you can buy it where or live or not, it is empowering in a way to be able to say that you successfully made your own turrón. My husband isn't a big fan of almonds, but even he was happy to eat my homemade turrón, and he said he liked it better than the store bought varieties! Yay!
I tried several times to make something that tasted and looked like the real deal without using any refined sugar, but I have to say that it turned out closer to what you buy in the stores if you do use some sugar. I may have to try this same recipe next time with an organic demerara sugar to see if that changes things much. I imagine that it may darken the turron a bit more, and may slightly change the flavor. I'll let you know if and when I try it. (Which, to be honest, may be next year because by now, after making several batches of both types of turrón, I'm kind up fed up with almond nougat.) 😉
I'm really happy with the way this recipe turned out, and super excited to share it with you.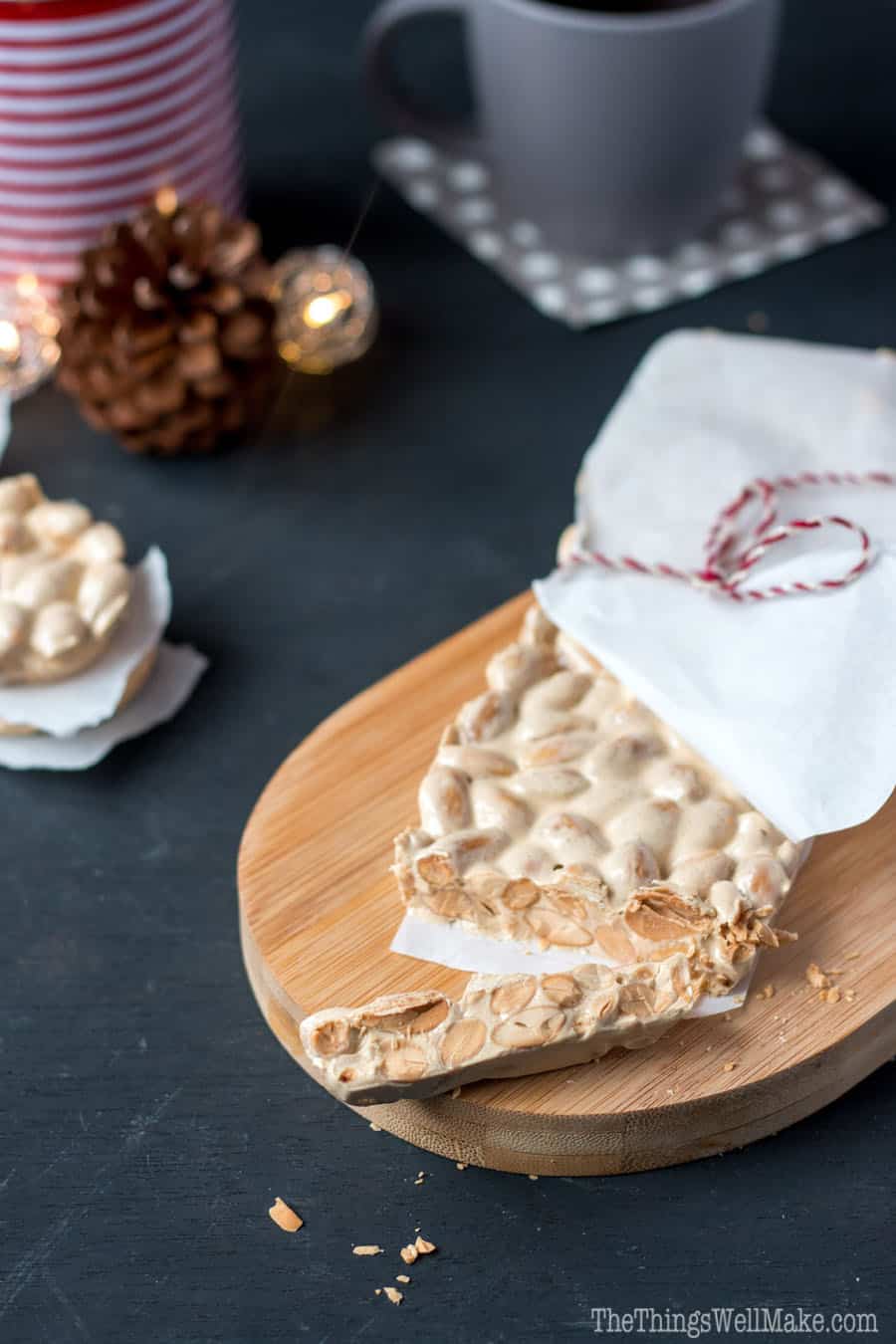 Turrón de Alicante
Craving more?
Subscribe to my newsletter for the latest recipes and tutorials!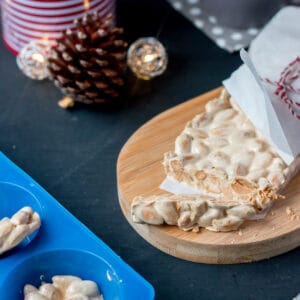 Turron de Alicante Recipe (Spanish Hard Almond nougat)
One of Spain's most popular Christmas treats, turrón is an almond nougat made with almonds and honey. Today I'll share my recipe for turrón de Alicante, the hard, white almond nougat. Makes 2 tablets
Print
Rate
Servings:
25
29g servings
Instructions
Start by toasting the almonds on a tray in the oven. I usually start with the oven cold and turn it on to around 375ºF, letting the almonds warm up with the oven. Occasionally turn them, and turn the oven off when they start to turn a golden brown. You don't want to burn them!

Mix together the honey and sugar in a pan over low heat, and stir until the sugar is dissolved and well incorporated into the honey. If you have a candy thermometer, get it to somewhere between 240-250ºF (115-120ºC) before taking it off the heat. At this point, the temperature isn't too important because we will be adding more moisture from the egg white, but by reducing the moisture content right now, you'll save yourself a bit of time later.

Beat the egg white until frothy.

As you continue to beat the egg white, slowly drizzle in the hot honey and sugar mixture. This will whiten the sugar solution, and give you a thick, white, sticky mixture that will be the base of the nougat.

Add the white mixture back to the pan, and heat at a low to medium heat, stirring constantly so that it doesn't begin to burn.

We are now working on reducing the moisture content of the candy mixture, and making it so that it will be hard and brittle when cooled. We're really taking it past the hard ball stage to more of a soft or, even better, a hard crack stage. That said, while the candy stages are normally measured with a thermometer, I've found that you will end up with a nice consistency before your candy reaches the high temperature normally called for in the crack candy stages. This is because we are heating the nougat mixture at lower temperatures, while constantly mixing rather than leaving it alone to get to a certain temperature. The moisture content is reduced without the temperature getting as high.

To check to see when to stop cooking the candy, take a small amount and put it into cold water to cool it. It should get hard and hold its shape when cool. At that point, you can add in the toasted almonds, stirring until they are well incorporated into the nougat mixture.

Immediately pour into silicone molds. You can optionally use wafer sheets below and above the nougat to keep them candy from sticking to everything. To use the wafer sheets, place one sheet in the bottom of the mold, pour some nougat mixture over it, and press another wafer sheet into the mixture.

Remove from the mold when cool. I wrapped mine in parchment paper to keep it from sticking because I didn't have any wafer sheets. To store, wrap in plastic (covering with paper first to keep it from sticking), or an airtight container. Keep away from humidity to keep it from softening.
Calories:
126
kcal
|
Carbohydrates:
16
g
|
Protein:
2
g
|
Fat:
6
g
|
Sodium:
4
mg
|
Potassium:
85
mg
|
Fiber:
1
g
|
Sugar:
15
g
|
Calcium:
29
mg
|
Iron:
0.4
mg