Last Updated on
The twelve days of Christmas ends with Three Kings Day on the Epiphany. Here in Spain, it is called el día de Los Reyes Magos.
Despite having grown up in the United States, I guess I've lived in Spain for so long that it shocks me to see people rushing to take their Christmas trees down right after Christmas.
Why? Because the day after Christmas is really only the second day of Christmas. Until the 12 days of Christmas and the Three Kings Day have passed, there is no way I'm taking down my Christmas tree!
What is the Three Kings Day?
Three Kings Day is also known as the Epiphany, and it is celebrated on Jan. 6th. Here in Spain, it is also known as el "Día de Los Reyes Magos."
Who are the Three Kings?
The Three Kings are also known as the Three Wise Men. Up until now, I'd know the Three Wise Men and their names, but wasn't exactly sure where they came from. I mean, I knew the song "We Three Kings of Orient Are," but I wasn't exactly sure what that specifically meant.
Then somebody asked me about it the other day, and I did a bit of investigation.
Melchior, the fairest of the three, supposedly comes from Persia. Gaspar, slightly darker in color, hails from India or a region nearby. Balthasar, the King with the darkest skin (and my son's favorite), hails from Arabia.
What happens on Three Kings Day?
On the evening of Jan. 5th, the 3 wise men parade through the main streets of most cities in Spain, throwing candy to the kids from their various floats (or camels, or however they make their appearance in each particular town). Like Santa Claus, the 3 wise men come to bring presents to the kids.
The kids will also write them letters asking for the presents that they are hoping to receive. Some children write directly to all three wise men, while other children choose "their" particular king and write him each year. My son had chosen Balthasar when he was younger. I'm not quite sure why he decided he needed to choose one, or why he chose the king he chose, but perhaps it was because of what the other children at school were doing.
Depending on the family, the presents may be awaiting them at home upon arrival from the parade, or they may be brought during the night while the children are sleeping, to be opened the next morning.
Want to send a letter to the Three Kings?
Who brings more presents, the 3 Wise Men or Santa Claus?
In the past, the Wise Men probably were the main bearers of gifts at Christmas time here in Spain. As more and more people have taken on the tradition of celebrating with Santa Claus, though, more and more people give the majority of their gifts on Christmas Day, allowing the kids more time to play with their new toys during their break. Normally kids return to school right after the Three Kings Day, so they don't have a lot of free time to play with gifts that the Wise Men have brought. Presents are usually divided between the two holidays, though, and most kids get a few gifts from each.
Where do the Wise Men leave their presents?
When I was younger and living in Madrid for a year, the wise men put my presents in the shoes that I set out for them. Good kids received sweets and other presents in their shoes; bad kids end up with shoes filled with coal. I haven't seen people around here continue that custom, though, and people tend to just bring out their presents while the kids are out at the parades, awaiting the arrival of the wise men.
Perhaps it's a regional tradition or one that has gone out of fashion since then.
The Roscón de Reyes (3 Kings Cake)
What does seem to be universal, though, is the celebration of the Three Kings day with the Rocsón de Reyes (3 kings cake).
The Roscón de Reyes is a ring of sweet bread that is decorated with candied fruits. It is often filled with whipped cream, chocolate whipped cream, pastry cream, or other fillings. They also usually have a couple of hidden treasures inside. They also normally are sold with a gold paper crown.
The treasures hidden inside the roscón de reyes
Normally two objects are hidden within each roscón. One is normally a porcelain figure, often depicting one of the Three Wise Men. If, when eating the roscón, you end up with the figurine in your piece, you are supposed to be crowned king! And, yes, that means that you can wear the lovely paper crown that came with your cake after trying to wipe away all of the cream all over it. 🙂
Most of the time, though, the roscón also has a not-so-lucky item hidden inside, often a dried bean. If you end up with the bean in your piece, you are supposed to pay for the cake.
I decided that one year to make my own roscón. Unfortunately, it didn't turn out exactly as I wanted so I never shared it on the blog. I added too much flour and had a problem with my oven. The circuit breaker of my oven switched off when I was baking it, and I didn't realize it until my roscón had been sitting in a turned-off oven for quite awhile. My roscón ended up having a drier crust than it should have, and wasn't as light and airy as I would have liked. At least the flavor was good, and my son loved it!
At first, he was just checking it out…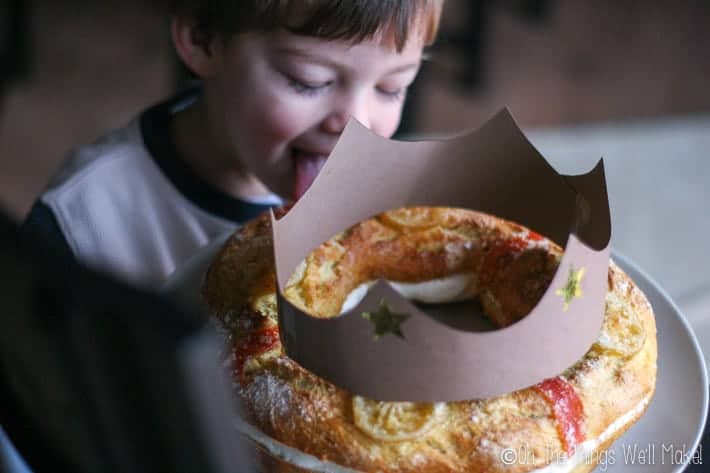 Then he started licking it!
Toddlers!
Once I master the recipe for the roscón itself, I will share it with you. At Easter, the same bread is made in a different form, so perhaps I'll experiment again with the dough.
For now, though, now that "Reyes" is over with, expect to see more healthy recipes for a while. I need to detox!