Here in Spain, we celebrate the Epiphany, which is also called 3 Kings' Day. It is celebrated on Jan. 6th.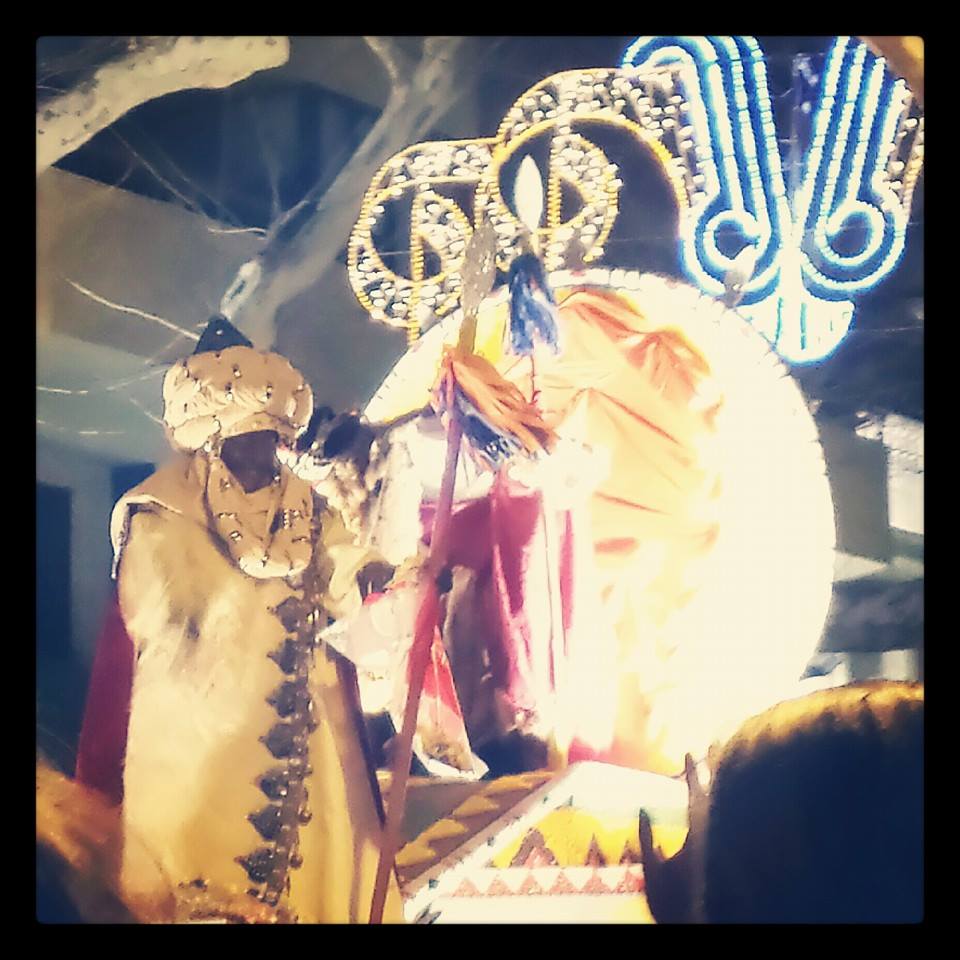 On the evening of Jan. 5th, the 3 wise men parade through the various towns of Spain, throwing candy to the kids. They have come to bring presents to the kids, which are given to them either that night after the parade, or the next morning.
In the past, more people celebrated the arrival of the wise men with gifts than they did with Santa Claus. Now, though, more and more people give their gifts on Christmas Day, allowing the kids time to play with their new toys during their break. Presents are usually divided between the two holidays, though, and most kids get a few gifts on both days.
When I was here as a kid, the wise men put their presents in the shoes that I set out for them. Good kids received sweets and other presents in their shoes; bad kids end up with shoes filled with coal. I haven't seen people around here continue that custom, though, and people tend to just bring out their presents while the kids are out at the parades, awaiting the arrival of the wise men.
What does seem to be universal, though, is the celebration of the Three Kings day with the Rocsón de Reyes (3 kings cake).
Before I continue to tell you about the cake, I have to tell you that…
On Christmas Eve, I came to the realization that I had put on 10 pounds since the beginning of September when the construction began at our house. I had to stick around the house. So, I didn't get out much to do exercise, and I was too embarrassed to work out at home with so many people coming in and out of the house at all times. I wasn't taking the time to make the right types of food either.
I have been waiting until after King's day to start really focusing on eating right, and getting back into shape.
Let me get back to my story, though…
Why wait until after the Epiphany?
Because I love the roscón de reyes!
It is a ring of sweet bread that is decorated with candied fruits, and in which a small figurine is hidden. The roscón is often filled with whipped cream, chocolate whipped cream, or other fillings. They are also sold with a paper crown.
If, when eating the roscón, you end up with the figurine in your piece, you are supposed to be crowned king!
Most of the time, the roscón also has a dried bean hidden inside. If you end up with the bean in your piece, you are supposed to pay for the cake.
I decided that I was going to make my own roscón, and did end up making one.
Unfortunately, it didn't turn out exactly as I wanted.
I added too much flour, and had a problem with my oven. The circuit breaker of my oven switched off when I was baking it, and I didn't realize it until my roscón had been sitting in a turned off oven for quite awhile. My roscón ended up having a drier crust than it should have. At least the flavor was good, and my son loved it!! I prefer not to share a recipe here that I'm not 100% happy with, so until I perfect it, I won't be sharing it.
I will share with you how I made some of the components of my roscón, though.
My favorite way to give a citrus flavor to breads and cakes without artificial flavorings, is to make a citrus powdered sugar.
Ingredients
Instructions
Put your granulated sugar in a coffee grinder and grind it into powdered sugar. I ground ⅓ cup at a time.

Peel the lemon and orange with a vegetable peeler. The idea is to try to obtain orange and lemon peel without the white, bitter pith.

Add a couple of small pieces of peel of each fruit in with the sugar and grind some more.

You end up with a wonderful citrus-flavored powdered sugar.
I used the citrus powdered sugar instead of the sugar that was called for in the cake. I also used some in the whipped chantilly cream center, too!
I won't share the recipe for the cake yet, but I will show you how it was made.
It is then decorated with candied fruits. I used Candied orange peels and lemon slices.
Once baked, it is cut in half, and filled with chantilly cream.
My son was really excited to eat it!
At first he was just checking it out…
Then he started licking it!
Toddlers!
Once I master the recipe for the roscón itself, I will share it with you. For now, though, I don't plan on eating more any time soon.
At Easter the same bread is made in a different form, so I'll be experimenting again with the dough.
For now, though, now that Reyes is over with, expect to see more healthy recipes for awhile.
I need to detox!