This coconut flan recipe doesn't use condensed or evaporated milk; only real food ingredients. It's sweet, creamy, and delicious.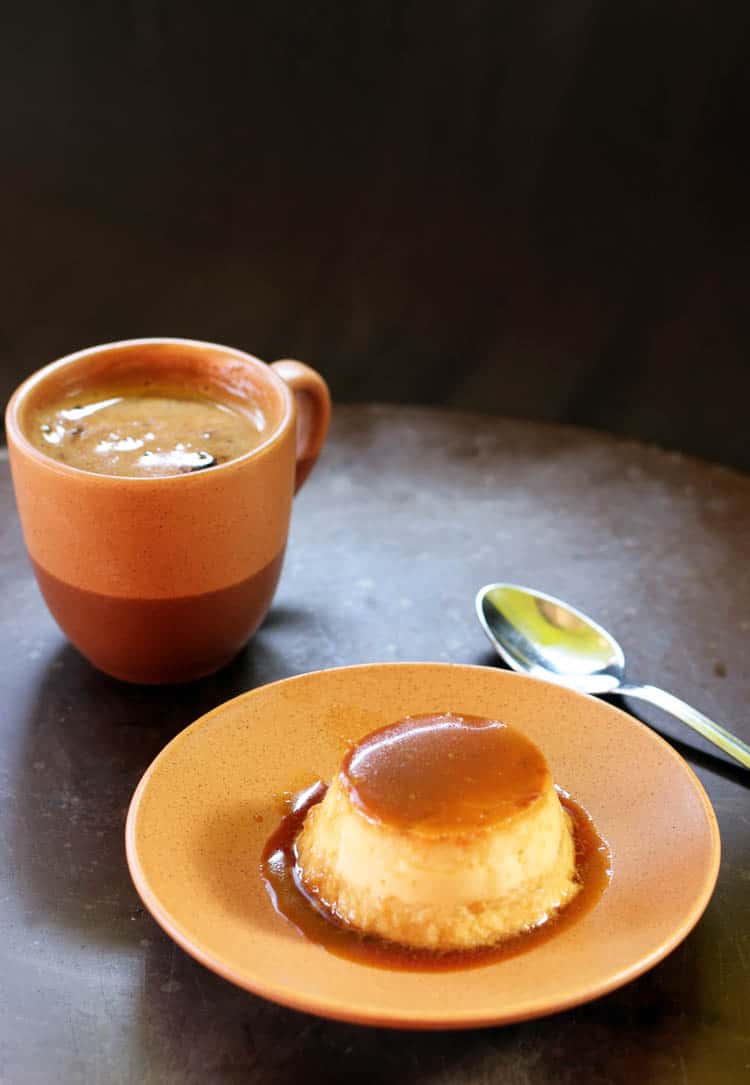 So, last time I wrote, I was making up some coconut milk, coconut flour and coconut butter. Having those wonderful coconut products around, I wanted to make something fun with them.
Coconut flan came to mind. Not only is it one of my favorite desserts, but I wanted to use up bunch of my hens' eggs. I mean, a girl must be practical too, right?!?
I searched for coconut flan recipes on the internet, but couldn't find any that I wanted to make. Most used cans of sweetened condensed milk and/or evaporated milk. Not only do those not appeal to me, but I've been trying to keep our foods much less processed lately.
So, I decided to modify how I normally make "regular" flan, making it into a coconut flan recipe. I don't really use a recipe for flan, but follow a liquid to egg ratio that seems to work. I usually use around 2-2 1/2 cups of milk and/or cream for every 4 eggs.
Keeping that in mind, I began to experiment and make some coconut flan.
I decided to use equal ratios of my liquids, and ended up with 1 cup coconut milk, 1 cup whole milk, and 1 cup heavy cream.
By my calculations, 3 cups of those liquids would work well with around 6 eggs. Using that ratio, I started to formulate a recipe.
Here's what I used:

How did my experiment turn out?
Well enough for me to make it several times since then. So, don't worry, this recipe is tried and true by now.
Other tips to keep in mind…
You don't have to use custard cups like I did. In fact, it's easier to just use a pan, and pretty much any type of pan can be used. For a dinner party, individual custard cups probably look nicer. That said, most restaurants in my area of Spain, even some of the nicer ones, tend to serve slices of flan that have come from loaf pans rather than individual ramekins.
I usually use a round pan, which results in a thinner flan with more sugar syrup to flan ratio. It isn't as pretty, but my husband prefers a thin flan with lots of caramel sauce.
A loaf pan makes a thicker flan, so there is less area of flan exposed to the caramelized sugar part. Keeping that in mind, when I use a loaf pan, I try to coat the pan with the melted sugar partway up the sides in an effort to create more sugar syrup.
When using a loaf pan, since you are using the same amount of melted sugar for a smaller surface area, the first day(s) you will probably notice that not all of the caramelized sugar has dissolved when baking. That is because you end up with a much thicker layer of caramelized sugar at the bottom of your pan. When I have made it in a loaf pan, that caramelized sugar has slowly dissolved over the days we were eating it. I did add a few drops of water to the bottom of the pan each day, just in case. We were serving the flan from right out of the pan, though.If you want to unmold the flan and serve it all at once, the hardened caramelized sugar can cause problems. In that case, just use a little less sugar to make your caramel, or just make sure, when you prepare your pan, that you only use enough to barely cover the bottom and part of the sides of the pan with the caramelized sugar.
If you do use less sugar for your caramel, I would probably add a little bit more honey or sugar to the custard part. I like to keep my custard less sweet because, over the days, the sugar caramel sauce tends to really sweeten the dish, making it much too sweet for me. If you don't have a lot of caramel sauce, though, it won't get as sweet, of course.
Speaking of the sugar, I used a demerara sugar. White sugar and demerara sugar work quite well for making the caramelized sauce. I have tried darker sugars like panela (A South American unrefined cane sugar), but it is very difficult to get it to melt to the right constancy for pouring without burning it.
Another thing to keep in mind is that the whole point of using a double boiler is to keep your flan smooth by preventing bubbles from forming when baking. So, it is also a good idea to carefully mix the ingredients to avoid forming bubbles during that step!
With those tips in mind, you are good to go!
I hope you enjoy it!
Have you made it? How did it work out for you?
This post is also available in Español.