Ditch the plastic baggies and sew some reusable sandwich wraps and snack bags for traveling with sandwiches and other snacks. These are perfect for kid's lunches.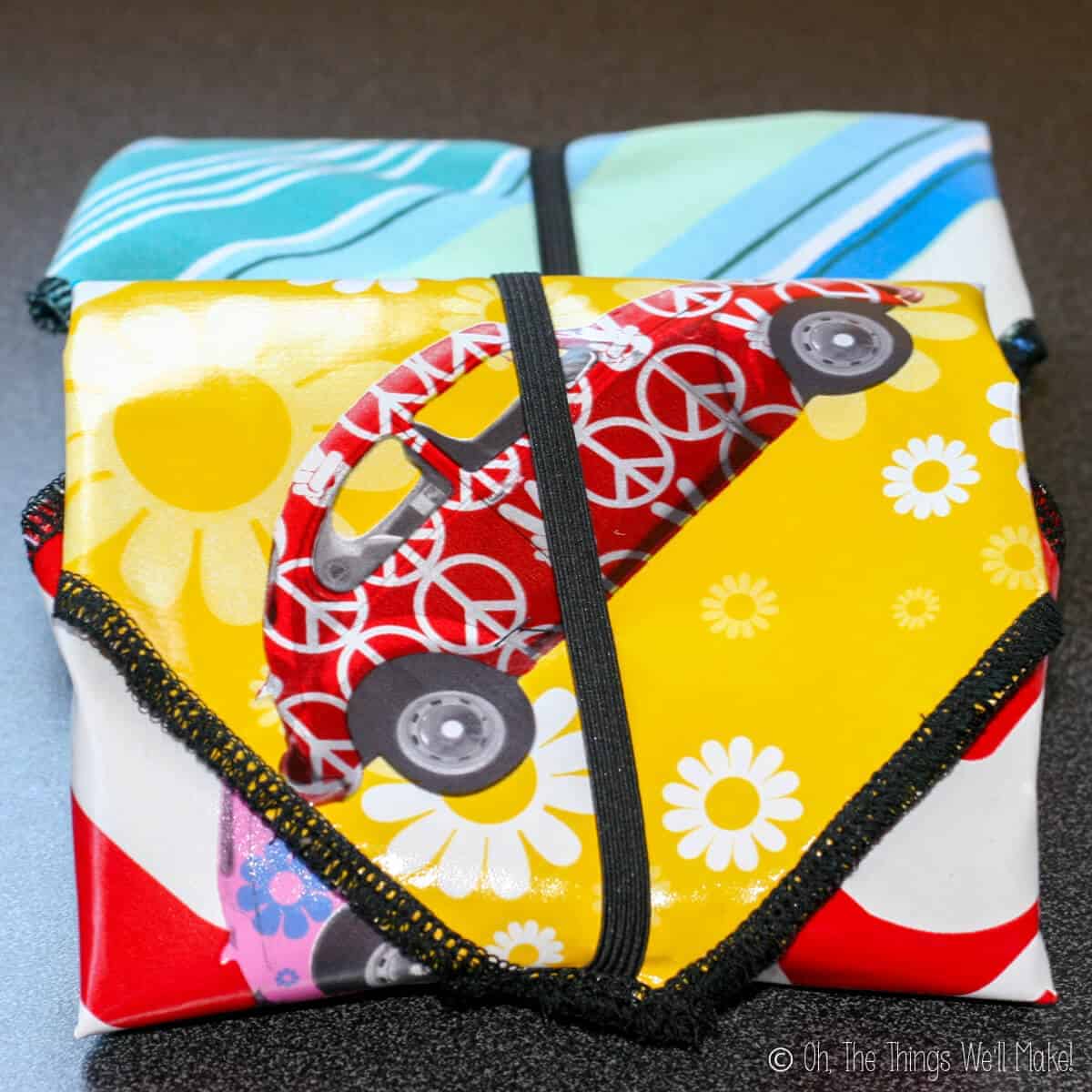 Packing kids' lunches and snacks can be a bit of a challenge if you are trying to avoid waste. If you are already making homemade lunches and snacks, you're already on the road to avoiding excess packaging. But how, exactly, are you supposed to send the foods if you want to avoid throwing away plastic baggies?
Over the course of the last school year, I keep changing how, exactly, I send my son to school with his two snacks. When I first wrote this post, my son was still in nursery school, and while he was given a lunch there, parents were expected to send morning and afternoon snacks. I sometimes sent him to school with a sandwich, and other times gave him other snacks like fruits and rice cakes.
What is a sandwich wrap?
When I was trying to find better alternatives to plastic Tupperware like containers, which were difficult for my son to open, I found some tutorials to how to make sandwich wraps. Sandwich wraps are cloth carriers that you use to wrap up a sandwich for carrying in a lunch bag. Some only use cloth and others protect the cloth with some sort of vinyl or plastic.
The problem with these tutorials is that most used PUL fabric for the lining of the sandwich carriers, which may or may not be food safe. I'd personally be a bit hesitant to have PUL fabric in contact with my food for so long, so I looked for another alternative.
I decided to search for a washable lining at the local fabric store, and after explaining what I wanted to make, the woman recommended I buy a washable plastic that she had for sale. I stupidly wasted my money on it because, despite her claims about safety, I just didn't feel right about using it at all. The plastic gave off a scent that made me uncomfortable. If people are concerned about the safety of plastic shower curtains because of the fumes that they give off, then there's no way I'm using this plastic for transporting my food!
I decided to make my sandwich carriers without any plastic, and made a few that way, but what about the messier sandwiches and snacks?
That's when a little light bulb lit up in my head!
I decided to fuse food-safe plastic to get a thick enough sheet for the lining.
Let me preface this by repeating:
You don't need to use plastic!
These tips are for adding it for those who want to use it. You can use several layers of cotton cloth instead for a more plastic-free, eco-friendly way to transport your sandwiches.
Fusing plastic for making a lining
I remembered seeing people on the internet fuse plastic shopping and garbage bags to make plastic fabric for sewing into bags and things. Shopping bags and garbage bags probably aren't food safe, though.
I decided to try fusing some food-safe plastic freezer bags. I cut off the zip from the Ziplock type bags and fused them together with the insides out. When cutting them open, and fusing together that way, I made sure that all of the writing was between the sheets of plastic before fusing them, just in case. While I can't be positive that the heat doesn't compromise the plastic in any way, since I always wrap my sandwiches in a napkin before wrapping them in the sandwich wrap, I think they should be a safe alternative when used this way. (You could also sandwich the plastic layer between 2 layers of cloth.)
How to fuse the plastic lining
Fusing the plastic, to make a thicker reusable plastic takes a bit of practice. I placed several layers of plastic between two parchment paper sheets and ran a moderately hot iron over them. Make sure that the iron isn't too hot or you will shrink the plastic instead of fusing it. It's a good idea to keep your iron in constant motion too, so as not to shrink the plastic more in one area, leaving you with an uneven sheet of plastic. Keep checking on the plastic to see if it is fusing together, and keep ironing until it is fused.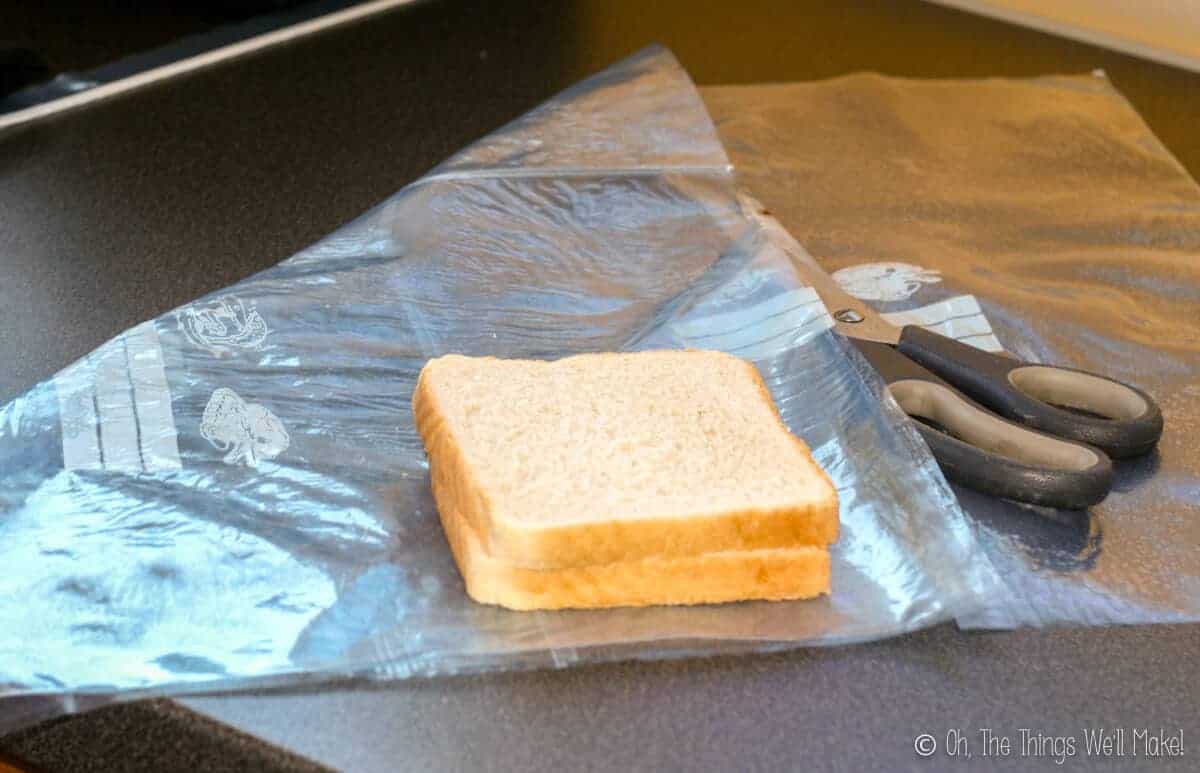 Once you have some plastic "fabric" to work with, decide on your design.
There were a few different sandwich wrap ideas that I liked. I liked the round ones, which reminded me of the round changing pad that I made for my son (a future post idea?). I didn't want to waste so much fabric, though. I felt the same way about some of the odd-shaped wraps. In the end, I decided to make a square wrap, but then cut off the corners to make it a bit neater when wrapping.
How to make a sandwich wrap
Once you've made your plastic (if you decide to use it), and decided on your design, making a sandwich wrap isn't difficult.
One thing to keep in mind, though, is that sewing the plastic to the fabric can be a bit tricky if you don't know how.
I found out the hard way that it was much easier to sew them together with the plastic layer on the bottom. This kept it from puckering up and kept the pieces more evenly together than sewing with the plastic on top.
Let me say that again: Sew plastic side down for smooth sewing!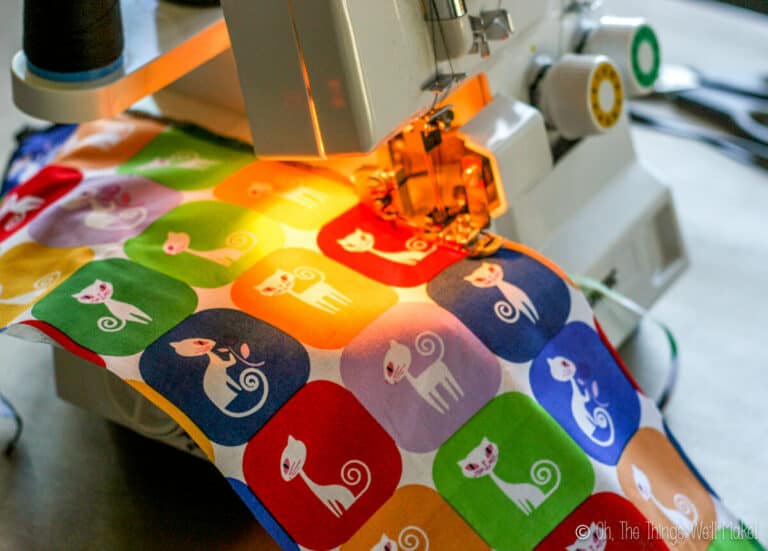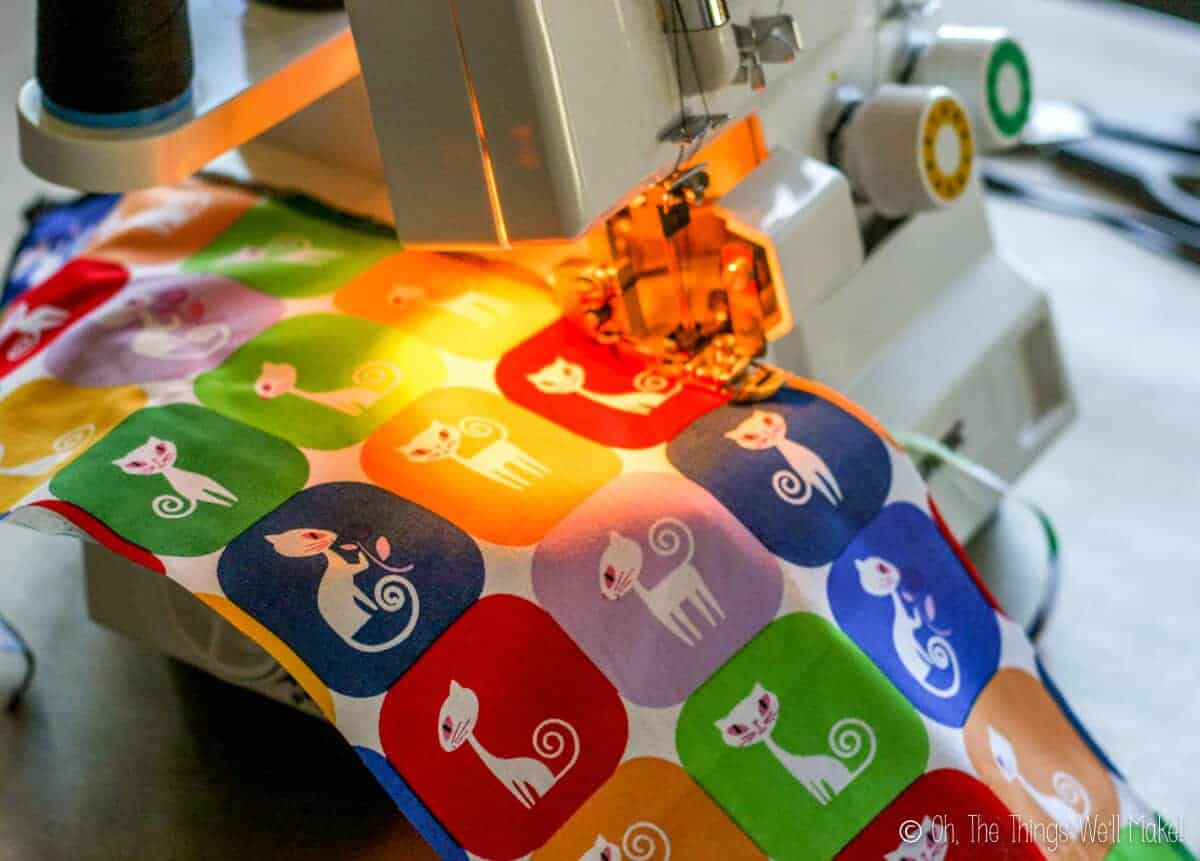 I chose my serger for the easiest way of getting my fabric together with the plastic, without worrying about finishing seams. If you don't have a serger, you'll want to make a similar design, but hemming the edges.
1. Cut a square of fabric and a square of plastic that are the same size. I decided to make mine around 16 inches (40.5 cm) across. If you tend to wrap larger sandwiches, or if you'll need to hem your wrap, plan accordingly! You can either keep your wrap perfectly square or cut the corners off as I did.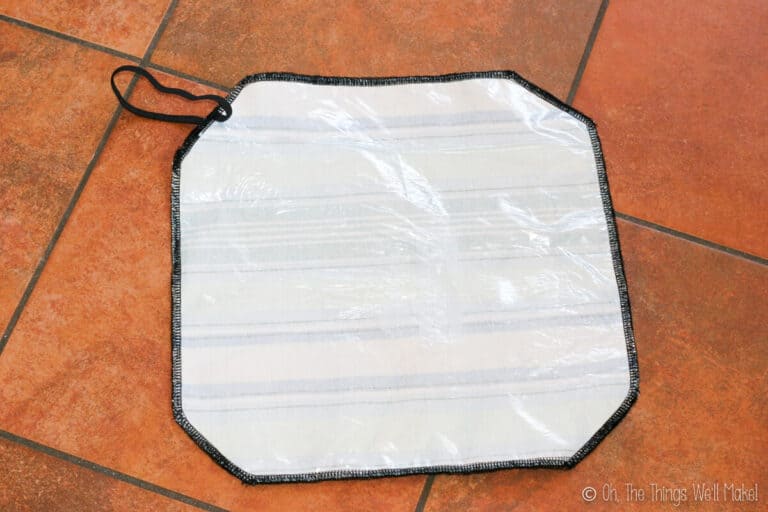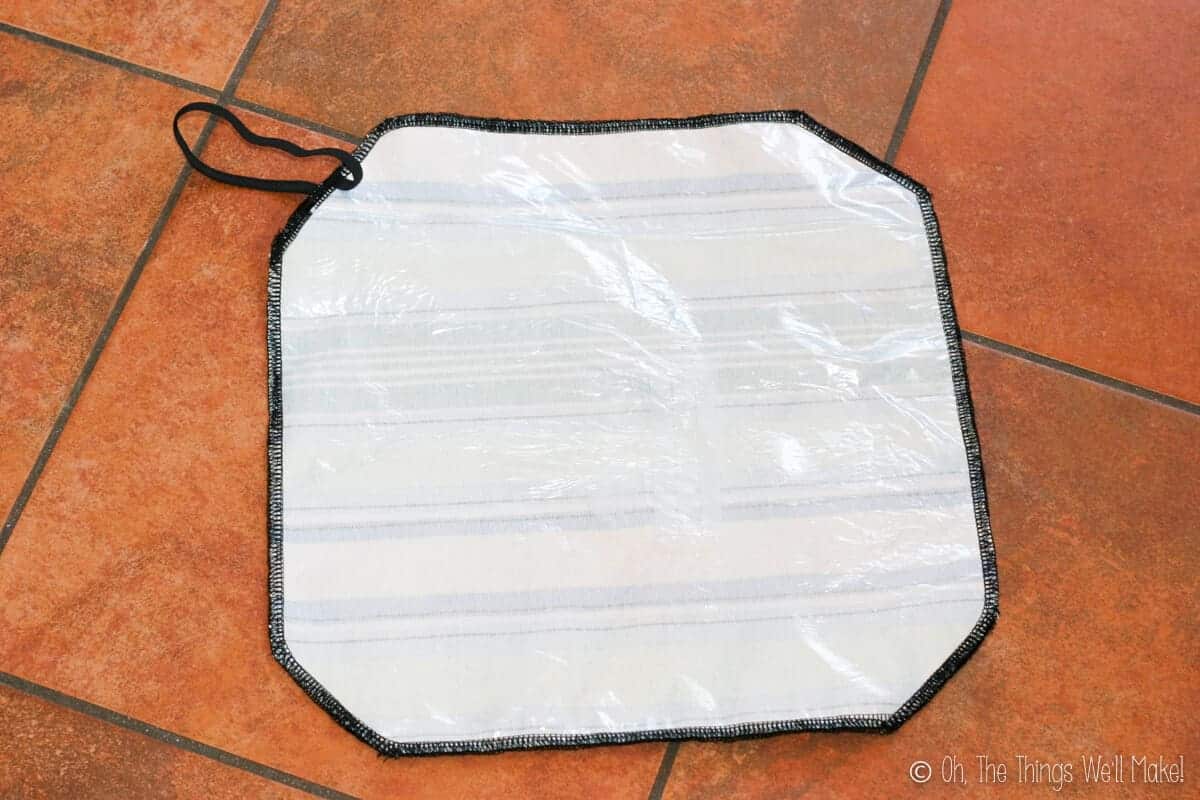 2. Sew around the edges to fuse the plastic to the fabric. If you are using several sheets of fabric, sew them together instead.
3. Add an elastic closure to your sandwich wrap by sewing a loop of elastic on one of the corners. You may need to play with the length of elastic that is needed to wrap around the closed up sandwich wrap with a sandwich inside. You don't want it too loose, but don't want it too tight where it's smashing your sandwich either.
Why are these homemade sandwich wraps so great?
They are reusable and keep you from generating a lot of plastic waste for lunches.
They are cute.
They double as a plate/placemat when open.
How do you use these homemade sandwich wraps?
They are very easy to use.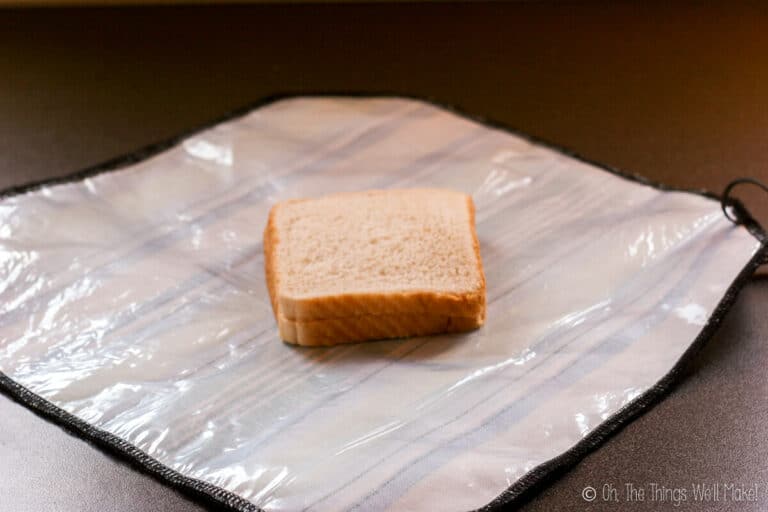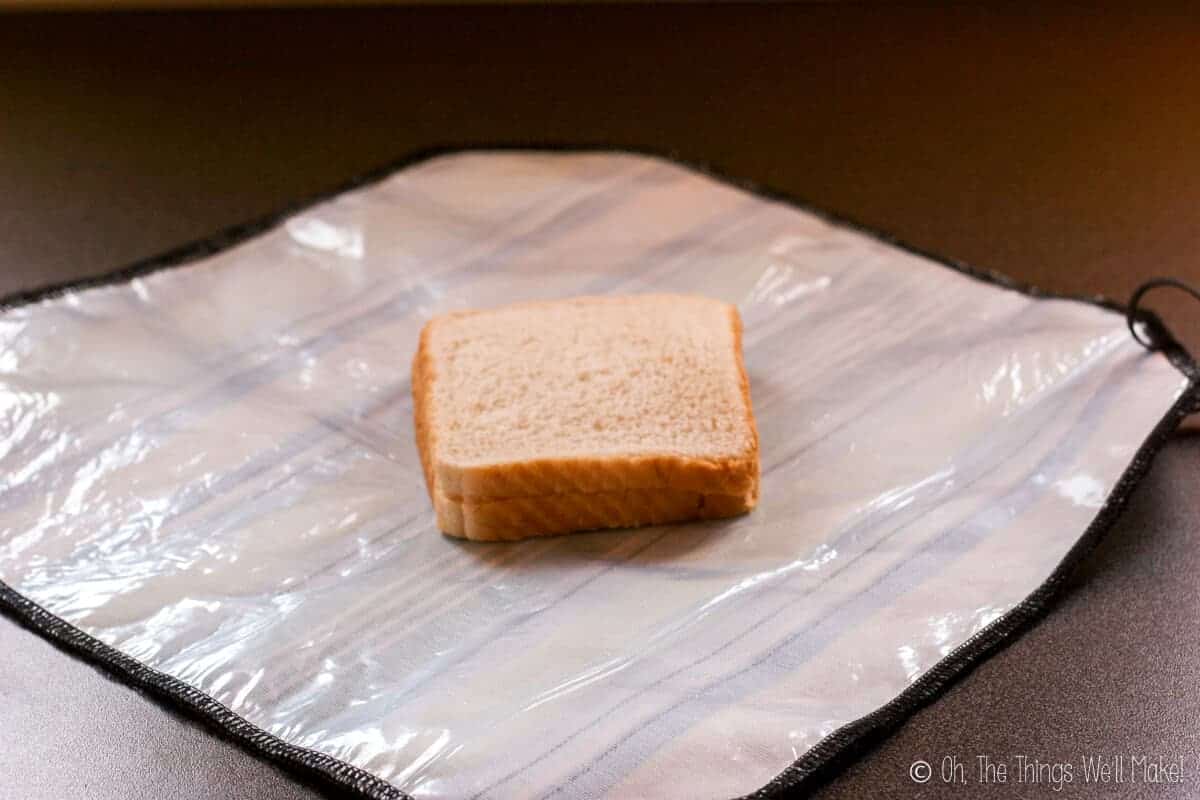 1. Place the wrap in front of you with the corner with the elastic opposite you. Put your sandwich in the middle of the wrap and bring up the sides (the corners without the elastic) around it.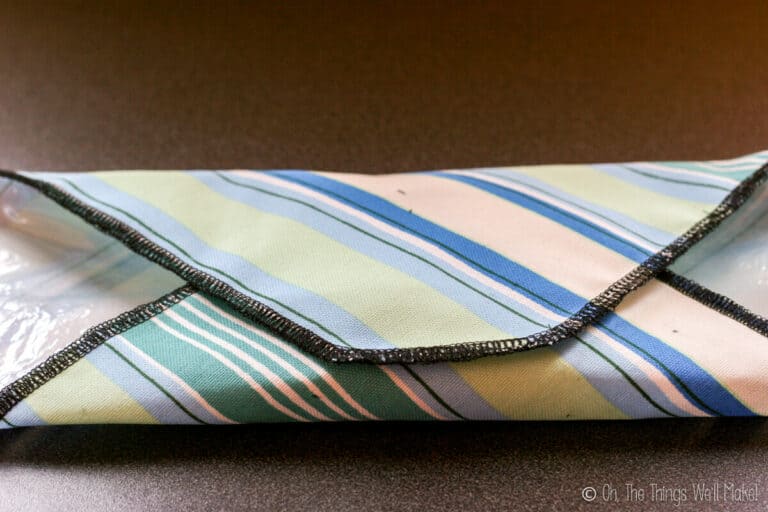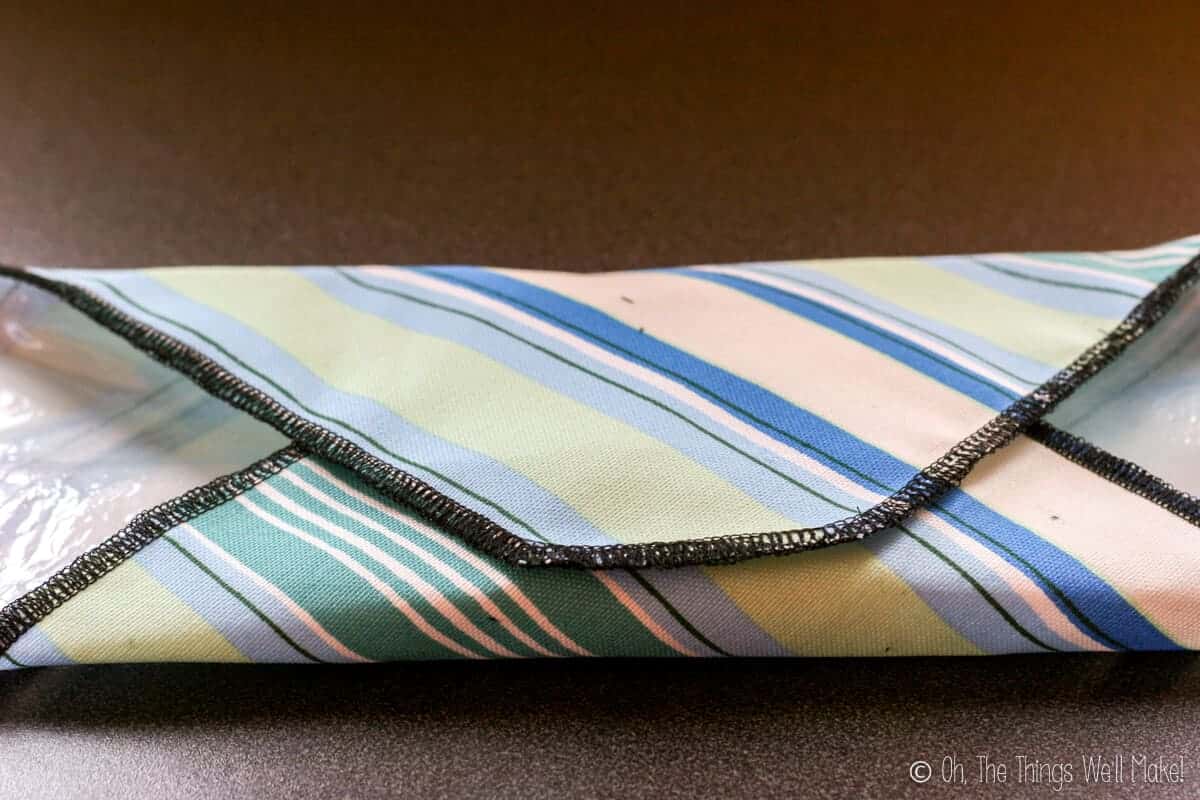 2. Fold up the bottom corner (the one opposite the elastic).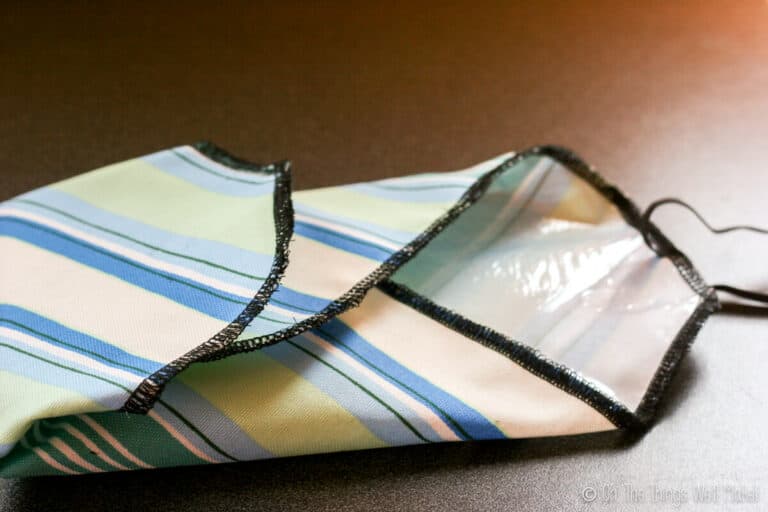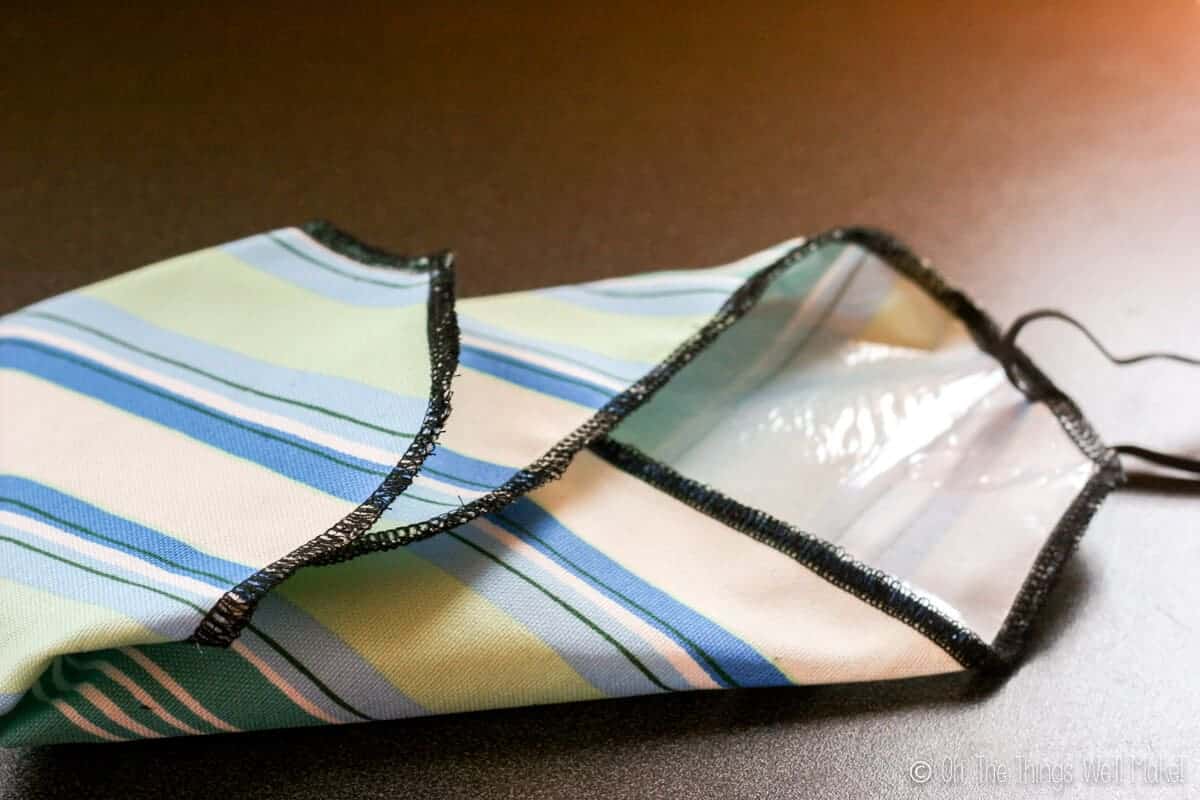 3. Fold down the last corner, the one with the elastic, and slip the elastic over the sandwich to keep the wrap closed.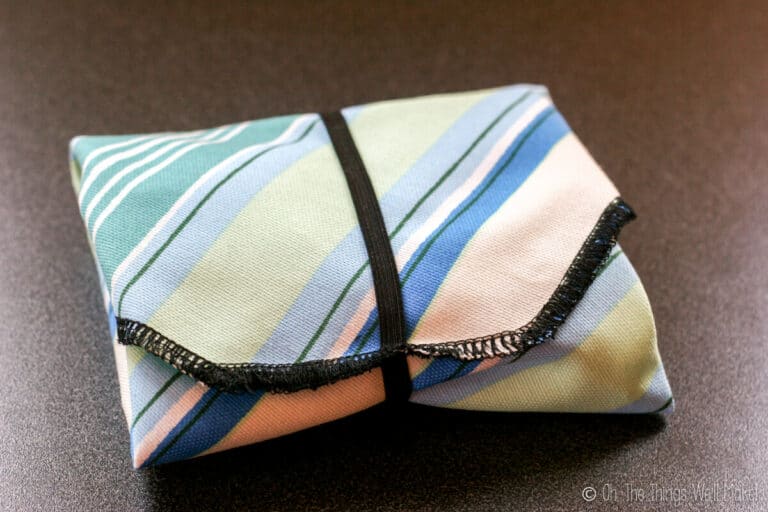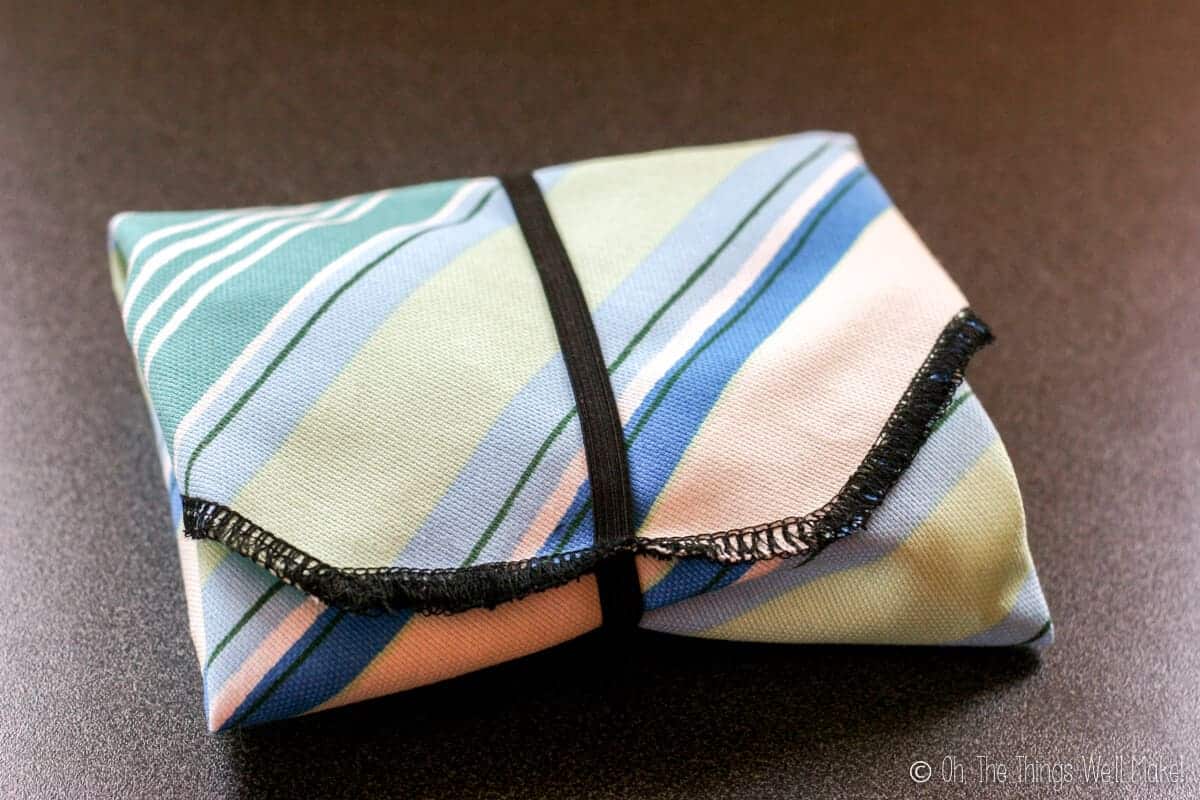 How to make a snack bag (snack envelope)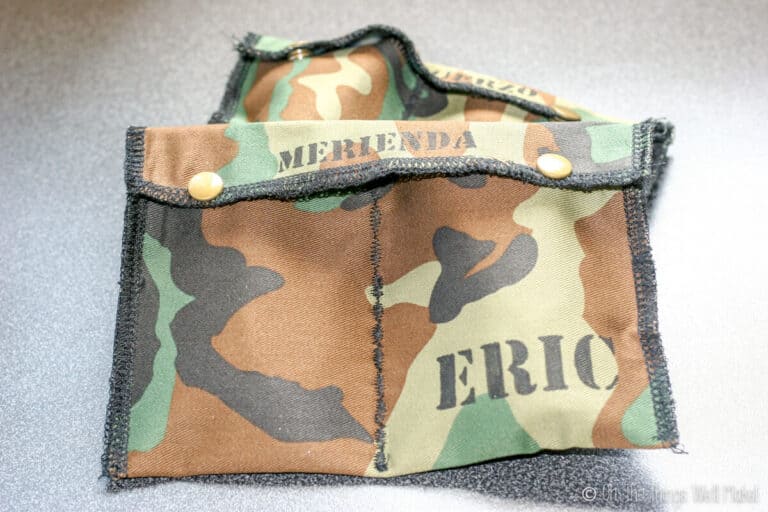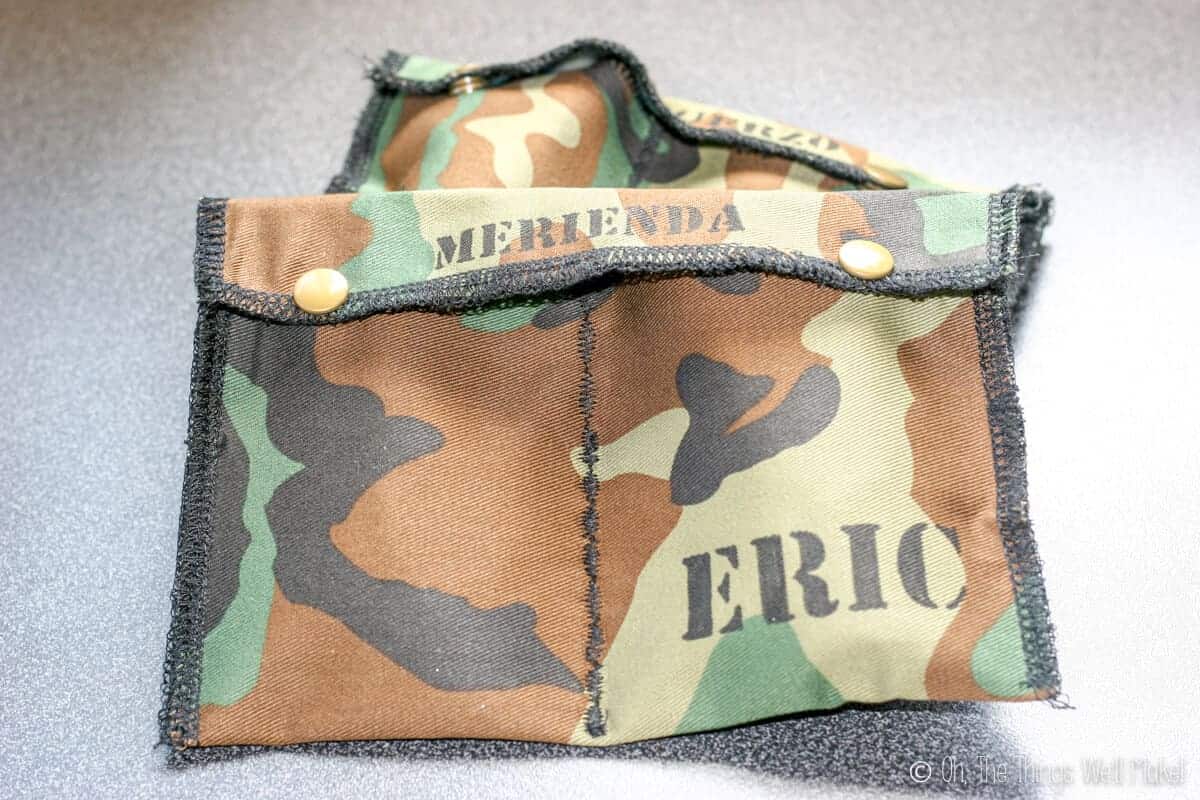 Making a homemade sandwich wrap didn't really solve my problem of how to keep my snack items together without the dry foods, like rice cakes, getting soggy. So, I looked for another alternative.
1. Start out with a rectangle that is a little bit wider than what you want your final carrier to be. The length should be just longer than twice the height that you want. I lined the rectangle with some fused plastic made from ziplock bags, like I had for the sandwich wrap. (If doing so, remember to keep the plastic side down when sewing them together.)
2. Decide on your closure. I had decided to use some plastic snaps for the closure. To avoid cutting through the plastic layer, I placed the two bottom snaps through the fabric before sewing up the final side of the rectangle.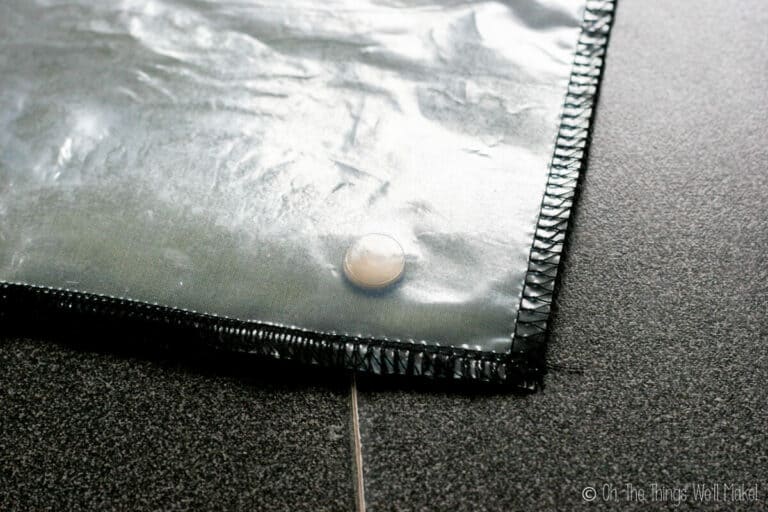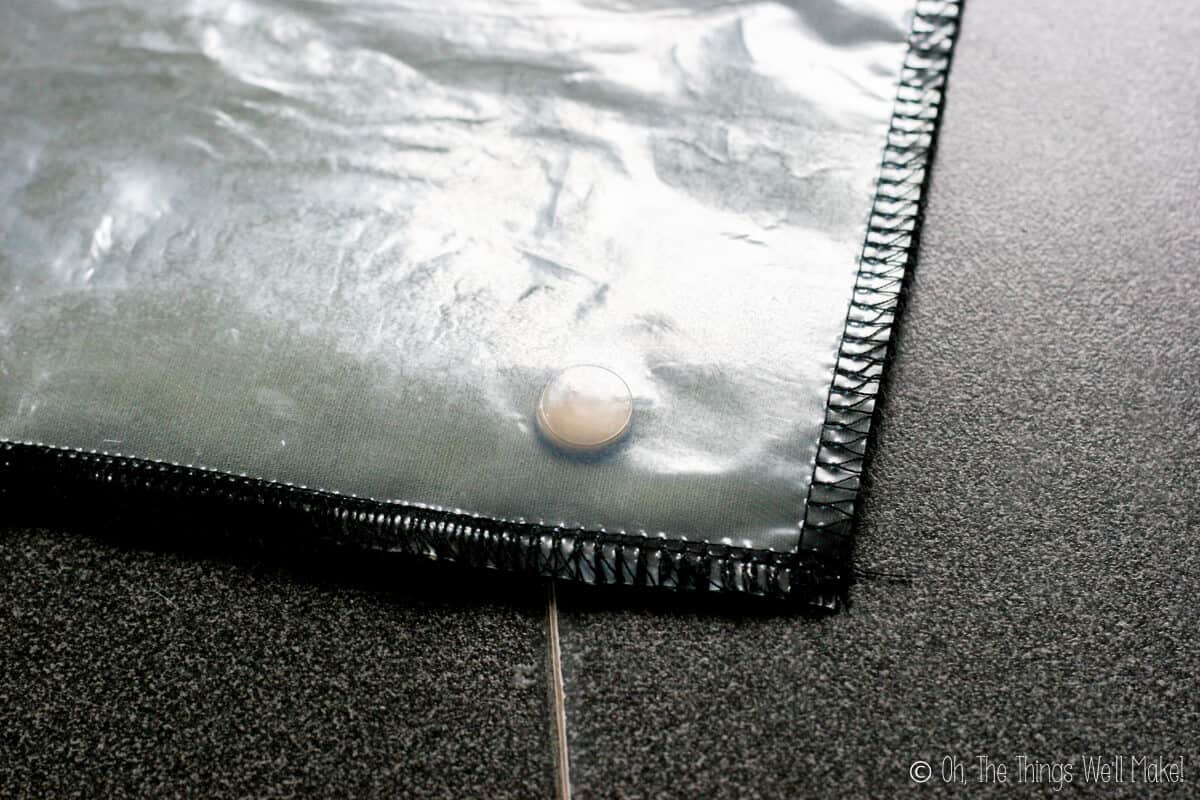 3. Fold up the side with the snaps, to form an envelope-like sleeve.
4. Sew down both sides. I used my serger again to close up the envelope and square it all off, all in one step.
5. If using snaps, finish off the snack envelope with the two snap top pieces. The envelope flap doesn't touch the food, and the snap top really needed to be on the plastic side anyway, so I just pushed the snap through both layers this time. Instead of a plastic snap, you could also use velcro or another type of closure.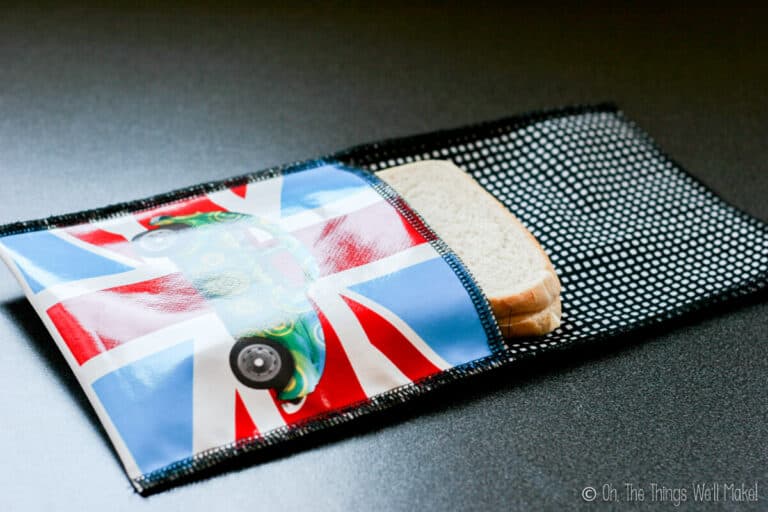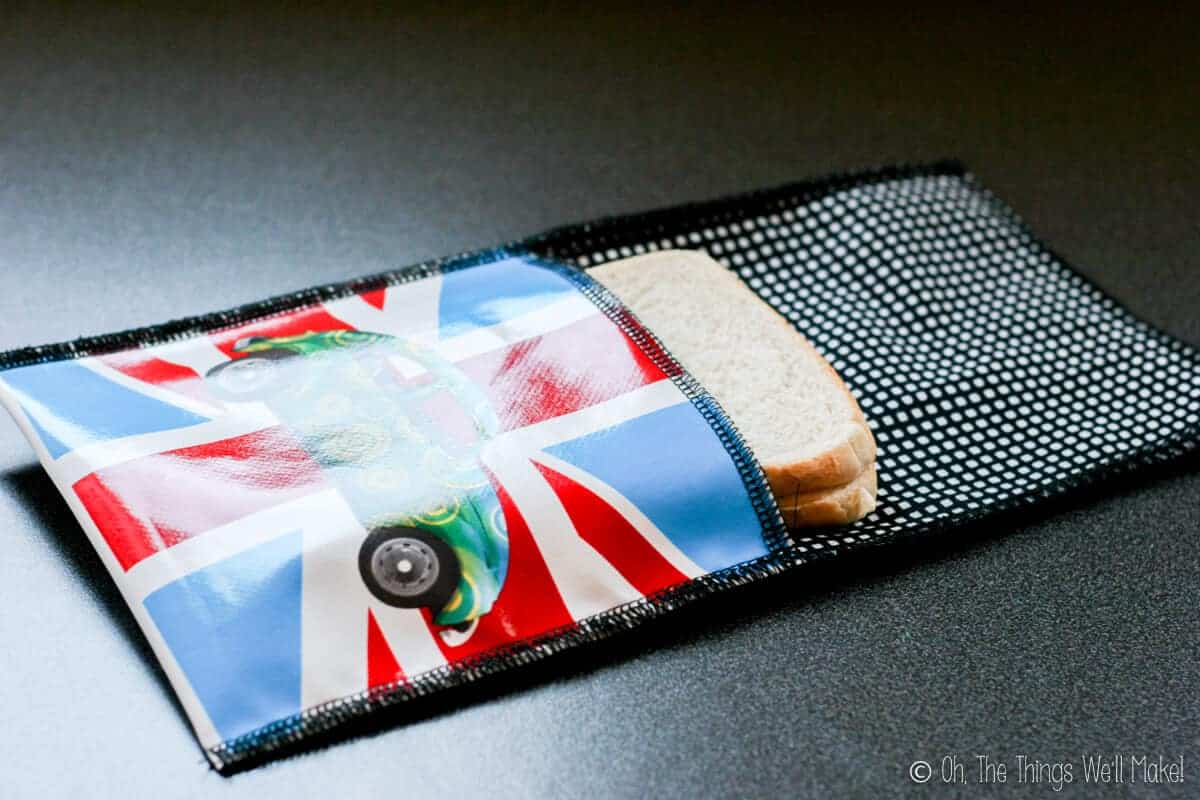 If you want to make a multi-compartment envelope
I experimented with making several types of snack envelopes. I made some with one compartment, and sewed a seam down some others as a sort of compartment barrier. The idea of having the compartments was to keep together several items meant for one snack. I could send my son with raisins or olives on one side and crackers or something like that on the other.
The problem with making several compartments in your envelopes is that you can no longer flip them inside out for more thorough cleaning, so keep that in mind before adding compartments if that's an issue for you.