These low carb walnut pancakes make a quick and delicious breakfast that's full of healthy fats, health-boosting nutrients and free of processed sugars. And they taste great!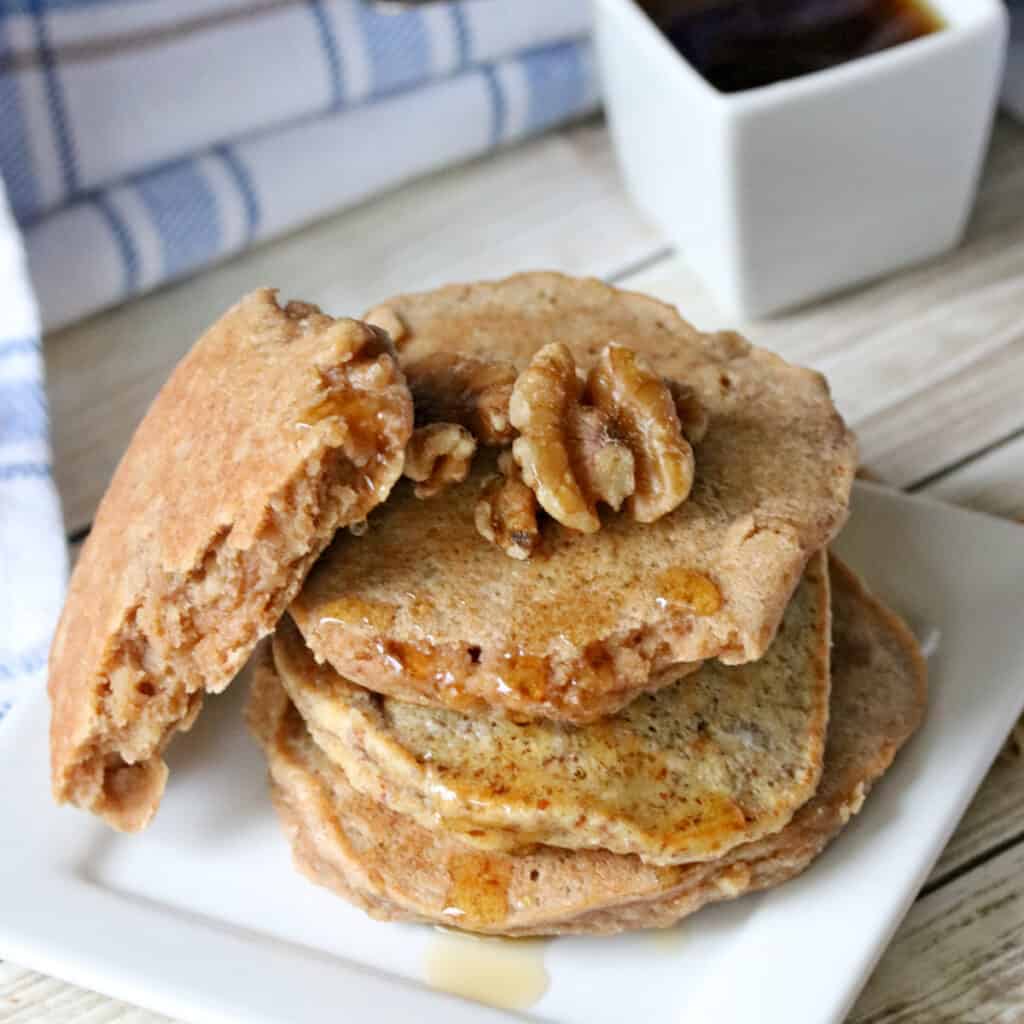 Today I'm bringing you a special treat from a friend I met through blogging, Shelby of Fitasamamabear.com.
Shelby's blog first caught my eye while I was searching for new recipes to share with you on Pinterest and Facebook. I love her simple, easy, healthy recipes, and am very happy to have met her, albeit virtually.
Like me, Shelby has varied interests. That's why you'll find DIY type posts amongst her recipes. And, because fitness is also a big part of her life, her blog is a great resource for getting yourself into shape. That's something I've been wanting to work more on lately. ?
I think we jive because her blog really fits my old tagline… "Real food can, and should, be fun!"
Shelby is a strength coach, nutrition coach & chronic foodie and, most importantly, mama to a super cute little girl. She enjoys sweaty workouts, tasty meals and trying her best to live holistically (though there's definitely a lot of trial and error there!). Most of all, she loves sharing knowledge on everything parent & health-related.
Healthy pancake recipes
Shelby is going to share with you a recipe for some low-carb walnut-based pancakes.
What I love about these pancakes is that not only are they grain-free and paleo, but they are also low in carbs. While I don't follow a keto diet or count carbs personally, I do feel better when I keep my carb intake relatively low.
Here at home, I make paleo plantain pancakes quite often because my son loves them. They're super easy to make and taste great. Because they use plantains, though, the carb count is higher than her walnut pancakes.
Paleo Plantain Pancakes
Super quick and easy to make, these healthy two-ingredient pancakes are grain-free, paleo, and delicious. If you've ever tried the banana two-ingredient pancakes but were disappointed with them, try these instead. I think you'll be pleasantly surprised!
Makes a half dozen small pancakes (3-4 inches). Double or triple as needed.
Check out this recipe

To change things up, I sometimes add some cocoa powder to make chocolate pancakes. If you're really feeling fancy, you can make some impressive-looking stuffed double chocolate pancakes.
The original version is stuffed with a chocolate mascarpone filling, but if you're strictly paleo or otherwise avoiding dairy, you can either just leave the pancakes unstuffed, or fill them with my alternative paleo filling.
Stuffed Double Chocolate Plantain Grain Free Pancakes
These delicious stuffed double chocolate grain-free pancakes are easy to make, but sure to impress. They are chocolate paleo plantain pancakes filled with a creamy, chocolate mascarpone filling.
Check out this recipe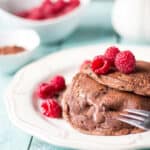 Being a "total pancake fiend," as she calls herself, Shelby also has several other pancake recipes on her blog. One tasty option is a recipe for gluten-free strawberry pancakes that use sprouted buckwheat flour.
Another nut-based pancake she makes uses almonds instead of walnuts.
Easy Fluffy Almond Pancakes
An ideal breakfast option to keep kids full and healthy. These pancakes are full of nutrition, light and delicious.
Check out this recipe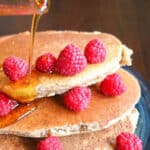 She also has a popular recipe for high protein yogurt pancakes. I really need to try those out!
High Protein Yogurt Pancakes
High protein yogurt pancakes make a tasty and healthy breakfast recipe. They're a gluten-free, kid-approved, fast breakfast.
Check out this recipe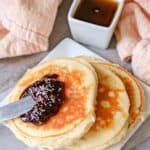 I'll stop blabbing now, and leave Shelby to tell you about her recipe…
Why Make these Low Carb Pancakes?
Breakfast has often been touted as the "most important meal of the day". Unfortunately, though, most breakfast foods are loaded with excess sugar, poor quality flours, and minimal nutrients. These low carb, walnut pancakes are far from the norm. They provide your family with a healthy, filling, and tasty start to the day!
In my house, pancakes are a morning staple (with my high protein yogurt pancakes being one of my daughter's favorites!). We love pancakes for a few simple reasons: they're quick, filling, and when made properly, healthy!
These walnut pancakes are not only a healthy breakfast alternative but they're low-carb too! Using walnuts for the base ensures that the pancakes are low in carbohydrates but high in nutrients, specifically healthy fats.
Health benefits of walnuts
Walnuts have been said to be one of the world's healthiest foods. And with good reason! They're a wonderful source of healthy fats, particularly omega-three fats. This not only makes them taste great but also helps reduce inflammation in the body.
Omega-three fats have been shown to improve brain development (specifically in utero), help ease the pain of arthritis, reduce symptoms of depression and improve your heart health. This means boosting your intake of these fats is a great way to improve your overall health profile.
On top of their fat intake, walnuts are high in antioxidants, manganese, and copper. This means that these nuts help lower your overall risk of disease.
The importance of pancakes being low in processed sugar
Another perk of these walnut pancakes is that they're low in processed sugar!
While maple syrup still keeps the pancakes sweet in flavor, using it also helps reduce your processed sugar intake – which is a much better start to the day!
Since most breakfast recipes are sugar-based, it's no wonder even after eating we have trouble focusing, our energy dissipates quickly, and we're hungry shortly after. All of this comes down to excess processed food consumption.
While maple syrup still breaks down into sugar when ingested, having a base of healthy fats and proteins helps slow the release of the sugars. This keeps you full, focused and stable.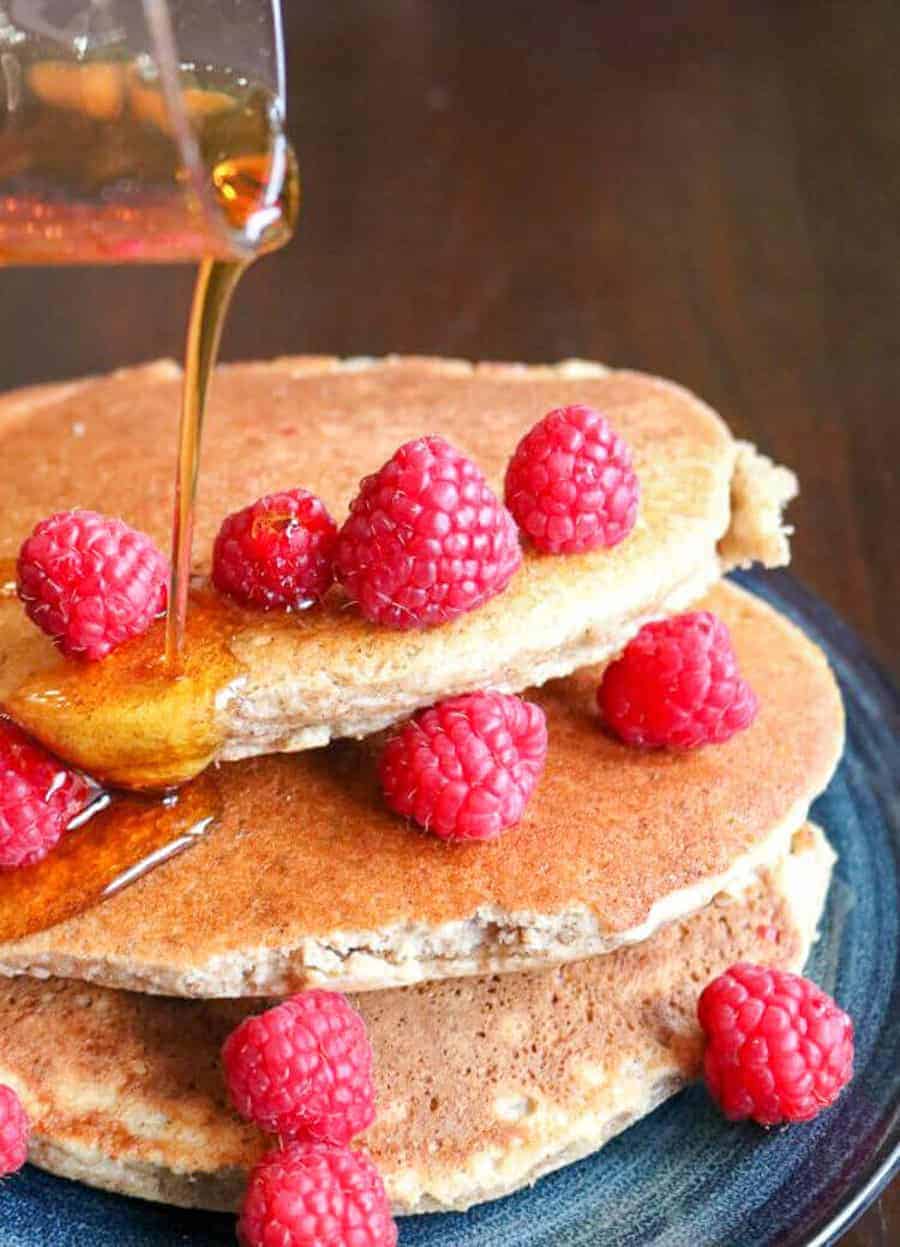 Healthy fiber
Lastly, the coconut flour in the recipe not only helps bind the ingredients together but also adds a healthy fiber boost. Fiber can help lower cholesterol and improve digestion.
So truly, these pancakes give you an all-around, well-balanced start to your day.
All of these health perks are why I prefer to use nut-based pancakes as a breakfast staple in our house!
In summary:
Pancakes taste great, kids love them (they always manage to feel indulgent!), and with these low carbohydrate pancakes, you're starting your day off with a healthy boost.
How to Make these low carb pancakes
Making these is quite easy. That said, most places don't sell "walnut flour," so you'll want to begin by grinding the walnuts in a blender or food processor.
Once you've prepared the walnuts, add the coconut flour and baking powder. Mix the dry ingredients before adding the egg, vanilla extract, and maple syrup.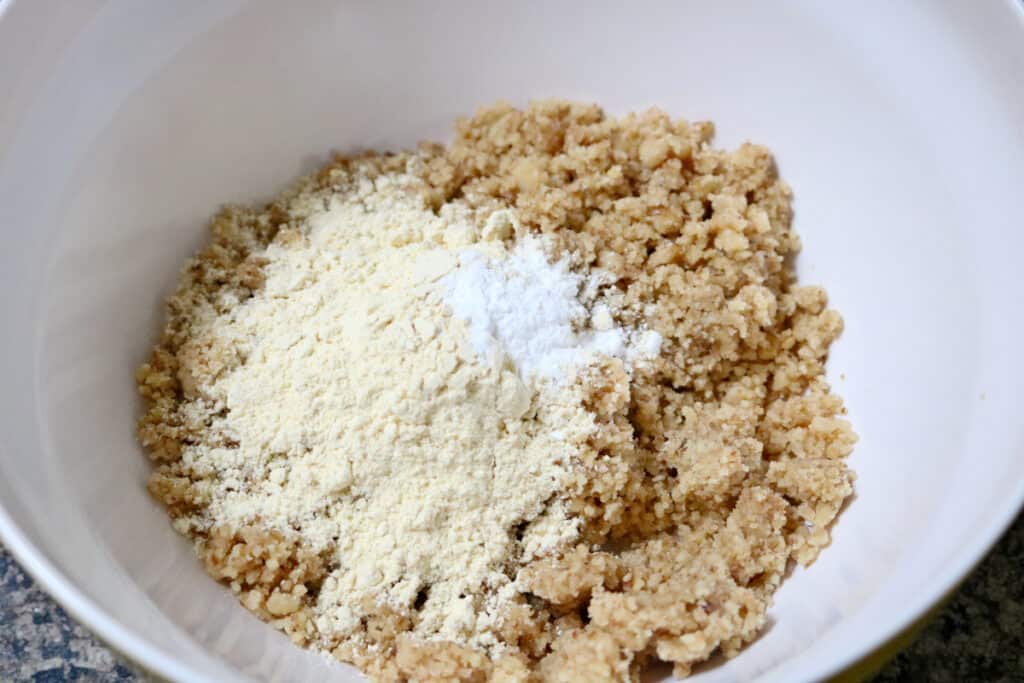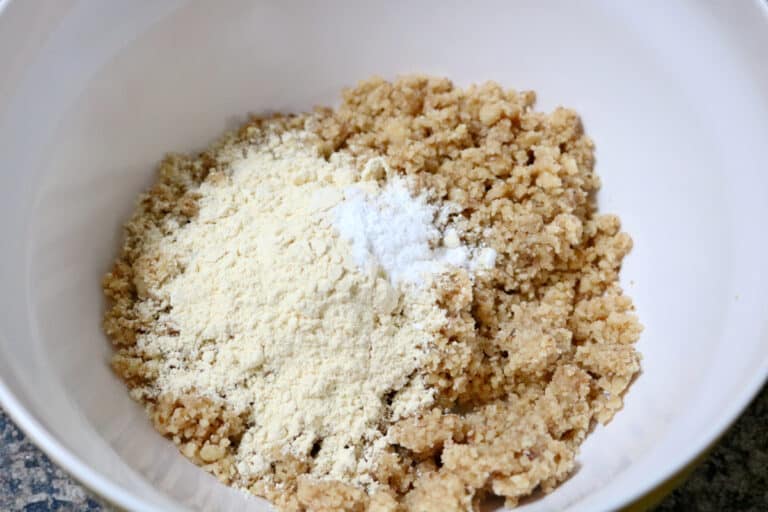 Mix those ingredients together and then add enough almond milk to make a batter that's easy to work with.
Heat up a skillet with a bit of ghee or coconut oil, and then spoon out the batter in small circles on the hot pan. If your batter is thick, use the spoon to help spread it out.
To cook the pancakes well without burning them, use medium to low heat.
These didn't bubble up like traditional pancakes, so flip them after a few minutes, when the edges start to brown and they hold their shape. Once you've flipped them, turn the heat off and cover them with a lid to help them finish cooking through.
Watch me make Shelby's walnut pancakes
Paleo Low Carb Walnut Pancakes
Craving more?
Subscribe to my newsletter for the latest recipes and tutorials!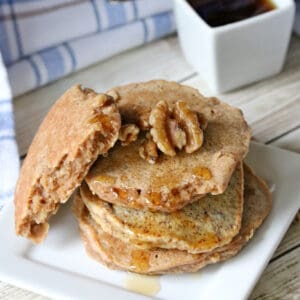 Paleo Low Carb Walnut Pancakes
These walnut pancakes make a quick and delicious breakfast! They're full of healthy fats, health-boosting nutrients and they taste great. They're also low in carbohydrates and free of processed sugars. Give your family a healthy and indulgent start to the day with these walnut pancakes!
Print
Rate
Instructions
Grind the walnuts in a blender or food processor.

Add the ground walnuts to a medium-sized bowl along with the other dry ingredients. Mix them together until well combined.

Add the egg, vanilla, and syrup to the dry ingredients. Mix to combine fully. The batter should be sticky.

Add in the almond milk and mix again until combined and the batter has thinned slightly.

Heat a pan or skillet over low to medium heat.

When warm, add some ghee, coconut oil, or spray with oil to prevent sticking.

Portion the batter out into three even circles. Cook uncovered for around 6 minutes, until the edges start to brown.

Flip and cook another 3-4 minutes until they look mostly done.

Turn the pan off and cover. Let sit two minutes to finish cooking.
Notes
These low-carb pancakes combine the healthy fats of the walnuts with fiber from the coconut flour. They're low in processed sugar, too.
If you'd like to lower the carbohydrate amount more, you can substitute the maple syrup for another sweetener.
These pancakes freeze well so you can make them ahead to have them ready for busy mornings. To defrost, use the microwave, an oven on low heat, or allow them to defrost on the counter and warm them on a skillet over low heat.
Serving:
1
pancake
|
Calories:
227
kcal
|
Carbohydrates:
10
g
|
Protein:
6
g
|
Fat:
18
g
|
Saturated Fat:
2
g
|
Cholesterol:
54
mg
|
Sodium:
42
mg
|
Potassium:
217
mg
|
Fiber:
2
g
|
Sugar:
5
g
|
Vitamin A:
80
IU
|
Vitamin C:
0.3
mg
|
Calcium:
82
mg
|
Iron:
1.1
mg
Update Information
This post was originally published on October 27, 2017. It was rewritten to better clarify the process in January of 2020, adding video and links to information about how walnuts and omega 3 fats can help promote good health.