New Year's traditions in Spain include eating twelve grapes at midnight or wearing red underwear. They are meant to assure you luck and prosperity during the new year.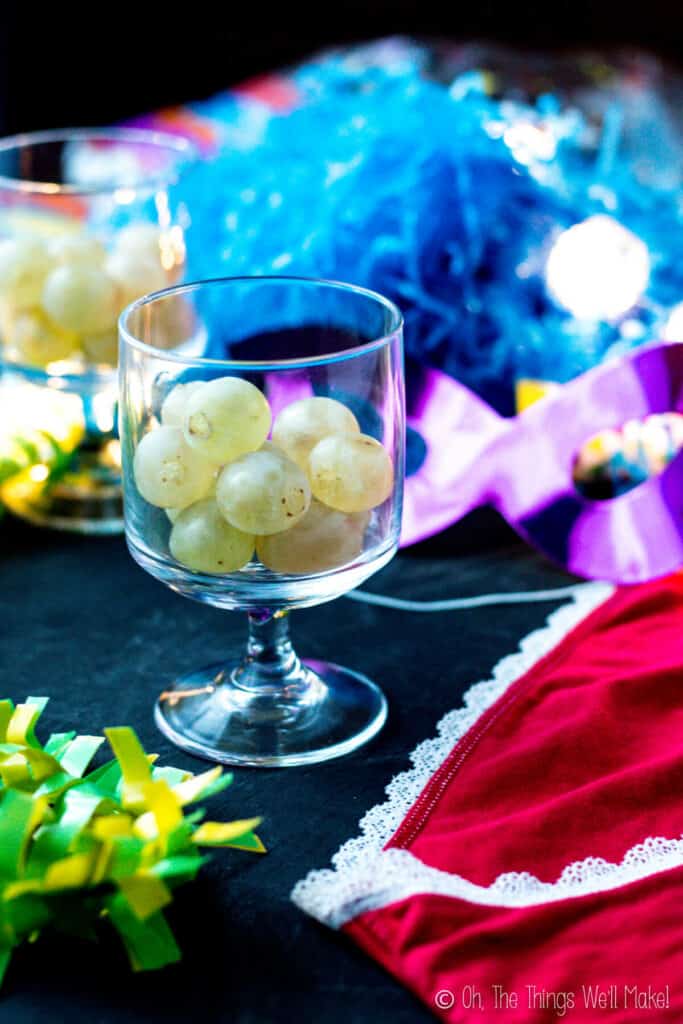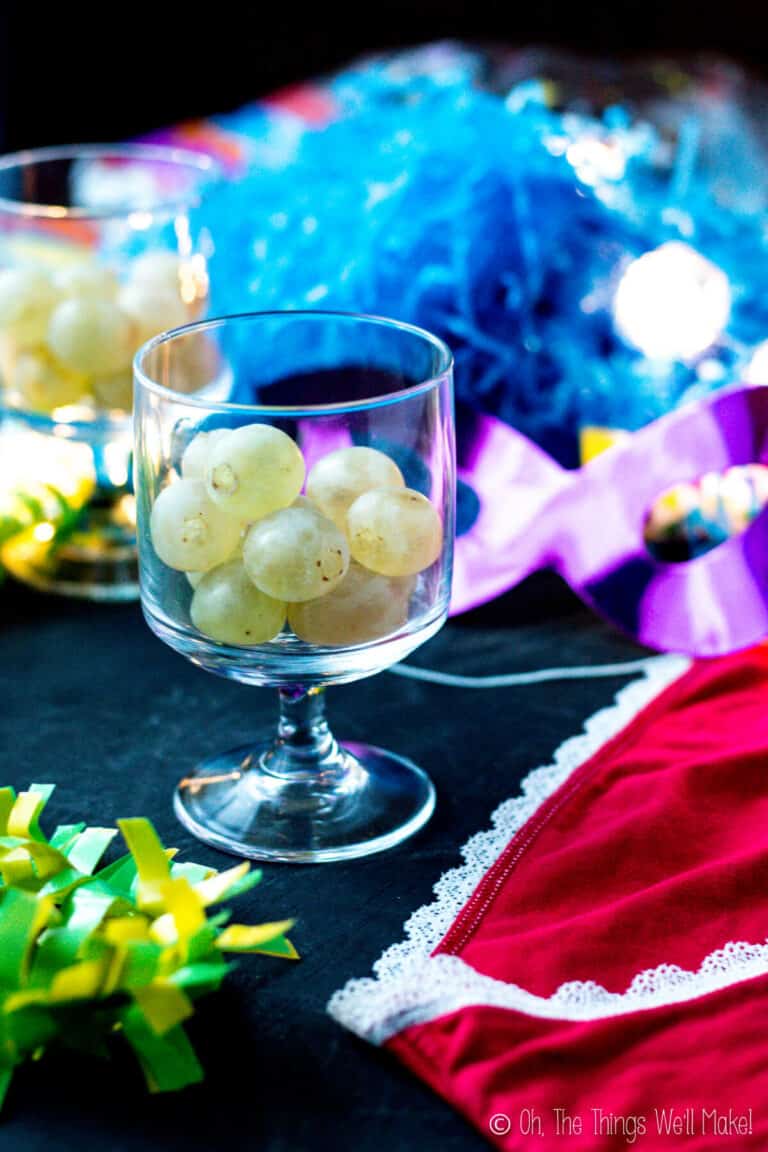 It's hard to believe that by now I have celebrated over 15 New Year's Eves here in Spain!
Celebrating the new year in Spain shares many similarities to New Year's Eve celebrations in the United States and other parts of the world. That said, some quirky New Year's traditions set Spain apart.
The Twelve Campanadas at Midnight
Just as you can watch the celebration of the New Year in Times Square in the US, in Spain you can watch the ball fall at midnight at the Puerta del Sol in Madrid.
Right after the falling of the ball, Spain rings in the new year with 12 rings of the bell in the Post office clock tower. These "campanadas" sound during what most people think are the last twelve seconds of the old year.
But are they really the last 12 seconds!?!?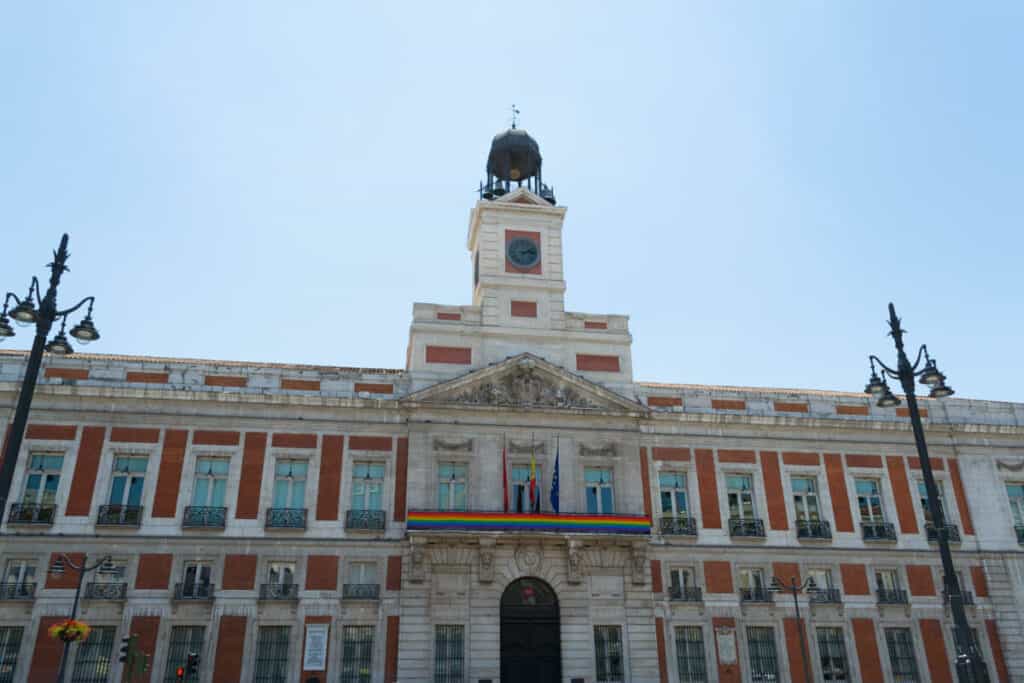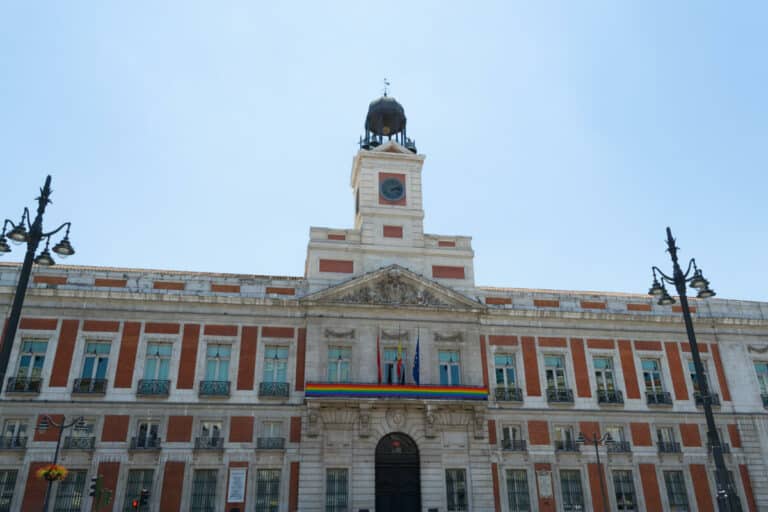 The timing of the bells
I was shocked and a little bit disappointed to learn that the twelve campanadas that welcome in the new year don't actually occur until midnight, after the new year has already begun! It's a bit anti-climatic once you realize that.
Not only do the 12 campanadas start later than what most people think, but they last longer too. Rather than sounding every second, one ring of the bell sounds approximately every 3 seconds. This gives Spaniards just enough time to eat one grape with each of them! (More about that in a second.)
Televised mistakes
Many tv stations televise the campanadas. This allows people all over Spain to watch this official announcement of the beginning of the new year. While most tv stations do a pretty good job of explaining the complex bell system, some have been known to make big mistakes.
Before the twelve campanadas sound, 4 dings of the bell known as the "cuartos" or fourths warn of their coming.
There have been instances of confused announcers telling people to eat their grapes too early, thinking the cuartos are the campanadas. Other times, they have had people eat their grapes 4 bells too late. When they don't hear the cuartos, they mistakenly think the first 4 campanadas are those warning rings. (I wonder how unlucky people were those years?)
One year a Southern channel accidentally cut out to a commercial during the cuartos and the first 9 bells, much to the bewilderment of those watching and waiting.
In summary, when you celebrate the new year here in Spain, you actually end up wishing everybody a Happy New Year almost a minute after you've entered into the new year!
12 Lucky Grapes
Another quirky New Year tradition in Spain is to eat 12 "lucky" grapes, one when each of the 12 campanadas sounds. The eating of the twelve grapes symbolizes the twelve months of the year.
If you aren't able to finish eating your 12 grapes by the twelfth campanada, it is said that you won't have a lucky new year.
The grapes reserved for bringing in the new year are usually small and green. In Spain, it hasn't been common to find seedless grapes until just recently. Even now, most grapes sold have seeds.
That's why many (most?) people spend the last minutes of the year preparing their grapes by removing the seeds and making sure they have exactly 12 grapes prepared. Some people even peel their grapes. (Peeling almost all fruits from apples and peaches to even grapes is quite common here.)
Those that don't want to bother with all of that can buy canned, peeled and deseeded grapes in syrup sold perfectly prepped for your celebration. (You can probably guess that canned grapes aren't really my thing.)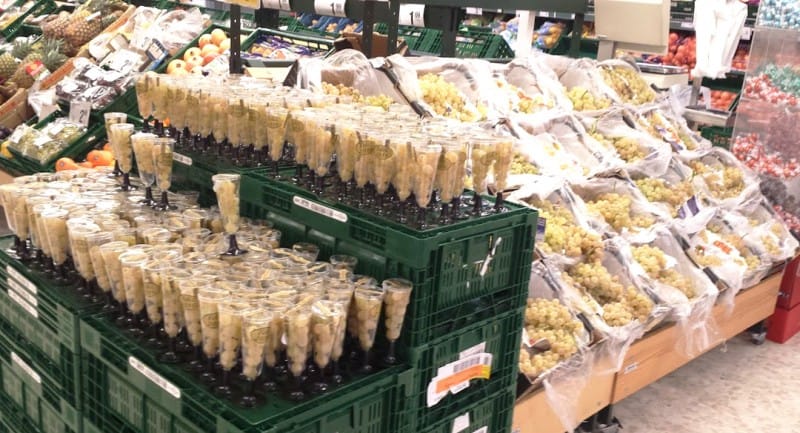 Eating the twelve grapes during the sounding of the bells may not be as lucky as one would think. People have been known to choke on them! So, if you plan on following the tradition, please be careful! 😉
Red Underwear
If you want to make sure things go well and that you get your grapes down in time, perhaps you should look to another tradition sure to bring you luck.
Bringing in the New Year wearing red underwear is another New Year's tradition popular in Spain. If somebody has given you said red underwear as a gift, that's even luckier!
I used to receive red underwear each year for Christmas from my in-laws until, perhaps, they reconsidered the strange gift. (Are they too sexy? Too grandma-ish? hmmm) That said, it isn't unusual to find red panties and briefs rolled into clear plastic ornaments or nice velvet pouches, ready for Christmas gift-giving.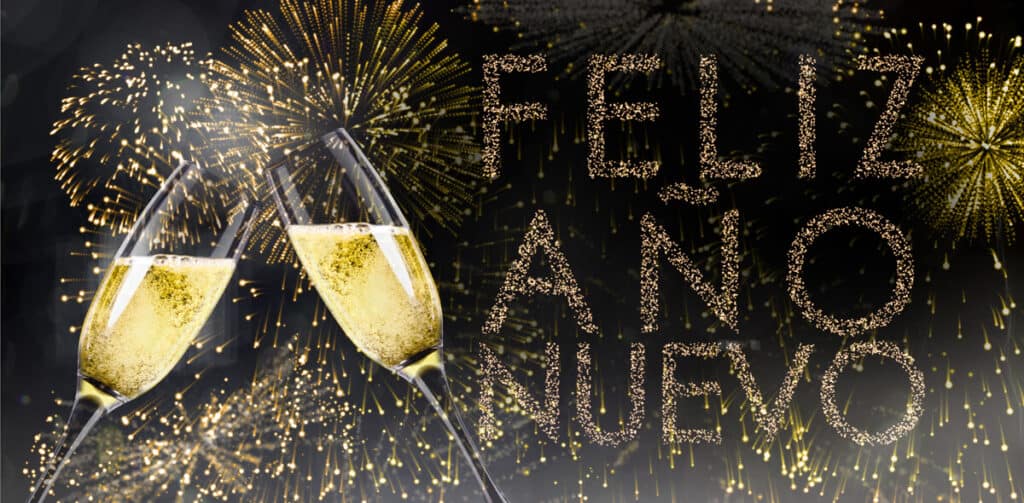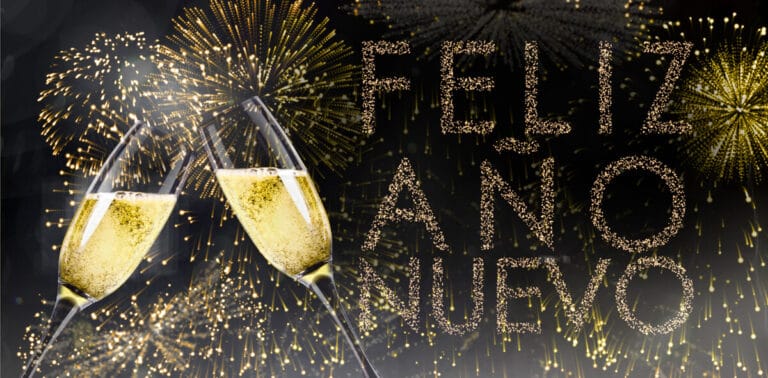 Toasting with Cava
To help wash down the lucky green grapes, most people bring in the new year with a sip of cava. Cava is a Spanish sparkling wine made in the same way as Champagne, but using local Spanish grapes. Most Spanish cavas come from the Catalonia region.
Those who don't like cava may choose to bring in the new year with sidra (hard cider) instead. Most cider in Spain comes from the Northern province of Asturias.
We brought in 2020 with a homemade lemon champagne sorbet. (Find the recipe below.)
Sorbete de Limón al Cava: Spanish Lemon Champagne Sorbet
One of Spain's signature desserts, the sorbete de limón al cava, or lemon champagne sorbet, is often served at weddings and fancy restaurants, but is simple enough to easily make at home.
Check out this recipe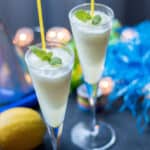 For another cava-based cocktail, consider trying "agua de Valencia."
Agua de Valencia Recipe
Fresh orange juice and cava take center stage in this agua de Valencia recipe. Learn how to make this popular Spanish cocktail reminiscent of the mimosa.
Check out this recipe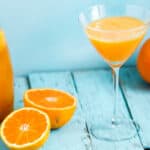 Cotillón
If you decide to go out to dinner to celebrate the coming of the new year, most places will give you a "bolsa de cotillón" along with your grapes and cava.
Cotillón refers to the fun party favors used to celebrate the holiday. The fun bags include everything from masks and wigs to noisemakers, leis, and paper streamers or confetti.
If you choose to stay in for the night, you can buy yourself a cotillion bag at any of your local supermarkets or "chinos" (Spain's alternative to Dollar stores)!
New Year's Eve Menus
Restaurants here in Spain usually have a special set menu for nochevieja (New Year's Eve). The special dinner has a set price that may or may not include an open bar and/or entertainment.
It isn't uncommon for even mediocre restaurants to charge high prices for their New Year's Eve dinner. Many restaurants charge around 100 Euros per person (or more) for those special menus.
Town Square Celebrations
If you prefer to save your money and don't mind hanging out in the cold, most cities host a celebration of their own in one of the town squares. In these celebrations, they normally broadcast the 12 campanadas of the Puerta del Sol on large screens. Usually, towns choose a large plaza with a church and/or a bell. Many towns even offer free grapes to those who celebrate there.
For those who want to bring in the new year with lots of friendly company, these town square celebrations are a great option. Don't be surprised, though, if strangers wish you a Feliz Año Nuevo. They may even exchange kisses with you, as is customary here.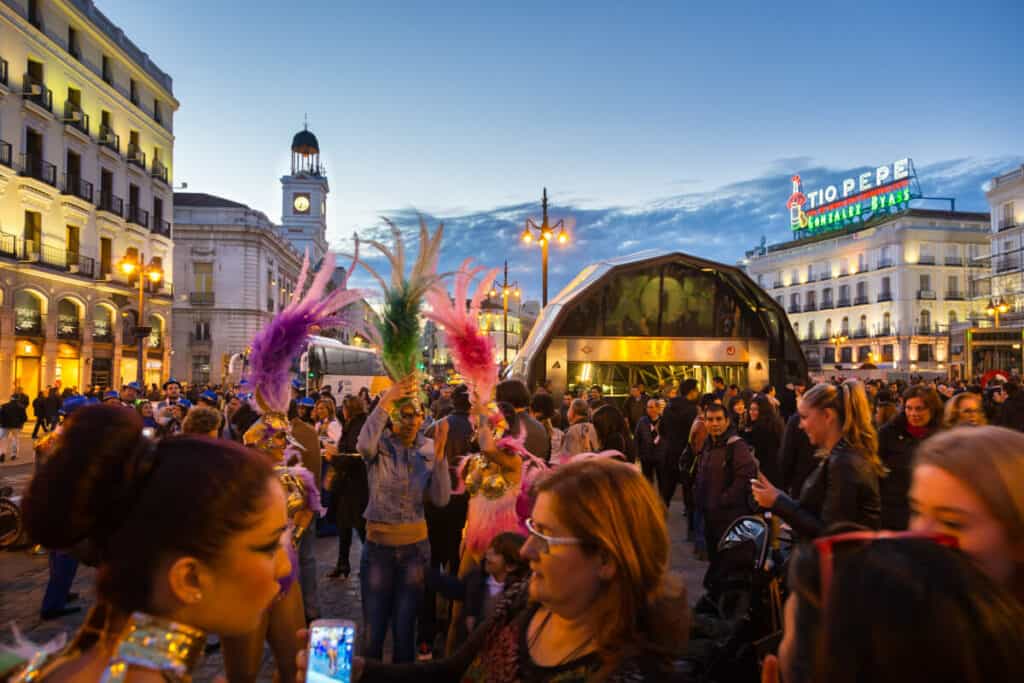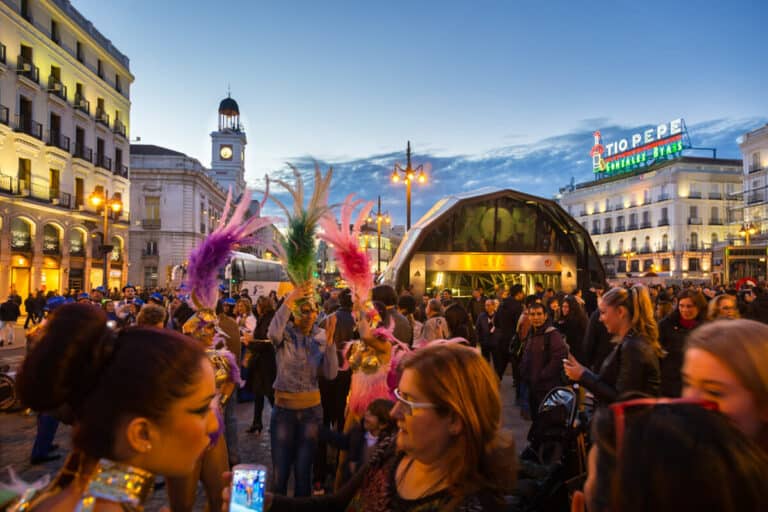 Nochevieja Universitaria
If you want the feel of the New Year, but aren't here in Spain quite so late in the year, you can get a feeling for it at the special university new year celebration in early December.
What started in 1999 as a few students from the Universidad de Salamanca getting together to celebrate together when their classes ended for the year, has now become a tradition that draws in thousands and thousands of young people each year. Spain knows how to make a huge fiesta out of just about anything, and they do it well.
Rather than bringing in the "Nochevieja Universitaria" with twelve grapes, you can find special bags of 12 grape flavored "gominolas" (gummy candies). It has become well organized with special transportation and lodging packages available for those who want to join in on the fun.
Update Information
This post was originally published on January 1st, 2016. It was republished with new information and new links, on January 1, 2020.
I hope you enjoyed learning a little more about how New Year's Eve is celebrated in Spain. We are also still celebrating the twelve days of Christmas here so the festivities continue until Three King's Day on January 6th!
Happy New Year to all of you!