Get your dog clean the easy way with this dog soap recipe. I'll show you how to make a homemade dog shampoo soap bar, and how we use it to clean our pup.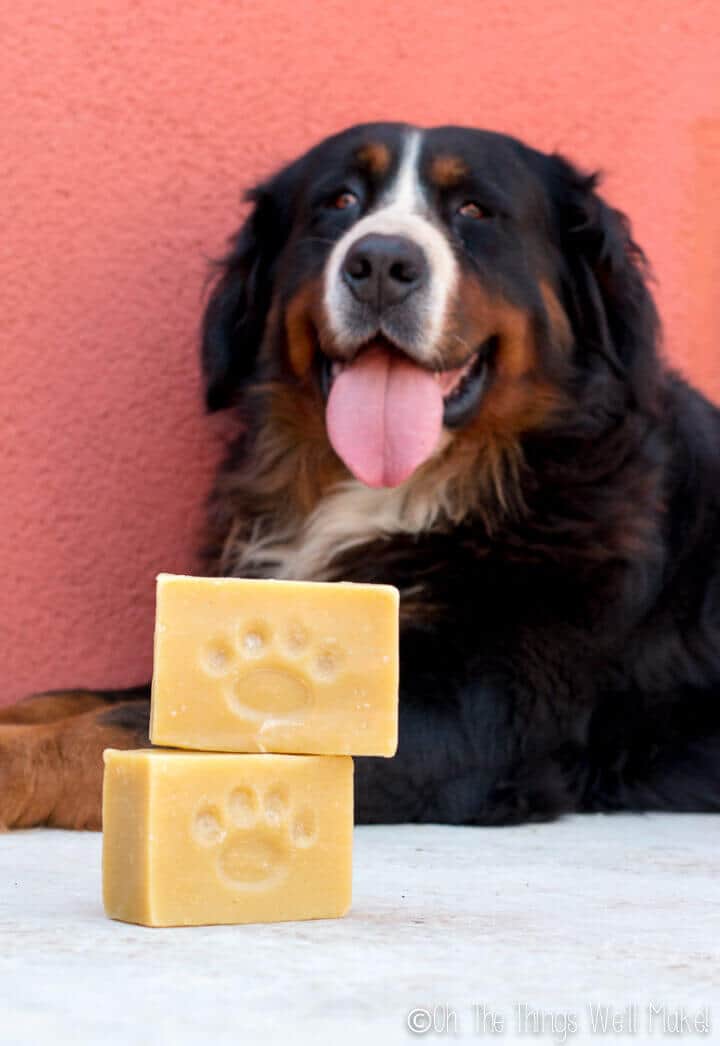 Several years ago, I started formulating a soap for bathing our dog. Despite my love of making my own bar and liquid soaps for general cleaning and bathing, I don't use soap for my hair. In fact, I've been working on making a general, non-soap shampoo, and I'll share my recipe for that soon.
On the other hand, I do love using a bar soap to bathe our dog!
Before I share my recipe for making a homemade dog shampoo (soap) bar, I'd like to share some of my reasonings, and talk about some of the myths or general beliefs people have about shampoos and soaps for both people and dogs.
Is the pH of soap good for hair?
Soap is always on the alkaline side, with a pH above 7. In fact, more often than not, the pH of soap is above 9. While I have already talked about how soap's high pH doesn't generally concern me when using soap for bathing, I don't like the idea of using soap on my hair!
I have always read that our hair doesn't react well to having an alkaline cleanser, leaving the cuticles of the hair standing and leaving hair dull looking. It can also contribute to mechanical friction between hairs leading to damage.
I was even more inclined to believe what I've read after trying out various "no poo" methods of cleaning my hair. I tried everything from vinegar rinses to rinsing my hair with a mixture of water and sodium bicarbonate (aka. baking soda).
Vinegar left my hair shiny, but feeling greasy and gross, and things didn't get better with time. Baking soda, on the other hand, left my hair feeling ever worse. I ended up with hair that felt like straw and looked dull and brittle!
When fabricating "shampoo" soap bars, the soaps are normally highly superfatted to help combat some of the shortcomings of soap for hair, and help prevent some of the damage that it can cause. Even when made in that manner, I don't think soap is ideal for making shampoo.
If I feel that soap can be damaging to hair, why would I use it on my dog's hair?
First, let's talk pH.
A dog's skin is more alkaline than human skin. Their skin is said to have a pH above 7, on the alkaline side, whereas ours has a pH on the acidic side (in the 5.5 range).
It is normally said that human shampoos have a lower pH than those formulated for dogs, which should fall in a more neutral range. In fact, that's one of the main reasons that people are often told not to use their own shampoos on their dogs.
So, you'd think that my answer is going to be that a dog's more alkaline pH will better tolerate soap's higher pH…
In practice, though, I don't think that's necessarily the case. It's a bit of a myth that dog shampoos have a higher pH than those made for humans, and it is really more dependent upon the shampoo itself. (The last link will bring you to a study conducted by Barbara Bird, CMG, in which the pH of 60 pet shampoos were compared with 45 human shampoos. She showed a huge, overlapping range of pH value for both types of shampoos.) For a more complete version of the article, where you can see a list of the different shampoos studied, check page 12 of this PDF where the study of the pH of pet and human shampoos begins.
Barbara's conclusion was that concerns about the pH of dog shampoos is more driven by profit than by by any real science showing the pH value to be important. (That's sort of the way I feel about pH balanced "soaps" for human skin.)
She believed that the main reason for choosing a shampoo made for dogs rather than one for humans is that human shampoos are formulated for using several times a week or even daily. Dogs, on the other hand, are normally bathed much less often, and are probably much dirtier at the time they are bathed and will require a more cleansing shampoo.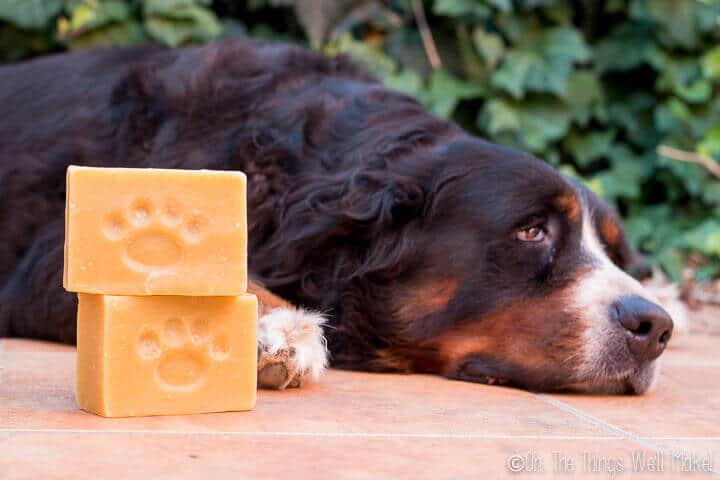 In the end, after all of my research, I couldn't find any reason NOT to formulate a dog soap bar, so I decided to make one. (Simple as that!) You don't want to use this or any shampoo very often on dogs because it will dry out their skin. Period.
Plus, since then, when my dog has had bouts of eczema "hot spots" on her skin, her vet has told me that the best thing to do in those areas is to clean those areas with a bar (lye processed) soap several times a day until the problem areas dry up. He didn't seem concerned about using regular soap on a dog.
All of that said, I must reiterate that you should only be using this, just like with dog shampoos, occasionally. You shouldn't normally bathe a dog more than once a month, at the very most! We usually bathe our dog less often than that. If a dog needs to be cleaned more often than that, because of something particular that happened one day, I'd recommend a good thorough rinsing, or a rinse with some conditioner instead, if you can get away with that. I choose to only wash with soap or shampoo more often as a last resort (or in localized areas where I'm actually trying to dry out problem areas of skin as prescribed by the vet).
In the end, I tried making my first dog soap mostly as an experiment, knowing that many people swear by using soaps on their dogs. I, too, was pleasantly surprised by how much I loved it!
Bar soap vs. Liquid soap on dogs
Being used to using liquid shampoos, I was sure that I would prefer a liquid soap for washing my dog.
I was wrong!
One of the things I tried was dissolving the pieces that I had cut off the soap to square it up into some water, and I started out by using that.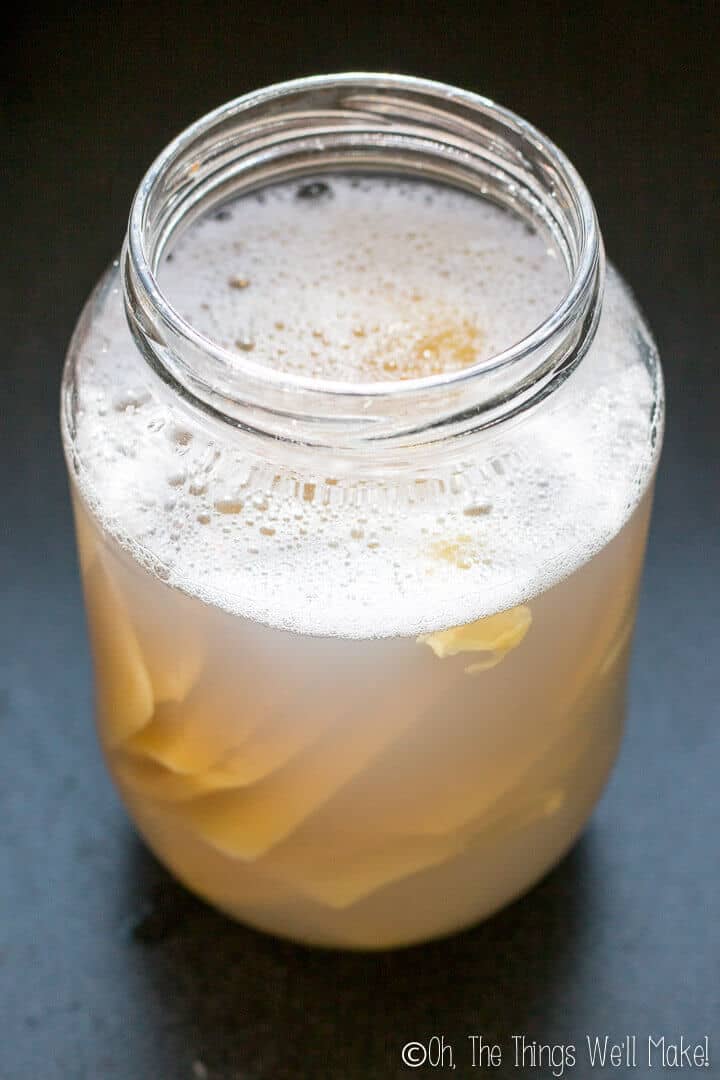 The problem? It took a heck of a lot of dissolved soap to get any lather. I was using a lot of soap and it still didn't feel like I was getting my dog very clean.
It wasn't a commentary on the quality of the soap. I've always had a similar feeling when using dog shampoos on my dog. I end up using quite a large portion of the bottle to cover all of the fur, and it's hard to control where it all goes. If it's liquidy, it runs all over the place and a lot is lost. If it's thick, it's hard to spread all over the body.
Using a bar soap is a whole other game. I purposefully made large bars of soap so that I could easily grip onto them when I wash my dog. We start out by wetting down all of her fur before proceeding to rub the bars of soap all over her coat.
I was surprised by how quickly everything lathers up, and by how easy it is to cover her entire coat with soap quickly. With a bottle of shampoo, I'm constantly trying to hold my dog in place, while trying to pour the shampoo either into my other hand or directly onto her fur. Then, trying to spread it all around is just as tricky. Using a bar of soap is so much easier to fully clean your dog!
Using a conditioner on your dog for a shiny coat
While I haven't noticed my dog's hair being dull after washing his hair with the soap, I like the idea of following up the soap with a bit of conditioner.
Just like with dog shampoos, there are plenty of dog conditioners on the market. I studied the ingredients of a few of them, and I honestly didn't see much of a difference in the ingredients used. Once again, my intuition tells me that a lot of the difference is really just marketing hype.
What I would say is that it's probably best to use a lightweight type conditioner on your dog, and one with mild ingredients, in case not all of the conditioner gets rinsed away.
That's why I use the same lightweight DIY hair conditioner that I make for myself. It's light enough to use as a leave in conditioner, so if any is left behind, it isn't a problem. It uses mild ingredients, so there's nothing that will bother my dog's skin. In fact, I believe it's quite nourishing. The pH was around 6 last time I checked, so it is close enough to neutral to not bother a dog's skin, if pH is even an issue, but not alkaline, so it leaves the hair nice and shiny.
I really love using the conditioner because it helps me get out matts and tangles in my dog's hair, all while leaving it feeling nice and soft.
Are essential oils bad for dogs?
Not all essential oils are safe for dogs, but I chose a mixture of insect repelling essential oils for this soap that are said to be safe for dogs. (As with essential oils for people, essential oils on dogs should be used diluted as it is in this soap.) I chose these particular oils to help leave behind a scent that will help keep some insects away. That's also one of the reasons I chose neem oil for this soap.
If you don't have all of the oils I used on hand, you can leave some out and exchange them for a combination of some of the others. Or, if you prefer, you can just leave the essential oils out altogether.
In any case, the neem oil also leaves behind a scent that will help ward of unwanted insects.
Neem oil benefits in soap
Neem oil in soap is antibacterial, antifungal, and has insecticidal properties. It's an ideal ingredient for a soap for dogs because it can help clear up their skin conditions all while mildly keeping insects away.
Video
Looking to make more?
Subscribe to my newsletter for the latest projects (and recipes)!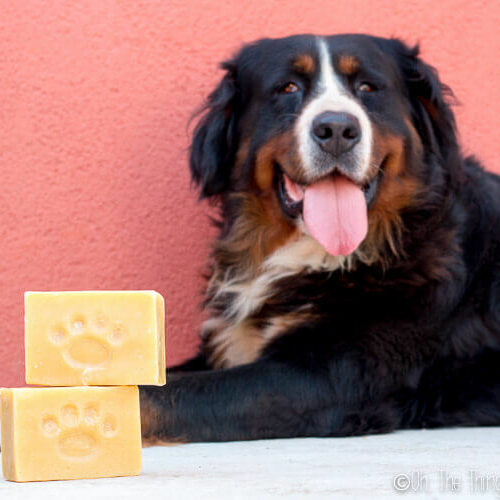 Homemade Dog Shampoo Soap
Get your dog clean the easy way with this dog soap recipe.
Print
Rate
Servings:
2
large bars of soap
Instructions
Put on safety goggles and gloves before working with lye. This is just a safety precaution because lye is caustic and can burn your skin.

Weigh out the lye and water in glass, ceramic, or heavy plastic bowls.

Add the lye to the bowl of water (and not the other way around!) in a fully ventilated area. (I usually do this step outside.)

Mix together well the lye and water until the lye has fully dissolved. You will notice that it heats up and gets more opaque first and then it will cool down and get clearer. Leave the mixture to sit in an area where it won't be disturbed by anybody or any animals.

Weigh out all of the main oils (olive oil, coconut oil, neem oil, rapeseed oil, and castor oil- not the essential oils) on a kitchen scale. I find it easier to tare a large bowl and then add each oil to it, taring again between additions.

Add the lye solution to the oil solution and gently mix together.

Continue mixing the ingredients with an immersion blender until you reach trace. Trace is the point of making soap when the saponification process has begun. It is when the mixture gets more opaque and thicker, looking like an emulsified sauce.

At trace, you can now add essential oils. You can either weight them out and add them, or add some and take a whiff to see how strong the fragrance is.

Fully incorporate the essential oils into the soap mixture.

Pour the mixture into molds. I like to use silicone loaf pans, but you can also use milk cartons, plastic containers, or, of course, soap molds. 🙂

Cover and insulate the soap with a towel, and set it aside where it can stay undisturbed for a day or two to harden up.

Check on the soap occasionally, and unfold it when it appears hard enough to easily unfold without breaking.

Cut the soap into bars. For this particular use, I like to make big, chunky bars of soap that are easy to hold onto when washing our dog. They've worked really well for us so far!

I stamped a paw pattern into my soap, while it was still somewhat soft, using the plastic caps of items I found around the house. You can decorate your soap with soap stamps or rubber stamps or something else like I did at this point.

Set the soap aside for a few weeks to dry and harden up more. While the saponification process will have completed within a couple of days and you can technically use it then, the soap will harden and improve with drying time, meaning it will also last you longer when using it.

You are now ready to give your dog a bath! Have fun, and try not to get too wet! 🙂
Notes
This soap uses a superfat percentage between 5% and 6%.
Can I substitute the rapeseed oil for another oil?
I used rapeseed oil because I was trying to use up some leftover rapeseed oil that I had bought when I wanted to make a copycat activated charcoal face bar of soap. A lot of people are unfamiliar with the oil, though, and don't want to buy it for only a recipe like this one. That's why I'm offering substitutions.
If you substitute the rapeseed oil for avocado oil, the superfat will be between 6% and 7%. (The bar will be slightly harder, and have slightly more lather, but will be slightly less conditioning. The higher superfat amount, though, probably brings the conditioning amount to about the same.)
If you substitute the rapeseed oil for sweet almond oil, the superfat amount will also be between 6% and 7%. In either of these cases the soap should end up being very similar to the original posted recipe.
How to use the homemade dog shampoo bar soap
This is how we normally bathe our dog with this soap. My husband likes to hook up our homemade solar water heater to the hose so that we can use warm water outside. 🙂
Brush your dog to allow for easier wetting of all of his or her fur.
Fully wet your dog's fur with water.
Use the bar of soap to work up a lather all over your dog's fur. You can optionally comb through the fur again to make sure all areas are well covered with soap.
Rinse all of the soap from your dog's fur.
Now you can use some conditioner to help make brushing easier and help remove any tangles. It will also leave your dog's fur soft and shiny.
Comb through the fur with the conditioner in place.
Rinse out the conditioner.
Let your dog shake off the extra water. You can once again comb through the fur as it dries to help remove any loose fur and have your dog looking his or her best.
Enjoy your nice, clean, soft dog!