Soft and soothing, this easy, homemade lip balm can be whipped up in just a few minutes and will help support the healing of chapped lips and skin.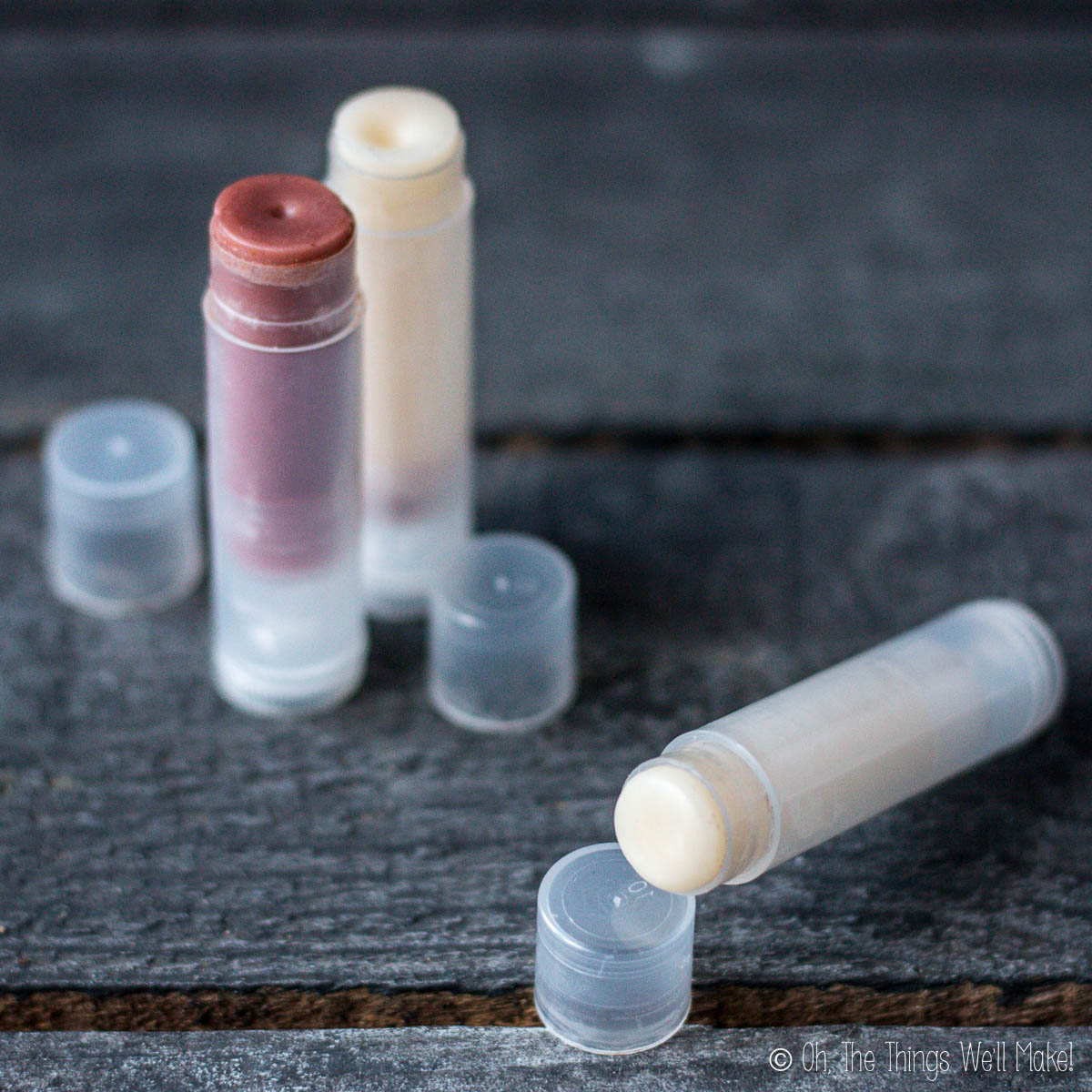 Lately, the cold harsh weather is exacerbating my son's sensitive skin. Having atopic dermatitis, he's very prone to rashes and dry, flaky skin. One of his most sensitive areas, though, is the area around his mouth.
When we visited his dermatologist, we learned that the rashes could be exacerbated by certain foods. Within a few hours after eating them, he developed a rash around his mouth. While he can now eat most foods without issues, in the winter, the rash around his mouth forms no matter what he eats. It's a sign that the cold, dry weather is taking its toll.
No matter what the cause for dryness of the lips and surrounding areas, this homemade lip balm will help soothe irritated skin. I purposely formulated the lip balm so that it would be soft enough to easily rub over the most sensitive areas without causing pain.
This time of year, homemade lip balm also makes a great gift or stocking stuffer!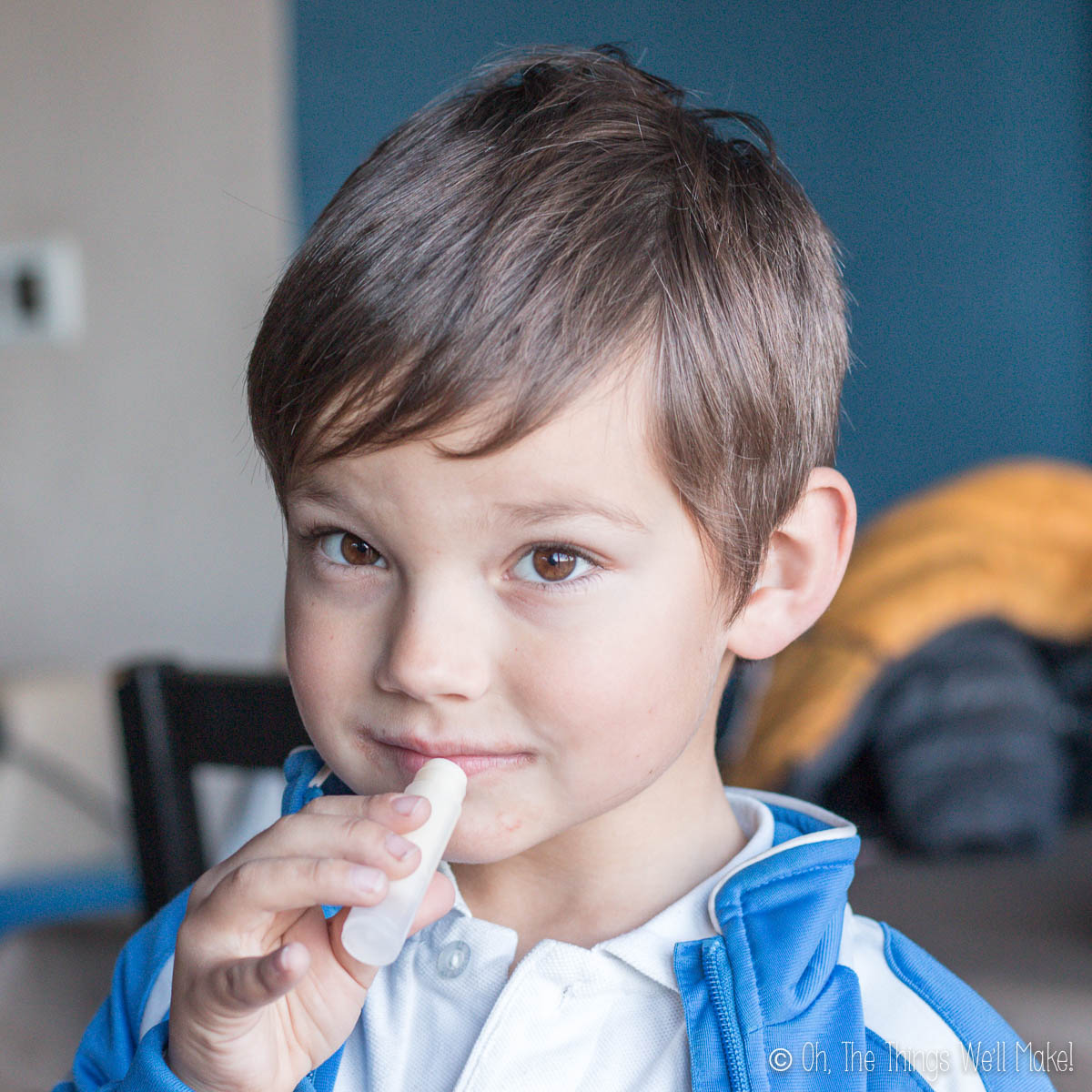 Ingredients
The main ingredients for this DIY lip balm include liquid oil(s), a butter, and a wax to help solidify the lip balm. Apart from that, you can add essential oils for added scent and healing properties. Vitamin E oil is another great addition that helps prevent the rancidity of the oils and fats, prolonging the shelf life of the balm.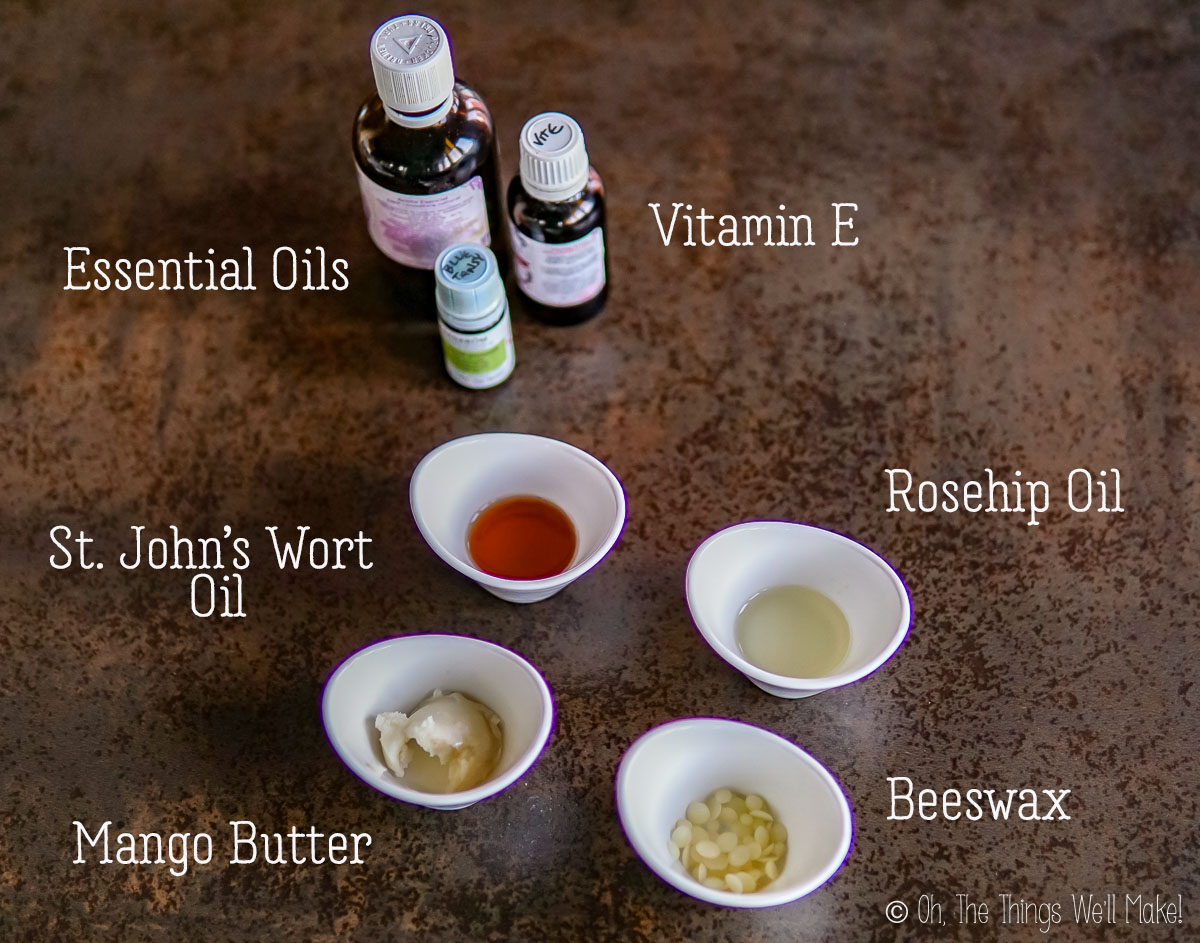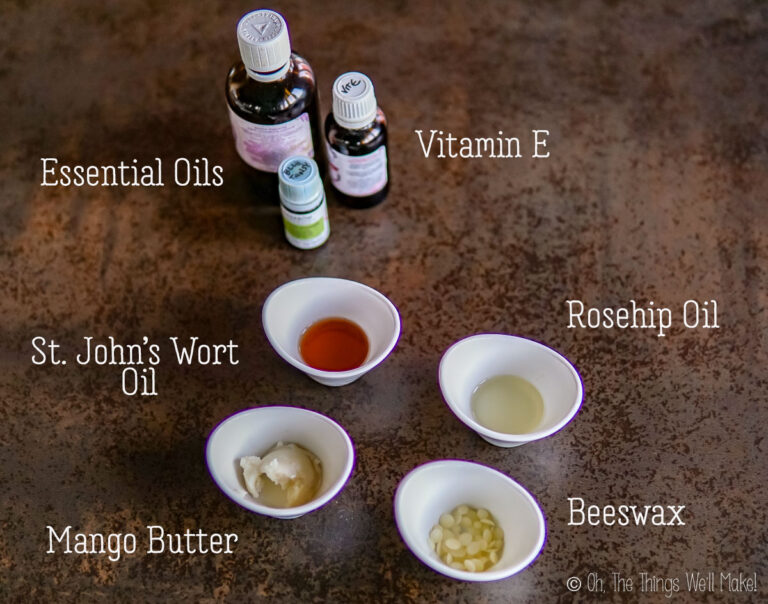 The liquid oils
For the liquid oils, you can use whatever you have on hand, even common kitchen oils like olive oil or coconut oil work well. When I first published this recipe, I used sweet almond oil and jojoba oil for the liquid oils in the recipe. This year, I opted for a combination of St. John's Wort oil and rosehip oil as they each have beneficial healing qualities.
The butter
Adding a butter helps give a creamier sensation to the balm so that it glides on. I chose to use mango butter for several reasons. My son hates the scent of cocoa butter and shea butter. Both of them, when bought unrefined, can have an overpowering scent and flavor. (If you'd like to avoid that, choose refined varieties.)
Rich in antioxidants, mango butter is soft and has a smooth and creamy texture that I prefer over shea butter or cocoa butter. In reality, you could even just rub pure mango butter over your lips and/or irritated skin in a pinch.
Apart from being nourishing and hydrating, mango butter can help support the healing process of rashes, eczema, sunburn, insect bites, and even frostburn. It's not greasy and is easily absorbed by lips and skin. It also helps prevent wrinkles and sun damage, meaning that it's a great addition to lip balms year round!
If you'd like to harden the lip balm slightly, you could also add a small amount of cocoa butter to the recipe, adjusting the recipe, as needed, to get the desired texture.
The wax
A wax is used in this recipe to solidify the product. I used beeswax pellets, but you could also try using candelilla wax if you want to make a vegan lip balm. Other waxes may also be used, but you may have to adjust the amount to get the desired texture.
Choosing essential oils
A benefit of making your own lip balm is that you can choose which essential oils to use or not use any at all. The essential oils will add a fragrance, may help aid the healing process, and some can even add a touch of color. If you are sensitive to certain oils, you can avoid them.
When adding essential oils, keep the dosage to around 2% of the recipe, or less, by weight.
When I first published this recipe, I used a combination of lime and lavender essential oils because both lavender and citrus oils may aid in healing chapped skin and minor cuts and scratches. I would normally use lemon or sweet orange oil, but I wanted to try out my new bottle of lime essential oil. While the combination might sound a bit strange, we both liked it. Plus, both oils are relatively safe oils for a child of my son's age at the time.
This year, I used lavender again but combined it with blue tansy oil and chamomile oil as both are also known to help aid healing. Blue tansy is a blue-colored oil that will turn the lip balm a light shade of blue. I haven't found it to stain the lips, though, at the dilution used for this recipe.
In the photos, you'll see that I also photographed a pink-colored chocolate peppermint lip balm that I made for myself using cocoa powder and peppermint essential oil (see notes on coloring below). Peppermint essential oil gives a cooling sensation to lip balms which I happen to love. Some people, though, may find peppermint oil to be irritating to their skin and lips!
The following cold-pressed oils can cause photosensitivity, meaning that they can make the skin more sensitive to sunlight or ultraviolet (UV) radiation. This increased sensitivity can lead to a greater risk of sunburn, skin irritation, or discoloration when the skin is exposed to sunlight or UV rays after applying or using the essential oil.: (Use distilled instead to avoid issues.)
Bergamot
Lemon
Lime
Bitter orange
Grapefruit (Distilled may also cause photosensitivity.)
Apart from the citrus oils, some other oils, like petitgrain, marigold, lemongrass, and verbena, among others, may also cause photosensitivity.
Vitamin E
Vitamin E (tocopherol) is an antioxidant that can help extend the shelf life of your lip balm when used at around 0.5% of the recipe by weight. Antioxidants help protect against free radicals which can damage cell membranes.
Because this recipe uses such small amounts of ingredients, you'll probably need to aim to use around a drop of vitamin E as it's generally thick and difficult to dose.
Can you add honey?
I've often seen people suggest using raw honey in homemade lip balms, but I suggest that you don't use it. Honey, while self-preserving on its own, can make other products more difficult to preserve. Because it's a water-based product, it won't combine well with the other ingredients and will eventually separate from them.
If you want to add water-based ingredients, you'd need to use some sort of emulsifying wax, and you'd also need to add a cosmetic preservative. For more information, see my guide to natural preservatives and my emulsifier guide.
Can you add d-pathenol?
D-panthenol is a form of vitamin B5 that can help draw moisture into the skin. It's known to help with wound healing, skin regeneration, and cell renewal. It also helps relieve dryness and capping. If you've been following it for a while, you'll know that I often add it to many of my homemade skin and hair products.
Like with honey, d-panthenol is water-soluble. By adding moisture, albeit a very tiny amount, to the final product, you are making it more prone to microbial growth. After a bit of investigation, I found a recipe online from a Spanish natural products company that uses d-panthenol. While they do sell natural preservatives, they didn't recommend one for their recipe. While my gut feeling is that a drop or two of d-panthenol won't add enough moisture to warrant needing a preservative (or even an emulsifier), I have never done a microbial test on a lip balm made with d-panthenol.
If you do decide to try to incorporate d-panthenol, don't go overboard with it. Stick to only using a drop or two to avoid separation and microbial growth.
Natural colorants for homemade lip balms
Eventually, I should write a post just focusing on natural colorants that can be added to homemade makeup. I once experimented with making lip balms with a wide variety of powders. I tried using everything from fruit powders (like dried strawberry and raspberry powder) to beetroot powder, etc.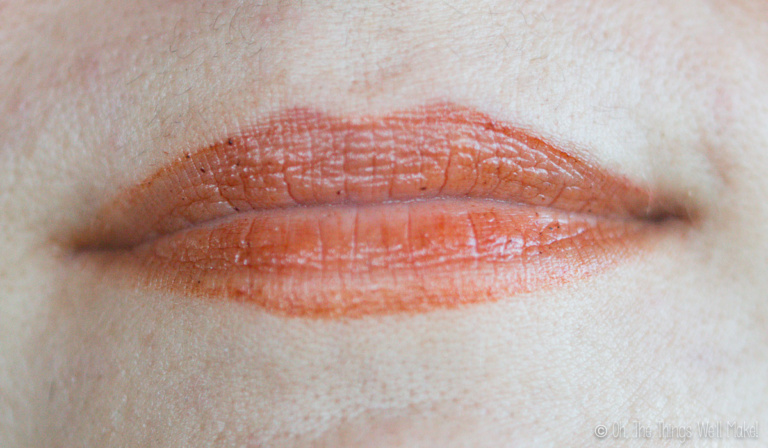 Most fruit and vegetable powders don't work well for coloring an oil-based product like this one. I was able to find two natural colorants that work amazingly well in this type of recipe: alkanet root and annatto powder (which is made by grinding the seeds of the achiote tree).
Annatto (achiote) is an orange-colored seed often used as a spice/natural food coloring in Latin American foods. Because it is oil-soluble, it easily disperses into the rest of the ingredients and works well to color lip balms and other cosmetics.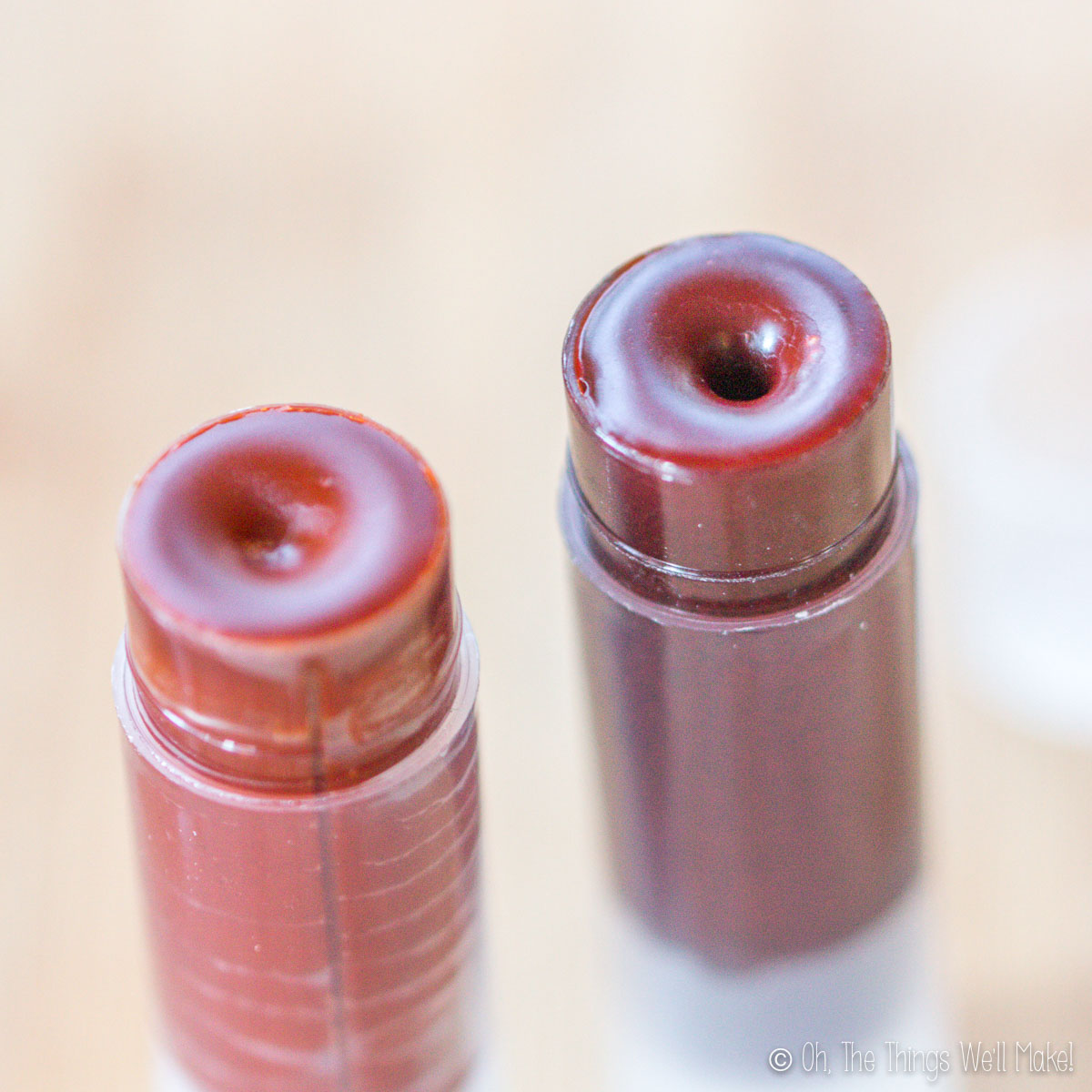 Alkanet is an herb whose root gives more of a burgundy red color. The colored lip balm in the pictures used a mixture of finely ground alkanet root powder and a touch of cocoa powder.
You can read more about how I used both in my non-comedogenic blush stick experiments. To get a more even color, it's important to grind the powder as finely as possible and mix it well with the other ingredients.
Iron oxides and micas can also be added to your lip balms to add color. I used both in my homemade costume makeup!
Optional flavor
To add some flavor to your lip balm, there are several options. Essential oils like peppermint or clove are great for adding flavor. Cocoa powder and/or cocoa butter can also add a mild chocolate flavor. If you prefer vanilla, try a vanilla oil or a non-alcoholic vanilla extract. (Follow the link to see how to make your own!)
Measuring the ingredients
While I normally prefer weighing out the ingredients for my homemade products, this recipe doesn't need to be as precise as a product that needs preservatives. The recipe is quite forgiving and can easily be modified, as needed, if it doesn't come out exactly as you wanted.
If you choose to weigh out the ingredients, jeweler's scales are the best choice for small recipes like this one. The benefit of using a scale is that it is easier to dose the essential oils properly (keeping them under 2% of the recipe by weight).
If not using a scale (and using measuring spoons instead), err on the side of caution when adding essential oils. Only add a few drops of essential oils to ensure not adding too much.
Procedure
Making the lip balm couldn't be simpler!
First, combine the wax, mango butter, and oils in a small pot or double boiler insert. If using the double boiler insert, add some water to a small pot and heat it over medium heat on the stove until the water simmers. Place the double boiler insert over the simmering water (lowering the temperature as needed), gently heating the ingredients until they melt.
If melting the ingredients directly in a small pot or pan, use low heat. (While I haven't done it personally, melting the ingredients in a glass bowl in the microwave should also work well.)
Once the wax and butter have fully melted, stir together all of the ingredients and remove them from the heat source. Add in any heat-sensitive ingredients like essential oils and vitamins and combine them well. Work quickly so that the mixture doesn't solidify.
Pour the mixture into lip balm tubes while liquid and allow them to cool uncovered until solid. If the mixture begins to solidify while you are trying to pour the mixture into the tubes, gently warm the mixture, just until melted, to finish the process.
If you are avoiding using plastic, look for cardboard tubes or consider using metal tins like I did with my solid perfume. (When using a tin, you'd need to apply the balm with your finger.)
Adjusting the recipe
As I stated earlier, I formulated this lip balm to be on the softer side so that it glides on easily. If you aren't happy with the consistency, you can remelt it and adjust the recipe as needed. For a more solid balm, try adding more wax or some cocoa butter. (In future batches, you could also reduce the amount of liquid oil used.)
For an even softer balm, increase the amount of liquid oil. (In future batches, you could decrease the amount of wax used instead.)
Video
Looking to make more?
Subscribe to my newsletter for the latest projects (and recipes)!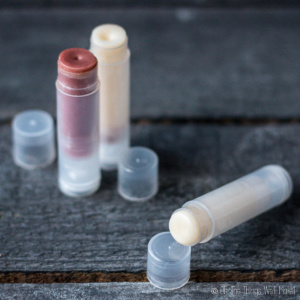 DIY Homemade Lip Balm
Soft and soothing, this easy, homemade lip balm can be whipped up in just a few minutes and will nourish chapped lips and skin.
Print
Pin
Rate
Instructions
Measure out the almond oil, jojoba oil, mango butter, and beeswax pastilles over a double boiler, heating gently while stirring until the beeswax and mango butter have melted and are fully mixed with the oils.

Remove the mixture from the heat source. Optionally add an essential oil (or a combination of several oils) and vitamin E.

Whisk together all of the ingredients, and then pour the mixture into empty chapstick containers or small aluminum tins. Use a rubber spatula to help remove all of the mixture. (You may need to reheat it to melt it enough to remove it.)

Allow the balms to cool completely and fully set before using. (Speed up the cooling time by placing the balms in the fridge or freezer.)
Notes
This makes a soft, smooth lip balm. If you want a harder lip balm, especially if making a colored balm, you can add slightly more wax.
This recipe yielded exactly 4 chapstick tubes for me, but I had to use a spatula to get everything out of the pan in order to completely fill the last tube.
New recipe
Yield: 3 tubes
4.4 grams St. John's Wort oil (1 teaspoon)
4.4 grams Rosehip oil (1 teaspoon)
5.6 grams mango butter (1 teaspoon)
2 grams beeswax (one half teaspoon)
Essential oils that support healing
Lavender
Frankincense
Peppermint (gives cooling, numbing sensation if concentration is too high)
Tea tree oil
Chamomile
Artemesia
Blue Tansy (will turn balm a light blue color)
The following cold-pressed oils can cause photosensitivity: (Use distilled instead to avoid issues.)
Bergamot
Lemon
Lime
Bitter orange
Grapefruit (Distilled may also cause photosensitivity.)
Apart from the citrus oils, some other oils, like petitgrain, marigold, lemongrass, and verbena, amongst others, may also cause photosensitivity.
This post was originally published on February 15, 2017. It was republished with new information, a new recipe, new photos and updated video.