Spiced and creamy (yet dairy free), this keto chicken Mulligatawny soup, made in an Instant Pot, is the perfect, healthy, comfort food.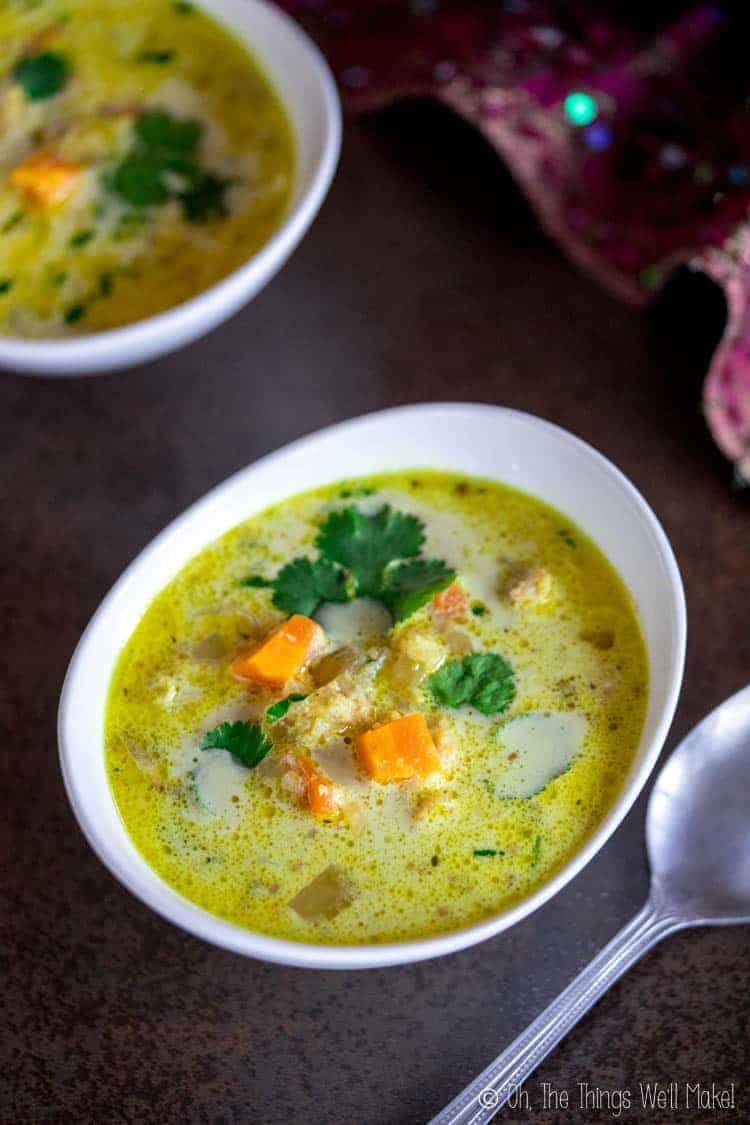 Today I'm reviewing yet another wonderful recipe and cookbook from a friend, Dr. Karen Lee of the Dr. Karen S. Lee blog. Her cookbook, Keto Cooking with Your Instant Pot, has lots of great recipes that are, well, keto approved and made in an Instant Pot. (Go figure, right?)
While I don't follow a keto diet myself, I do like to keep sugar and simple carbs to a minimum. Keto recipes, of course, fit that bill, so while I may not know the specifics for formulating a keto recipe myself, I do quite like following them. That makes her cookbook something that really appeals to me. I knew that it would be filled with wholesome recipes without extra sugar or anything that could throw my blood sugar out of whack.
Once again, I don't actually have an Instant Pot myself either (they aren't exactly easy to come by here in Spain), but I do have a similar type of electric pressure cooker with a stainless steel insert. (I avoid any that have a non-stick type coating).
Luckily, the recipes that I have tried are quite adaptable to my pressure cooker, and I'm sure they will work well with any similar appliance.
What can you find in the Keto Cooking with Your Instant Pot Cookbook?
Karen's book includes 75 delicious keto recipes and it's divided into the following chapters:
Breakfasts of Champions; Nourishing Soups and Stews; Protein Packed Grazers; Fat Packed Feathers; Satiating Swimmers; Green with Envy; Un-Guilty Pleasures
Because it's been cold around here lately, I decided to review a recipe from her Nourishing Soups and Stews chapter, Chicken Mulligatawny Soup.
What is Mulligatawny Soup?
Mulligatawny soup is a curried type soup that got a bit of fame in the '90s when it was featured on the sitcom Seinfeld. Or, at least that's when I learned about it. Any time I see something with an unusual name, I'm intrigued. I love to try the new and unusual, and Mulligatawny soup is no exception. I saw the "Soup Nazi" episodes and decided to look up how to make the soup afterward.
Here you can see how Elaine gets revenge on the Soup Nazi by letting him know that she has the recipe to his Mulligatawny soup (and all of his other recipes).
Where is Mulligatawny Soup From?
Mulligatawny is an English soup with a Southern Indian origin. What does that mean?
They think that long ago Indian cooks in Britain concocted Mulligatawny soup as a way to fulfill the Brit's need for soups. It's said to be adapted from a dish called rasam.
Is Mulligatawny soup Healthy?
Mulligatawny soup recipes actually vary quite a bit. Some use rice, some use lentils. Some use apples and some are vegan. What all Mulligatawny soup recipes seem to have in common, though, is that they all use curry spices and coconut milk. Most also have carrots and onions.
I think that most Mulligatawny soups are quite healthy as they fill you up with healthy fats and vegetables. They don't have a lot of sugar and they're creamy, but there is no dairy involved. The spices themselves also arguably have antioxidants and other health benefits. The curry gives us a nice dose of turmeric which is combined with black pepper to help make it more effective.
So, overall, I think it's a great healthy recipe that you can tweak to fit your particular diet. I'd avoid the canned versions, though, especially since it's quite easy to make yourself.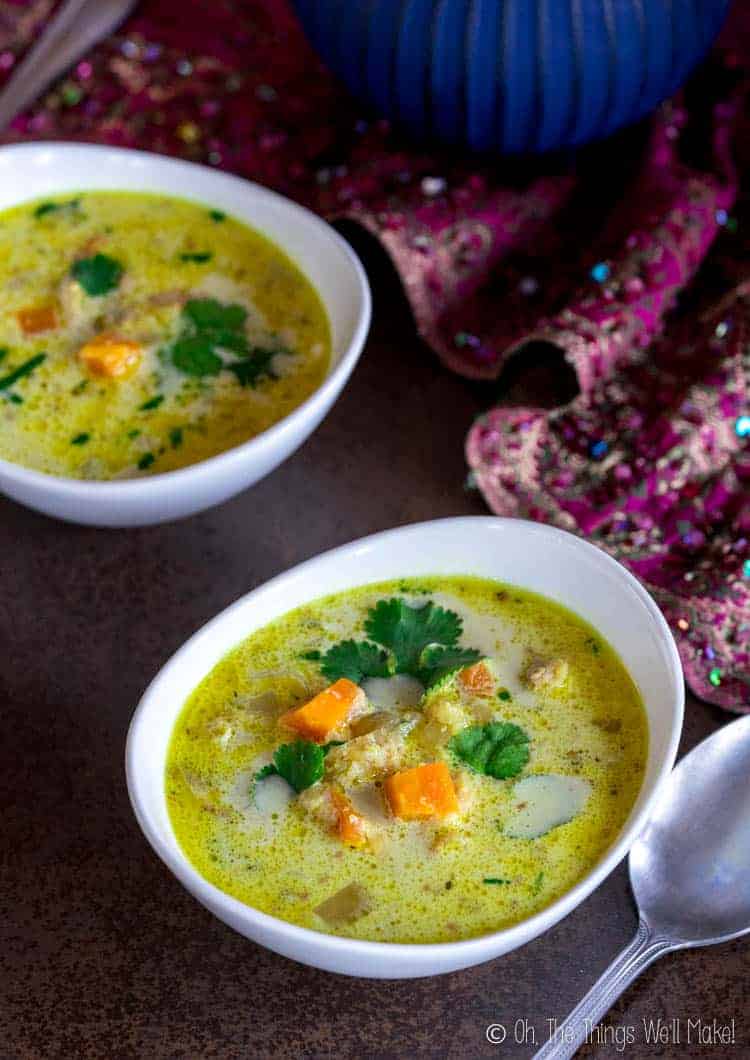 What Does Mulligatawny Soup Taste Like?
Mulligatawny soup is creamy and spicy, making it an ideal comfort food in winter.
What Spices are in Mulligatawny Soup?
Mulligatawny soup uses curry spices, which vary from curry blend to curry blend. Most curries, though, use turmeric, which gives them their characteristic yellow color, cardamon, cumin, ginger, coriander, and cinnamon. The soup also uses black pepper to give it a kick and this recipe also adds extra fresh ginger, which I happen to love!
Karen also includes thyme, nutmeg, and cilantro in her recipe, and they all come together perfectly!
Video: How to Prepare Mulligatawny Soup
Chicken Mulligatawny Soup
Craving more?
Subscribe to my newsletter for the latest recipes and tutorials!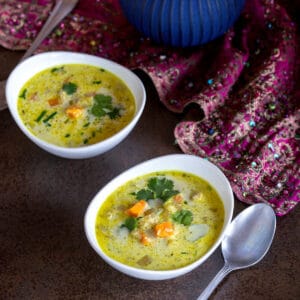 Chicken Mulligatawny Soup
Recipe reprinted with permission from Keto Cooking With Your Instant Potby Dr. KarenS. Lee, Page Street Publishing Co. 2018.

The name of this dish might be a bit tricky to pronounce but once the silky creamy taste lingers in your mouth, you'll learn the name very quickly. There's something about the combination of coconut milk and spices that leaves your taste buds longing for more. Usually made with potatoes and lentils, this Indian soup is

Ketofied

with cauliflower.
Print
Rate
Ingredients
4

tbsp

butter

1

small onion

5 oz or 142 g, chopped

2.5

cm

ginger root

minced, fresh

1

celery stalk

chopped

2

small carrots

diced

2

tsp

curry powder

1

tsp

sea salt

½

tsp

black pepper

freshly ground

1/8

tsp

ground nutmeg

1/8

tsp

dried thyme

8

chicken thighs

bone-in and skinless

3

cups

chicken broth

2

cups

raw cauliflower rice

or minced florets

2

cups

coconut milk

full fat

¼

cup

fresh cilantro

chopped, plus 1 tbsp (1 g) for garnish
Instructions
Turn on the Instant Pot by pressing "Sauté" and set to "More." Insert the inner pot and wait until the panel says "Hot."

Melt the butter in the inner pot and sauté the onions and ginger for 2 minutes or until onions are soft.

Add the celery, and carrots and stir for 1 minute.

Add the remaining ingredients except for the coconut milk, and cilantro. Hit "Cancel."

Close the lid tightly and move the steam release handle to "Sealing."

Press "Pressure Cooker/Manual" button and set the timer for 15 minutes on HIGH pressure.

When the timer ends, allow the Instant Pot to cool down naturally until the float valve drops down. Open the lid and stir in the coconut milk, and cilantro. Press "Cancel."

Ladle the soup to bowls and garnish with reserved cilantro. Serve immediately.
Notes
I suggest taking the skin off the bone-in thighs but if you need more fat, you can leave the skin on.
Serving:
1
bowl
|
Calories:
427
kcal
|
Carbohydrates:
9
g
|
Protein:
21
g
|
Fat:
36
g
|
Fiber:
3
g
How did we like the recipe and the rest of her cookbook?
I loved this recipe!
Surprisingly, my husband loved it too. I say surprisingly because my husband isn't normally a curry fan. or is he a soup fan. He used to hate most of the curry spices. As he cleans up his diet, though, he's been adding a lot of different foods to his diet. Because the curry was combined with the coconut milk and chicken broth, the resulting combination is a creamy, thick soup, the only kind he really ever liked. (That said, even that has been changing lately.)
Guess who was the one asking for the leftovers?
Because I don't follow a keto diet, and my husband and I were looking to get in more veggies, I have to admit to using less chicken and more cauliflower rice. I've also since made this by adding in other mild veggies like zucchini. That worked wonderfully in the recipe too!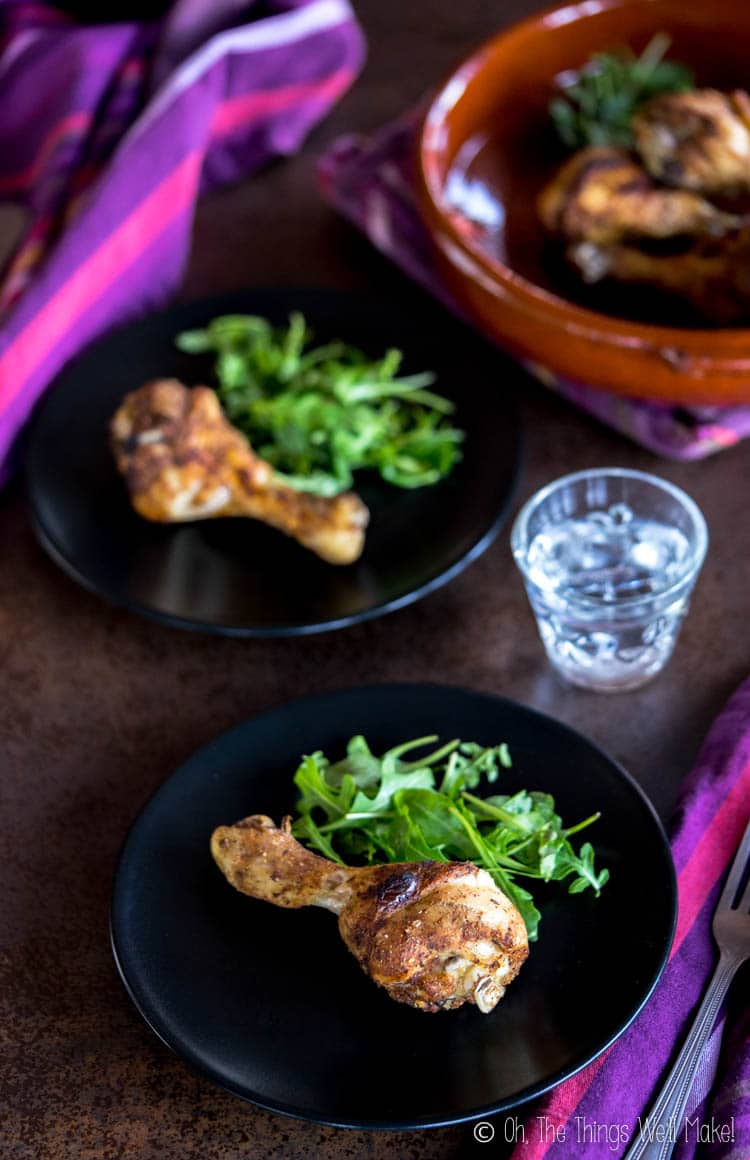 Since then, I've tried another one of her recipes, her chicken drumsticks. I was afraid that they were going to be too spicy, but we quite liked them too.
If you're looking for a great keto cookbook, and for new ways to use your Instant Pot or pressure cooker, I highly suggest checking out Karen's book!
If you already have it, I'd love to hear about your favorite recipes so I can give them a try too!