One of the best comfort foods, this slow cooker beef casserole, or paleo stew, is very easy to make, filling, and very nourishing. What better way is there to warm up on a cold winter's day?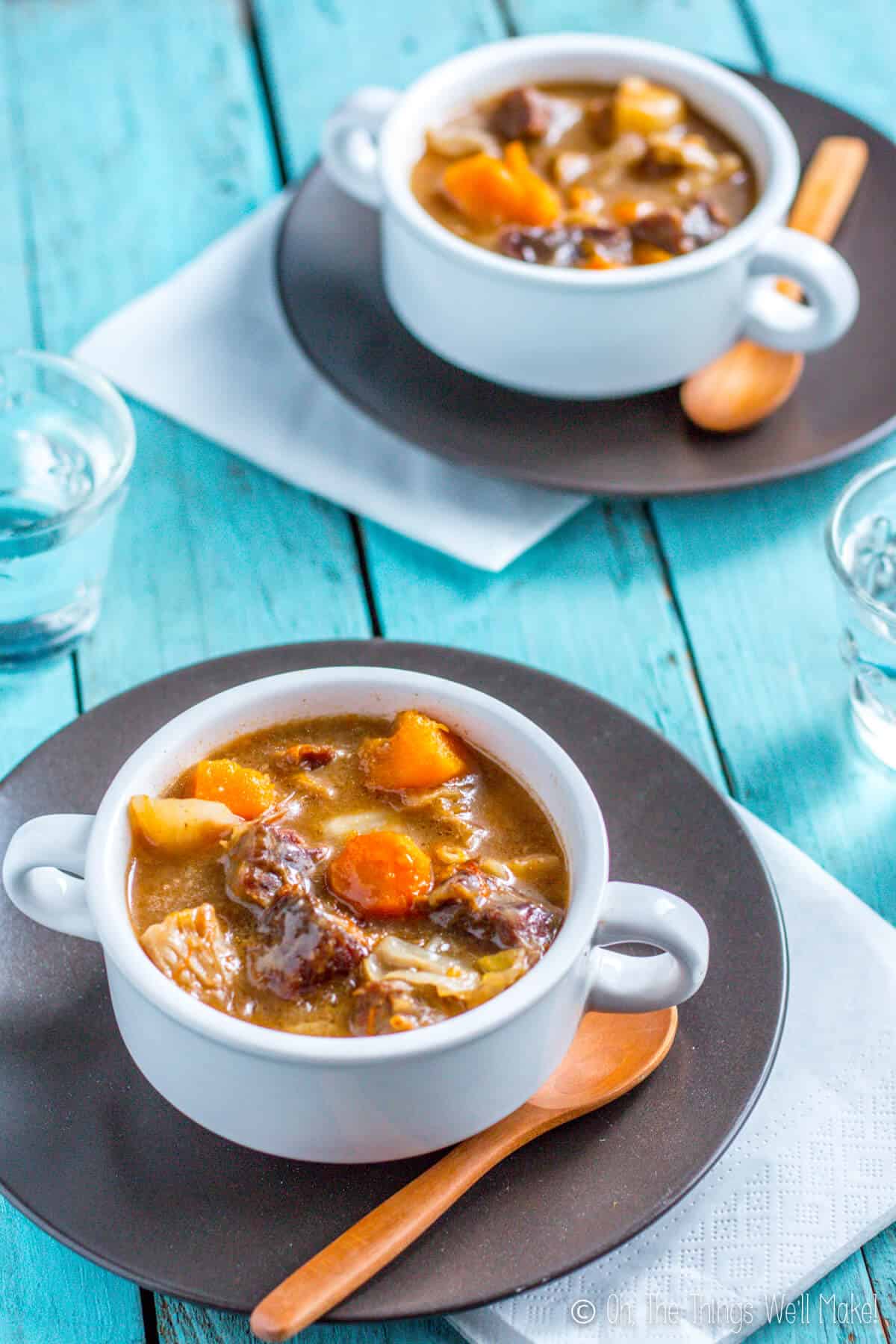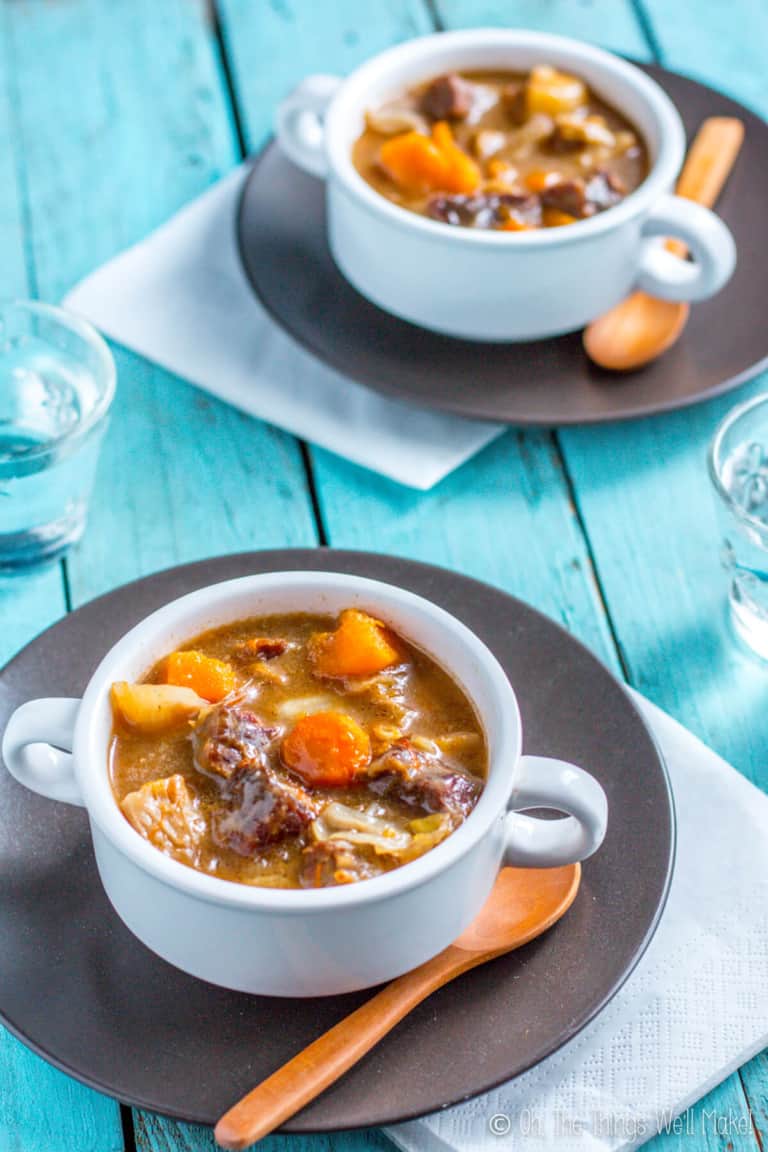 Now that it is officially cold enough here to be wanting to eat soups and stews almost daily, I have been experimenting with all sorts of different combinations of meats, fish, and vegetables.
To be honest, I've never been a huge fan of stews. Maybe it's because I've never really liked soups with potatoes in them, and most stews are packed with them. Lately, though, I have also been trying a lot of vegetables and have found some new vegetables that I never knew I liked.
I've always loved butternut squash, but who'd have thought I'd love parsnips as much as I do? 😉
Parsnips have been showing up on my plate a lot lately, and I've been using them in vegetable puree soups, as baked fries, and to take the place of the potatoes in this slow cooker beef casserole.
Once the potatoes were ditched to make room for other veggies, not only does it fit into my new way of eating better, but I was surprised to find that I actually like it a lot more.
The nice thing about making this in the slow cooker, is that you can quickly throw the ingredients together in the morning, and come home to dinner already made, a stew with perfectly tender meat and hearty vegetables.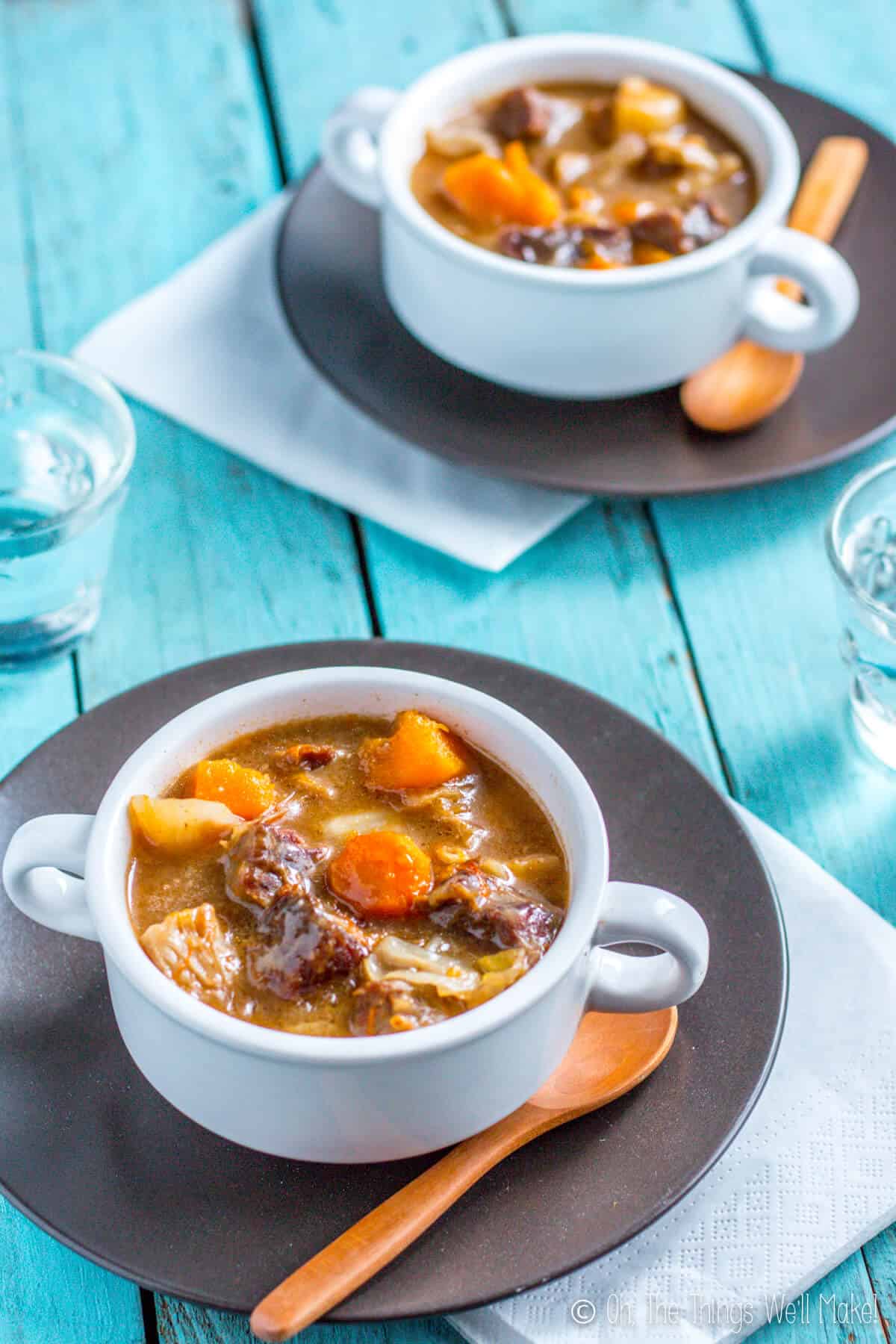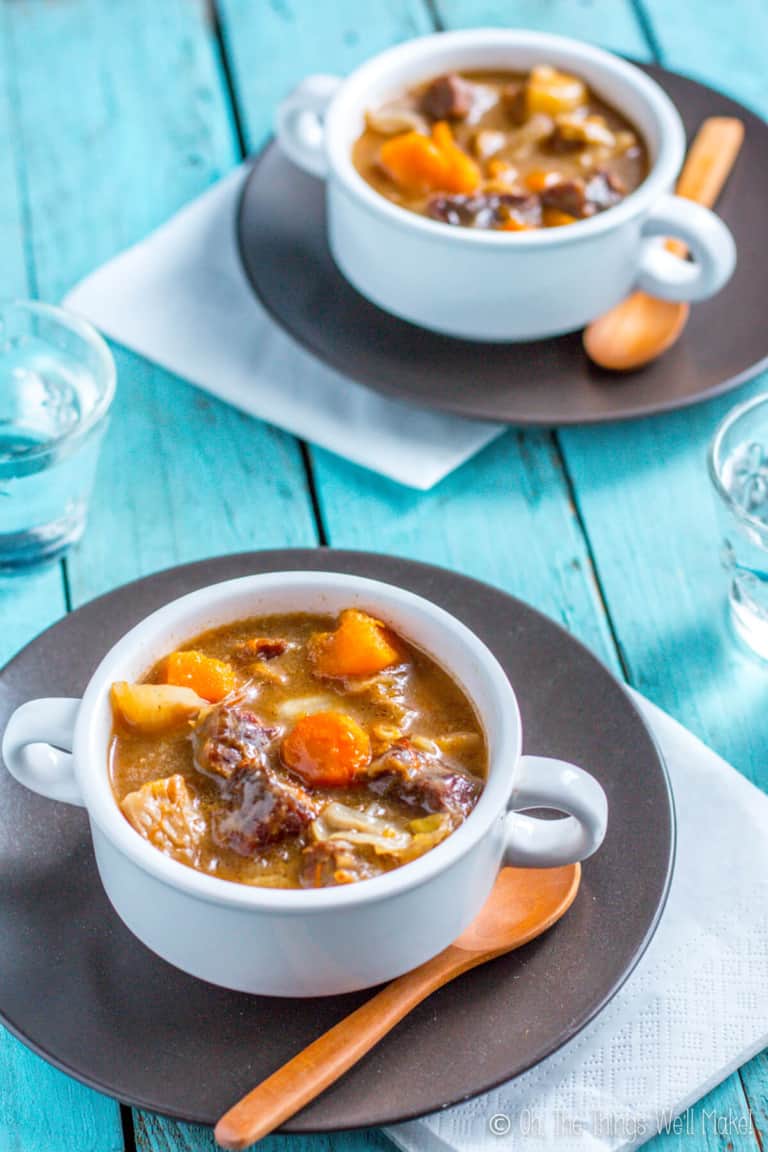 As for the name? Is it a beef casserole or a beef stew?
Maybe we can start a debate. 🙂
When I was growing up, these hearty soups with lots of potatoes and without a lot of liquid were always referred to as stews, but I've been hearing them referred to as casseroles more and more each day. I can't tell if it's because I'm on the other side of the Ocean, or if it's because the names have changed with the times. I was curious enough about it, though, to read up on the terms.
After a bit of research, I found that many people use the terms interchangeably, but others think that stews are made on the stovetop while casseroles are made in an oven in a ceramic dish. Since I make this in a ceramic dish of sorts, but neither in the oven nor on the stove, I decided to just use both names giving preference to slow cooker beef casserole because I think of stews as filled with potatoes. You, though, can call it whatever you like. 😉
I hope you enjoy it either way.
Craving more?
Subscribe to my newsletter for the latest recipes and tutorials!

Ingredients
2

lbs.

stewing beef

1/3

cup

tapioca flour

1

Tbsp.

lard

or tallow or oil of choice

3

cloves

garlic

1/2

tsp.

salt

1/2

tsp.

paprika

1/2

tsp.

sage

1

leek

3

stalks

celery

4

carrot

2

parsnips

1/2

onion

1/4

butternut squash

1 1/2

cup

cabbage

1 1/3

cup

broth
Instructions
Preheat the slow cooker to high.

Cut the beef into 1 inch cubes.

Mix together the tapioca flour, salt, paprika, sage, and freshly ground pepper in a bowl. Add the beef cubes and combine until they are well coated.

Add the lard or tallow to the slow cooker, and when they have melted, add the minced garlic and the coated beef. Allow them to cook, stirring occasionally, while you prepare the vegetables.

Wash all vegetables and peel the onion, carrots, parsnips and butternut squash. Slice the leek, celery, carrots and parsnips down the center (or quarter them if large) and then slice all the way down the length. Add them to the beef in the slow cooker.

Cut the onion, cabbage, and butternut squash into cubes, and add them to the slow cooker with the beef and the rest of the vegetables, and mix everything together.

Turn down the heat on the slow cooker and add the broth or stock of your choice. It will look dry at this stage, but once the meat and vegetables release their liquids, you will end up with more of a stew.

Cook at low heat for 7-8 hours, or until the meat is tender.