Looking for a fun side dish that's quick and easy to make, and healthier than regular french fries? These baked pumpkin fries are one of our family favorites.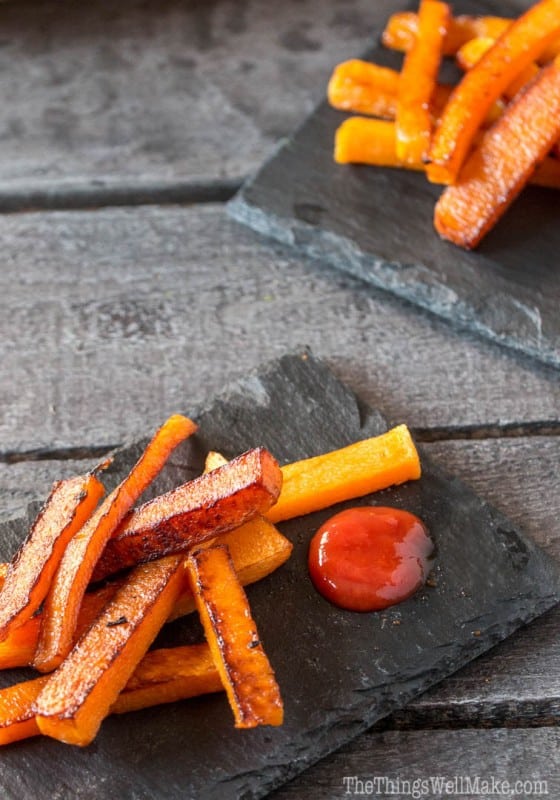 Last year, I showed you how I love to make baked sweet potato fries at home because my son loves them and gobbles them all up. Really, though, everybody in the family fully enjoys them.
This year I decided that I would try a few other fry varieties. I've recently discovered that I love parsnips and turnips after making myself try some new root veggies again later in life. So far I love them in soup, but I think that both would make great candidates for potato fry alternatives. Seeing as I had a couple of pumpkins in my fridge for Halloween pumpkin recipe elaboration, I started by making pumpkin fries first.
The result was love at first bite!
Pumpkin fries are really fun for this time of year now that Halloween and Thanksgiving are on the way. These fries could be easily decorated to look like mini jack-o-lanterns for Halloween, but refined enough to serve as a Thanksgiving side dish.
What's also great about them is that they can be easily customized to suit your taste. Want something spicy? Add a sprinkle of cayenne! Want a sweet dessert variety? Use a neutral flavored oil and sprinkle with sugar and pumpkin spice. Heck, they'd probably be great dipped in my pumpkin spice dip!
I loved them so much that I have made them several times by now and have used several different methods. By now I can tell you that the pumpkins you use makes a huge difference in your final dish. If you have a softer pumpkin, for example, the fries will hold up better if you actually deep fry them in an oil rather than try to bake them.
Here in Spain you can't find canned pumpkin- something I wouldn't use anymore anyway since it's so easy to make your own pumpkin puree. What is available, though, is vacuum sealed peeled and seeded pumpkin cut into sections for quick and easy vegetable soups. One day I decided to try buying a package out of curiosity and sliced up the pumpkin pieces for making pumpkin fries. Baked in the oven they became limp, and I ended up salvaging them by deep frying them.
Lesson learned.
Since then, I have tried making these pumpkin fries with both fresh butternut squash and a local round green pumpkin variety, and both have worked quite well for making baked fries. While the process is the same as with making sweet potato fries, I actually think that these are easier and quicker to make. Perhaps they brown a little quicker for me.
Let's make some baked pumpkin fries!

This post is also available in Español.