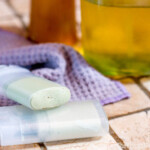 Print
Natural Homemade Deodorant for Sensitive Skin
Soothing, yet effective, this natural homemade deodorant stick works without baking soda nor coconut oil, and uses zinc to help combat odors for those with sensitive skin.
Makes around 75 ml (5 small 15ml tubes, or one larger 75ml tube)
Melt together the shea butter, almond oil, beeswax, and zinc ricinoleate in a double boiler until the wax and zinc ricinoleate melt. Remove from the heat.

Add in the zinc oxide, matcha powder, vitamin E drops, and essential oils, and whisk together well until the zinc oxide is well incorporated into the oils and wax.

While still warm, pour the mixture into deodorant containers. You can also pour it into tins, or pour any excess into storage containers, for applying the deodorant by hand.

Allow the mixture to cool off and set without disturbing it. Once it has set, you can use it immediately!
Matcha is optional for antioxidant/anti-inflammatory properties and a bit of color.
Use the essential oils of your choice for scent. (Or leave them out completely for unscented.)
If you prefer a roll on deodorant, I have a new recipe for a natural roll on deodorant that also uses zinc.