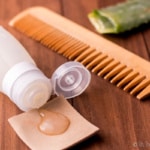 Print
Easy Homemade Hair Gel (With or Without Aloe Vera)
This easy homemade hair gel can be made with or without aloe vera, and is the perfect natural hair gel for when you are on the go. It can be preserved with natural preservatives for up to 3 months.
Mix together the xanthan gum with the aloe juice or distlled water. This is easiest when using an immersion blender.

Add in the Leucidal, or another natural preservative if you plan on keeping the gel for more than a few days. You can also add in any essential oils that you like for scent and hair beneficial properties. Lavender and rosemary are great oils for your hair and smell great in a homemade hair gel.

If you have lumps of xanthin gum, you can either heat up the mixture to help dissolve them. You can also leave the gel to rest for several hours so that the clumps are better hydrated. After several hours, you can blend the mixture again and the clumps should disappear.

Pour the gel into storage containers. I prefer silicone travel tubes because it's easy to dispense the gel without contaminating it with bacteria from your fingers. They also travel well without spilling or leaking.

You can use the gel on both wet or dry hair. I usually use it right after having towel dried my hair. I find that it defines my curls well as my hair dries. You can also apply it to frizzy hair or dry hair when you want to smooth it or define your curls. I often wet my hands and dampen my hair slightly with my wet hands before working the gel in so that I can distribute the gel well more easily.