If you're looking to make the perfect Valentine's Day salad, I'll show you how to make bacon roses and strawberry hearts, perfect for dressing up your salads or garnishing your holiday plates year-round!
I have always loved Valentine's Day, even before I had finally found my valentine to celebrate with. As a kid, I loved exchanging fun valentines with my friends at school. I remember making mailboxes out of old boxes or milk cartons at school, and sorting out my valentines at home so that I could give the uglier ones to the boys. 🙂
Lots of things have changed since then, but I still love the holiday for what it represents. I love seeing stores adorned with red hearts and roses while playing soft, romantic tunes.
I'm too practical to really want a bouquet of flowers. Perhaps that's why I like adorning my food instead. It's my own crazy way of celebrating the holiday. (And by now, you probably know I love to celebrate holidays!)
I have to admit that sometimes my husband thinks I'm a bit crazy, but he happened to really love this Valentine's Day salad when I served it to him last night. "This is really good," he said!
Finally, something we can both agree on.
This is really simple to make, yet very elegant and impressive. With fresh strawberries in season here in Spain, I couldn't resist adding a few strawberry hearts to the salad.
How to Make Bacon Roses
Nothing says "I love you," like bacon roses unless your Valentine happens to be vegetarian, of course!
I have seen elaborate bouquets of bacon hearts for sale online. Something about having the bacon roses wired up with florists' wire and tape and surrounded by plastic or cloth leaves didn't sit well with me.
If you're going to go to the trouble of making an edible flower, why not surround it with edible greens? (That's how the idea of the Valentine's Day salad first came to me.)
Making bacon roses is actually quite simple, though. If you can roll up a strip of bacon, you can make a beautiful bacon rose!
Forming the rose shape
Begin by rolling up a strip of bacon from one end. If the strip of bacon is very wide, cut it in half lengthwise. That makes it easier to work with and also gives the finished rose a more delicate look. (Plus, smaller bites on a salad are easier to eat.)
To get the bacon rolls to look more like the rolled petals of a flower, though, it helps to let the top edges roll down. You can help push the top edge down as you roll up the bacon. Not only does this give the bacon the look of petals, but it also gives more volume to the top of the flower vs. the bottom.
Cooking the bacon roses
Preheat the oven to 375ºF/190ºC while you are finishing making your roses.
Once you've formed the roses, you'll need to hold them together for baking. There are several ways to do it.
I found that the easiest way was to bake them in the same silicone cube-shaped ice cube trays that I use to freeze fruit purees, homemade pumpkin puree and sauces like homemade tomato paste and pesto.
The size of the ice-cube trays is perfect for holding the shape of the bacon and keeping it from unraveling.
I love those trays and use them all the time for all sorts of things. But, if you don't have them and don't want to buy something like that, you can also use mini muffin trays instead. I've also used a textured silicone baking sheet successfully for holding them in place.
When using a similar baking sheet or mini muffin trays, you may need to use toothpicks to help keep them from unraveling. Wrapping aluminum foil around the roses can also close up the space to help keep them rolled up while baking.
Once you've filled the trays, you are ready to bake them until they get brown and crisp.
Throughout the baking process, check on them occasionally. You want to make sure that the roses stay in place. If you find that they are getting too dark on top, but aren't fully cooked on the bottom, carefully flip the roses over to cook the bottom. (By that point, they should hold together well on their own.)
How to Make Strawberry Hearts
To make the salad even more romantic and befitting of a special Valentine's day meal, strawberry hearts are the perfect garnish.
Luckily, strawberries already have a conical shape. That makes it super easy to quickly convert them into hearts.
When cutting off the top stem of the strawberries, cut a small v-shape from the top center part. By just doing that, the strawberries already look like 3-d hearts!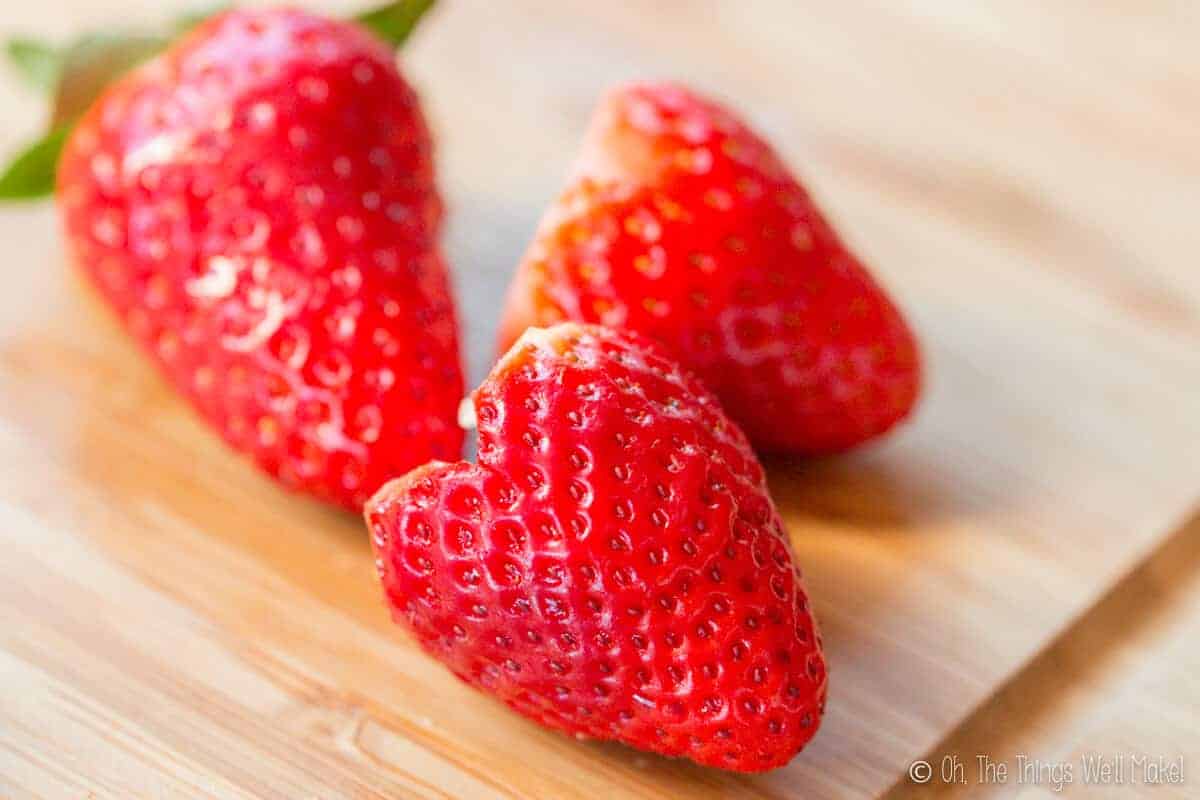 For your salad, it's best to slice the heart-shaped strawberries. This allows you to spread them out and makes for smaller bites when eating it.

Watch how to make bacon roses and strawberry hearts
Putting the Valentine's Day salad together
I kept this salad simple to highlight the bacon roses and strawberry hearts. That said, you can personalize it by adding other ingredients to suit your taste. This salad would be lovely sprinkled with crumbled goat cheese and some walnuts, perhaps.
Another idea is to incorporate the bacon roses and strawberry hearts into my festive goat cheese salad to make a more complete salad.
Easy, Festive Caramelized Goat Cheese Salad with Walnuts
This easy, caramelized goat cheese salad with walnuts is elegant enough for festive get togethers, yet simple enough to make as an every day meal or side.
Check out this recipe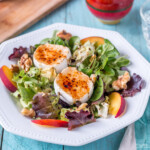 To give the salad a bright, visual appeal, I used baby spinach as the base of the salad. In some areas, I made little "nests" of spinach leaves for nestling the bacon roses inside.
Once the roses were "planted," I decorated the open areas of the salad with the strawberry heart slices.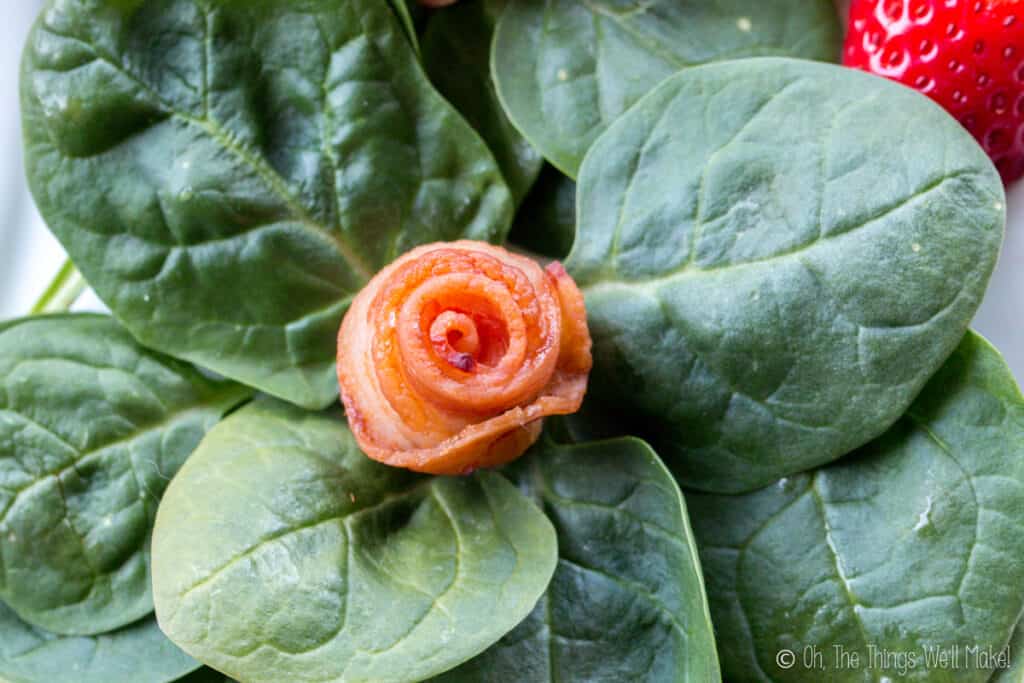 To finish off the salad, drizzle it with a light dressing of your choice.
Dressing ideas
I normally drizzle salads like this one with a homemade balsamic reduction. It's a super simple, mildly sweet addition that is perfect for salads that incorporate fruits and/or cheeses.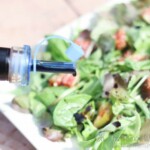 Another homemade salad dressing that would be perfect for this salad is salsa rosa. Salsa rosa is one of the most popular salad dressings here in Spain. It is often used on green salads that include either fruit or seafood or in seafood cocktails. It's also the sauce that binds together the popular creamy seafood salad.
Salsa Rosa (Spanish Cocktail Sauce)
This pink Spanish seafood cocktail sauce, salsa rosa, is creamy, sweet, and tangy. It's also commonly used as a salad dressing for seafood salads or those with fruit in them.
Makes around 1.5 cups of sauce, depending upon the amount of oil, juice, and ketchup added
Check out this recipe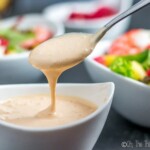 Valentine's Day Salad Recipe
Craving more?
Subscribe to my newsletter for the latest recipes and tutorials!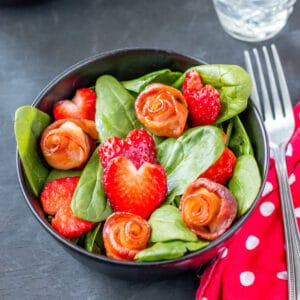 Valentine's Day Salad: Baby Spinach with Bacon Roses and Strawberry Hearts
Give your Valentine's Day meal a special touch with this gorgeous salad adorned with bacon roses and strawberry hearts!
Print
Pin
Rate
Instructions
Make bacon roses
Preheat oven to 375ºF/190ºC

Take each strip of bacon, and roll it into a rose shape. If the bacon strips are wide, you'll make more delicate, realistic looking roses by cutting them in half lengthwise before you begin rolling them up.

To make them look more realistic, leave them slightly loose and let the edges fold over upon themselves at times. I used the edge with the fat on the top of the rose, and that seemed to work well.

Place the bacon roses into small muffin tins or silicone ice cube trays to help them hold their shape as you bake them. I used silicone cube-shaped ice cube trays, and they were the perfect size for holding the roses up and together. If you are using tiny muffin tins to hold the bacon roses, you may need to add aluminum foil to the tins or use toothpicks to help keep them in place.

Keep checking on them to make sure they aren't falling over or burning. Bake the bacon roses in the oven until they get brown and crisp. If the roses are browning on the top but are uncooked on the bottom, carefully flip them over to cook the bottoms for a few minutes.
Make strawberry hearts
Cut the stems off the strawberries.

Cut a small v-shaped wedge out of the top center part of the strawberries to make them look like hearts. Cut the shaped strawberries in slices to form several thinner strawberry hearts from each strawberry.
Put the salad together
Wash and spin dry the baby spinach leaves, and start arranging them, right side up, in small groups of leaves into which you will place your bacon roses.

Strategically place your bacon roses and strawberry hearts on the bed of baby spinach, creating a beautiful salad.
Notes
Most of the components of this salad can be made ahead of time. The bacon roses can be premade, and the strawberries can be washed, dried, and carved. They can then be sliced and placed on the salad at the time of serving.
The above recipe makes 2 salad with 2 cups of spinach each, 3 bacon roses (or 6 smaller ones if you cut the strips in half lengthwise), and 2 sliced strawberries on each salad. The nutritional information is based on one salad made in that way without the added dressing.
The salad can be further garnished with walnuts, goat cheese, or other favorite toppings of your choice. Caramelized goat cheese would also be a great addition to the salad. You can also choose whichever dressing you prefer.
Serving:
1
salad (without dressing)
|
Calories:
296
kcal
|
Carbohydrates:
4
g
|
Protein:
10
g
|
Fat:
26
g
|
Saturated Fat:
8
g
|
Cholesterol:
43
mg
|
Sodium:
484
mg
|
Potassium:
502
mg
|
Fiber:
1
g
|
Sugar:
1
g
|
Vitamin A:
5625
IU
|
Vitamin C:
30.9
mg
|
Calcium:
59
mg
|
Iron:
2
mg
If you've enjoyed this recipe, I'm sure you'll also love making chocolate covered strawberry hearts! With the leftover strawberries from your salad, you have a quick and easy (and romantic) dessert!
Chocolate Covered Strawberry Hearts
Perfect for Valentine's Day or any other special occasion, these chocolate covered strawberry hearts are a simple, healthy treat that will surely be appreciated by those you love.
Check out this recipe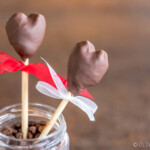 This post was originally published on February 4, 2015. It was rewritten with clearer instructions, new photos, and added video in January of 2020.