Making snack carriers, or snack envelopes, for transporting food on the go is a simple and quick project. They're super cute and help you use less disposable plastic bags.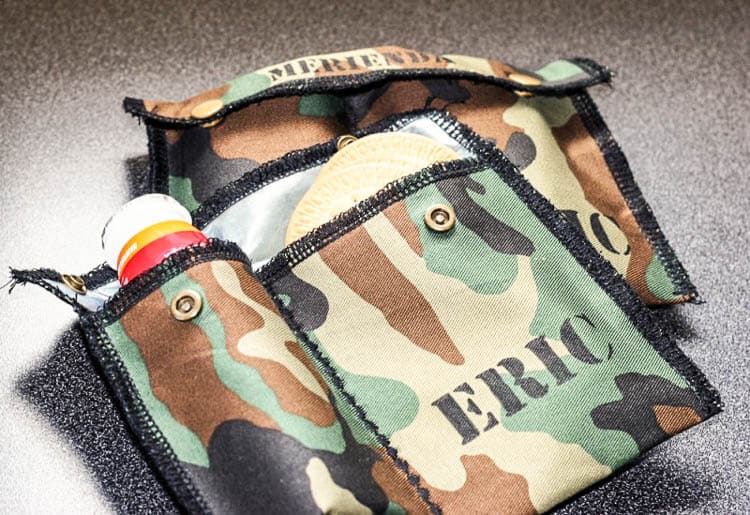 If you'll recall, in my last post I was looking for a cute way to send my son to school with some sort of reusable snack carrier.
When working on sewing up something, I got sidetracked and ended up sewing some sandwich wraps. While they will probably come in handy, it wasn't really what I was looking for. I wanted something reusable that would hold his morning and afternoon snacks together without any of the items getting soggy or too dry.
I started out by making a few plastic or cloth lined, envelope-like bags as snack carriers. The first ones that I made were pretty much the perfect size for holding a sandwich. They don't give the same benefit of being a plate/tablecloth when open, but they are more simple to use. So, I think I almost like the idea of a sandwich envelope better than a sandwich wrap.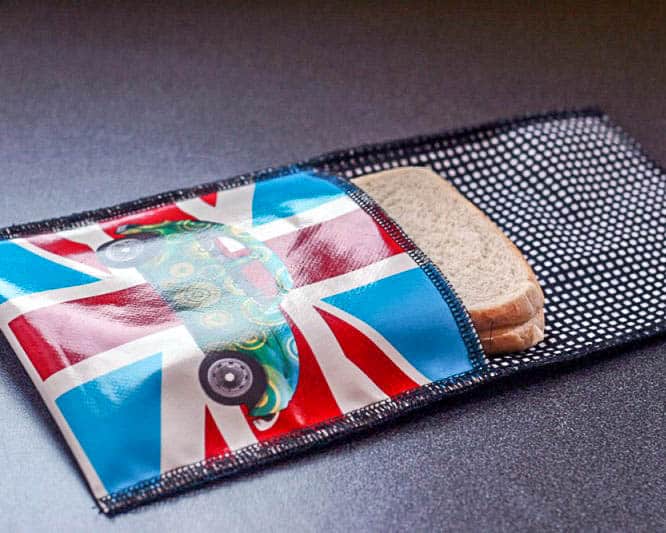 The sandwich wrap was closer to fitting my needs for sending my son's snacks to school.
I didn't want to have four separate envelope bags for his four separate items, though. I wanted to be able to keep the morning snack items together and the afternoon snack items together but separate from the morning snacks.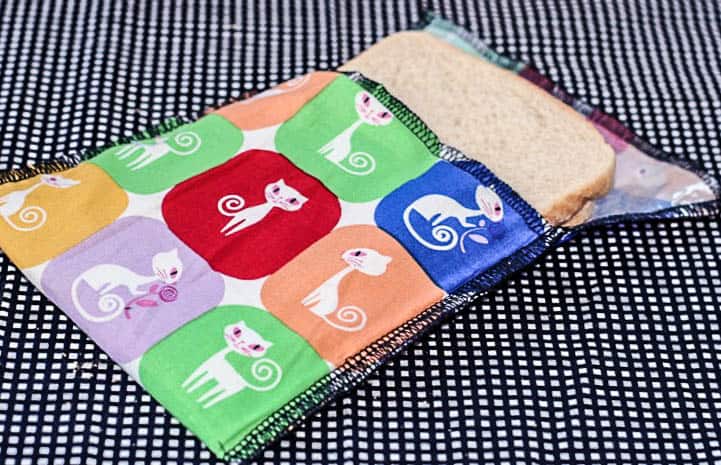 So, I decided to make some different, wider envelopes with a sewn compartment barrier.
My first thought was to basically sew two of the envelopes together back to back. I did even end up making one of those type carriers. I found, though, that something not-so-flat like his yogurt bottle pushed against the other envelope, and I imagined my son getting to school with broken cookies!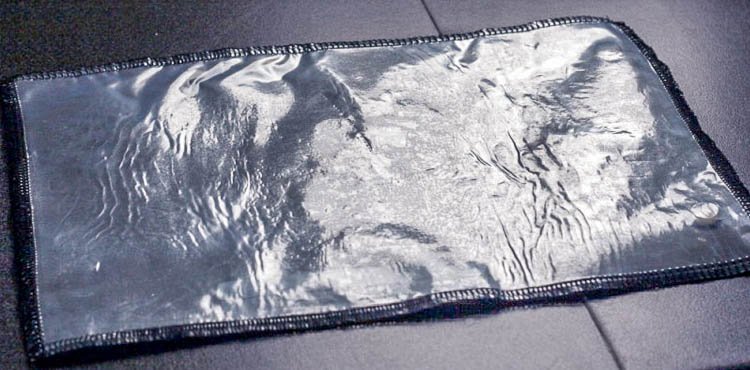 Since then, I have gone with the other option, and like it better. I was a bit lazy about having to bring out my other (regular) sewing machine, but, in the end, it was worth it.
So, to make the snack carrier, you basically just start out with a rectangle that is a little bit wider than what you want your final carrier to be. It should also be a bit longer than twice the height that you want. I lined the rectangle with some fused plastic made from used ziplock bags, like I had in Part 1 for the sandwich wrap. Just like I had done before, I kept the plastic side down when sewing together because it was easier to keep it all smooth that way.
I had decided that I was going to want to use some plastic snaps for the closure, and figured that the most sanitary way to do things was to keep the snap underneath the plastic layer, rather than going through both layers later on. So, I placed the two bottom snaps before sewing up the final side of the rectangle.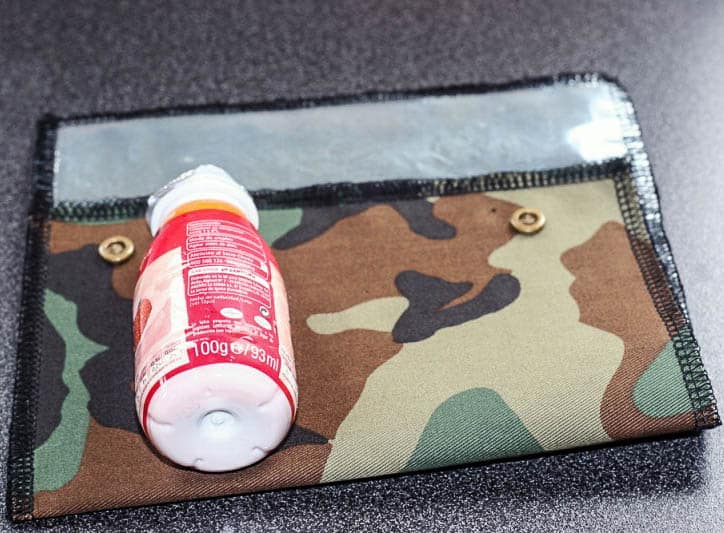 Once I finished sewing the sides of the rectangle, I folded up the side with the snaps, forming an envelope-like sleeve. Then I squared it up and drew a straight line down both sides. I serged down each side on the line which closed up the envelope and squared it all off, all in one step.
Basically the snack envelope was finished; easy as that!
In my case, I still needed to finish it off with the two snap top pieces.
The envelope flap doesn't touch the food, and the snap top really needed to be on the plastic side anyway, so I just pushed the snap through both layers this time. Instead of a plastic snap, you could also use velcro or any other type of closure.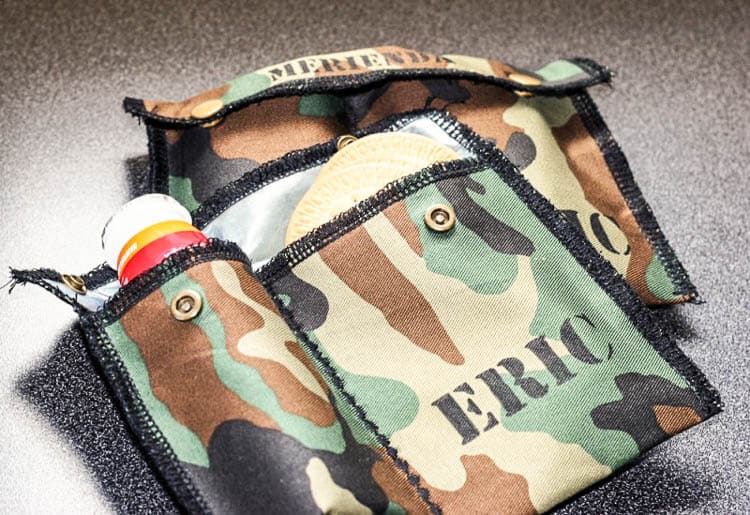 I sewed a seam down the middle of mine so that I could put Eric's yogurt on one side and his cookies on the other side. Then I made another one for his afternoon snack which will hold his cheese on one side and his crackers on the other.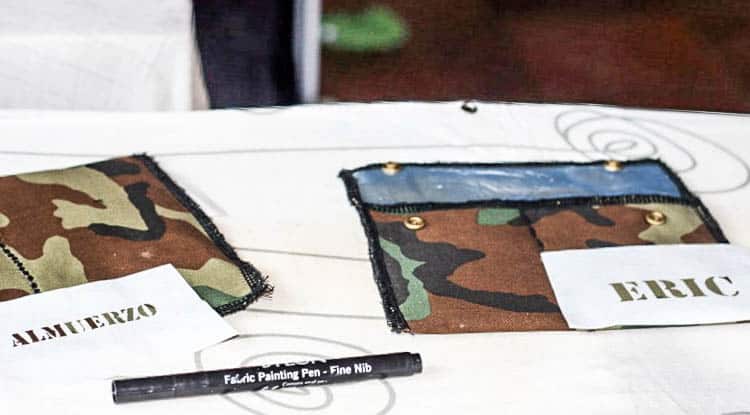 The nice thing about this project, apart form being handy, is that you can use cloth scraps that you have around, and can recycle already used ziplock bags. I tend to reuse my ziplock bags several times to hold the clean lettuce from my garden in the fridge. Once I have gotten a few uses out of the bags, and they start to look a little worn, from now on I plan on fusing the plastic to make fabric for these types of projects.
A little bit larger version would make a great cosmetic travel bag or something like that. Hopefully this has given you ideas for something that you can make and use yourself!
This post is also available in Español.