Learn how to make coconut milk, coconut butter, and coconut flour from shredded coconut. It's easy, inexpensive, and you control the ingredients.
Those who know me well, know that I should have been born somewhere with coconut palms.
Not only do I love coconuts, but I also love the tropical climate that coconut palms need to survive. Sadly, while I have moved a bit closer to the tropics than where I was when living in Michigan, I don't live in a climate that allows for coconut palm trees; nor do I live in a place where it is easy to find coconut butter or coconut flour. I can find coconut milk in a can, but it costs an overpriced three and a half euros, and is likely laced with BPA.
Why deal with that when it is so easy to make your own for much cheaper?
Making the coconut flour is really just processing a byproduct from making coconut milk.
That's why I'm going to show you how to make coconut milk and how to make coconut flour together…
So, let's start with how to make coconut milk…
First, decide how much coconut milk you want to make.
I planned on coming up with a coconut flan recipe for the blog, but I made more than I needed for that so that I could use the leftovers for making kefir and smoothies. (My son loves smoothies, and it's a great way to sneak him foods, like spinach, that he won't normally eat!)
I decided I wanted to make about 4 cups of coconut milk, so I used two cups of shredded, unsweetened coconut and 4 cups of water.
Soak the shredded coconut in the water for about 2 hours. I let mine soak in my blender jar because I'll be using it in the next step anyway.

Meanwhile, prepare a cheesecloth or white cotton towel and a bowl.

The liquid that you squeeze out of the cloth is your coconut milk. You can use it right away, store it in the fridge for a couple of days, or freeze it in ice cube trays (I use and love these) for easy future dispensing.
Bake on low heat until it feels completely dry. You are almost done!…
What is coconut flour, you ask?
It is a high fiber, low carb "flour" that can be used in place of wheat or other grain flours in cooking and baking. It is especially used in recipes for diets that seek to eliminate wheat flour like gluten-free diets, GAPS and paleo diets.
You have to be a bit careful when replacing it in baking as it tends to be a bit drier (you'll probably need to add some more liquid to compensate) and makes a bit different consistency than wheat flour. You could substitute a small percentage of it, though, to reduce your flour intake. Luckily, there are a lot of good recipes out there that use it, though, and it is also good for coating meats.
Once I had started to create homemade coconut products with shredded coconut, I decided to make coconut butter too.
So, let me show you how to make coconut butter, too!
Usually coconut flan uses shredded coconut, but I wanted to try to make something a little bit smoother. So, I decided to use some homemade coconut butter instead.
What is coconut butter?
Not too long ago I mistakenly thought that coconut butter was just a term that people used for coconut oil when it reached its solid state at cooler temperatures. I later found out, though, that coconut butter and coconut oil are really two different, wonderful things!
Coconut oil is the fat of the coconut. It is white as a solid, but it is a clear, transparent liquid when the temperatures are warm enough.
On the other hand, Coconut butter also has coconut pulp in it. So, even when temperatures are high, it is white and more like a nut butter, definitely not a liquid.
Now, in the summer heat, mine has separated with a thin layer of coconut oil floating on top.
So, let me show you how to make coconut butter.
Well, it's pretty much made in the same way that you would make any nut butter. I have had success making homemade almond butter in my food processor. It takes a bit of time and patience, but it is a great workout for your food processor, and the results are fantastic.
My old food processor actually took much less time to make the coconut butter. I think the blades hit much lower and so it really kept moving the coconut better, making the process much easier. I was starting to doubt that my newer food processor would even be able to make coconut butter at all, but it eventually did.
Shredded coconut seems way to dry to turn into something so creamy without needing to add anything else. Trust me, though, if you blend it for long enough, it will eventually turn into coconut butter!
If you are having problems getting your coconut butter to form, stop every minute or so, at first, and scrape down the sides so that your blades can reach all of the coconut. Also, make sure you use enough coconut to have a big enough mass for your blades to reach it all well.
At first you will notice the coconut getting a little bit clumpy. Keep processing, and it will start to release its oils. Once some of the liquid from the oil is released, it makes it easier for your food processor to work the rest of it. Keep processing until you get the consistency you like.
Even in the winter, it should work because the heat from all of the blending makes it creamy. Pour your recently made coconut butter into the container you want to keep it in as soon as you can, though, because in winter it will soon harden up as it cools off.
In the summer it will stay creamy, so leave it out of the fridge for easy use. I actually like to eat it plain, as is. I'm a coconut fanatic, though. That said, it is also how I like my peanut butter. Basically you should be able to use it for the same sorts of things that you use other nut butters for.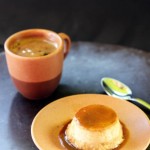 I used part of mine in my coconut flan.
It's also super good in my coconut date balls, a sweet snack that is even autoimmune paleo safe.
How do you use yours?
This post is also available in Español.