This refreshing mojito sorbet can be whipped up in 5 minutes, after a bit of prep work, and is a healthy treat for cooling off this summer.
I'm excited to share this mojito sorbet with you today because it's one of my favorite summer sweet treats, and it's incredibly refreshing and healthy at the same time!
This is one of those recipes that pretty much anybody can enjoy!
On the candida diet? No problem
Paleo? Yep
GAPS friendly? Of course
Vegan? 100%
If you'll remember, around this time last year I tried out the candida diet for several months. For those who aren't familiar with it, it is a diet that completely cuts out all sugar sources, even fruit! Luckily I don't have much of a sweet tooth, so the diet was more bearable for me that it is for some, but even I wanted a bit of a treat at times.
Cucumbers are a great choice because they are a candida diet safe fruit (veggie) that, while it isn't sweet, can mimic other sweet fruits in taste and texture.
In fact, here in Spain, when someone tries a melon that isn't particularly sweet, they say it tastes like a cucumber!
So, taking advantage of that, and the fact that limes and mints can fool your tastebuds into thinking things are sweeter than they really are, you can combine the ingredients for a quick and easy, healthy, candida diet safe mojito sorbet!
I call this a 5 minute mojito sorbet because after you have your prep work done, it only takes 5 minutes to whip this out at the last minute. Obviously, if you are just starting out with the fresh ingredients, it will take you longer than 5 minutes to make this because you need to have frozen cucumbers to begin the process. The best way to do this, then, is to have peeled and cubed cucumbers waiting for you in your freezer, and then you can quickly whip up a healthy mojito sorbet as soon as the urge strikes.
Looking for other quick and tasty 5 minute sorbets?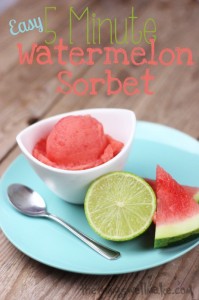 I have a popular and tasty 5 minute watermelon sorbet, that while it isn't candida diet safe, it is a refreshing treat that almost anybody else can eat, guilt free!
I'm also working on writing up another one of my favorites, an easy pineapple sorbet, that I absolutely love as well!

This post is also available in Español.