Last week I showed you how I made myself a DIY pallet "studio" on the cheap. Using pallets is probably the cheapest way to get beautiful, rustic looking DIY backdrops for photography.
I love my new mini photo studio, and my photography has definitely been improving just by having a new backdrop with multiple ways to switch up the wood combinations. Despite the fact that adding other boards to my setup gave me different looks, I still wanted more variety; I wanted to find some more inexpensive photography backdrops.
Craft Foam
My first great find was large, inexpensive sheets of craft foam.
Who'd have thought that craft foam would be so perfect as an inexpensive background for photography?!??! Oh, but it is!
I started out by buying myself 2 sheets, one in white and one in black. I wanted to get even more out of them, though, so I painted one side of the foam in a different color with a paint roller. I purposely didn't make the paint very uniform to add more texture to the backdrops on one side. By painting the other side, I ended up with 4 inexpensive backgrounds for the price of two!
Craft foam works great as a photography background because it is relatively matte, and doesn't reflect a lot of light back at the camera. Also, it can be easily rested against your pallet "wall," and holds itself up and in position pretty well if you have your pallet at a slight angle.
The following 2 pictures show the result of taking a photo of my limes (Yes, from my lime tree!) against the painted craft foam. Note that the pallets can also be rotated, giving a different orientation of your "floor planks." It's another subtle difference that can help switch up your pictures a little.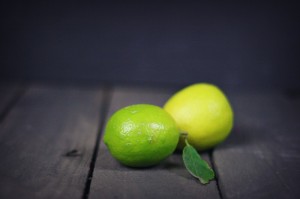 Another nice thing about using craft foam is that is doesn't easily crease, making it perfect for getting a continuous (wall to floor) background, when you want the background to be a solid color.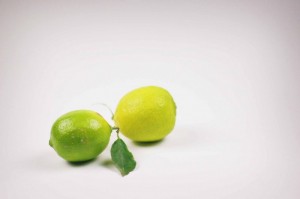 Cloth Backdrops
Cloth backgrounds are also great for changing things up, and using the pallet studio makes using cloth easier.
Normally, you would have to search for a way to hold your cloth in place, but it is easy to drape your cloth over the top pallet only, or drape it over both halves of your pallet, depending on whether you want a cloth background only, or a complete cloth backdrop.
I like finding cloth that doesn't easily wrinkle, but wrinkled fabrics can add interesting texture that can also be fun to play with, giving your pictures a completely different look.
Props
Now that you have a lot of different background ideas, all you need to do is find some fun, inexpensive props.
I'm still not very good at placing random cloths and napkins in photos, but when it is done right, it looks great! I have a much easier time using inexpensive placemats, and love hunting for bargains at sale times. (Since I usually only need one for most pictures, I don't need a full set and can get pretty good deals on leftover single placemats.)
Placemats, napkins, other plates, fruits, vegetables and plants, are all great additions to your photos. I like to buy single plates at clearance sales, but if you have a thrift shop nearby, that would also be a great place to look for inexpensive ways to complete your pictures.
I hope that helps you get some ideas for playing around and improving your food and small object, still life photography. I'm having a lot of fun with it, personally, and it is really improving my pictures, I think.
If you are looking for other ideas of how to help improve your photography, I highly recommend this book…