Last Updated on
Keep your kitchen clean while you work by using these tips to easily stay organized and clean as you go.
Today I have another guest post for you about how to keep your kitchen clean while cooking. This really couldn't have come at a better time for my messy kitchen. When the article arrived in my inbox, I have to admit that my kitchen looked like this…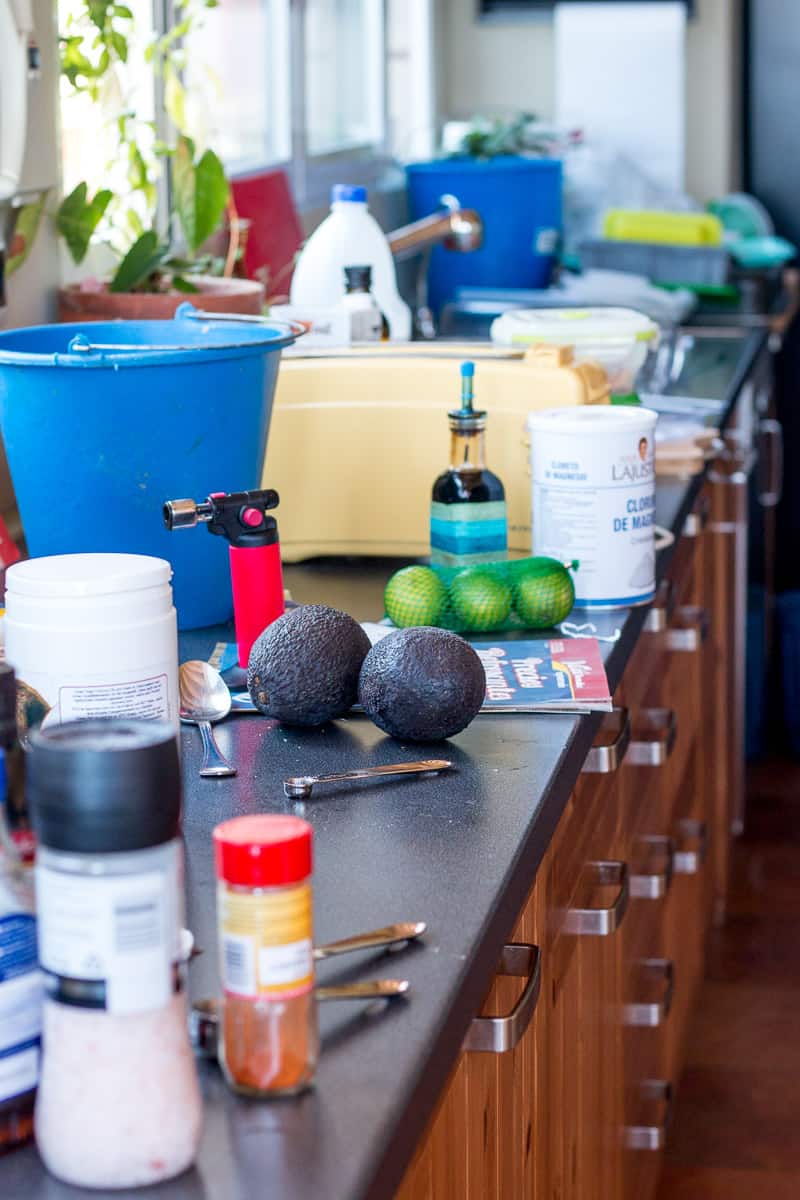 As usual, I was working on multiple projects, most of which were happening in the kitchen. I can see that that day I had been making magnesium oil, seasoned coconut chips, an avocado and caramelized goat cheese salad, toast for my son, and still hadn't gotten around to putting it all away yet. (I'll try to share those recipes with you soon!)
Years ago, my husband worked at a restaurant, and while he was working there, they taught him the "Clean as you go" concept. The idea is simple, and makes a lot of sense, but I have to admit that the phrase began to annoy me when he started chanting it all of the time as he walked into my messy kitchen. I guess it's obvious that it wasn't something that I practiced myself. Despite my wanting to rebel against his words, I decided to give it a try, and the truth is that when I am mindful of cleaning as I go, I end up saving myself a lot of time and frustration.
Unfortunately, I often forget the concept and go back to my messy ways, but letting the mess build up only ends up stressing you out and can end up overwhelming you. Plus, it's even been shown that the chaos of a messy kitchen leads you to eat more than you otherwise would!
Since I definitely don't need that, I took this post to heart, and have spent the last week being much more mindful about keeping things clean. Rather than start new projects in my free time, I've also been trying to finish old projects first whenever possible. I must admit that it feels good to have things a lot more organized and have less chaos in the kitchen. Now I just need to teach my toddler the same concept for his toys!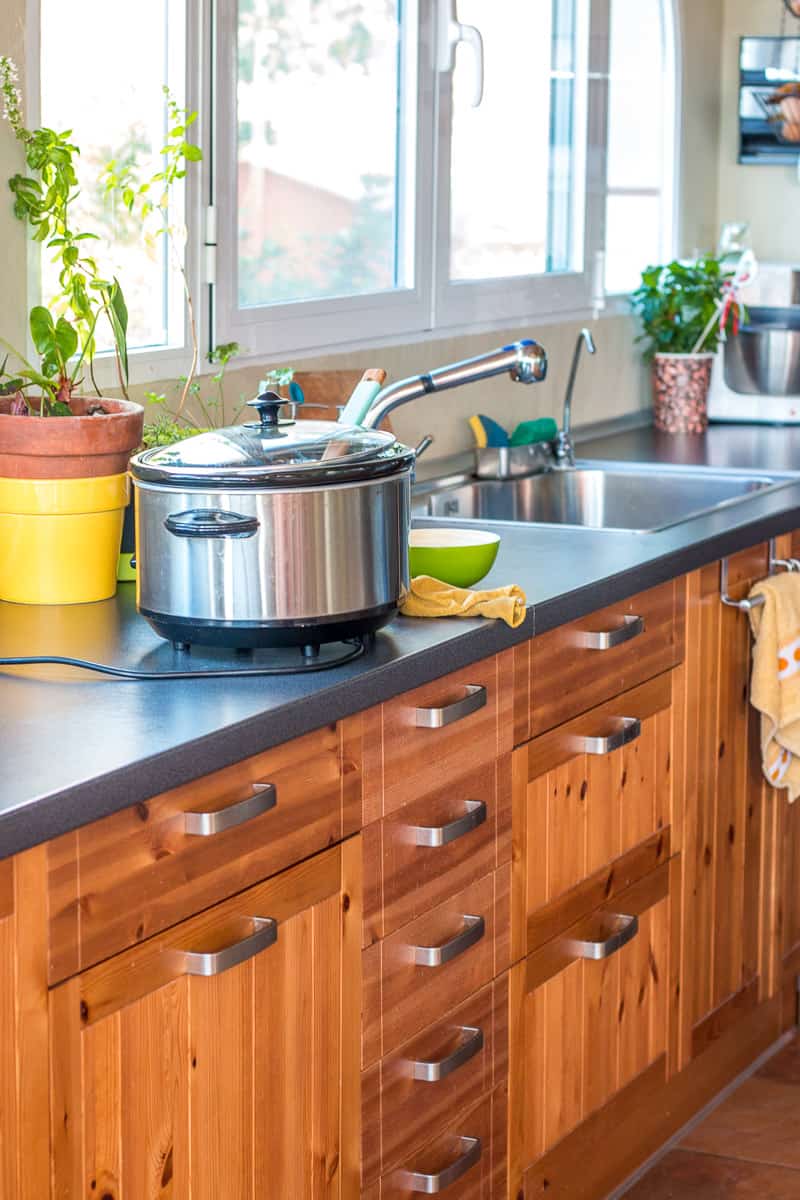 So, are you ready to hear Isobel's tips?
Isobel is a kitchen enthusiast from London. She runs a small cleaning company called DomesticCleaners Streatham. In her spare time she writes cleaning-related articles.
These are her tips for keeping the kitchen clean, even when you are cooking:
Cooking is one of the favourite domestic chores of a lot of people, but the mess that is usually created during the process can be intimidating. Unfortunately, the tasty food that you have prepared cannot compensate for the fact that your kitchen is all upside down, and there are dirty fishes everywhere.
A good idea for anybody who would like to keep their kitchen clean and well-maintained is to make a special cleaning strategy for this room. There are cleaning checklists and guides available online that can help you plan your cleaning strategy.
Of course, regular deep cleaning of all kitchen appliances is essential, but it is also important for you to care for them more frequently in order to maintain them in perfect condition. This is exactly why it is a great idea to use several minutes a day to sweep and wash the kitchen surfaces to get rid of dirt and bacteria and make the room look sparkling clean. (These DIY kitchen cleaning spray recipes are great for cleaning and disinfecting while you cook because they are non-toxic and made with ingredients you likely already have in your kitchen!)
Maybe your schedule is a busy one and you don't have enough time for everything?
Don't worry – we will give you several tips that will help you keep your kitchen clean by cleaning in your spare cooking time, while waiting for the food to be prepared, allowing you to save a few minutes for yourself later on.
1. Clean as you go!
The idea of "cleaning as you go" basically just means that you should use any breaks in cooking to clean up and put away anything that you don't need anymore. Don't leave anything for the last minute that you can take care of right away.
You should make it easy to clean as you go by preparing a large bowl of hot, soapy water and using it to wash the dishes that you don't need any more. This is not that hard; just set aside your dirty dishes, trying to wash them right away instead of letting them pile up "for later." Leaving them there to wait until you are done with the cooking will only make the cleaning process longer and more tiresome.
Putting away any ingredients that you have finished using, and throwing out empty packaging immediately, will also help you stay organized and will leave you with more open working space to continue with your cooking.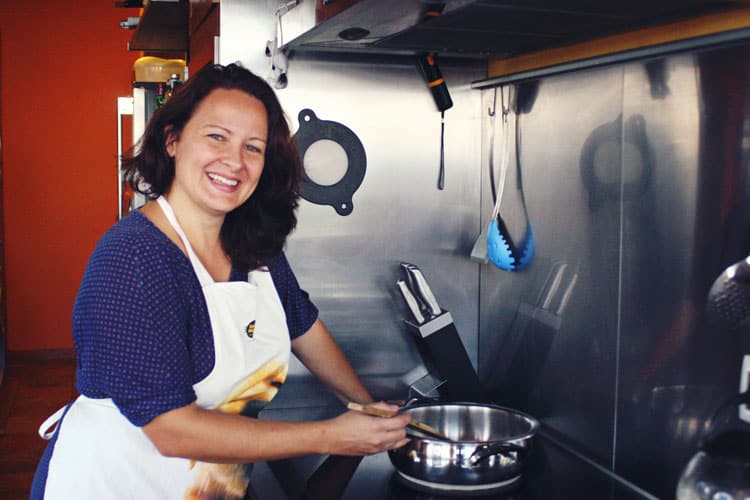 2. Don't hurry up while cooking.
If we have to put this in other words, cook more slowly.
This will not only provide you with more spare time to clean as you go, but will also prevent you from making a big mess in the kitchen in the first place.
There is nothing wrong about being deliberately slower in chopping and measuring your ingredients, because this way you will have the time to wipe up the cooking surfaces between each step of the cooking process. It will also make your cooking more efficient.
3. Measure your products over or near the sink.
Measuring your ingredients on the kitchen table could be convenient, but it is also a precondition of making your misery bigger. You will not only get the table dirty, but some of your ingredients could spill on the floor, which equals more and more cleaning in the end. So, instead of doing that, you could simply measure the products for the recipe over the sink in order to prevent anything from spilling on the floor. Whatever does spill can be easily washed away from the sink, saving you a lot of cleaning time later.
4. Pick up anything that drops on the floor.
Sometimes, accidents happen. Food ingredients or dishes could fall on the floor, leaving splashes, stains or other damage. Do not wait until you are done cooking. Just pick up anything that drops on the floor right away in order to prevent further damage on the flooring. Cleaning the spill right away is a lot easier than waiting an hour and trying to clean it up afterwards.
Thanks, Isobel, for the great tips!
If you are concerned about using toxic cleaning sprays around your food while cooking, try making your own cleaning sprays using essential oils and vinegar. You can read about the best essential oils for cleaning and disinfecting here.