With some simple sewing, you can make a Captain America costume that is super cute from recycled t-shirts.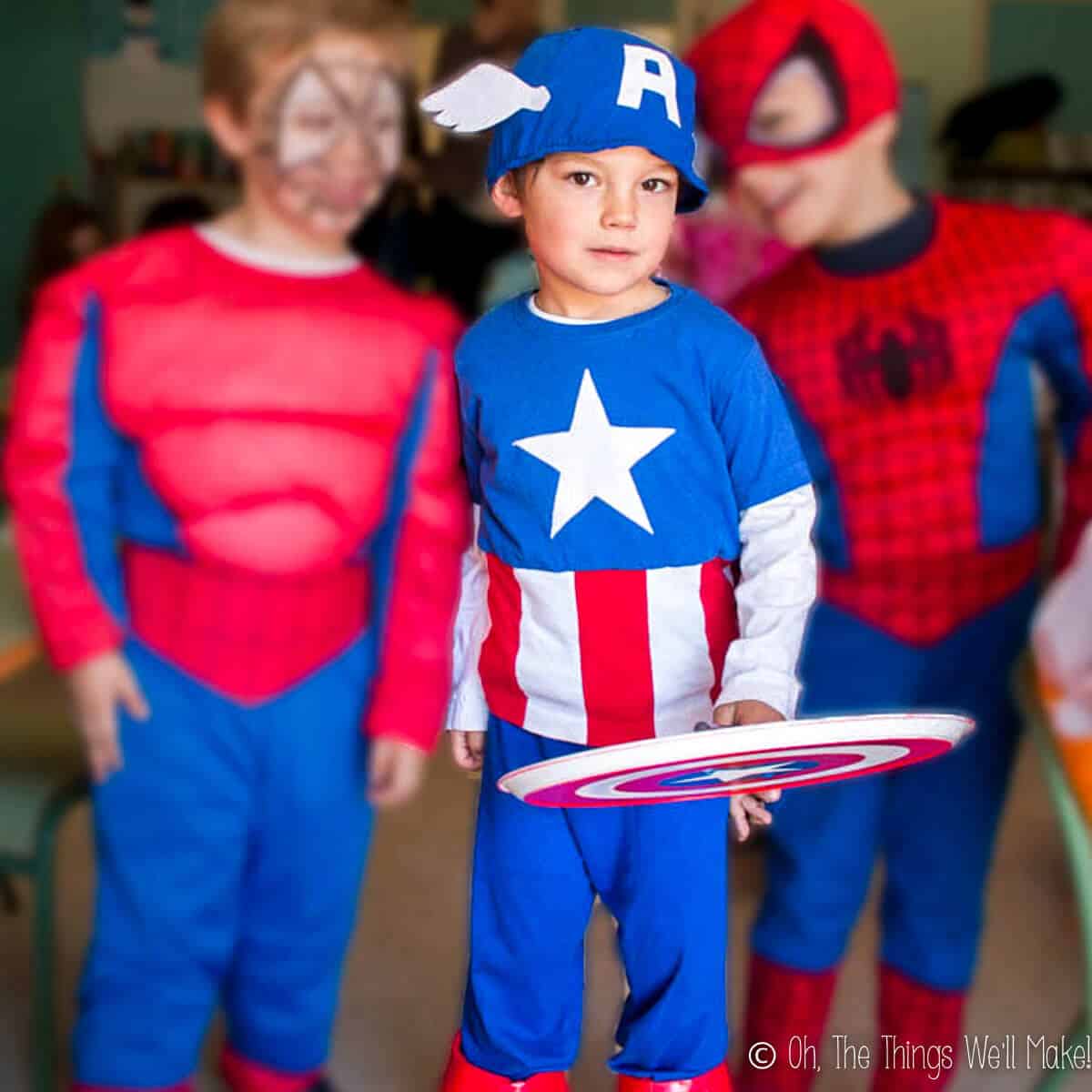 Lately, my son has been obsessed with superheroes. He may switch favorites from day to day, but whether it be Hulk, Batman, Iron Man, or Captain America, one is sure to be the focus of his attention of the day.
So, when it came time to dress him up for Carnaval at his school this year, I wasn't surprised that he wanted to dress up like Captain America.
Of course, finding costumes for Spider-Man and Superman is "super" easy, but finding something for Captain America is a bit more tricky. I did manage to find a few things I could use, but since I hated them, I ended up going the DIY route.
I must admit that I spent a lot of time making the costume, but most of the time that went into it was time wasted on making things the wrong way and starting over. I even tried making a helmet out of cardboard, another out of craft foam, and another by repurposing a bought helmet from the dollar store. Then I realized that my son wasn't going to wear a helmet anyway. Once I had my final idea for the "helmet," it took me less than half an hour to make it.
So, hopefully my method will help you whip out a costume you like pretty quickly and somewhat effortlessly.
Today I'll show you how to make the Captain America shirt, pants, and helmet.
(Soon I'll show you how to make the Captain America shield and how to make superhero boots.)
Every time I've done superhero costumes for my son, like the Batman costume a couple of years ago, I've always chosen to go the vintage route. Not only were the original costumes more colorful and fun for kids, but I think they just are so much cuter on them.
So, for the captain America costume, I chose to make the iconic royal blue top with a white star and red and white stripes on the bottom.
I chose to make it short sleeved and put it over a white, long-sleeved shirt, which proved to be a good idea because my son has wanted to play in it year round. In the summer he just wears the short sleeved t-shirt with some navy shorts. He insists on wearing the boots all year!
How to make the Captain America Shirt:
Materials needed:
1 royal blue t-shirt (in the size of the person who will wear the costume.)
Scraps of white and red t-shirt fabric (if you cut the from the bottom of old t-shirts, you can save yourself the hassle of hemming the shirt later on.)
A piece of fusible web for the star
Instructions:
Cut the bottom part of the blue t-shirt at a point below the chest level.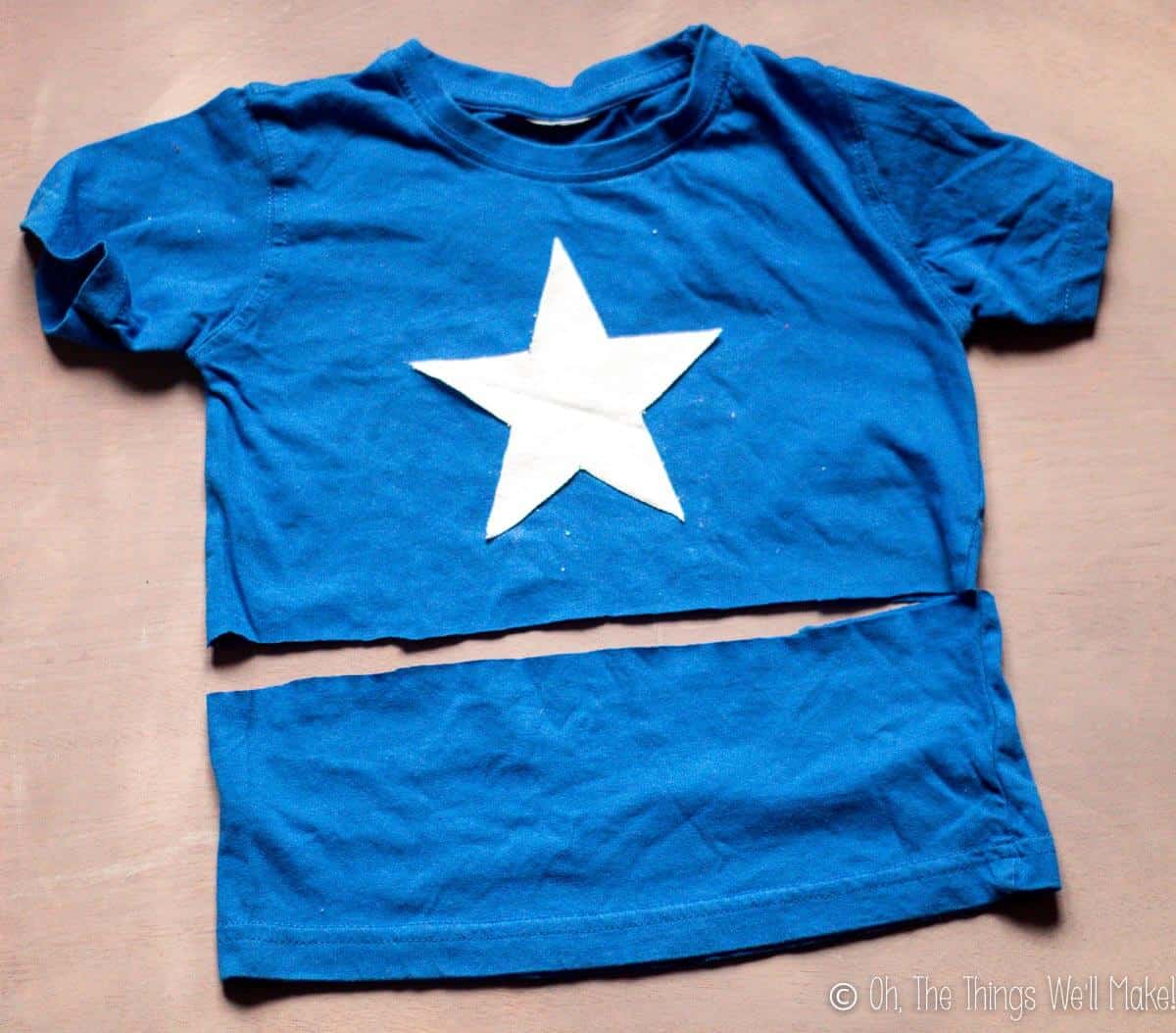 First, you want to determine the size of the star you want to use. I found a clipart star on the internet and printed it to a size that I thought looked good for my son's shirt size.
When you make your cut, you want to leave enough blue fabric to comfortably fit the white star and to have fabric for the seam allowance with the bottom striped section.
To make sure your cut is symmetrical, you can fold the shirt in half before making your cut.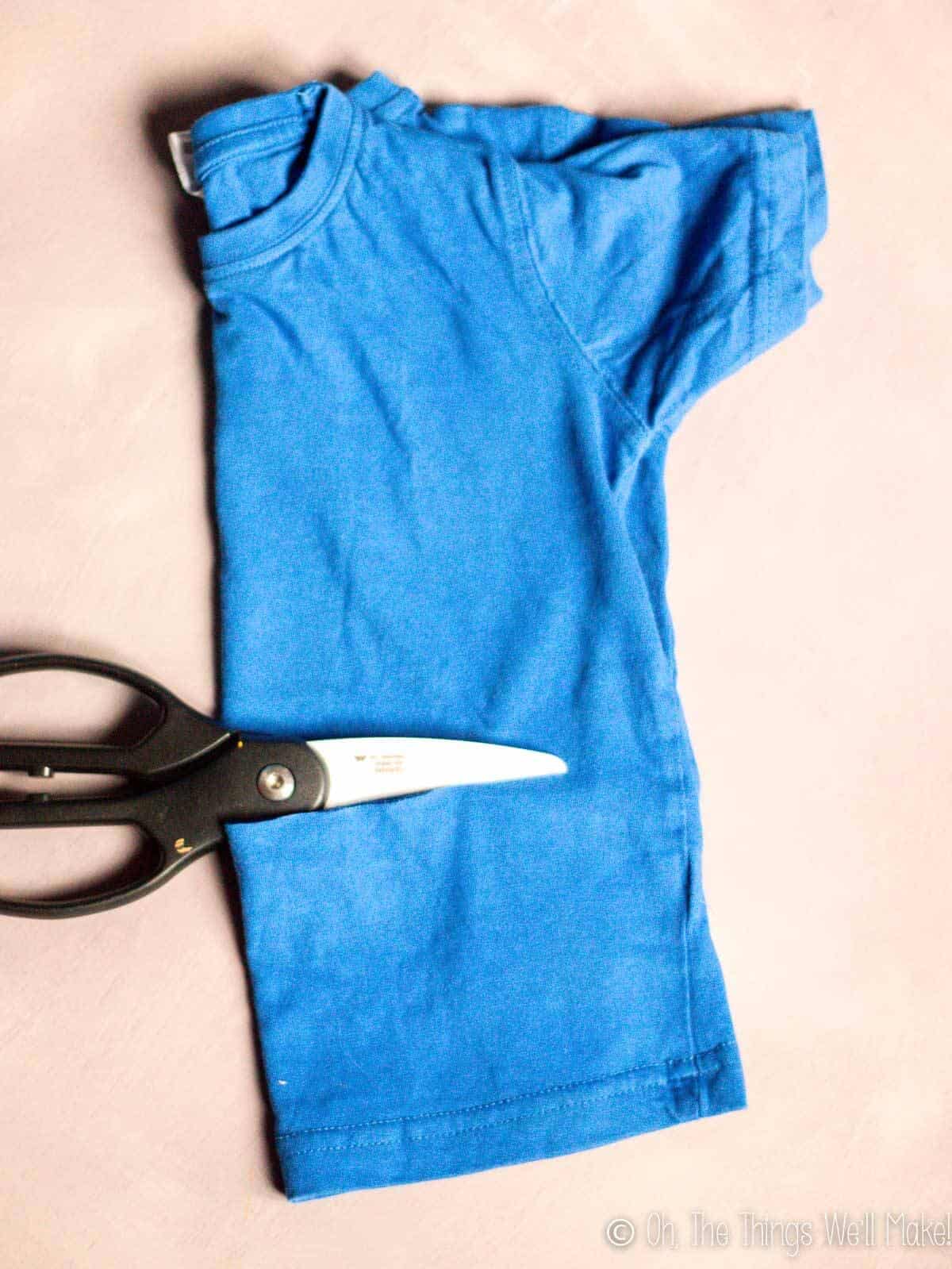 Make your stripes and sew them together.
The trickiest part of this project is calculating the size of the stripes. I made 6 red stripes and 6 white stripes, alternating colors and leaving 6 stripes on the front and 6 stripes on the back of the shirt.
Set the shirt flat on a table and measure the width of the shirt and add 7 times the measurement of the seam allowance you plan on using. (If you plan on making a seam of 1 cm, add 7 cm to your measurement.)
Once you have calculated that measurement, divide it by 6 to get the size of the width of your stripes.
You can now cut out 6 white stripes and 6 red stripes with the calculated width and a length that will depend on the height of the person you're making the costume for. If you are using fabric from old t-shirts and can cut the stripes from the bottom, leaving the hem, you can save yourself the hassle of hemming the shirt later on. (I did it that way.) If not, you'll have to add extra length for the hem of your shirt.
To calculate the length, try on the blue shirt with the bottom part cut off, and measure from the cut line to whatever length you want the shirt to be. Once again you have to add your seam allowance, and extra for hemming if you aren't using the bottom hem of the fabric scraps.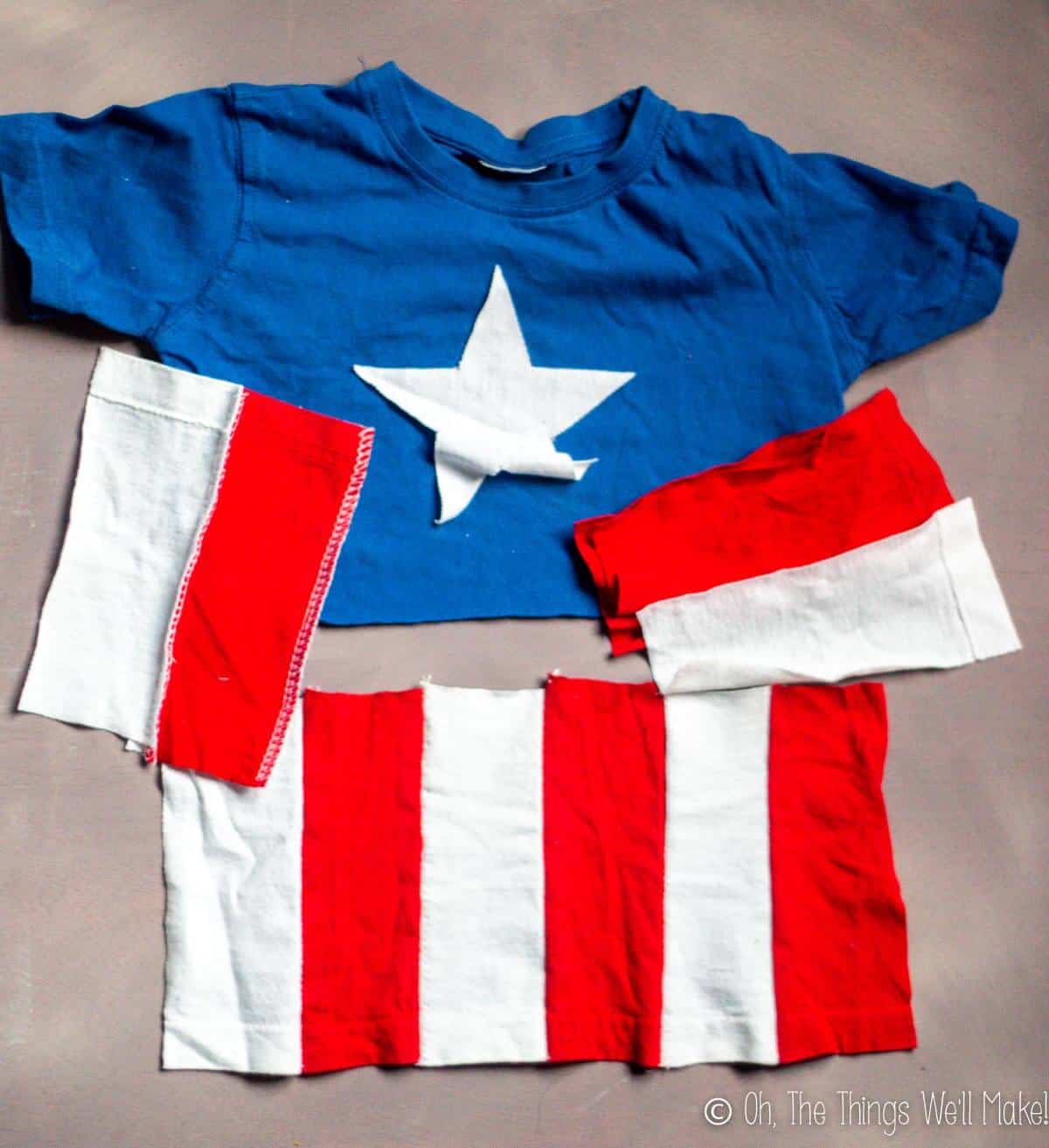 Once you have your stripes cut out, start sewing them together by placing one white stripe together with one red stripe with the right sides facing each other. Sew down the length of one side, lining up the bottom hems well if you're using them. (I did this by first using my serger/overlock machine to make the seam tidy and then strengthening it all by sewing down the seams with a regular sewing machine, but you can get away with using either of them.)
Add another strip by placing a new, red stripe together with the white part and continue until you have two sets of six stripes. Line them up with the t-shirt to see if you have the width right, and then place both sets of stripes together with right sides facing each other and sew down both sides to form an inside out tube of fabric.
Finish up Captain America's shirt!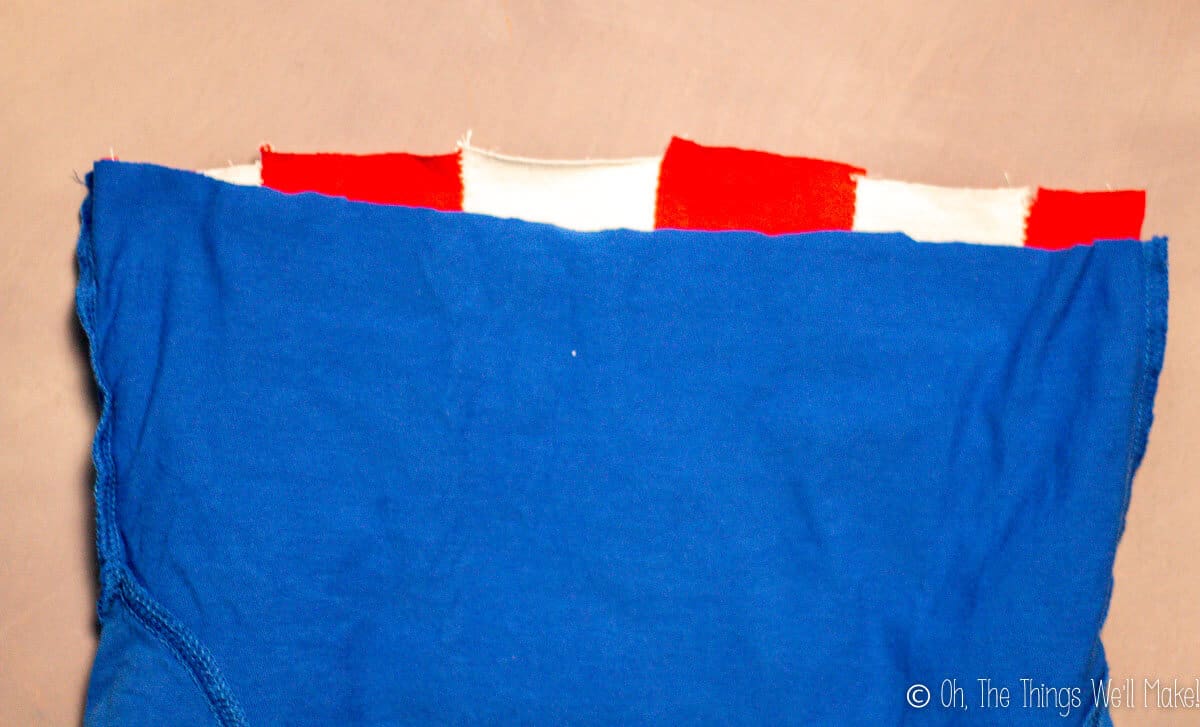 To connect the stripes to the rest of the shirt, flip the tube right side out and then flip the blue shirt inside out.
Place the right side out tube inside of the inside out shirt, lining up the raw edges (not the hemmed edge if you are using it).
Sew together the stripes to the shirt at that edge, going all the way around the entire shirt.
You can now flip the shirt right side out and the main body of the shirt is ready!!
All you have to do is decorate it with a star:
I used an appliqué technique to add the star to the shirt. I've actually been planning a tutorial for how to do it because I have a cute idea for a t-shirt for you, but for now I'll just link to a blog that explains it well. If you don't want to sew on the star, you could also just iron on some t-shirt transfer paper (the white, opaque kind made for dark colored fabrics) cut into the shape of a star.
Make the pants:
I recycled an old, big, adult t-shirt that was the same color royal blue as the cloth for making the pants. I've been using this technique ever since my son was really tiny, and it has served me well for making pants in any color I can find t-shirt fabric. In fact, when my son was potty training, I made a bunch of these out of old jersey fabric sheets. They were great for having lots of pairs loose, comfy pants for him during that time.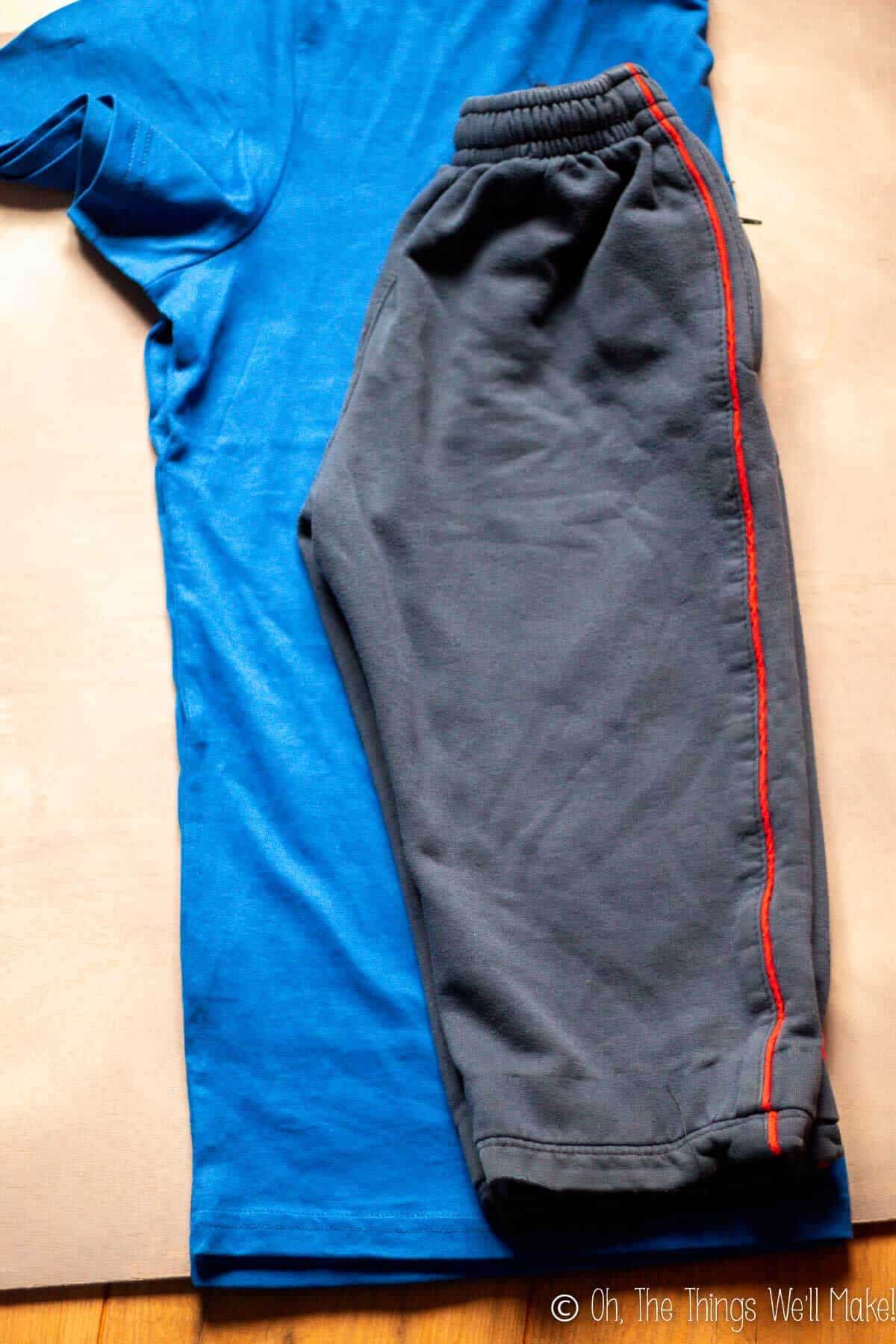 I used a pair of my son's old pants to use as a pattern for the new ones.
Here's a good blog post that explains the (EASY) process. It looks complicated at first, but once you get the hang of it, you can quickly whip out a bunch of them if need be!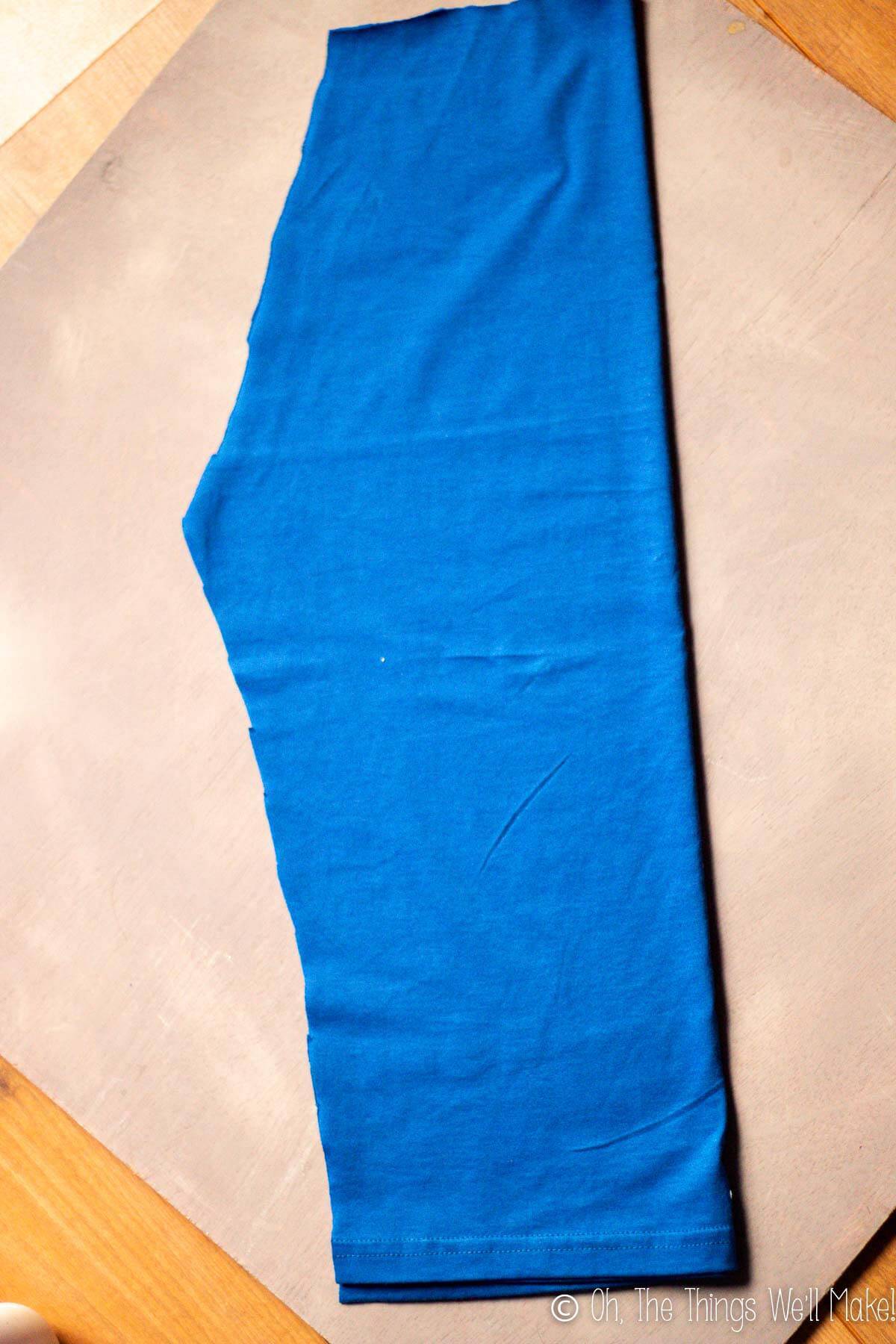 Make the "Helmet."
I wasted A LOT of time on this part. A LOT!
Had I realized how easy I could have made this, I would have saved myself the hours of trying to make a helmet out of cardboard, craft foam, and even paper-mache-ing over a store bought helmet to make it into a Captain America helmet.
No matter what I worked on, though, my son didn't want to wear it. It was just too uncomfortable.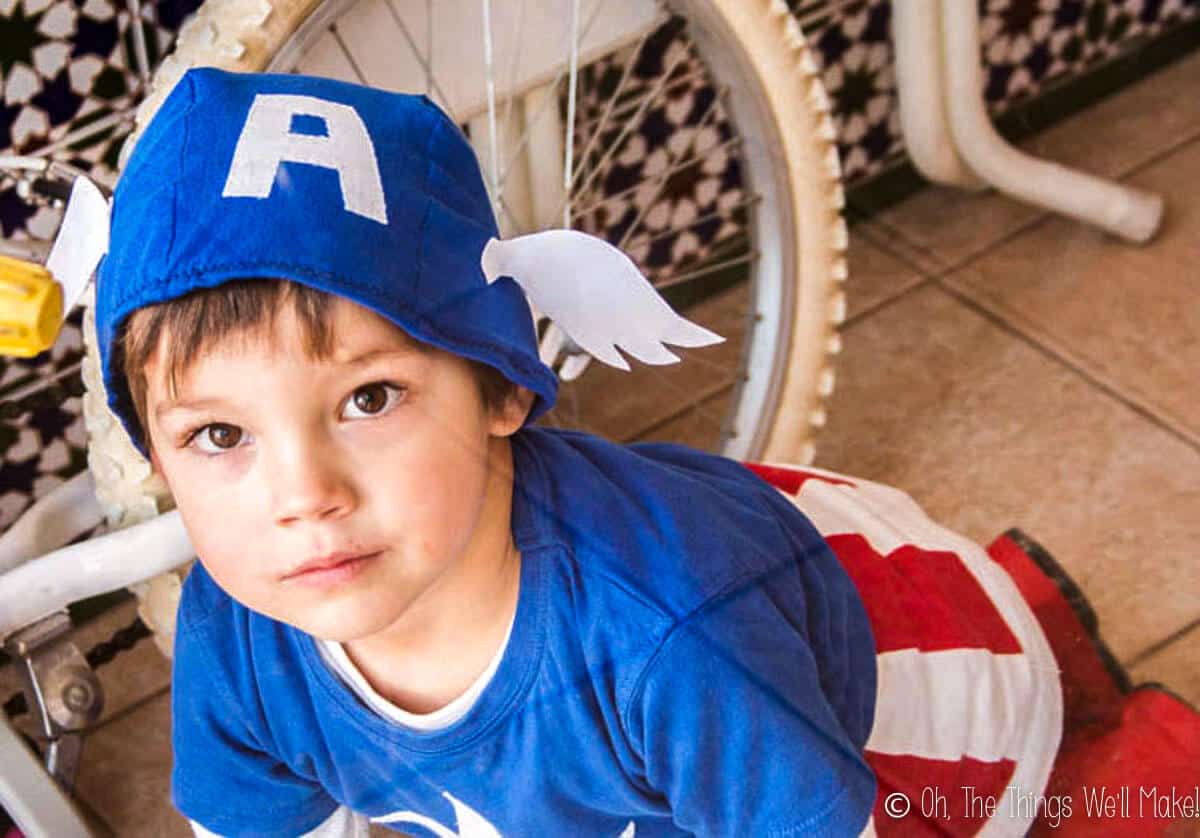 Finally, it occurred to me to look for a swim cap pattern on the internet and use that for the helmet! It was a bit unconventional, but I'm so glad I tried it because it couldn't have been simpler or quicker to make!
I made it the tiniest bit bigger than the pattern so it wouldn't be uncomfortable for him, but seeing as it's a bit big, that was probably unnecessary. In less than half an hour, it was made; If only I had thought of it from the very beginning! Oh, the time I would have saved!
I used this picture of Captain America's "A" and appliquéd it on the "helmet." If you don't want to sew it, though, you could just cut it out of white, opaque t-shirt transfer paper (the type made for dark colored fabrics) and iron it on.
As for the little wings, I just free-handed the wing shape and cut it out of a very stiff fabric. Actually, I think it was called an iron-on stabilizer like the one I'm linking to (I bought mine here in Spain and am not sure if it's the same exact thing, but I think it should be similar). I ironed it to itself to have it be extra stiff and show fabric on both side. When I sewed it on the swim cap helmet, they stuck out a little bit on their own. It turned out exactly like I wanted, and think he looks so cute in the costume!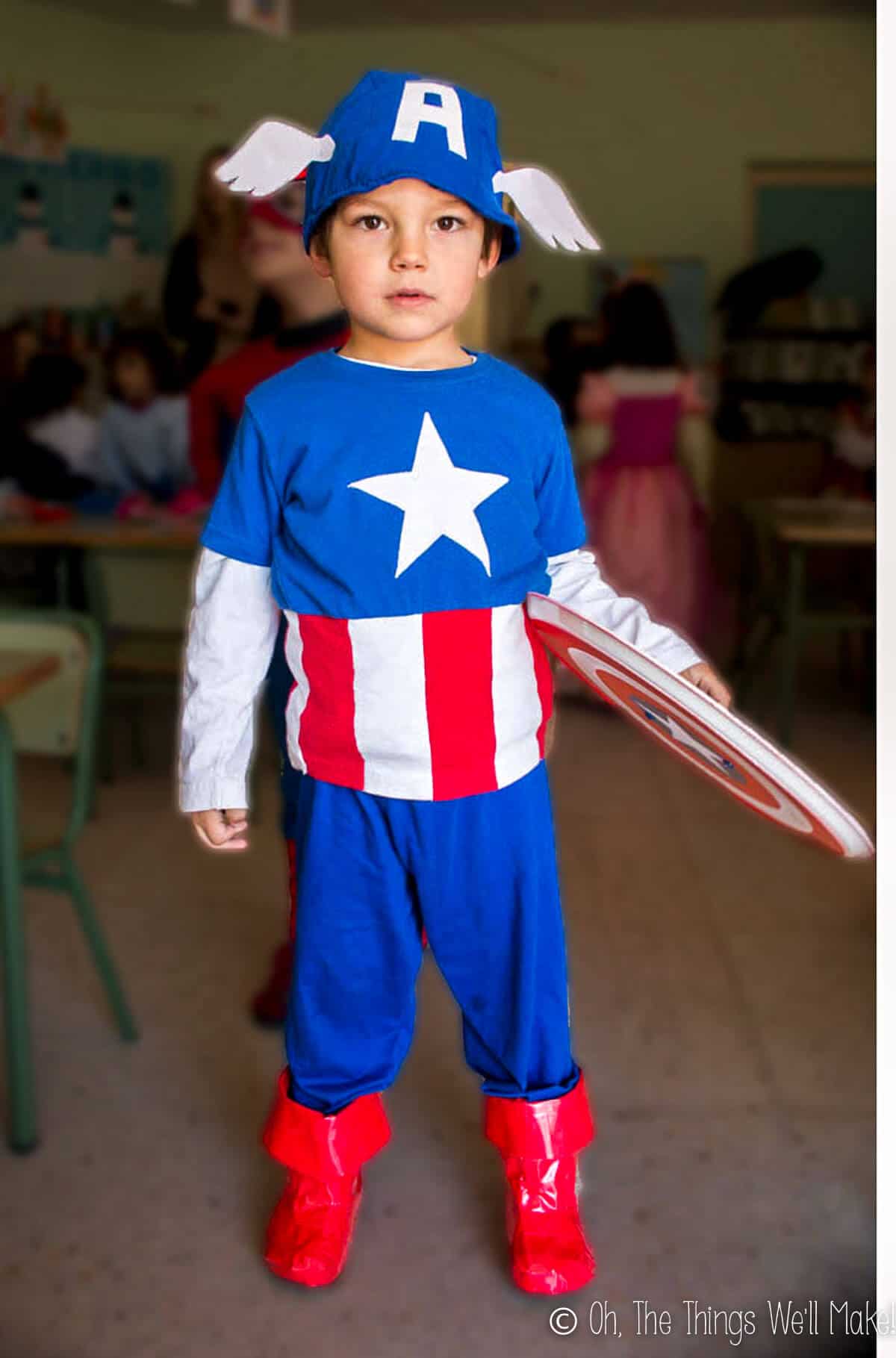 Well, I think that should be enough to get you started on the costume.
In the next few days, I'll show you how to make Captain America's shield and how to make superhero boots (out of duct tape)!
Meanwhile, happy sewing! 😉