Fun for kids of all ages, learn how to make healthy gummy worms or gummy leeches, even if you don't have any candy molds.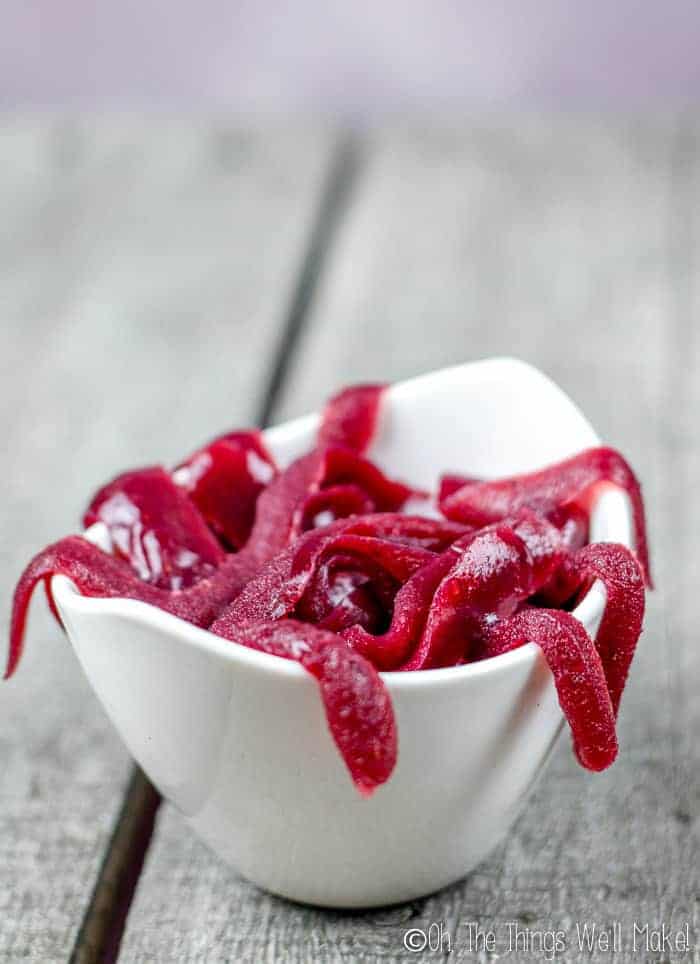 This post has been in the works for quite some time now- way too long. I was experimenting with different ways to make gummy worms, but many of my experiments turned out to be failures. Rather than make a bowl full of worms, I ended up with a great big mess.
Luckily, my mistakes allowed me to learn what NOT to do- which, in turn, allows me to tell you how to save yourself from disaster.
What inspired me to make gummy worms
I began my journey into trying to make gummy worms after having seen a tutorial for how to make gummy worms using straws. Although the finished gummy worms were very cool looking, I didn't like the fact that they were made with processed gelatin, with artificial colors and flavors, and chocolate milk.
I was determined to make a healthier version that would be just as cool.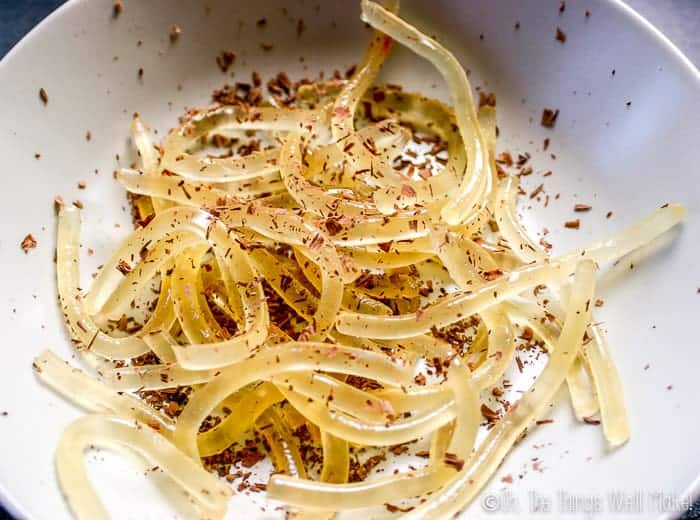 My first attempt at making gummy worms for the blog: lime gummy worms in grated chocolate "dirt."
To add to my frustrations, just as I was writing up my post, another blogger posted what looked like the very same worms that I was about to share. (I originally linked to her post, but her site has since disappeared.) Coincidentally, we had both made our gummy worms using lime juice. I chose to use lime juice because I had an abundance of limes on my lime tree. What made matters worse, though, was that we both had the idea of photographing our worms in chocolate "dirt"!
I wasn't sure whether or not to post mine anymore because I didn't want to look like a copycat. I decided to come up with a new method and new idea to add to my original post.
What methods did NOT work
As if all that wasn't frustrating enough, actually making those lime gummy worms in the first place was quite a process. I had unsuccessfully tried several ways of making them, all involving lots of straws.
My first attempt took place while I was making the gummy eyeballs. I used the leftover berry gelatin from the irises of my gummy eyeballs to make the first batch of gummy worms.
To make realistic earthworms, you're supposed to pull apart flexible straws to extend the flexible part. When you fill the straws with gelatin, that part of the straw ends up having a patterned section. While it's kind of the opposite of a real earthworm that has a segmented body with one small smooth section, it actually looks quite realistic in the finished gummy treats.
So, I was determined to make my realistic looking gummy worms with straws, but it wasn't as easy as it looked. Most of the places I had seen showing how to make gummy worms said to put a little gelatin in the bottom, stick in the fridge to set up, and then to finish filling up your straws…
That sounds easy enough and like it would work wonderfully, but when I tried to pour in the second layer of gelatin, I couldn't get the gelatin to go all the way down my straws. I figured it was because the centers of the straws were too small and that the air inside the straw didn't have room to escape. I tried again with some wider straws that didn't have the flexible part, but I still had the same problem: short worms that were only as long as the height of the gelatin on the first pour. (Perhaps I should have tried filling the straws with a syringe. That may have worked better.)
Methods that DID work
I was determined to make this work, so I continued…
The straw method
I decided that the only way to truly make the straw method work was to fill up the entire glass with the gelatin, which would mean that the straws would also fill up at the same time. I had learned from my mistakes, and this time used a taller, thinner glass and packed in the straws to avoid waste. By that point, I no longer had leftover berry gelatin to use, but my lime trees were full of limes, so I had at it again with lime juice gelatin.
The third time was the charm, and I ended up with a bunch of lime gummy worms!
To get the gelatin out of the straws, I ran them under some warm water, not letting the water get into the straw because that quickly turns them into mush. I then pushed them out by pulling the straw through my fingers while gently pinching it together. It wasn't difficult, but I was bothered by the amount of wasted gelatin around the straws. Don't get me wrong, you can eat it, but it's messy and not a quick and easy process. I'm all about quick and easy!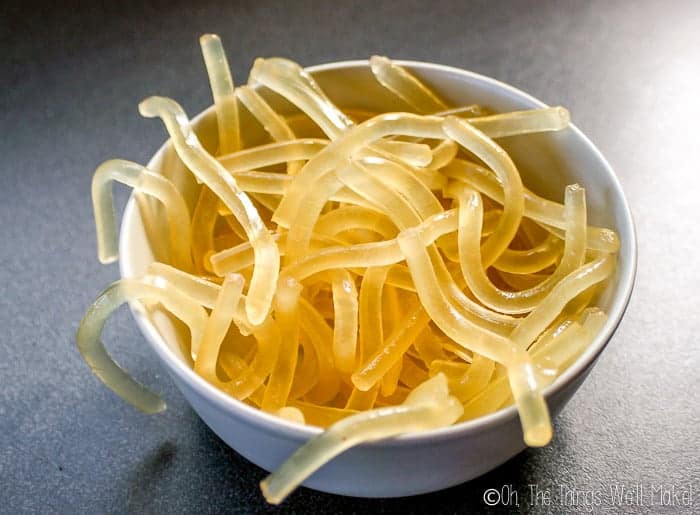 The grill method for making gummy leeches
I was determined to make worms in another way!
In the end, I used the grill of my oven…
To make a "mold" of sorts using the grill of your oven, you can take a sheet of aluminum foil and gently press it down into the spaces between the grates on the grill.
Once your mold is formed, you just need to pour the gelatin mixture into those spaces. It really couldn't be quicker or easier!
Because the grill of my oven is too big for my fridge, I just allowed the gelatin to set on my kitchen counter for around half an hour to set up. Our gummy treat gelatin mixture will set up even at room temperature because it uses a lot of gelatin. Having the weather getting cooler also helps!
Once the gelatin had mostly set, I pulled the foil from the grate and placed it into the fridge so that the worms/leeches would fully set.
If you make them thick enough, they are very easy to peel off from the foil. If you have made them thinner, though, or want to work more quickly, a spatula can help you to peel your worms/leeches off quickly and easily without breaking them!
I decided to call these "gummy leeches" because they are rounded on the top, and flat on the bottom.
If you haven't carefully poured the gelatin into each space without touching the area between worms (like me the first time), you will end up with a little bit of gelatin "flange." I would have thought that to be a mistake of sorts, but in the end, I think it makes them look more like leeches that way!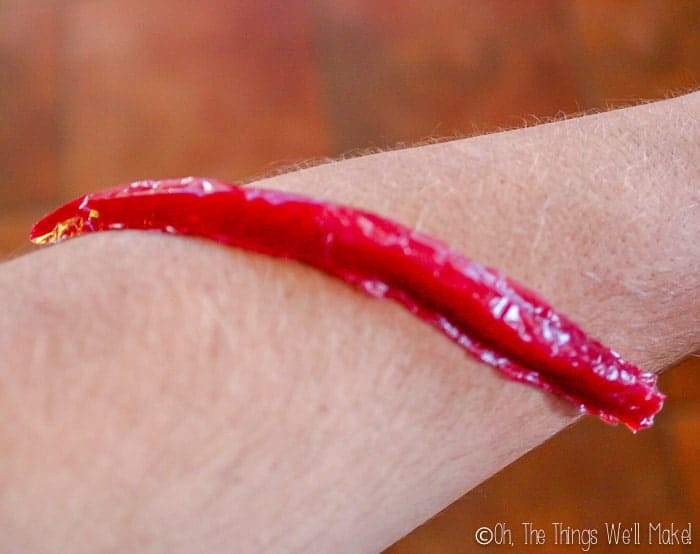 If you don't like that look, though, you can always quickly cut off the flange with kitchen scissors. That will round them out and make them look a bit more like worms.
That's all there is to it!
Gummy worms using a silicone mold
I guess this is the most obvious way to make some cute looking gummy worms is to use gummy worm molds. I finally ended up buying some because my son was eyeing a "gummy candy factory" at a local store for quite a while. It must not have been very popular here because they drastically reduced the price to only a few Euros, and I happily bought it because the molds themselves would normally cost me more than that.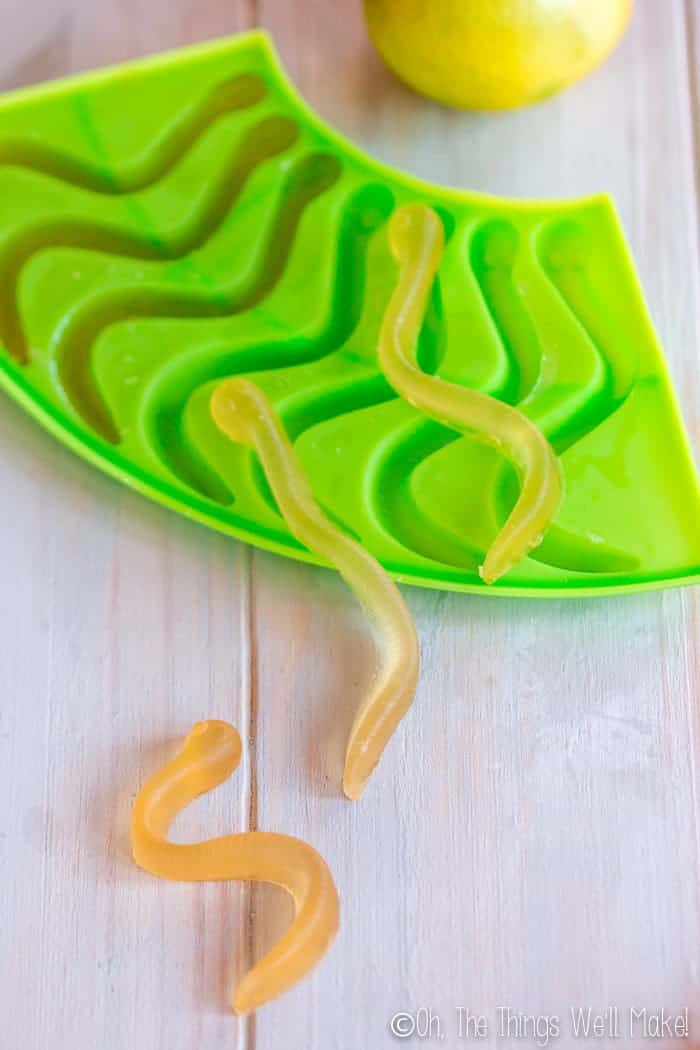 Gummy worm molds make the cutest, easiest worms, of course.
My first attempt at making gummy worms with silicone molds wasn't quite to successful. I used a silicone mold made for making long ice cubes for water bottles. While it was very easy, the results weren't very credible. (Perhaps they would have looked better if I hadn't filled the molds quite so far.)
How to Make Gummy Worms or Leeches
Craving more?
Subscribe to my newsletter for the latest recipes and tutorials!
DIY Gummy Worms
Make your own homemade gummy worms or leeches for Halloween using healthy fruits, juices, or even kombucha without special molds or scary ingredients.
Makes approximately 40 gummy leeches, depending on the size you make them.
Print
Pin
Rate
Ingredients
Instructions
Mix together 1 cup of the juice (or other liquid) with the 5 Tbsp. of gelatin and allow the gelatin to rest for several minutes. This will allow the gelatin to "bloom," meaning that it will absorb the liquid and expand. This will make it much easier to dissolve the gelatin later.

Begin warming the other half of the juice in a small saucepan over the stove.

Stir the hydrated gelatin mixture into the saucepan with the rest of the juice, and stir the mixture over low heat until the gelatin fully dissolves.

Prepare whatever gummy worm or leech "molds" that you want to use. To make gummy worms with straws, fill a tall, narrow glass with tightly packed straws.
For gummy leeches, place a sheet of aluminum foil over the grate of your oven grill, and gently press the foil into the spaces between the grating. It's easiest if you begin on one side and carefully work your way to the other side.
You can, of course, also use a silicone gummy worm mold.

Pour the gelatin mixture into your candy molds. Using a syringe or dropper makes the job easier and less messy, but you can also carefully pour or spoon the mixture into the molds.

Place the molds over ice or place them in the fridge until the gelatin has set. If using the grill method, and the grill doesn't fit in your fridge, you can allow the gelatin to set at room temperature and then move the foil to the fridge.

Carefully remove the candies from the molds.

You can now serve and eat them immediately or store them in the fridge for later.
Notes
Nutritional information for 1 gummy worm based on making 40 gummy worms with the amounts listed above and using lime juice as the base liquid. It will vary depending upon the size of your molds.
Serving:
1
homemade gummy worm
|
Calories:
9
kcal
|
Carbohydrates:
1
g
|
Protein:
1
g
|
Sodium:
3
mg
|
Potassium:
12
mg
|
Vitamin C:
4.7
mg
|
Calcium:
2
mg
Would I make the worms again?
With a silicone mold? yes!
With straws? Possibly, but it would have to be for a very special occasion like a Halloween party. If not, I think that they are just too much of a hassle to make!
As for the leeches?!?!?
Definitely! They were so easy to make, and fun to eat.