With a bit of hot glue, craft foam, felt, and paint, you can whip out this fun DIY Thor costume complete with a homemade hammer, vambraces, and helmet.
With Halloween coming soon, I figured it would be the perfect time for me to share with you how I made my son's Thor costume this past February. You see, here in Spain, Carnaval is still the more popular holiday for dressing up in costumes, at least at my son's school. That said, Halloween in Spain has been progressively growing in popularity each year, and more and more cities are celebrating with fun activities for kids.
This will probably be a long post anyway, so I'll try to stop being so chatty today, and get right to the point and show you how to make a DIY Thor costume yourself. 😉
I made this costume with a bit of trial and error, and wasn't perfect about documenting the entire process. Plus, there are a few things I would change if I were to make this again! That said, I'll do my best to guide you to making something very similar, and let you know how I'd do things differently the second time around. I had enough people ask me about how I made this costume that I figured it warranted a post…
How to make Thor's Hammer
I first took some floral foam and cut it with a serrated knife into the general shape of Thor's hammer. I had one thin sheet, so I layered two pieces and sliced off the corners. I held everything together with packing tape.
I covered the entire hammer with several layers of paper mache. I used a mixture of white glue and water for the paper mache, rather than flour and water, to try to keep the hammer as smooth as possible right from the start. Once dried, I pushed a dowel into the center of the hammer to use as the handle.
To help insure that the handle was more secure, because the craft foam compresses very easily, I added a bit of paper mache inside of the newly formed hole. I used paper towels, rather than more newspaper, because I found it easier to push them into place with the dowel.
Once the paper mache was dry, I glued the handle in place.
To make the hammer even more smooth, I covered the entire hammer with wall putty. I also cut a cardboard disk for the top of the hammer (not shown), and also covered it with wall putty and allowed them to dry completely.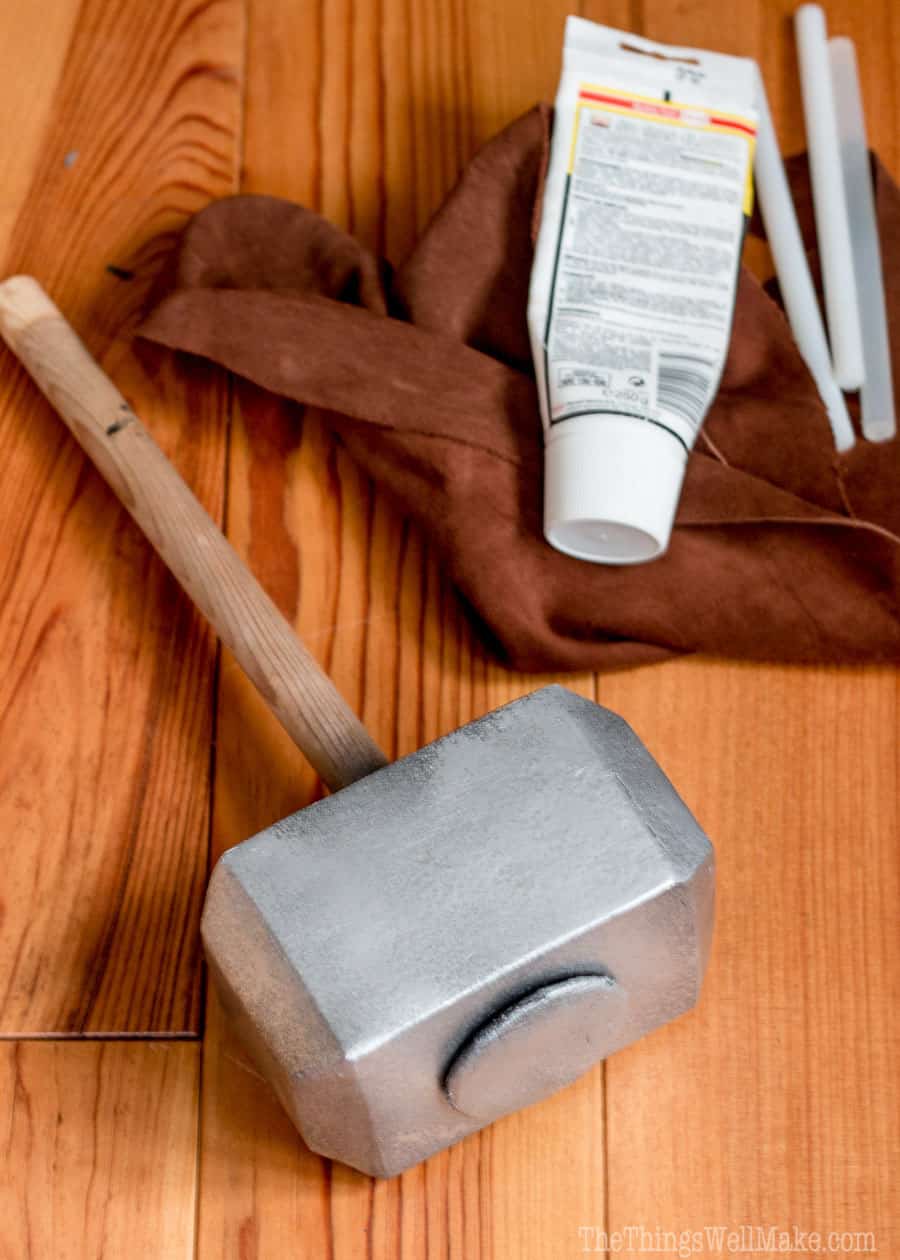 Once the wall putty had dried, I sanded everything down. I then glued the cardboard disk to the top of the hammer, and painted the entire hammer black.
Once the black paint had dried, I covered it with a layer of silver spray paint. I intentionally allowed some black to show through, making the hammer look more realistically metallic.
After the silver paint dried, I cut thin strips of brown suede, and used a combination of hot glue and other glues to wrap the handle of the hammer with it.
How to make Thor's Armor
Making Thor's Chest Armor:
I decided that I was going to make Thor's chest armor out of felt and craft foam from the beginning, but I wasn't really sure what to cut out of the craft foam. I started looking at pictures of different Thor costumes and took little bits and pieces of what I liked from different ones. That, of course, wouldn't be acceptable for those who do serious cosplay. I realized later that when working on recreating a costume, they work to recreate specific costumes exactly, using the same sleeves with the same chest plate with the same boots, etc. Luckily I'm just going for a kid's Halloween costume, so I didn't have to worry about it. A lot of what I cut out was just my own design of what I thought would look good covering the bare areas I had left after trying to sort of copy Thor's chest armor from pictures.
I did later find something that would have helped me out enormously if I had found it at the very beginning. This diagram for Thor's chest armor is a great guideline for making your own. There were bits and pieces of mine that I didn't like, so I printed out the diagram after blowing it up in size, and I traced out a few pieces of the diagram onto craft foam and used those instead.
To make the chest armor the right size for my son, I measured across his chest and down just past his waist and cut a rectangle of felt out in that size. I then cut out arm holes and a neck hole so that the felt piece resembles a tank top. To hold the armor in place, I cut out strips of felt and hot glued those to the upper waist area. I then hot glued velcro to those strips so that we could easily fasten the chest armor behind his back. The top part was held in place with the cape using safety pins. I left the felt long on the shoulders to help bulk up the cape in the shoulder area.
At one point I was going to glue the bottom "belt" onto the bottom part of the armor, but I decided to leave it as a separate belt so that my son could adjust it as needed for comfort. The only problem with doing it that way is that it did end up shifting a bit to one side or the other every once in awhile because, well, kids move a lot. 🙂 I still think it was the more comfortable way of making the costume, so I'm not sure if I would do it differently if I were to make the costume again.
The belt was made from a mixture of craft foam and felt hot glued together.
How to Make Thor's Vambraces (Arm braces)
I found this pattern on another blog, and, after shrinking it a bit for a child's size, traced it onto two pieces of craft foam, one layered over the other and glued them together. I, once again, used black craft foam and painted it silver.
To "cut" the line details into the design, I used the tip of a solder iron to burn the design. (I did the same thing for the circles on the chest plate armor, burning a circle around the edge to give more dimension to them.)
I wasn't quite sure how I wanted to fasten them, and ended up cutting out rectangles of leftover cape fabric, wide enough to wrap around my son's forearms and the height of the craft foam vambrace, cutting two rectangles for each arm. After layering the two rectangles on top of each other with the right sides of the fabric facing each other, I sewed around the edges, leaving a small space on one side for flipping the fabric right side out. I then flipped the fabric right side out and filled the space with some quilting batting. I hand sewed the opening shut.
For fastening, I used strips of suede leather and cut them to be just longer than the cloth rectangle, long enough to fasten around my son's arms. I was going to use buckles to fasten them and make them look more realistic, but was in a hurry so I just hot glued velcro in place to fasten them instead. I did decide to use my sewing machine to sew the leather strips onto the red rectangles, and sewed over the velcro to further reinforce it. I followed the stitching to the end of the leather strips for strength/appearance.
Once again, I used hot glue to glue the craft foam onto the cloth, completing Thor's vambraces.
Thor's Boots
Let's be honest. I normally make superhero boots. I've already showed you two different methods for making superhero boots, but I came across some (dare I say) girl's boots on sale for super duper cheap, and I decided I'd save my time and buy them. (And, no, I never told my son they were girl's boots!!!)
To make the girly boots manly enough for a powerful superhero, a used the vambrace idea and cut out craft foam plates that I could wrap around the top of the boots. I didn't use a pattern, and just sort of followed the same idea, burning a design into the plates, and using felt and velcro to help fasten them in place.
How to make Thor's Sleeves.
Thor wears silver patterned sleeves in the last movies, that I really wasn't sure how I was going to replicate that look.
At first I was going to make a diamond shaped stamp out of craft foam, like the stamp we made when we decorated our trick-or-treat bags, and stamp silver diamonds all over the sleeves. That probably would have worked great.
I also considered trying to wrap the sleeves in fishnet stockings and spray silver paint over the stockings before removing them, hopefully leaving the pattern behind. I liked the idea, but it sounded messy and I wasn't sure it was going to work well.
In the end, my idea may have been even more difficult!
I decided to weave a fabric out of silver satin ribbons, and then sewed that fabric into sleeves that I attached to a black tank top!
To make the fabric into sleeves, I traced out the shape of a sleeve of one of my son's old shirts, leaving extra space for seams and movement. (The sleeve I traced was from a knit shirt which allows for more movement when smaller sized. The ribbon isn't elastic, so the sleeve needed to be bigger.)
If I were to do this again, I would have ironed a sheet of fusible web on the back to keep the ribbons in place and easier to sew. I instead held mine together temporarily with tape thinking that by sewing the ribbons together that they would stay in place well. The problem is it was tricky putting the sleeves on each time because my son's fingers would get stuck in the spaces between the ribbons! Plus, the ribbons tend to move around and not stay perfectly in place like they would if you were to iron fusible web to the back of them.
I finished the edges by sewing a piece of ribbon at the wrist. You can see that I also decided to sew ribbon onto the side edges, but that was really only because I was afraid that I had cut the sleeves too small, not leaving enough room for the seam, and wanted some extra space.
To finish the sleeves, I folded them together, right sides facing each other, down the length of the sleeve, and sewed down the long edge with my serger.
Once I had a sleeve made, I attached it to a tank top by hand sewing it in place.
Thor's Helmet
I looked into trying to make a helmet, but in the end found a super cheap viking helmet for sale and decided to use it. It was a gold color, so my first step was to spray paint it silver instead.
The helmet was a bit too big for my son, so I thought it would be fun to glue some hair inside the helmet to give my son long hair and make it a tiny bit smaller at the same time. I bought an inexpensive wig and cut strips the hair from it and hot glued them inside the helmet. I glued a strip of craft foam over the hair to keep it from bothering my son and to help make the helmet even smaller, but the helmet still ended up being a bit too big for him. (And, yes, the hair still bothered him.)
The horns of the helmet were removable, so I took them off, but that, of course, left the helmet with two big holes on the sides. I wanted to glue wings onto the helmet anyway, so I cut them out of craft foam and, you guessed it, hot glued them into place.
Did I follow a pattern for the wings of the helmet?
No, I just "winged" it. Sorry, this is a long post and I'm getting silly. 🙂
My son wore the helmet for awhile, but he took it off a lot too, and I think he looked just as cute without it.
Putting the DIY Thor costume together
The armor was all layered over black leggings and the black tank top with fancy sleeves.
My son wore his black boots and we fastened the vambraces over his sleeves and the leg braces over the boots.
The cape was fastened to the armor as shown above with safety clips, so to put it all on, we slipped it over his head and then fastened the velcro strips behind his back, under the cape.
Thor's Cape
I never mentioned how I made the cape, but I basically just cut a rectangle of fabric out of some bright red curtains from a thrift shop. To make the shape of the cape, I took the top seam and folded it like a paper fan, making a series of pleats, so to speak. I then surged over the edge to sew the pleats into place. I finished off all edges by serging around the entire cape.
One the armor was in place, we fastened the belt over top the armor, and the costume was good to go. The hammer and helmet were the finishing touches to a super cute and much easier than it looks Thor costume!