Don't throw away the skin, bones and leftover turkey pieces, make this turkey rice soup, the best Thanksgiving leftover soup idea! You can also do this any time of year with leftover roasted chicken!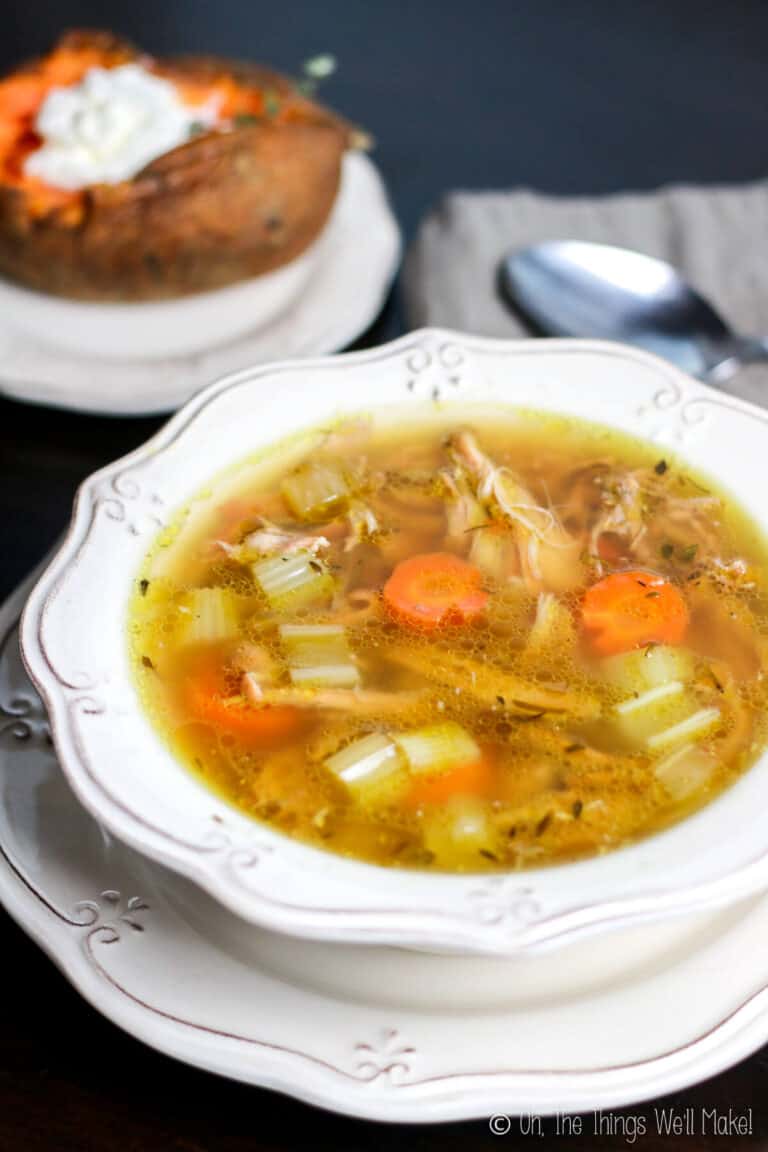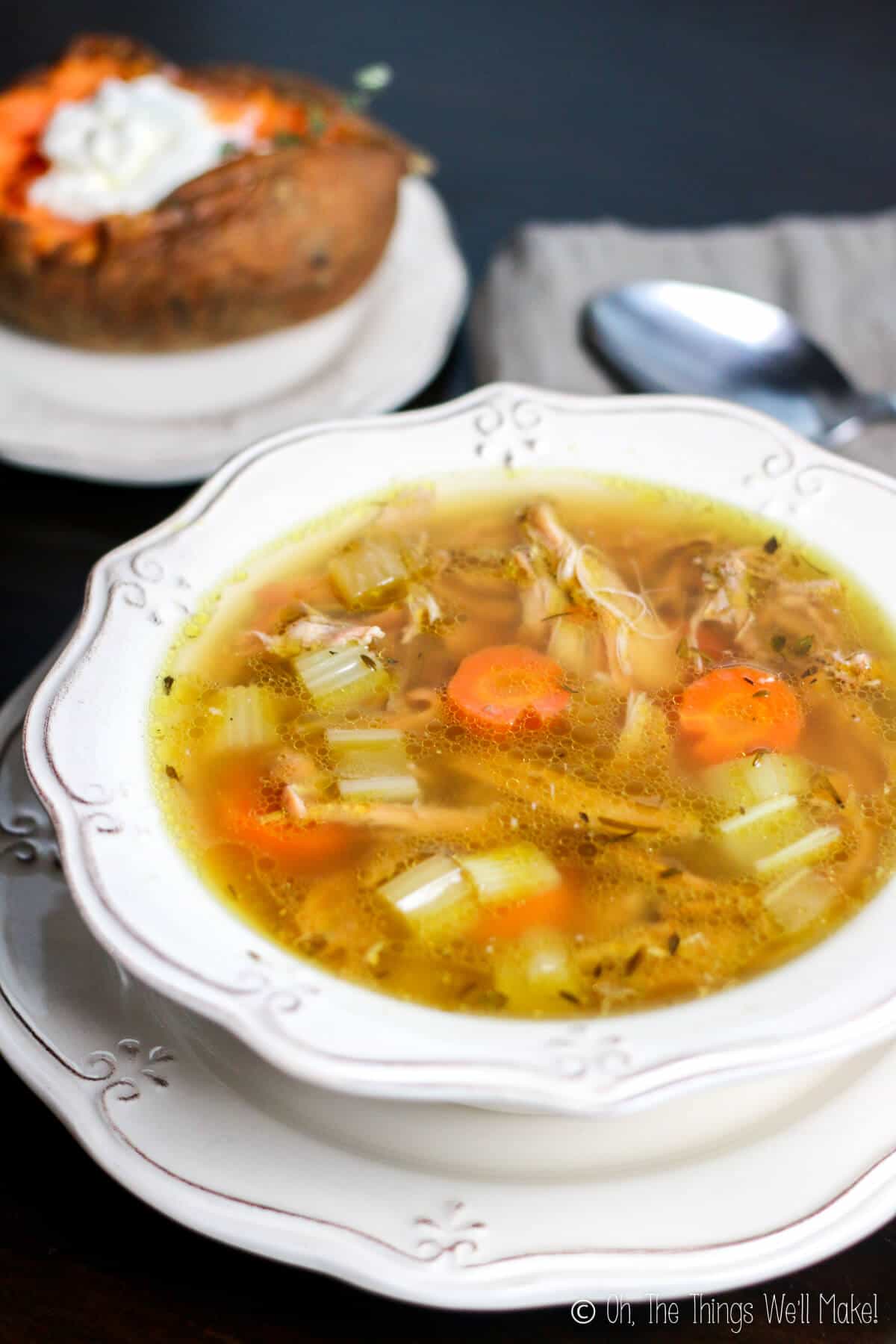 What can you do with Thanksgiving leftovers?
So, you've gotten over the intimidation of roasting the perfect turkey, and now you have a bunch of leftover turkey!
Heating up the leftovers and eating the same meal over and over again for the next 3 days just isn't going to cut it.
What if I told you, though, that you can transform the leftover skin and bones from your turkey, along with other veggie scraps and leftovers, into one of the best soups imaginable!
Unlike my son, who loves turkey sandwiches and eats them daily until it's gone, I get sick of leftover turkey. Once I found how wonderful leftover turkey soup can be, though, I look forward to having Thanksgiving leftovers each year.
Everyday chicken soup alternative
It isn't Thanksgiving?
No worries…Perhaps you've roasted a whole chicken instead, Don't let those bones go to waste either! Make chicken rice soup using the same concept.
No waste idea…
Any time that you roast a turkey or chicken, instead of throwing away the skin, bones and other uneaten bits, they can be converted into a delicious and nourishing soup! (That's the main takeaway from this post!)
In the past, I never loved eating Thanksgiving leftovers, but ever since I started making this soup, I have to admit that I look forward to the day after Thanksgiving. 🙂
How to make turkey stock from a turkey carcass
While most people think of making poultry stock from raw bones and veggies, you can also use the bones from already roasted turkeys and chickens to make a tasty soup.
In my post about roasting a turkey, I showed you how to roast the turkey whole, how to spatchcock it, and how to break it down into pieces. No matter which method you used to roast your turkey, you should have some bones from which to make this delicious soup.
With the latter two methods, you'll have some raw bones that you can roast on a tray with vegetables before making a delicious stock. (I show you how in that post.) In all of the methods, you'll have some bones leftover after you finish eating the roasted turkey.
Make a turkey stock
Save those bones, along with any skin, tendons, or anything else leftover. Separate and set aside any leftover meat, and throw the rest into a slow cooker with enough water to cover it.
How long should you cook the turkey stock?
While you can get a lot of flavor from the bones, enough to make a decent soup, after simmering it for a couple of hours, I prefer to use a slow cooker. (If you're short on time, an Instant Pot or electric pressure cooker would also be a great option!)
On Thanksgiving day, I'm not normally in the mood to do a lot of work after such a big meal, so I throw everything into the slow cooker with some water and leave it to do its thing all evening and overnight.
Not only do I find it easier that way, but the longer you cook it, the more nourishment you will extract from the bones. You can even use some of the stock, add more water, and keep simmering. It's amazing how much stock you can obtain from a few bones!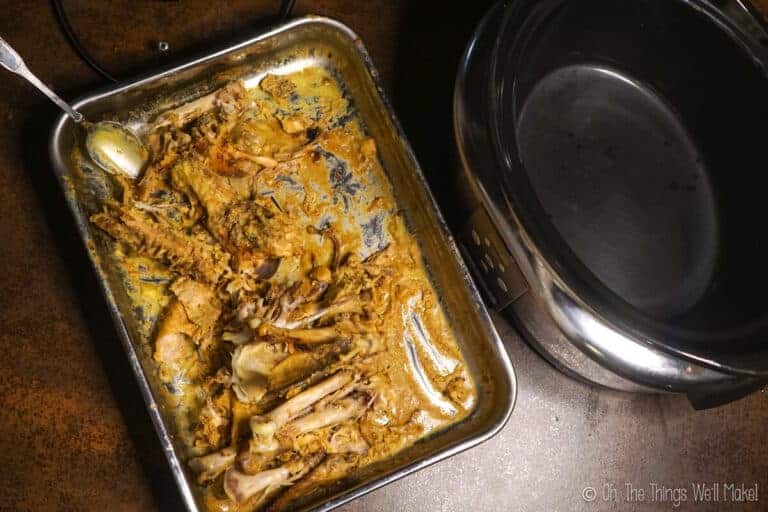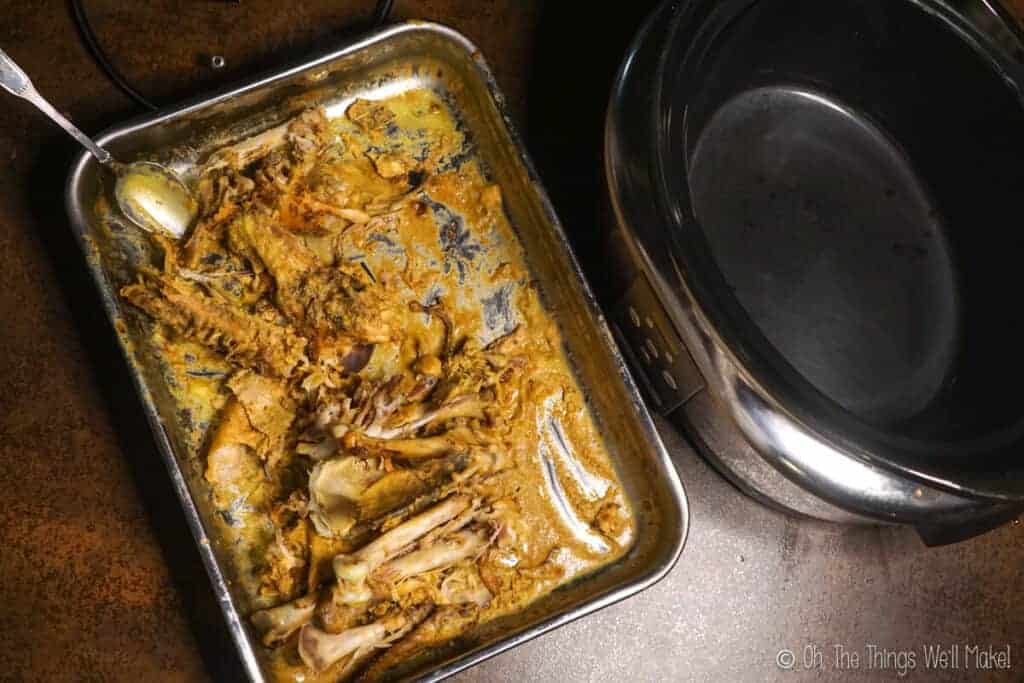 For turkey, it takes much longer, but with chicken, the bones begin to disintegrate some time after 12 hours. After around 24 hours, even the larger chicken bones start to completely fall apart.
Reuse the bones
When I make turkey stock from my turkey leftovers, I often save some of the larger bones in the freezer after obtaining my stock. The larger bones can be reused in your next batch of stock. Even the larger turkey bones eventually will disintegrate.
After the bones have disintegrated, and after I have strained out my stock, I save the broken-down skin and bones to feed to my dogs. They love it. You've probably heard that you shouldn't feed cooked chicken bones to dogs and other pets. That's because poultry bones can splinter and be dangerous for them. Once the bones begin to completely fall apart and no longer splinter, though, you can safely give the bone mush to your pets. 😉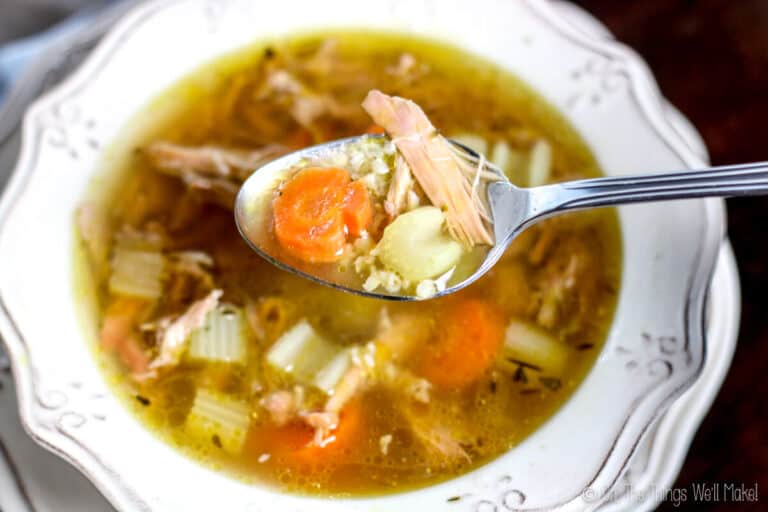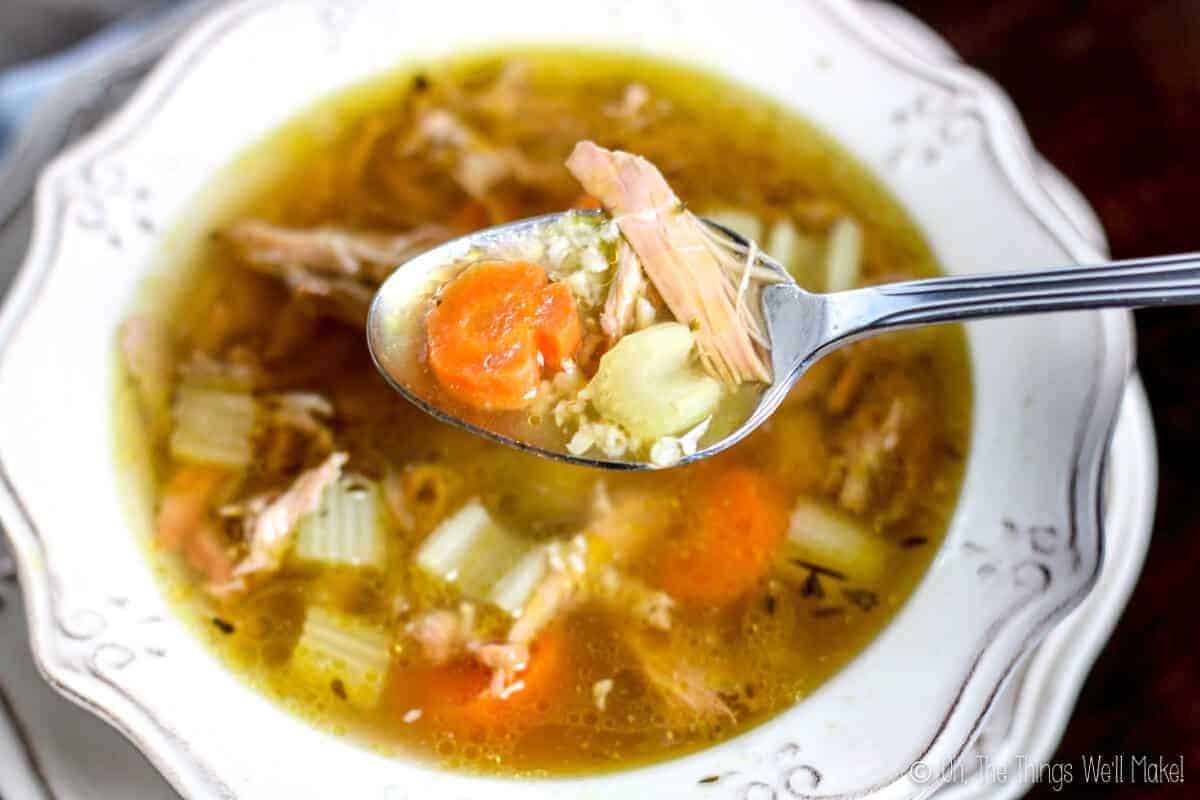 Ingredients
While the main part of this soup is the homemade turkey stock, you can dress up the stock with a few more ingredients. I like adding just a few simple veggies like celery and carrot slices. Herbs like fresh sage also add flavor.
For turkey rice soup, I normally use long grain rice. Short grain rice works well too, though. If you prefer, you could add some noodles instead for a turkey noodle soup.
To thicken up the soup and add flavor, optionally add some of your other Thanksgiving leftovers like stuffing and/or gravy.
Making turkey rice soup
Once you have obtained your stock, making the rest of the soup is simple.
To shorten the cooking time, I like to pre-soak the rice while I cut the veggies and get everything together.
Then I simmer the turkey stock with some cut up vegetables like celery, onion, and carrots. When the veggies start to get tender, I add in the pre-soaked rice. If you are using a brown rice that takes longer to cook, add it in at the beginning of cooking.
Near the end of the cooking time, shred the leftover meat and add it into the soup so that it warms before you serve it.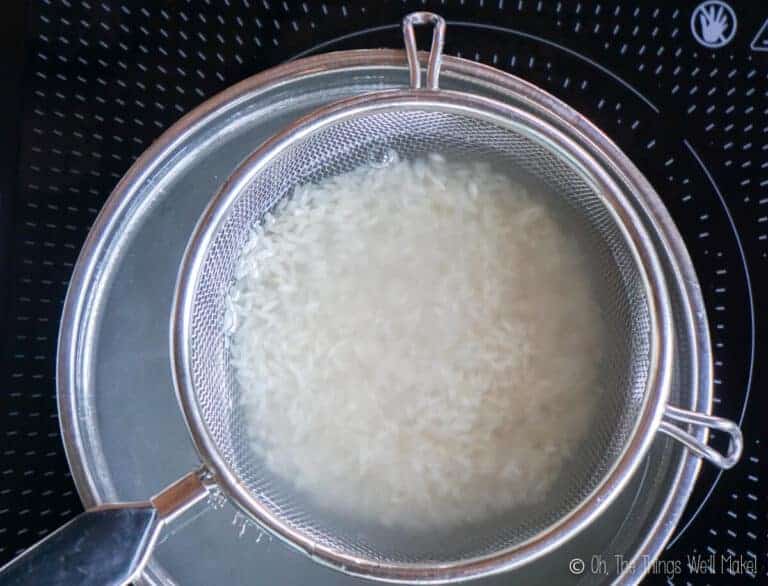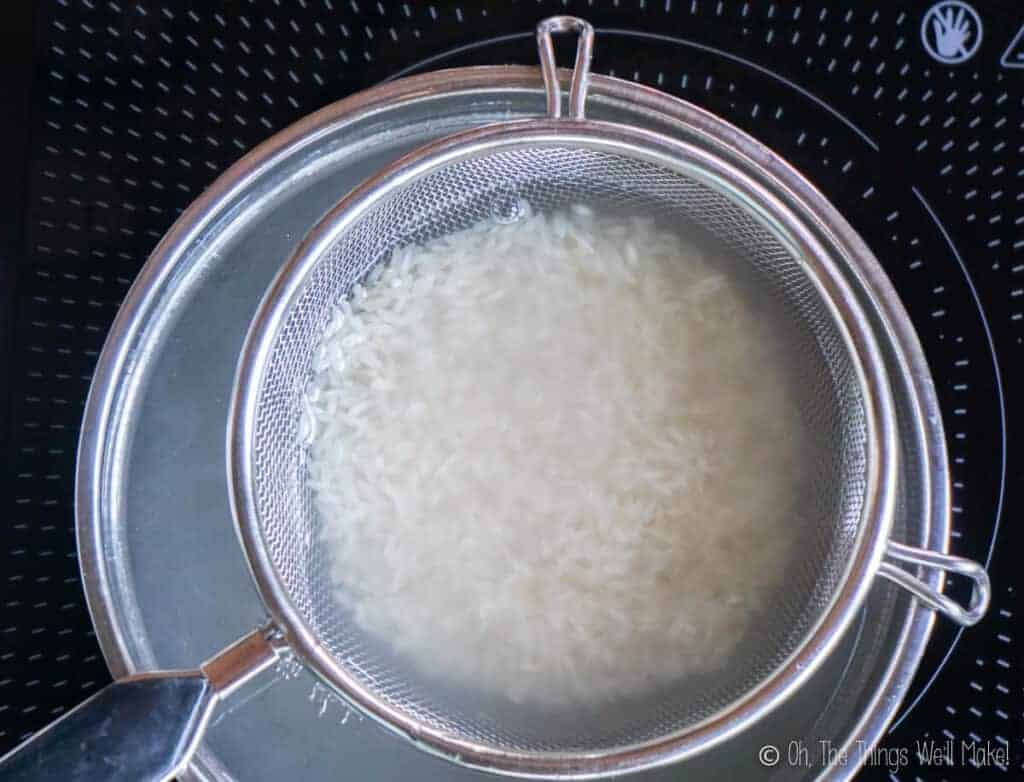 How to use other Thanksgiving leftovers
If you're making this soup on the day after Thanksgiving, you can throw in all sorts of other Thanksgiving leftovers.
Sweet potatoes make a lovely addition to the soup, as does leftover stuffing. Not only does the stuffing help thicken the soup slightly, but it also adds a wonderful flavor to the soup that lets you relive your Thanksgiving feast. Just throw the leftovers into your soup at the end of the cooking time to warm them.
Saving leftover stock
You'll likely have made more than enough stock. Leftover stock can be strained into jars to use later. I like to strain the stock into heat-resistant glass jars while still hot. If you close the lid tightly and flip it over, the jar will normally vacuum seal shut. This helps preserve the stock longer.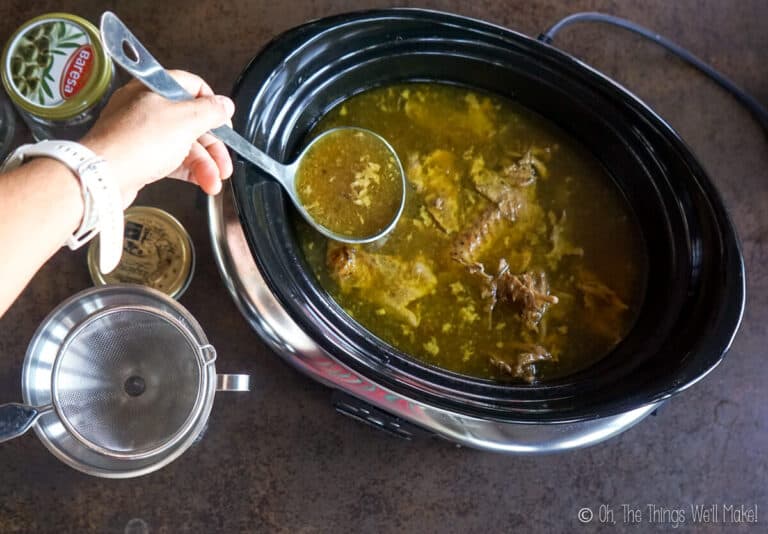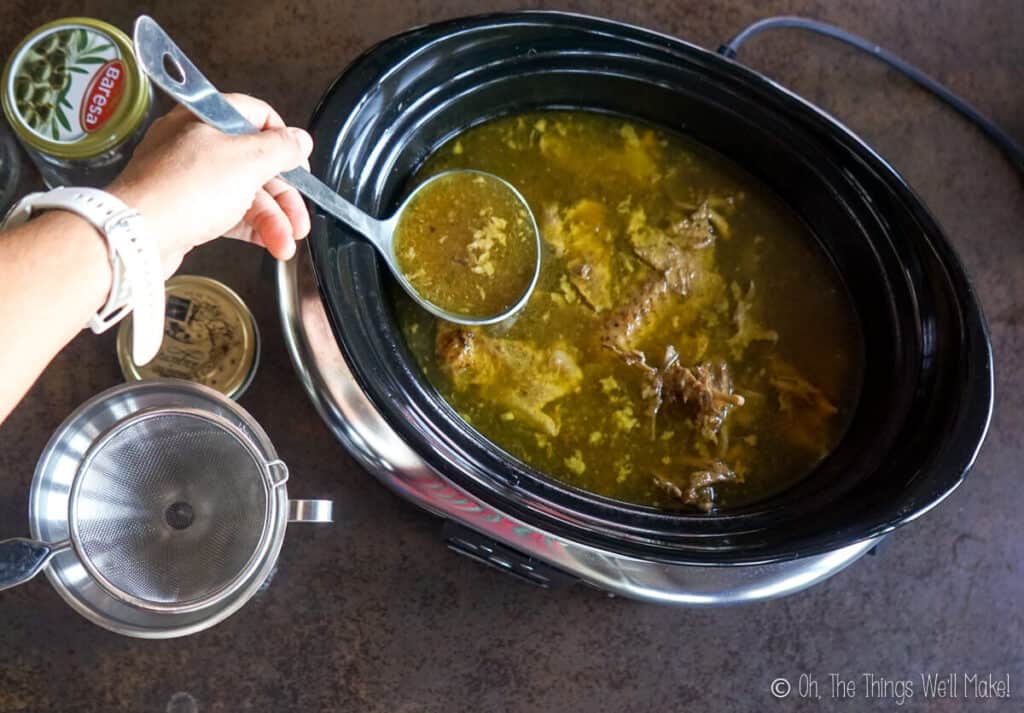 If it's not sealed well, some turkey stock will normally drain out when you flip the jar. You'll have to flip it right-side-up and try to close it tighter. Then, try again. Some jars won't seal properly and you'll have to try a new jar or use the stock within a few days.
Because this isn't "proper" canning, store the stock in the fridge and use it relatively soon.
To freeze the stock for longer-term storage, leave several inches of space at the top (for expansion) and place it in the freezer.
Video
Craving more?
Subscribe to my newsletter for the latest recipes and tutorials!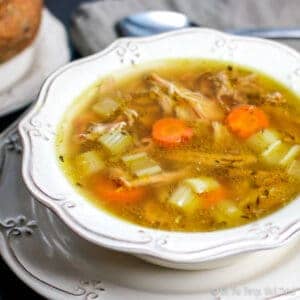 Ingredients
For turkey stock
1

turkey carcass

veggie scraps
For turkey rice soup
1

onion

2

celery stalks

2

carrot sticks

2

cups

rice

3

sprigs

thyme

1

bunch

sage leaves

1

cup

turkey meat

(Or more, as desired)

pepper
Instructions
Remove bits of meat off the carcass and set them aside for later.
Make turkey stock
Add the carcass, along with skin and other non-eaten bits from the turkey, to a slow cooker. At this point, you can also add in some garlic, veggie scraps or Thanksgiving leftover veggies to add some nutrients and flavor to the stock.

Completely cover the carcass and veggies with water, and cook on low heat overnight.

If you choose to use an Instant Pot or electric pressure cooker instead, use the soup setting of your cooker and increase the time to 120 minutes. Cook and, once finished, allow the pot to depressurize before opening.
Make the turkey rice soup
30-45 minutes before lunchtime, rinse and soak the rice in water.

Begin preparing the veggies for the soup. Rinse them all. Peel the carrots and onion, and thinly slice the onion, carrots, and the celery stalks.

Strain the stock from the bones and cooked veggies, and add the strained stock to a medium pot along with the sliced veggies and herbs. You want to have around 8 cups of broth, so add water if needed.

Cook at medium heat until it reaches a boil, and then simmer for a couple of minutes.

Remove the bunches of herbs.

Strain the rice from the water and add it to the boiling stock. Continue to simmer at low to medium heat for around 15 minutes, until the rice is fully cooked.

Add in salt and freshly ground pepper, to taste.

Remove the soup from the stove and serve immediately!
Notes
To thicken the soup and add flavor, you can optionally add in other leftovers like gravy and/or stuffing.
Nutritional information depends upon the amount of meat and other leftovers added to the soup. The given information assumes stock obtained from the bones along with rice and veggies. Added meat and other added ingredients will need to be figured in to obtain more accurate information.
Serving:
1
bowl
|
Calories:
204
kcal
|
Carbohydrates:
40
g
|
Protein:
8
g
|
Fat:
1
g
|
Saturated Fat:
1
g
|
Cholesterol:
12
mg
|
Sodium:
42
mg
|
Potassium:
195
mg
|
Fiber:
2
g
|
Sugar:
2
g
|
Vitamin A:
2610
IU
|
Vitamin C:
3
mg
|
Calcium:
37
mg
|
Iron:
1
mg