Planning a Cars party can be fun and easy once you know what you want to do. Here are some Cars party ideas from my son's 3rd birthday party.
After all of the hard work and anticipation, my son's Cars-themed third birthday party was (mostly) a success. Don't get me wrong, it wasn't perfect. These things never are, of course. Overall it was fun, though, and everybody seemed to enjoy themselves; almost everybody, at least... The star of the party wasn't feeling very well, and retreated inside to watch Mickey Mouse Clubhouse episodes throughout a large portion of the party. Sigh.
You think that you are planning all of this for the birthday boy, and then the big day arrives, and the birthday boy shows no interest in his party. Then you start to wonder, "Have I been planning all of this, then, for me?!?!?!"
Luckily, the other kids seemed impressed and really enjoyed themselves.
Despite all of the work that goes into these sorts of parties, I love planning them. In fact, I often get told that I should do it as a career :) ; but as much as I love doing it, I think it would drive me crazy if I were to do it full time.
So, where do I begin?
Here are some of the Cars party ideas I used...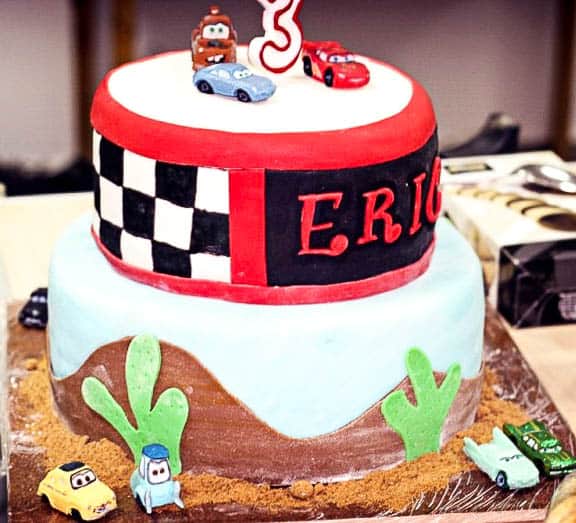 Despite being a pretty strict real food foodie, I do make the one exception each year of making my son a fondant birthday cake, and so far haven't been as concerned about only using natural colorings because they are only on the outside of the cake. In the case of this cake, everything was edible- yes, even the cars on the cake! (But, no, we didn't eat them!!)
Figuring out how to make fondant cars was a bit tricky at first, but once I got my method figured out, it was actually pretty easy. You can see my tutorial for making fondant cars here.
The inside of the cake followed the checkerboard theme, of course.